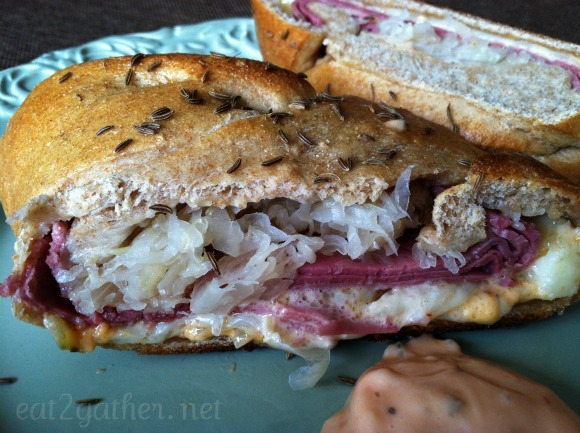 When ordering from a delicatessen I am always drawn to the Reuben Sandwich. It has everything I love in a sandwich salty, cheesy, pickley, and saucy!  Years ago I remembered eating this version of a Reuben Sandwich with my husbands step-sister.  Recently I've gone on a rampage ripping through my recipe box and cookbooks looking for the recipe, because I was sure that I had it somewhere. Couldn't find it. So I emailed Karen to see if she had it.  She did!  And the funny thing is she said I had made it for her and gave her the recipe….I swear, what is my brain going to be like in another five years?  Gone I tell ya!
Thankfully Karen has her wits about her and keeps good track of her recipes, because this one is a winner, and I'm glad to have it back!
I was thinking of this sandwich in terms of St Patricks Day but really the Reuben Sandwich has nothing to do with St. Patty or Ireland….but let's just go with it since Ireland is known for it's Corned Beef and corned beef happens to be a main player in this sandwich.  I think we can sneak this one in as a St. Patricks Day recipe…whaddayasay?!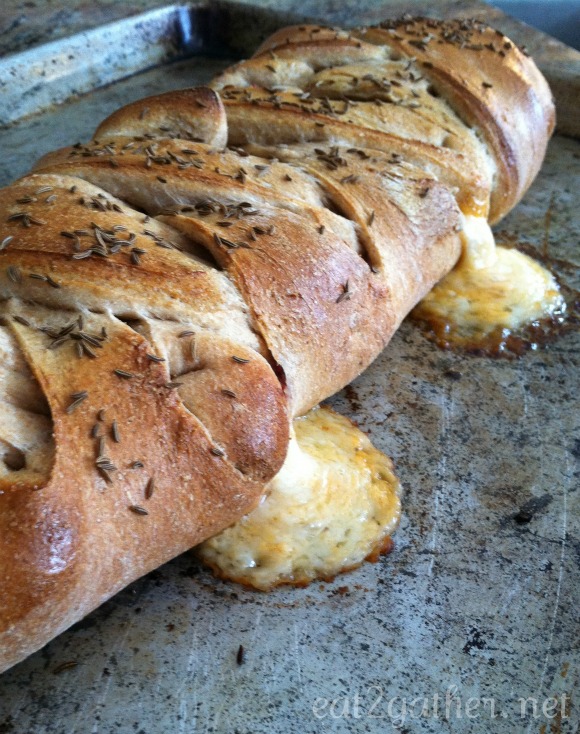 Unfortunately no one else in my family (with the exception of my Seestor, she doesn't count because she doesn't live under my roof) appreciates a good Reuben like myself.  I think that must be why I lost track of this recipe.  It was lost but now it's found! Can I get an Amen?! a Hallelujah maybe?
This recipe is simple in every way!  Literally,  5 minutes prep, 1 hour to allow to rise, 20 minutes for baking.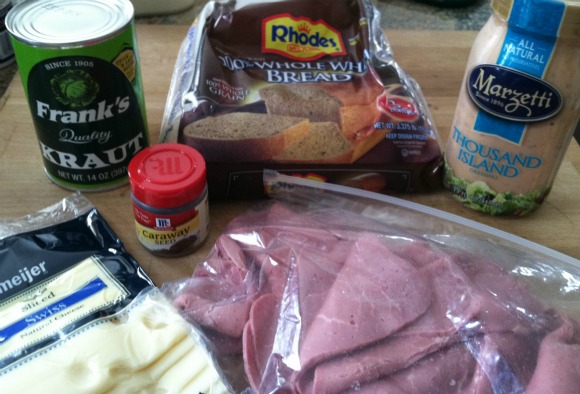 Here are the goodies!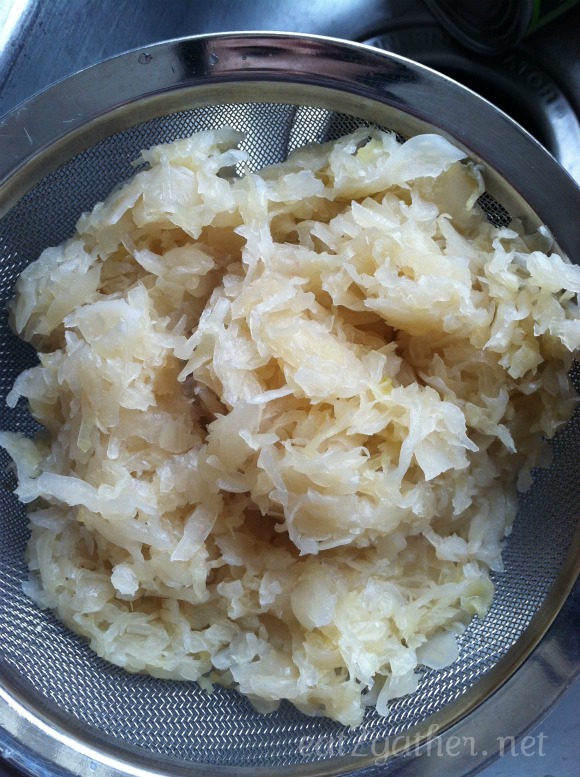 It must be the German in me but I love sauerkraut!  I could eat it cold straight from the can with a fork…but I won't, because I if I did my husband would not sleep in the same bed with me for at least a fortnight!  Unless of course I supplied him with a gas mask!  Ha.   So anyway…..sorry was that TMI?
Drain the sauerkraut well, pressing out any excess liquid with a paper towel.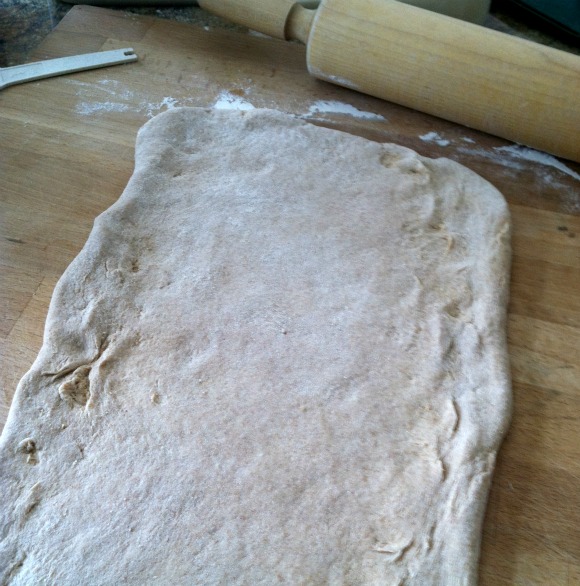 I start by thawing the bread dough over night in the refrigerator.  Then I roll it out into a 12 x 18″ rectangle.


Then it's time to layer on the goodies.  Spoon dressing down the middle, layer on Swiss cheese, and corned beef, then pile the sauerkraut.  Cut dough from the filling out to the edge in 2 inch strips.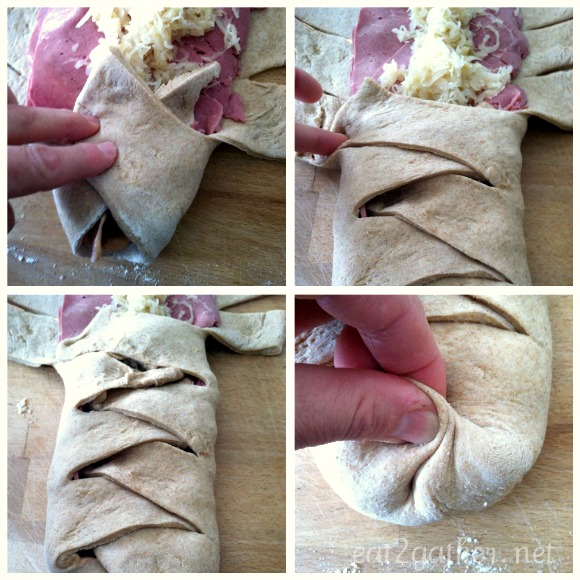 Fold strips of dough across filling, creating a criss cross pattern.  Pinch the ends together to seal in the goodies.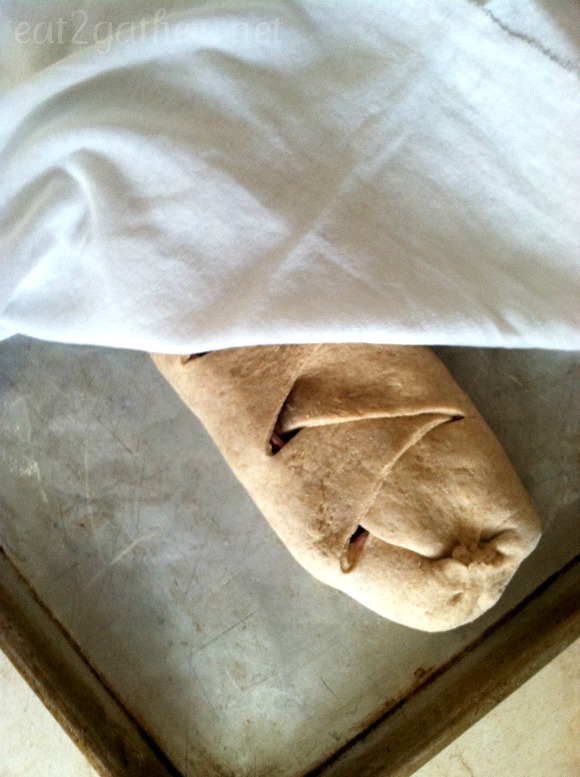 Transfer to a lightly greased baking sheet, cover, and let rise for 1 1/2 hours.
Preheat oven to 400 degrees.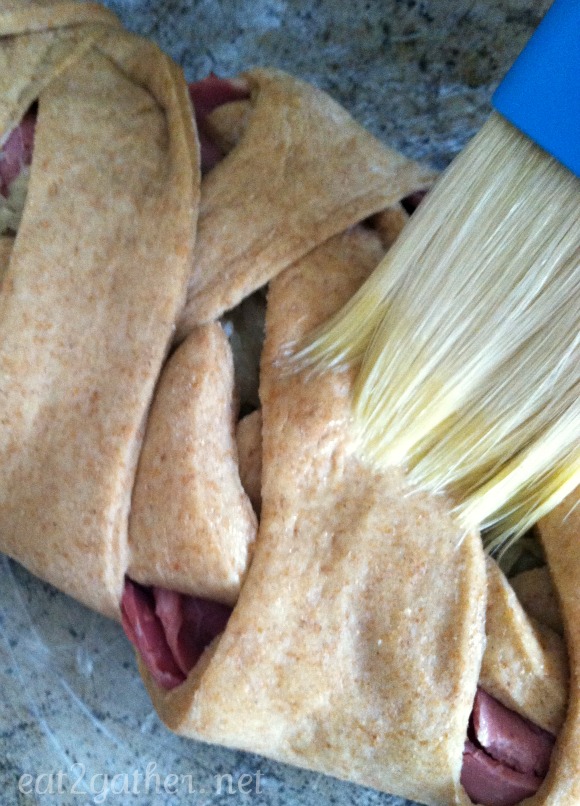 After Reuben loaves have risen beat one egg, and brush each of the loaves lightly with egg wash.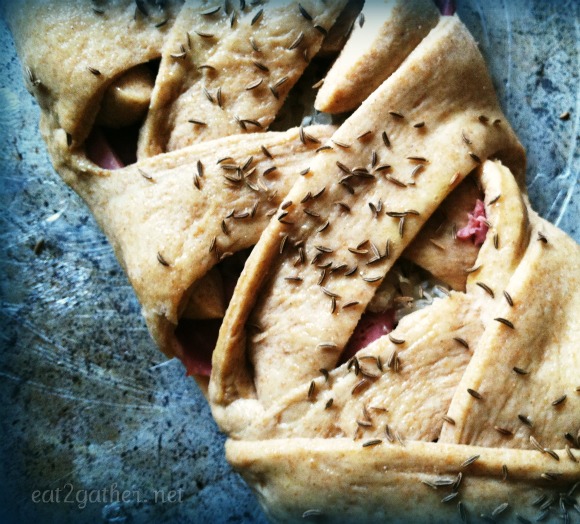 Spinkle with caraway seeds.  Pop in a preheated 400 degree oven for 20 minutes.
[print_this]
Baked Reuben Sandwich
(adapted from Taste of Home Magazine circa~1994)
makes 2 loaves, serving 6-8
2 loaves of frozen Whole Wheat Bread Dough (Rhodes from freezer section works well)
1 14 ounce can Sauerkraut
8 slices Swiss Cheese
1 pound sliced Corned Beef
6 tablespoons Thousand Island Dressing
1 Egg, beaten
1 teaspoon Caraway seeds
Allow frozen bread dough to thaw over night in refrigerator. Drain sauerkraut in a colander, press out all excess liquid with a paper towel. Roll dough out on a lightly floured surface in a rectangle. Spoon 3 tablespoons of Thousand Island Dressing the long way down the middle of the dough. Place 4 slices of cheese on top of dressing, leaving room at the top to pinch ends closed. Layer 1/2 of Corned Beef over cheese, and to place half of the drained sauerkraut on top of the corned beef. Make slices in dough from the filling to the sides about 1 1/2 inches apart. Alternating sides, fold the strips at an angle across the filling. Pinch ends of loaf closed. Transfer Reuben loaves to a lightly greased baking sheet, cover with a towel and let rise for about an hour or more. (If dough is still cold it may take longer for bread to rise.) Brush with beaten egg and sprinkle each loaf with 1/2 teaspoon of caraway seeds. Place in a preheated 400 degree oven and bake for 20 minutes. Slice and serve with thousand island dressing on the side.
Enjoy!
[/print_this]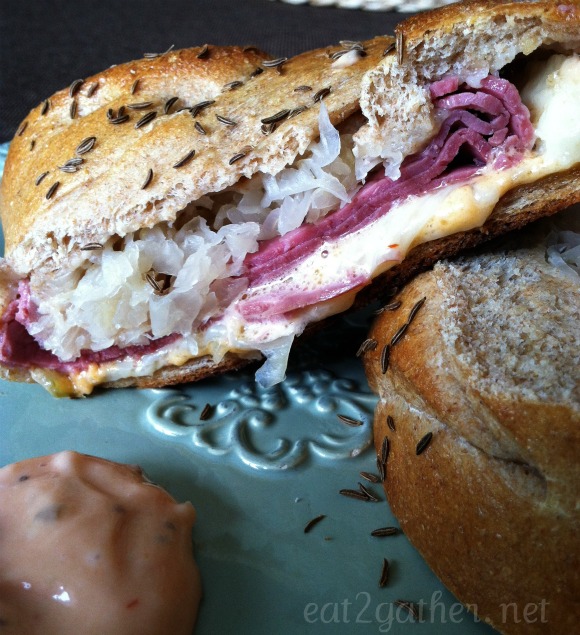 Oh HO HO come to Momma!  In the words of my father "tasty and toolicious for sure"!  I know just go with it…he's really a sweet man.
Happy St. Patricks Day!
Sheila