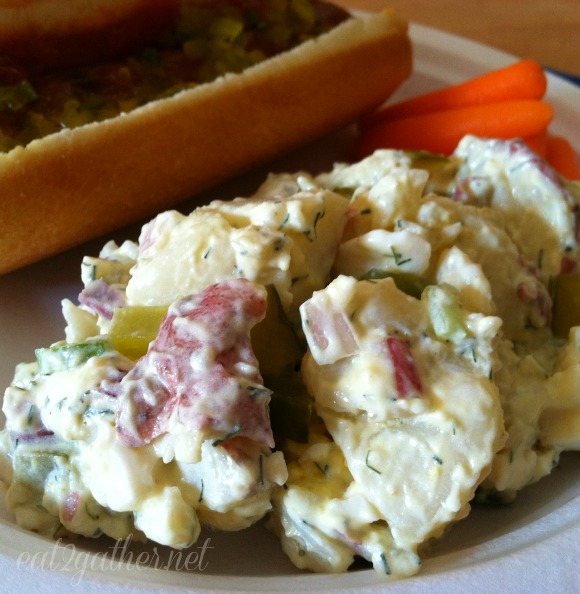 I grew up eating my mommas tater salad.  It was at every family get together, every church picnic, every picnic at the beach.  It's easy to make and there is nothing unusual on the list of ingredients, I think that's why my mom always made it, because she always had everything on hand.
I have tried many different potato salad recipes over the years but I always come back to this one.  I actually think my mom used dill pickles but I found that I like the kick of spice and sweetness that the sweet and spicy pickles give this salad.  I can my own pickles, but I have used Famous Dave's Pickles (you can get them at Costco most of the time) they work fabulously too!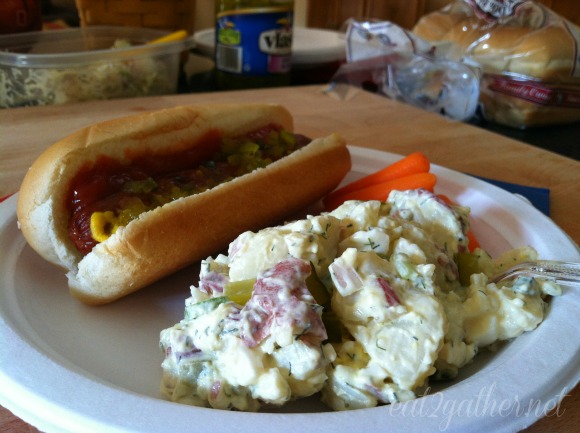 The great thing about potato salad is it goes with EVERYTHING!  Fried Chicken, sandwiches, hotdogs, hamburgers, ribs, steak, grilled chicken, kebobs, pbj, cereal (well maybe the last two are a stretch……) the list goes on and on.
Do you have big plans this weekend?  
It's the last hurrah!  ya know?
Envision me with a poopy lip and slumped shoulders….the diet starts Tuesday, I'm back to My Fitness Pest er um I mean Pal.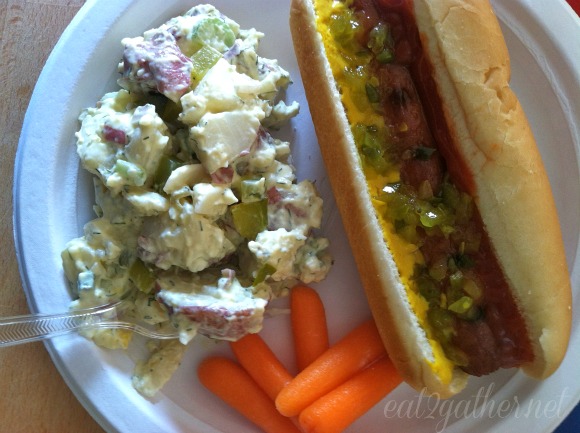 Here's the recipe for you make sure to taste it, and adjust seasoning as you go, add more dill, or more pepper, more salt is always good!  As always make it your own!
[print_this]
Potato Salad
serves 6
2 1/2-3 pounds of small Red Potatoes, washed
3 hard-boiled Eggs
1/3 cup chopped Red Onion
2 stalks Celery diced
1/2 cup chopped Sweet and Spicy Pickles (home canned or the Famous Dave's brand)
1-2 tablespoons Pickle Juice
1/2 cup Mayonnaise
1 tablespoon fresh chopped Dill
1/2 teaspoon Celery Seed
Salt and Pepper to taste
Boil potatoes until soft, drain and let cool. Cut potatoes in to bite sized pieces and add to a large bowl. Peel and chop hard-boiled eggs add to potatoes. Add red onion, celery, and pickles to bowl, fold together. Drizzle pickle juice over vegetables, then add mayonnaise, chopped dill, celery seed, salt, and pepper. Combine well. Dont' worry about being to careful when mixing its Ok if potatoes break up a bit. Transfer to a serving dish, cover, and refrigerate for at least 3 hours before serving.
Note: Dill pickles can be substituted for the sweet and spicy pickles or really any pickles can be for that matter!
Also remember to always be very careful about how long you leave your salad out for serving. Go here to find guidelines for keeping and storing foods.
Enjoy
[/print_this]
I've got a few more summer time recipes lined up for you so ya'all come back now ya'here?!  If you never want to miss a new recipe you can subscribe to the E2g newsletter via email!! Yeah, I know right…I bet that just made your day 😉 It just takes a few seconds to sign up, click on the box in my sidebar under my Welcome.
See ya soon! Sheila