I'm convinced that there are as many variations of pesto as there are cobbler.  Not that there is a culinary connection between cobbler and pesto….I just happen to love them both!  Thus the random comparison.   The word pesto comes from the Italian word  pestâ (Italian: pestare), which means to pound.  Originally pesto would be made by crushing or grinding basil, garlic, Parmesan cheese,  pine nuts, and olive oil together with a mortar and pestle.  Not only can pesto be made from a variety of different ingredients, but it is also lip smacking versatile!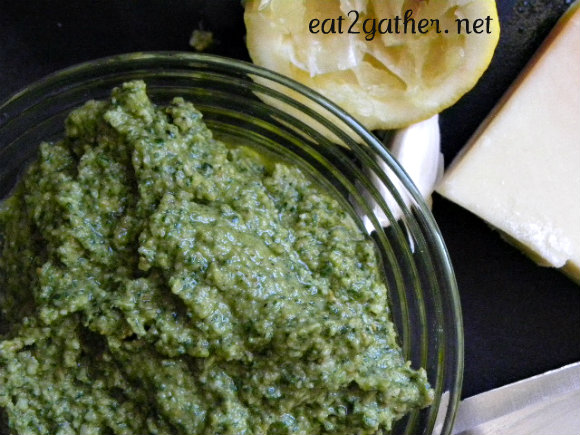 If you are not familiar with cooking with pesto here are just a few of the ways it can be used.
– mix with mayonnaise for a zippy sandwich spread
– substitute pesto for pizza sauce next time you make pizza
– toss pesto with warm pasta, sprinkle with shavings of Parmesan cheese  and you've got a quick side dish (Add some grilled chicken on top and your side dish just became dinner!)
– mix pesto with butter and dollup on top of  grilled steak or chicken
-use straight up as a sandwich spread
-add to cream cheese for bagels or sandwich wraps
-toss with warm roasted vegetables with an added squeeze of lemon for  a tasty veggie side dish (green beans, asparagus, potatoes are my faves)
See the possibilities are endless!  Use your imagination!
What's your favorite way to use pesto?
My pesto recipe doesn't stray too far from the original.  If at all.  I like to add lemon juice, I think it keeps the color bright and adds a beautiful fresh fragrance to this condiment.  I also like to toast my pine nuts first.  This added step accentuates the nutty earthy flavor of the pine nuts.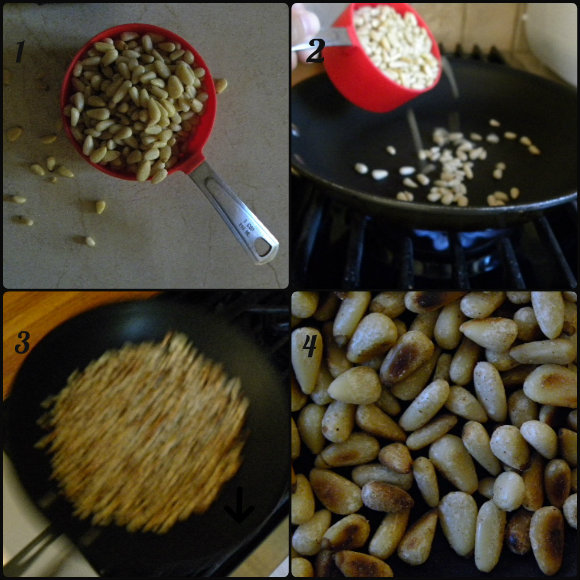 Toasting pine nuts is as simple as 1 2 3!  Simply measure out 1 cup of pine nuts, toss into a non-stick skillet on high heat.  Keep the pan moving, shaking the pine nuts back and forth, until they begin to turn a nice nutty brown.  Remove to a plate and let cool.  This whole process will take 2 minutes max!  Taking the extra time to toast your nuts, is well worth it!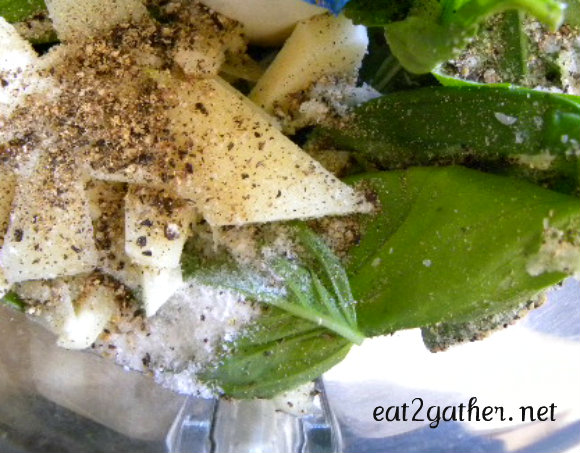 Add pine nuts, basil, Parmesan cheese, preferred amounts of salt and pepper to food processor.  Or a blender will work too.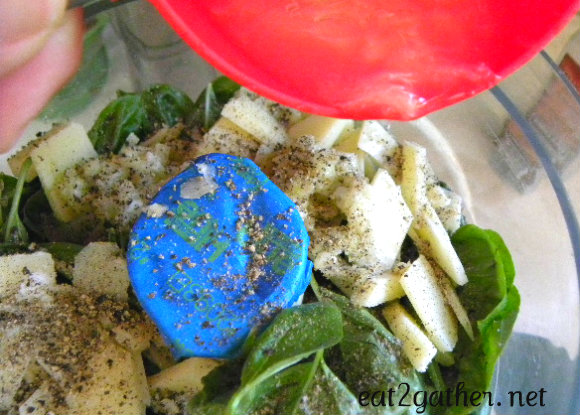 Squeeze one lemon, and drizzle into food processor.  I lost the little part that sits on top of my blade….well actually it met its doom in my garbage disposal.  Thus the blue painters tape.  Painters tape is my best friend.  I am never with out it.  If I could I would marry it, but I'm already married.
Place cover on, give a few pulses to start combination of ingredients.  Then slowly drizzle olive oil in while food processor is on.  Stop to scrape down the sides of the food processor with spatula.
Pesto can be kept in your refrigerator for up to 2 weeks and can be frozen for up to 6 months.  
So there you have it, so easy!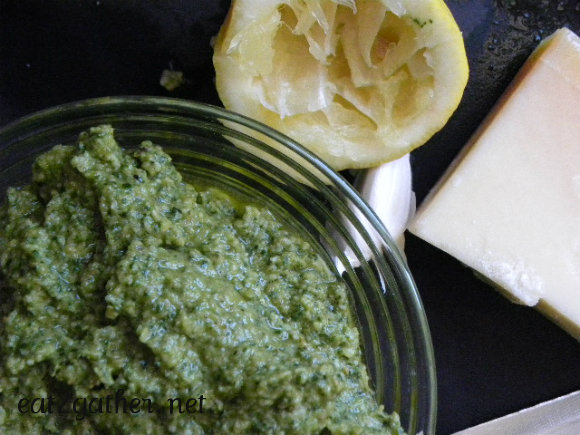 [print_this]
Pesto
makes approximately 1 1/2 cups
1 cup Pine Nuts, toasted
2 cups Basil Leaves
3 cloves Garlic, minced
1/2 cup Parmesan (4 ounces)
1 Lemon, juiced
1/2 cup Olive Oil
salt and pepper to taste
Place first 5 ingredients in food processor, place lid on and pulse 4 or 5 times.  Then turn food processor on full power and drizzle in 1/2 cup olive oil. Taste. Add salt and pepper as needed.  Stop to scrape down the sides of the food processor with spatula. If pesto is too thick drizzle in olive oil, a tablespoon at a time,  until pesto is preferred consistency.
[/print_this]
Have you ever made your own pesto?