Italian Meatloaf is an all time dinner favorite in my family, it's just easy, delicious, and comforting! I hope you give it a try, I'm sure your family will thank you and ask for seconds.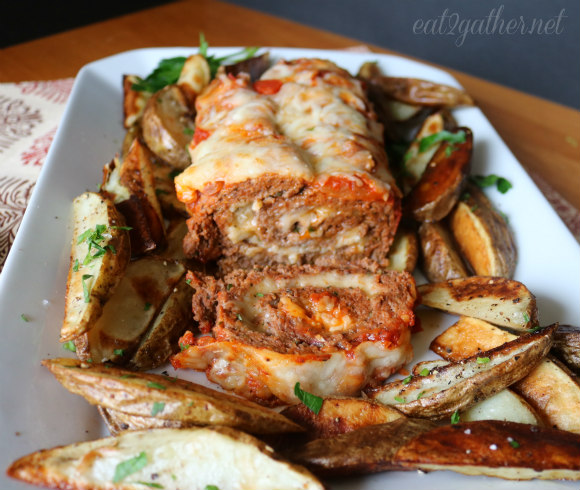 As a kid I thought of this as fancy meatloaf.  Moms fancy meatloaf.  What kid actually gets excited about meatloaf, and for that matter thinks of it as fancy in any way?  I'm telling you my foodieness goes way back. My kids love this meatloaf.  They are not huge fans of the traditional ketchup topped loaf served up with mashed potatoes.  Which by the way, my people are not huge fans of mashed potatoes.  What is this about?  Are they of my flesh?  Were they birthed from my loins?  Sometimes I wonder.  So anyway all that to say, I usually serve this meatloaf with roasted vegetables of some sort, or pasta tossed with he remaining marinara sauce.  There are rarely leftovers when I make this meal, but if there are they make the best meatloaf sandwiches ever!  What's more this recipe is awesome for doubling and freezing.  Make four or six pans and freeze them.

Mix up the loaf ingredients and spread out half of the meat mixture, like so, onto plastic wrap, add a layer of mozzarella cheese, roll up with the aid of the plastic wrap, and place seam side down in a 8 x 4 inch loaf pan, you could make this recipe into one large loaf if you like, however it bakes up better when made in smaller portions.

I also like to use these disposable tins.
1.  I don't have to wash the pan.
2. This recipe is great for freezing, so disposable pans are perfect. Double the recipe and stick a few meatloaves in the freezer.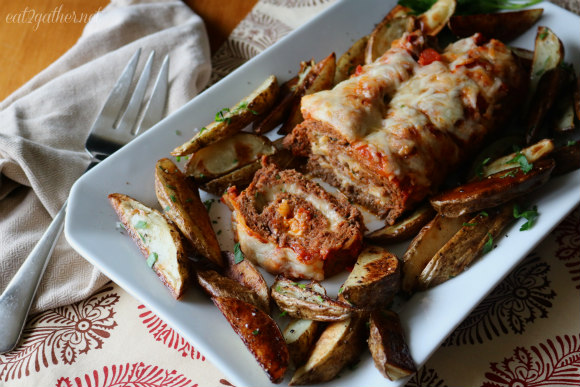 So there you have it another old family favorite.  Thanks Lynn.  That's my mom.  I've got a few other old faves up my sleeve and a few recipes that I just plain need to redo, because the first time I shared them my photos were hideous, well hideouser (that's a word, I'm calling it) than they are now.  Honestly, I like photography, but I'm not a fussy person, I don't love setting up a shot, messing with the light, having all sorts of props, I just want to share family recipes with you!   It is my passion sharing my recipes and food inspirations with you. Hopefully, inspiring families to stay home, eat together around the dinner table, maybe save some cash-o-la: and while doing so create good solid family bonds, and food memories.
Nothing better than that!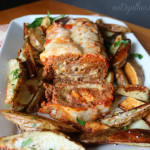 Print Recipe
Italian Meatloaf
Swirled with cheese and sauce this recipe is sure to make a meatloaf lover out anyone. I guarantee it to be a new family favorite!
Ingredients
2

pounds

lean ground beef

24

ounces

jarred marinara sauce, meatless

1 cup used in meatloaf remainder used to top or for pasta on the side

1

tbsp

Italian seasoning

1 1/2

tsp

salt

1/4

cup

finely chopped parsley

2/3

cup

bread crumbs

1/3

cup

grated parmesan

1

egg

2

cups

grated mozzarella cheese
Instructions
Preheat oven to 350 degrees.
In a medium sized bowl add ground beef, 1 cup of the marinara sauce, add Italian seasoning, salt, bread crumbs, parmesan cheese, parsley, and egg to the bowl. Get your hands in there and make sure all ingredients are combined really well by squishing the ingredients through your fingers. This is when I like to use food grade plastic gloves! Forks or a wooden spoon can be used as well, but nothing works better than your hands.

Divide meat in to two equal portions. Lay 2 sheets of plastic wrap on counter top, place one half of the meatloaf mixture on each piece of plastic wrap and spread into a 10×12 rectangle. Take 3/4 cup of mozzarella cheese and spread evenly in the middle of meat rectangles.

Using the plastic wrap to roll up the meat loaf, take one end and pull it toward you rolling and tucking as you go until the rectangle of meat is in a neat roll with the cheese swirled in the middle.  Pinch in the ends of the meat roll so the cheese doesn't ooze out the ends. Place in 8 x 4 inch loaf pans with seam side down.  Spoon more sauce (1/2-1 cup) over top of each  meat loaf and sprinkle 1/4 cup mozzarella cheese over the top.

At this point you can place in preheated 350 degree oven and bake for 1 hour.

You can also cover tightly with plastic wrap, pushing plastic wrap down on to top of meatloaf leaving no room for air, then follow up with a tight layer of aluminum foil, label with a marker (Italian Meatloaf =thaw, remove cover, bake at 350 degrees for 1 hour), place in freezer for up to 3 months.

Or place in refrigerator to bake up later if you are meal prepping for the week.
Notes
Serve with roasted potatoes, pasta tossed with remaining marinara sauce, a side of green vegetable such as broccoli, a nice green salad, or any combination of these.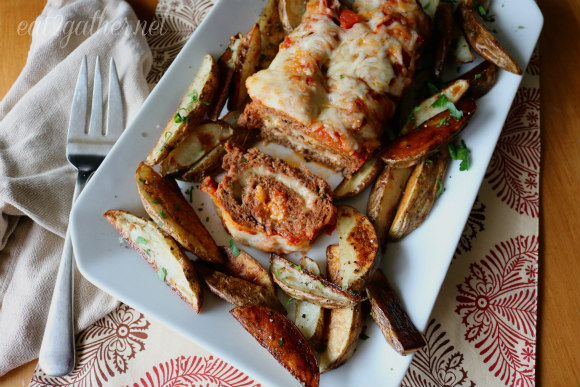 I hope you give this recipe a try!  Feel free to spread the love by pinning, and sharing on your social media, or hey print it off and share it with a friend, the good old fashioned way, on paper!
Thanks so much for taking the time to stop by. XO Sheila