Most salad dressings can be made from scratch with everyday ingredients. Thousand Island is no exception to that rule. My spiced up version is perfect on salads, sandwiches, or as a dip. After you see how simple this is you will never buy bottled dressing again!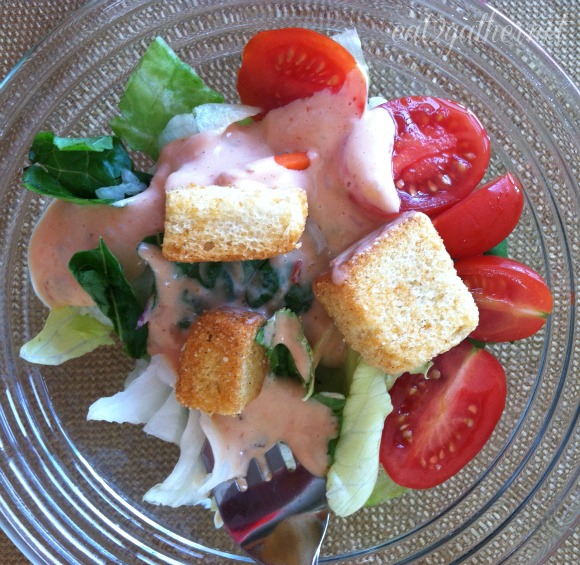 Easy, peasy, chicken squeezy er somethin' like that.  This dressing is so easy, and I am positive you have everything you need in your pantry to make the original version.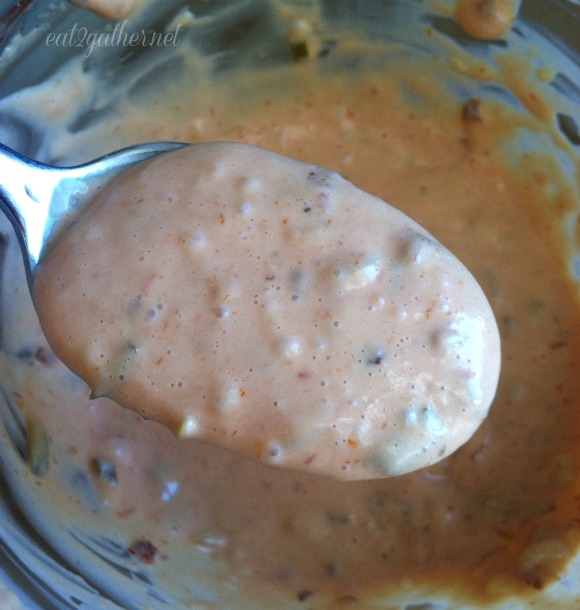 To spice it up you will need to get chili sauce and chipotle peppers in adobo sauce, two things we always have on hand but maybe aren't a common staple for everyone.  I suggest you give the spicy version of this dressing a try.  It's not too spicy.  I promise.  Cross my heart and……well let's not get crazy no need to poke yourself in the eye or anything, just try it.
Get out of your normal pants and try on some crazy leggings!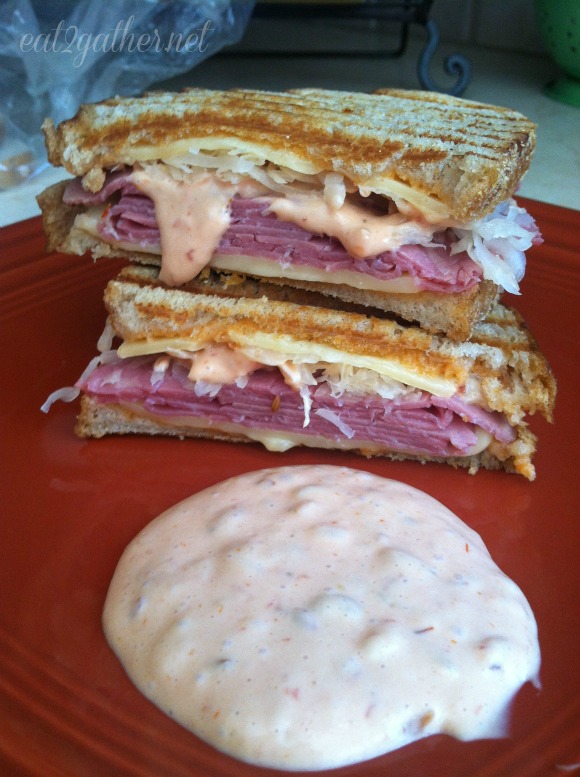 Since I was a kid one of my favorite sandwiches has been the reuben.  I can remember ordering it once in a restaurant, the table at my chin, and the waitress looking back at my mom, like really does this kid know what she's ordering, and my mom saying yes she said a reuben on rye, a whole sandwich with fries please.
It's funny how memories stick in your head like that.  It was at Arnie's Bakery & Restaurant.  To this day I love an Arnie's reuben sandwich!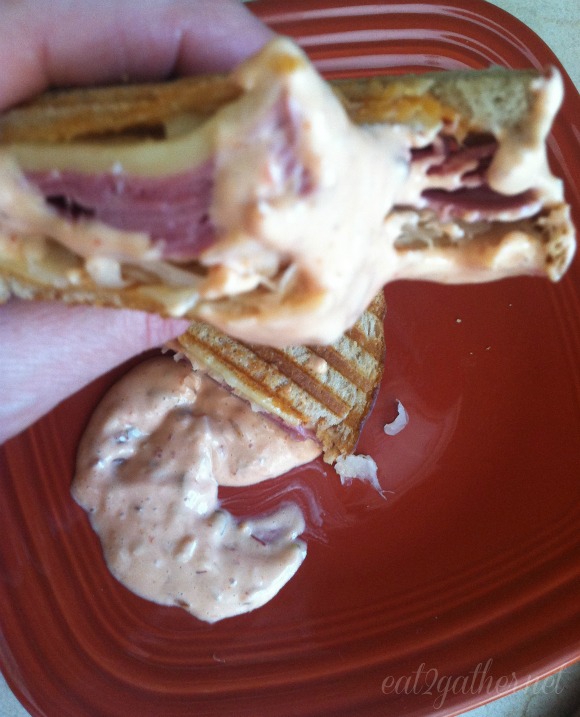 The kicker always was that I needed extra dressing….still do, and not any dinky little cup of dressing I need like a small soup cup full of it.
I'm a dipper.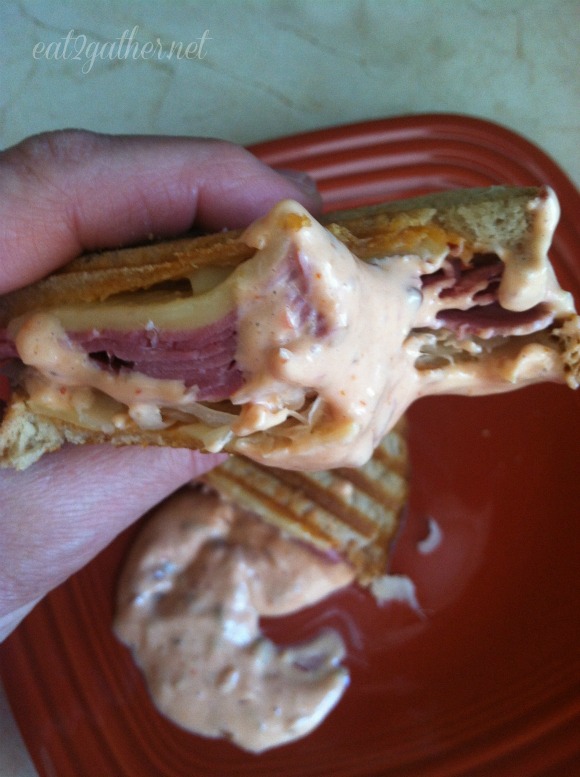 When I was a kid that was perplexing for the waitress as well….come to think of it still is.  I like me some thousand island dressing, WHATCHAGONNA DO BOUT IT LADEEE?
I much rather make it at home, because then I can make as much as I want and eat as much as I want with no judgement, and I can give it that extra pachang!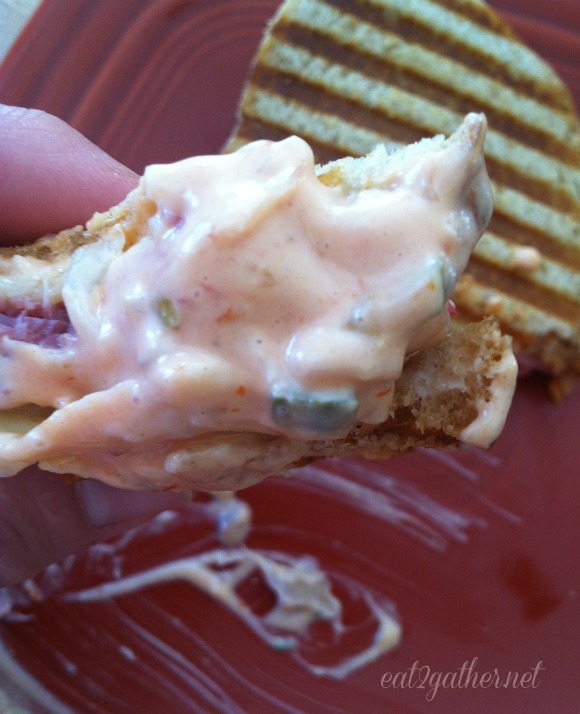 See not even done with one half and I need more dip!  This spicy Thousand Island dressing is also perfect for using with fish as an alternative to tartar sauce, on salads, and I love dipping cucumber and pepper slices in it as well.
You know what's crazy is that Ken eats everything dry.  No sauce.  No dip.  Salad without dressing….like a freeekin' rabbit.
It's true opposites do attract.
It actually works out well for me, because when we eat out I always take his "on the side" dressing and add it to my salad.  😉
signed, the Dip(pur)
[print_this]
(spicy) Thousand Island Dressing
Makes 1 3/4 cups dressing
1 cup Mayonnaise
2 tablespoons Sweet Pickle Relish
1/2 cup Ketchup
2 tablespoons Chili Sauce
1 Chipotle Pepper in adobo sauce, chopped finely
In a small bowl add mayonnaise, relish, ketchup whisk together. This is the basic recipe for thousand island dressing. If you would like to spice it up a bit you can do so by adding the last two ingredients, which I highly suggest!
Serve over mixed greens, as a dip for vegetables, as the sauce for Reuben or any panini sandwich. This dip/dressing is also wonderful used as tartar sauce with fish.
Note: dressing will keep for up to two weeks in an airtight container in your refrigerator.
[/print_this]