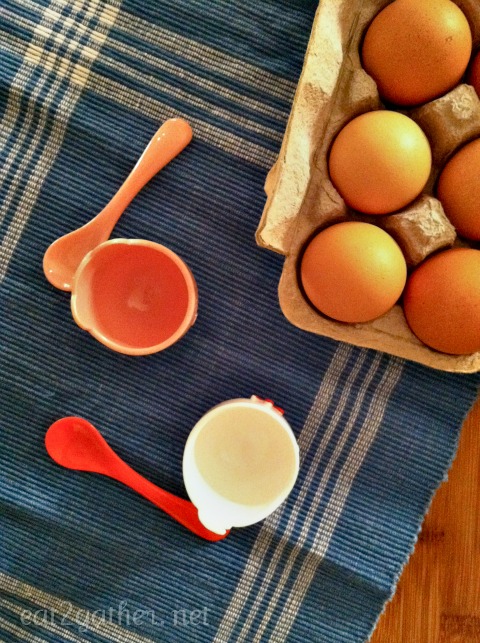 We eat a lot of eggs.  Some days we'll go through a dozen easy.  Mostly scrambled. Sometimes over easy with buttered toast.  I often will boil up a dozen eggs and keep them in the refrigerator for teenage muscle maintenance snacking….but lately I've let my egg boiling duties slide.  My son asked me if I would resume my duties.  I have many duties, and boiler of the eggs is number 14,999. I know I know…tell the kid to boil his own dam eggs.  He does scramble his own eggs every morning…he's a good kid.  So any way as usual I digest……..
Ha! well yes of course I digest…but really now I digress!
Noah asking me to boil eggs got me thinking of how much I really love a good soft boiled egg. Insert dreamy fuzzy screen in your mind and go back with me…back to Germany 25 years ago, to the days of my soft boiled egg virginity.
Yes I did just say egg and virginity in the same sentence…get a grip.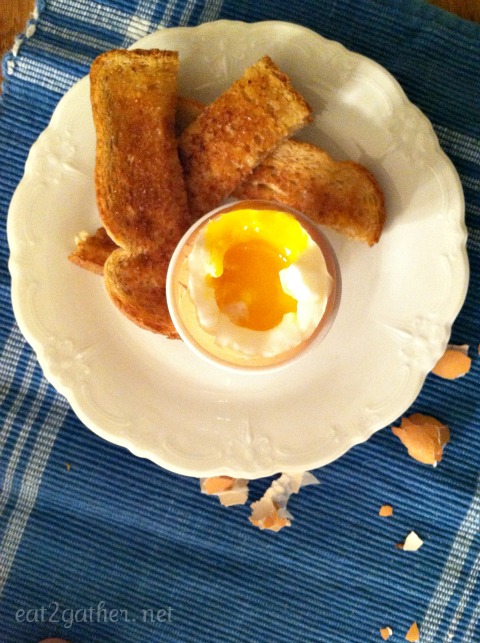 It was while living in Germany that my host family introduced me to this lovely delicacy called the breakfast egg. Fruhstucks eier. Soft boiled egg. There it sat waiting for me at the breakfast table.  A table set for breakfast, novel idea isn't it?  A place to sit and calmly nourished ourselves before heading out in to the world.  There was no kitchen island that we would lean against and sling back our instant breakfast or hang over our scrambled eggs hurriedly shoveling them into our mouths.  Oh Lord NO!  We sat. We breathed. We ate our breakfast. Taking less than 10 minutes, not a huge commitment. Where have I  gone wrong with my kids…I so need to implement this into our mornings.  What a beautifully relaxing way to start your day. I digress again. Sorry.
Soft boiled eggs are a lovely thing.  In my home in Germany I learned how to make them and eat them properly.  It's high time I share this with my family!  So last night I showed them how to make a soft boiled egg and then how to eat it….with one exception after all was said and done I realized that we had stood around the kitchen island the whole time.  No one sat.  We hovered and slumped over our eggs.  We'll hafta work on this…..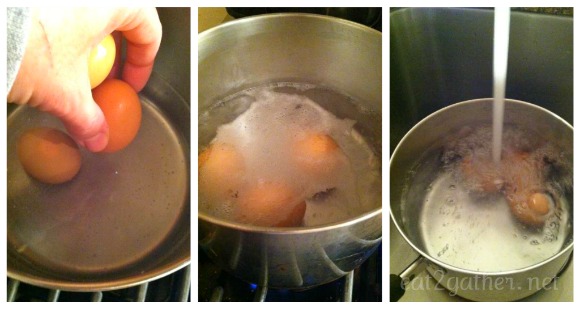 Soft boiling an egg is super duper easy. First fill a pan 1/3 of the way up with water, a dash of salt, get that boiling.  Secondly, carefully place eggs in boiling water.  Thirdly set your timer for 5 minutes, immediately after dropping eggs in boiling water.  When timer is up remove pan to sink and run cold water over eggs until there is no more hot water in pan. Voila.  That's it!
I realize this process is about 4 minutes longer than a scrambled egg, but hey use that 4 minutes to make yourself some toast, pour a cup-a-Jo, clip your nails, alot can get done in 4 minutes, and then at the end you have a beautiful breakfast!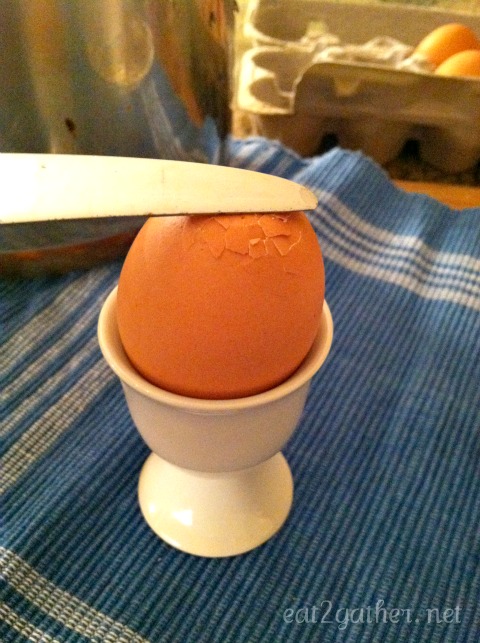 Remove egg to cup give it a generous rap on the top of its noggin. You don't need these cute little cups to eat soft boiled eggs…don't let this stop you man…keep on keepin' on.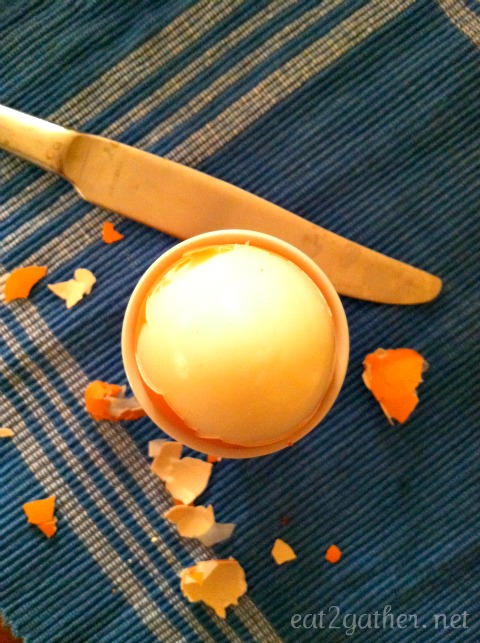 Then peel off the top third to half of the shell.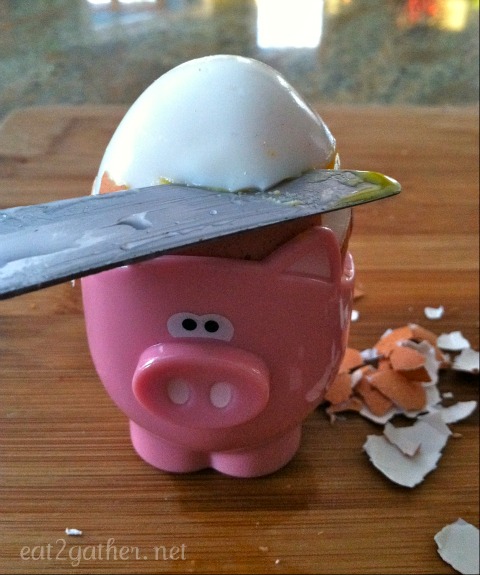 Well Hello there Mr. Piggy!  Now take your knife or a spoon and gently peel back the cap revealing……..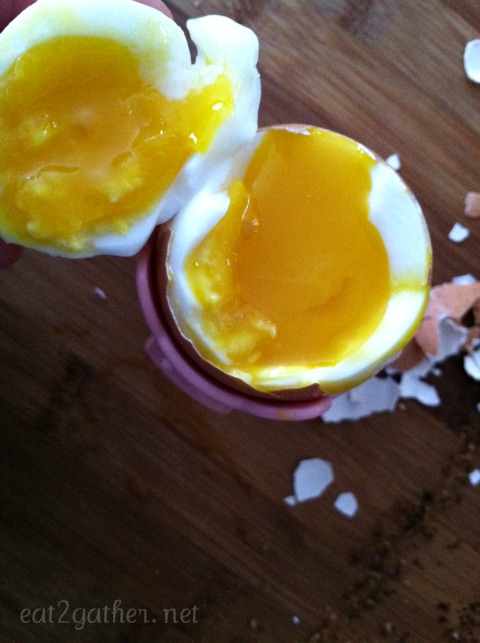 this amazingly buttery goodness.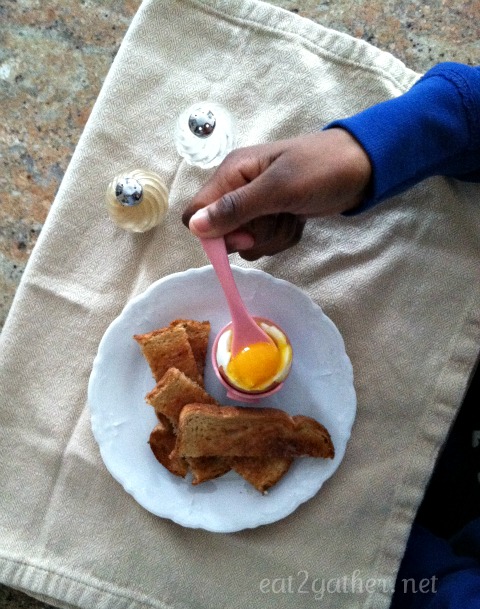 You should have heard the moans and groans as my kids hovered over their eggs last night.  "Why is this so much better than any other way you make eggs?" my son asked.  "Because it takes time…and you put more thought and love in it", I answered.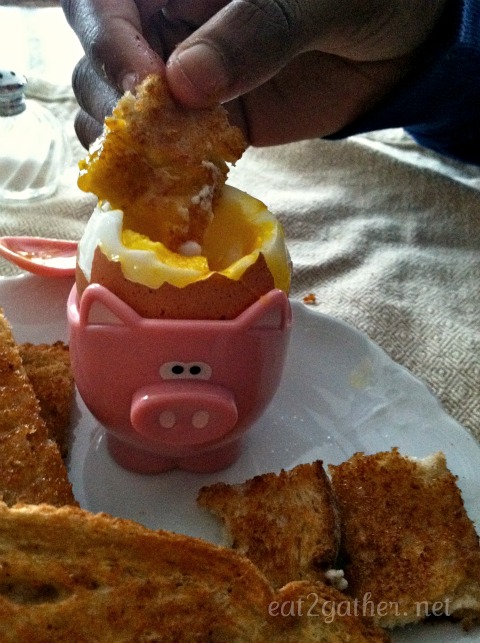 This morning Cece and I ate a proper soft boiled egg.  We sat.  We savored.  And then we were ready to face the world!  My son is right there is nothing like a soft boiled egg.  They are surprisingly buttery and fabulous;  quite literally a smashing way to eat an egg!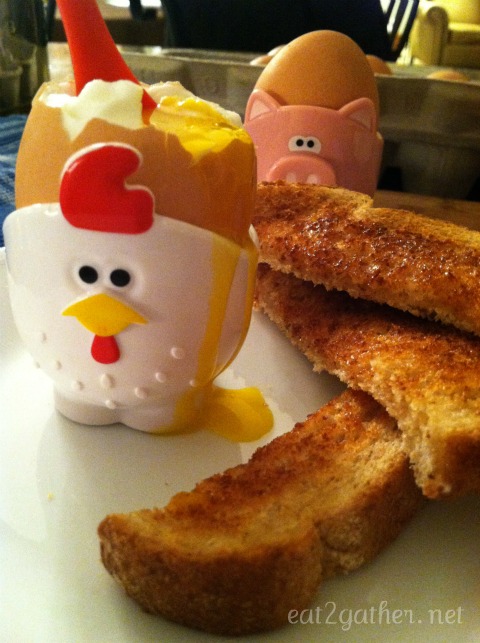 Mr. Pig kept photo bombing Mr. Roosters shoot last night.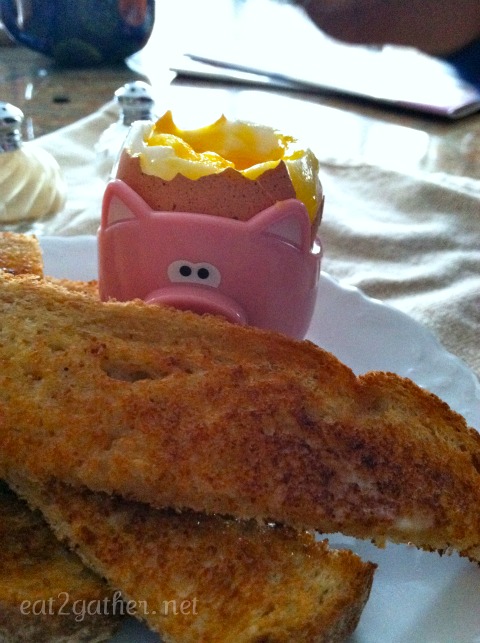 Then this morning he was being all bashful.  Guilty Pig!
[print_this]
Soft Boiled Egg
Eggs
salt
water
a pan
Cooking directions: place a pan of salted water on stove, bring to a boil, gently place eggs in boiling water, set timer for 5 minutes, remove pan to sink, run cold water over eggs until there is no hot water left in pan.
Eating directions: Remove egg/ or eggs from cold water give a rap on one end to crack the shell, peel back 1/3-1/2 of the shell, slice off top of egg revealing the yolk. Scoop out with a spoon. Dipping buttered toast sticks into yolk is also a favorable choice.
Enjoy!
[/print_this]
NOTE: Just incase you didn't catch this egg boiling tip in the comments, I thought  I had better add it.  My sister (Kraut….I know it's a funny name, just go with it!) reminded me that a tiny hole should be pricked in one end of the egg to avoid the egg cracking and seeping out of the shell while cooking.  To do this gently cradle the egg in one hand and with a stick pin gently poke a hole in one end before gently dropping the egg into the boiling water.
Also in case you missed it my Seestor reminded me of the cute little egg snuggies that the my German family uses to keep the eggs warm until your butt arrived to the table.  Ahhhh the mammories…. Love  all your soft boiled egg stories!  Keep them coming ; D
Have a super D dooper weekend! Luvya, Sheila XO