Baked Ham and Cheese Sandwiches
Baked Ham and Cheese Sandwiches are a delicious alternative that can be made the day before and packed in your lunch.  Eat them cold or warm them up in a microwave for that hot out of the oven taste!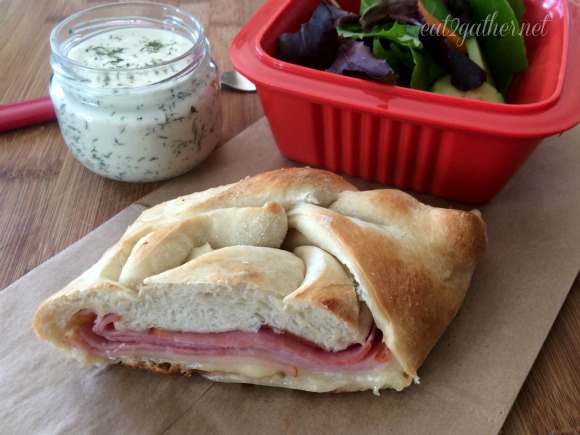 My son says Baked Ham and Cheese Sandwiches are the "best lunch ever".   I agree!  Although I'll take mine with a mixed green salad and a side of buttermilk  ranch dressing  for dipping and dressing!  You know I like my sauces!

This sandwich is so easy to make ahead of time for lunches, the leftovers are just as good the next day as they were the first.  I make several variations of this sandwich, by keeping frozen bread dough in my freezer I can make these easy delicious sandwiches whenever my family asks for them.  Let frozen bread dough thaw for a couple of hours (or follow quick thaw directions on package), roll dough out into a long rectangle, spread  center of dough with onion and chives cream cheese spread, lay cheese down the center, and top with sliced ham.  Slice the dough on a diagonal upwards on both sides 4 or 5 times.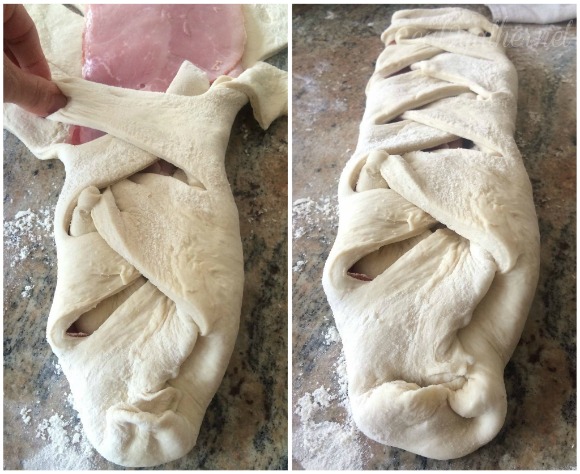 Braid dough over ham and cheese.  First tuck in the bottom and then pull each side of dough across, crisscrossing as you go.  Mix one egg white with 2 tablespoons of water, brush over sandwiches and bake for 20 minutes in a 400 degree oven.  That's all there is to it!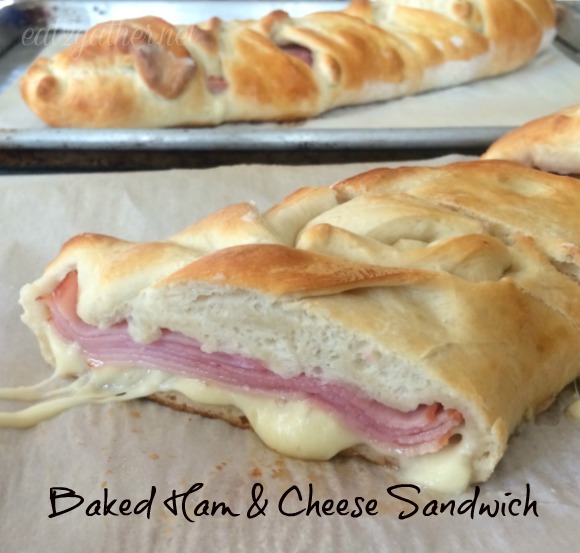 My favorite version of this sandwich is the Reuben with thousand island dressing for dipping!  Baked sandwiches make great party food.  You can make the sandwiches ahead of time and bake them quickly while your guest are snacking on other goodies.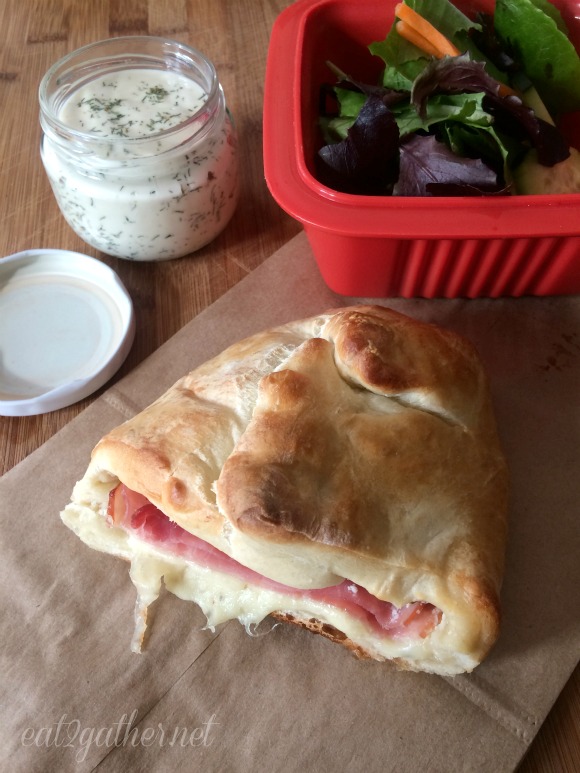 I cannot tell a lie, I usually have to hide a portion of this recipe, if I'm going to insure any get into peoples lunch bags.  As I write my kids have come home from school and are warming up the leftovers from yesterdays baked sandwichathon (I made more than enough for the sake of getting a good photo) for an after school snack.  There are lots of yummy noises going on in the next room!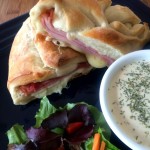 Print Recipe
Baked Ham and Cheese Sandwiches
Ham and herby cheese baked into a crusty loaf of bread, to make the perfect lunch or appetizer!
Ingredients
2

loaves Frozen White Bread Dough

thawed

4

tablespoons

Onion and Chives Cream Cheese Spread

any herbed cream cheese spread will do

10

slices

Provolone Cheese

1

pound

sliced Deli Ham

1

egg white + water
Instructions
Preheat oven to 400 degrees.

Dust counter with flour, roll one loaf of bread dough into a large rectangle (15″x12″).

Spread 2 tablespoons of cream cheese down center of dough.

Lay 5 cheese slices on top of the cream cheese.

Layer 1/2 pound of ham evenly over cheese, down the middle of the bread dough.

Cut 4 slices into the dough, angling upwards on both sides of ham. Tuck bottom of the dough up, and then criss-cross dough over top of the ham and cheese until you have reached the top, then tuck bread dough in at the top. Place Sandwich on a parchment lined baking sheet. (If you do not have parchment paper then make sure you grease your pan before baking.)

Repeat these 5 steps to make second Baked Ham and Cheese Sandwich.

Whisk together the egg white and water, brush tops of sandwiches with egg wash, place in preheated 400 degree oven and bake for 20 minutes.

Remove and allow to cool for 5 minutes before cutting. Serve with a side of Buttermilk Ranch Dressing for dipping!
Notes
If you are baking this sandwich ahead of time to pack in lunches, move sandwich to a cooling rack to allow sandwich to completely cool without getting soggy on the bottom.
Air Fryer: leftovers are perfect warmed up in the air fryer. 
For more scrumptious Lunch Box Redo ideas be sure to tune into the United Dairy Industry of Michigans Pinterest Boards, Twitter, Facebook, Instagram and MORE! 
Disclaimer:  I am proud to partner with the United Dairy Industry of Michigan to bring you delicious healthy recipes made with cow's milk.  Because of these great partnerships E2g is able to bring you and your family around the table to enjoy great food!  As always all opinion and ideas are 100% my own. 
FOLLOW this Pinterest board for my great sandwich and wrap ideas!