German Chocolate Cake and a celebration!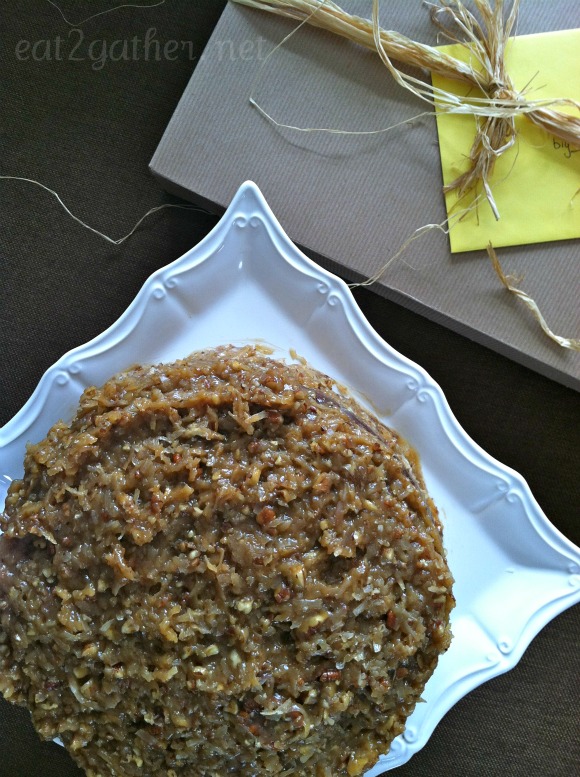 I'm wondering…why is it, as we get older we fail to celebrate our lives and the lives of those we hold dearest?  When we are children we are allowed to celebrate our birthdays with abandon.  Favorite foods, cake and ice cream, treat bags, sleep overs, party hats, decorations, parties with family, parties with friends, birthday breakfast, birthday dinners, private "special" party with mom and dad only.  Then when we get older the celebrations slide through the cracks.  We say our birthdays are "a day better forgotten", and unless a friend or family member throws us a surprise party the celebration doesn't happen, another year slides by….unnoticed…uncelebrated.  Why people why why why???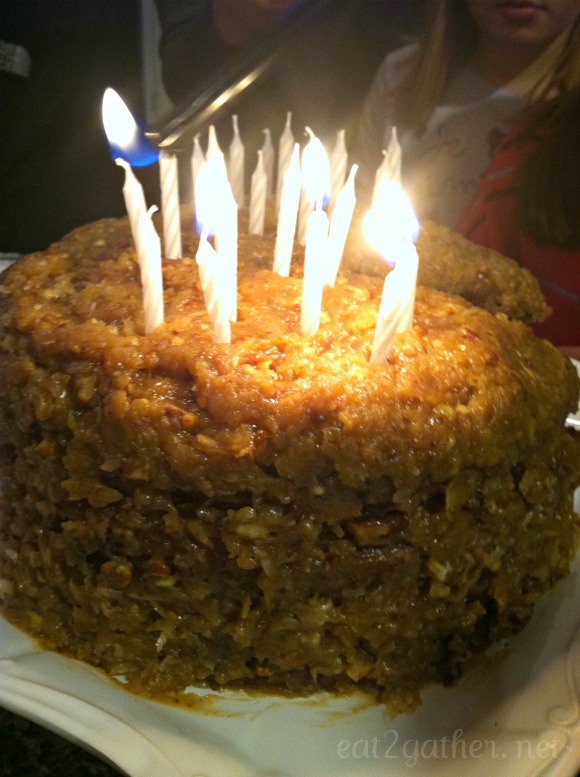 Birthdays are not overlooked  in every culture.  I know that for a fact.  And I'm here to say we need to step it up in the celebration area.  Or is this just where I live?  Do you celebrate birthdays big in your neck of the woods?  If you do I wanna be your neighbor….please won't you be my neighbor?  (insert Fred Rogers flipping his shoe in the air and zipping his cardigan sweater)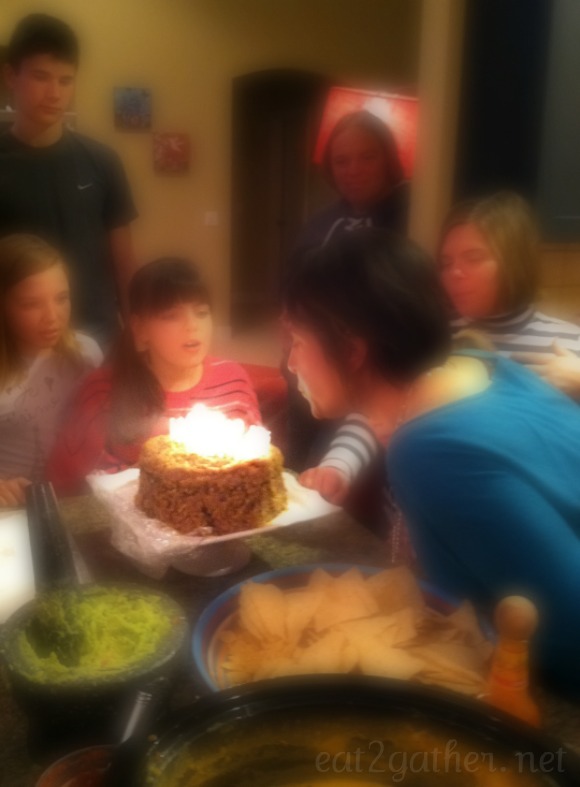 So this past weekend was Big D's 29th birthday 😉 and us girls decided to have a little get together, and I for one am glad we did (thank you Linda), cause gol dern it we need to to start celebrating each other more!!  We're not getting any younger, our days are numbered…literally.  We have lost loved ones, we have survived cancer, divorce, job loss, and seen some crazy times.  What more reason do we need to start throwing parties for ourselves?!
I haven't written about Big D in a while, she's still around!  Like a fly on well…… we will just leave it at that!  She's my foodie partner in crime, my faithful commenter, my cheerleader, book club sistah, beach bum buddy, girls getaway gal…Ok  you get it I sort of love this lady. (For sure she's boo-hooing right now over her iPhone….no crying sistah!)
Celebrate we did, kids, husbands, neighbors and friends….it was a glorious potluck of good times!  We divi'ed up the food list, and gave nothing to Big D. She was erked.  We said too bad so sad, it's your birthday you can cry if you want to, but we are making the food…your favorite food, mind you…and all you need to do is simply show up!  Oh! there were many texts flying back and forth.  In the end she brought the refried beans!  I got the cake and the Spanish rice.  The birthday girl wanted Tres Leches Cake so I made it, but it didn't look like enough so I decided to make a second cake.  My favorite cake.  German Chocolate Cake.  Three layers polka dot period.  I didn't want to look selfish or anything so I just said I had been wanting to put it on E2g so I thought I would test it out on everyone…..I love that I can use my blog as a scapegoat. 😀
Hey turns out my favorite cake is Big D's second favorite cake!  Perfect!  I knew that.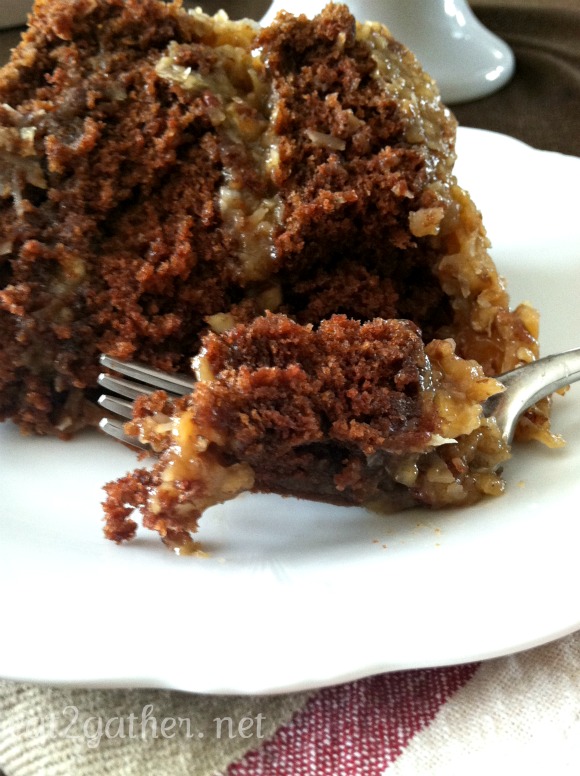 So the day started with lunch out…then pedicures, then to Big D's sisters house to eat, drink, and do Just Dance on the Wii. A fabulous time was had by all!! The next morning I got a text.
Big D: Thanks again for the lovely day…Still thinking about those yummy, yummy cakes!
Me: I was thinking about how life is so short we need to seriously celebrate birthdays more! Love on each other more often! Not let life pass us by!!
Big D: Amen to that seester! And boy was I loved on last night. Sort of felt guilty about it!!
Me: STOP IT!!
Stop it!  No guilt!  Guilt is of the devil!  Of course he doesn't want us to celebrate life, to give thanks and be happy.  He wants us to be miserable.  We shouldn't have guilt about having a good time with our friends and family and being celebrated…we should want more!
So I'm declaring it!  We need to celebrate more…and EAT more CAKE!! Love on each other more.
That means YOU TOO!  Will you join me, in the pursuit of celebrating more!  That's what my tag line is!  I should probably live by it!
The Pursuit of Food, Family, and FUN!!
Here's the recipe to my favorite cake!  This cake is easy, but looks complicated.  You can make it into cupcakes or simply make a sheet cake.  I made the three layer version for myself…er um I mean Big D, this past week end because it looks fancier with candles piled on it.
[print_this]
German Chocolate Cake
6 ounces Bakers German's Sweet Chocolate (1 1/2 bars)
2 sticks Butter
1/2 cup boiling Water
2 cups all purpose Flour
2 cups Sugar
1/4 teaspoon Salt
4 eggs
1 cup Buttermilk
1 teaspoon Baking Soda
1 teaspoon Vanilla Extract
1 Recipe Coconut-Pecan Frosting
Coconut-Pecan Frosting
4 Egg Yolks
1 can Evaporated Milk (12 ounce)
2 teaspoons Vanilla Extract
1 1/2 cups Brown Sugar
1 1/2 sticks Butter (3/4 cup)
3 cups Coconut (like Baker's Angel Flake Coconut)
1 1/2 cups chopped Pecans
Preheat oven 350 degrees
1. In sauce pan melt butter and chocolate together over low heat. When chocolate is nearly melted remove from heat and add boiling water, whisk until mixture is smooth. Set aside.
2. In mixing bowl combine flour, sugar, and salt. (I sifted mine but only because my sugar was lumpy, usually I skip sifting at all costs!)
3. In a separate bowl whisk together buttermilk, eggs, and vanilla. Sprinkle in baking soda whisk to combine.
4. Pour chocolate into flour mixture stir until combined then gradually add in wet ingredients. Scrape down sides of bowl, continue to mix until ingredients are thoroughly incorporated.
5. Pour cake batter into 3 greased and floured 9 inch cake pans, or 1 9×13 cake pan, or 24 cup cake tins. Bake round cakes and cupcakes for 20 minutes or until toothpick comes out clean. 9×13 bake for 30 minutes or until toothpick comes out clean. If creating a layered cake or cupcakes remove cakes from pans to a cooling rack.
Frosting: In sauce pan whisk together egg yolks, evaporated milk, and sugar. Cut butter into cubes, add to sugar mixture place over med-low heat stirring continually until butter melts and frosting comes to a low boil. Continue to stir at a low boil for 10 minutes until frosting thickens. Remove from heat and let cool for 10 minutes. Mix in coconut and pecans, let cool to room temperature.
Assembly: The beauty of this cake for me is that it is not fussy, and does not have to look perfect when frosted. When frosting is room temperature assemble cake. Place first layer top side down on cake plate, spoon about 3/4 of a cup of frosting on to layer and spread out, place next layer on bottom side down, repeat with frosting, place last layer on top side down use a spatula to scoop remaining frosting on to the top of the cake carefully spread frosting over top and down the sides. Remember this doesn't have to look perfect, because it tastes perfect!
Enjoy!
[/print_this]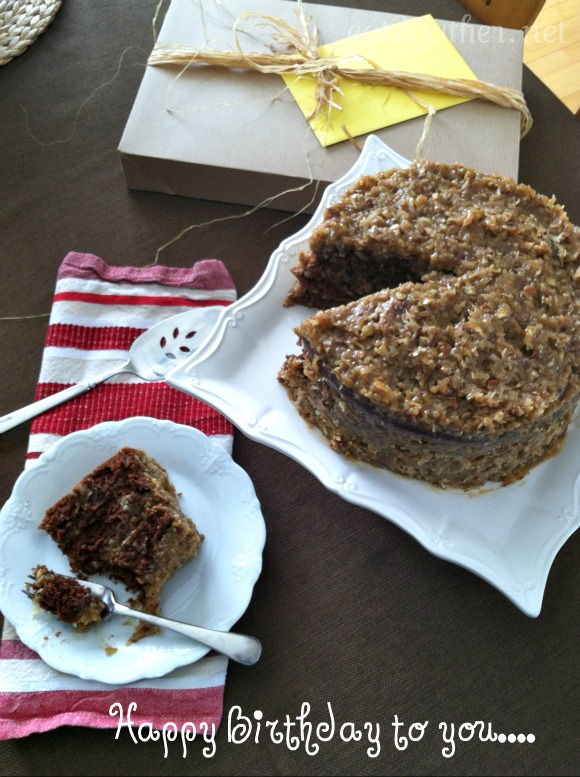 So now you know I've declared it;  from now on Birthdays are not just for kids anymore!  The big kids need to celebrate too!  It's our responsibility to show the younger ones how it's done….responsibly of course ; ) !
Love you XO! Sheila