Strawberry Salad with Poppy Seed Dressing
Strawberry Salad with Poppy Seed Dressing is the quintessential west Michigan summer salad.  Everyone has their own version, slightly different, mostly the same, always delicious!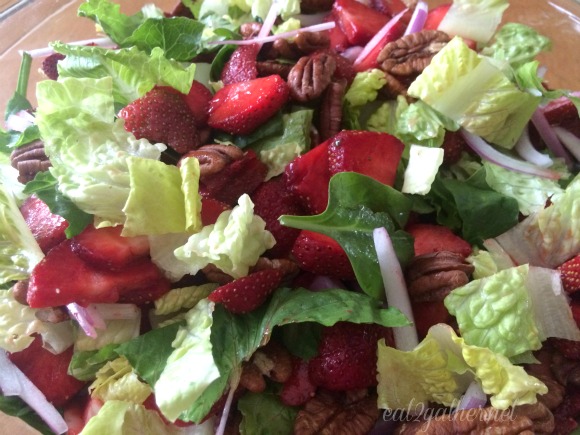 Growing up it was always a treat to take a drive to Rockford, a quaint little town northeast of where I grew up, and eat at Arnies restaurant and bakery on the river.  Still a treat but without the drive we would go to the Leonard location.  I'm making the claim that Arnies restaurant put the Strawberry Salad with Poppy Seed Dressing on the culinary map.  Do not argue me on this.  What you grew up with the same salad in Texas?  Well someone in Texas must've come to Michigan and stole the recipe back to the south, cause I'm pretty sure Grand Rapids is the birth place of this salad. If you go to Arnies it's called the Riviera Salad.  Arnies makes their own Riviera Dressing which you can purchase in their restaurants or in grocery stores, maybe it's in your grocery store!  But if it's not you can use your favorite poppy seed salad dressing and it will taste fabulous.  I promise.  I actually love the Brianna's brand poppy seed, that's what I use, but like I said if you have a favorite, or a really great recipe for your own, I say goferit!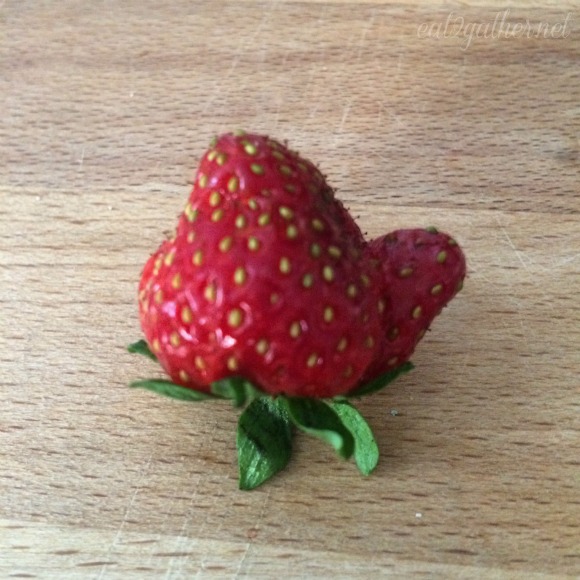 You know I'm a strawberry freak.  I literally have been making myself sick on them.  When they are in season her in the Mitten, which is only for about 2 weeks, I feel like I need to o.d. on them.  I could eat this salad airy day, and airy night.  Take a gander at the strawberry in the shape of Michigan my Cece found!  If that's not pure Michigan I don't know what is!
Meet Bean, the newest addition to our family.  Bean is a lop eared rabbit.  Bean likes herself some strawberries!  I am not really an animal person, it always takes some time for a varmint to work its way into my heart, but this bunny is seriously the cutest, sweetest darn thing ever….until it thinks your finger is a carrot then well not so much!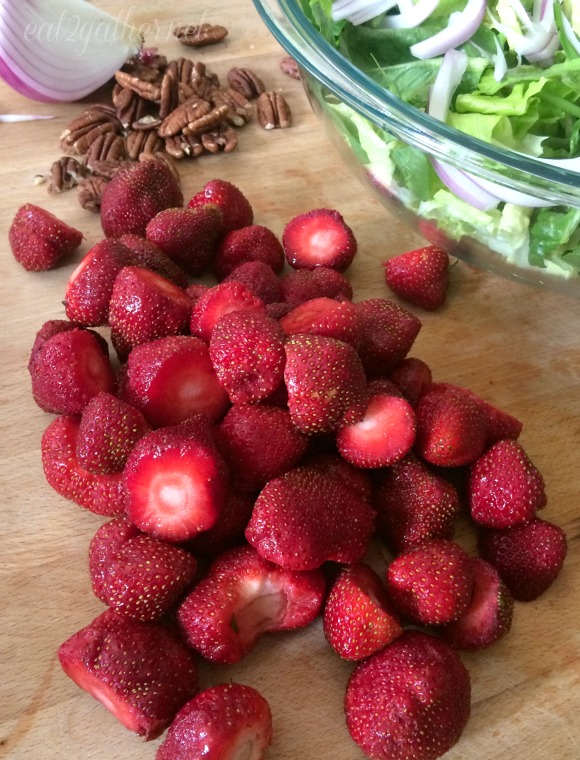 So back to the salad!  I'm telling you you've got to make it.  I know not everyone is up for fruit on their salad, but really I think this salad will win you over to the sweeter side of salad!  It's super easy and versatile.  I have added blueberries and feta cheese for aRed White and Blue  version of this salad!  
Happy 4th of July weekend! Sheila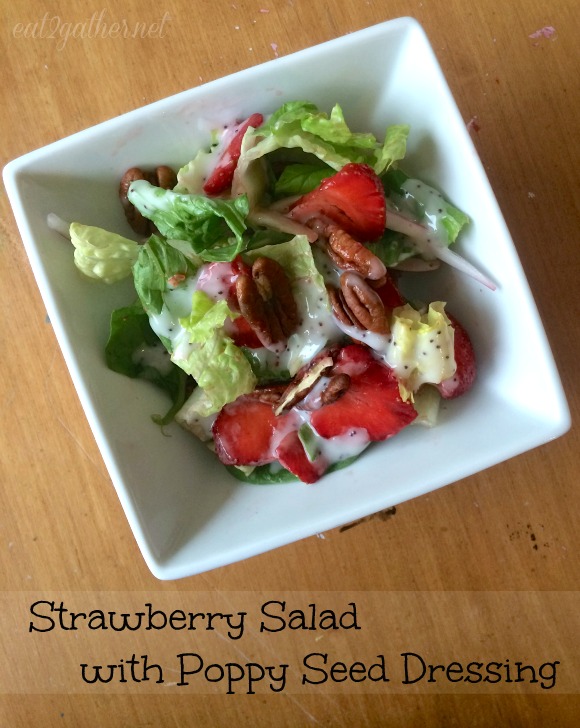 [print_this]
Strawberry Salad with Poppy Seed Dressing
serves 8-10 as a side, or 4 for dinner salad
2 heads Romaine Lettuce, cleaned and chopped
2 cups Spinach, washed and torn
3 cups fresh Strawberries, sliced
1 cup Red Onion, sliced thin (about 1/4 of a large red onion)
8 ounces Pecans or Almonds toasted
1 jar Poppy Seed Dressing, my favorite is Briannas
1. To toast nuts: preheat oven to 350 degrees, spread nuts out on a baking sheet and place in oven for 5 minutes checking occasionally. Remove and let cool.
2. Chop ends off lettuce rinse with cold water, pat dry with paper towel, and tear into bite sized pieces. Do the same with the spinach. If you have a salad spinner this works best!
3. Toss romaine and spinach together add onion, pecans, and sliced strawberries. Toss lightly.
4. Serve with dressing on the side or toss with dressing and serve as a side or with shrimp or chicken on top for a dinner option.
Enjoy!
[/print_this]
 A few more favorite strawberry recipes:
Strawberry Rhubarb Balsamic Jam