Yesterday we celebrated Independence Day by having some close friends and family over after the local parade for lunch and to hang by our pool.  It's become somewhat of a tradition.  I decided to try out a new recipe on everyone. It was a hit!  There wasn't a lick of it left in the pan, so I knew I needed to share it with you today on Meals 4 Sharing Fridays!
First I need to share my beef brisket saga with you…..
You better have a sit for this one….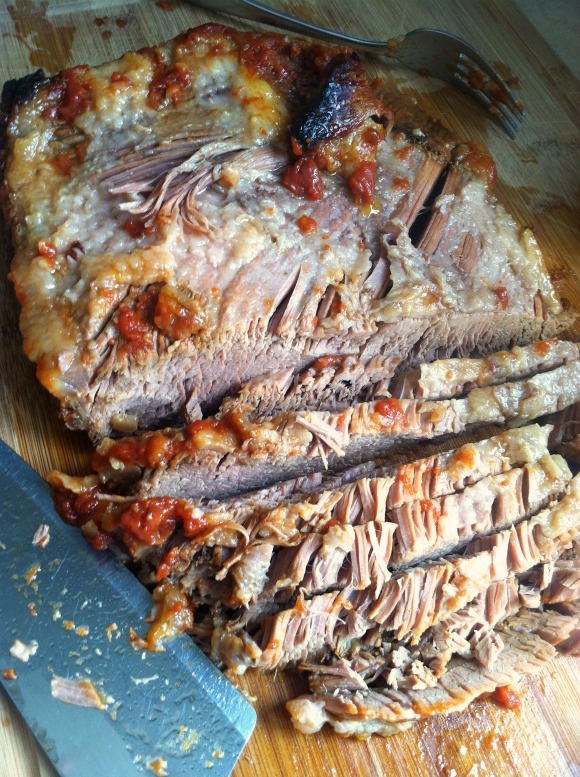 Looks delicious no?!  Have you ever made brisket?  It's a piece of meat that needs to be reckoned with.  It needs time, lots of time, low and slow is the way to go.  So I had planned on putting the oven brisket in at 1am, I had 16 pounds of brisket so I thought it would need approximately 8-9 hours, that would put us at 10 am.  My plan was to cut up the brisket put it in a "meat to be reckoned with" sized crock pot and head to the parade then we could eat as soon as we returned, around noon.
I fell asleep reading and never put the meat in the oven….until my alarm went off at 6:30am and I woke with a start, jolted out of bed and hollered "DA MEAT!!".  Kenny was like who what huh huh huh!.  It's a disaster I whined, we have 40 people coming over for lunch and no meat to eat, help meh, help meh.  What to do?  What to do?  I googled brisket…twas no help.  In desperation I tweeted Ree to see if she had any answers since it was her recipe. She pretty much said I was hosed, in a nice way of course.  I decided to amp up the oven to 400 degrees and then turn it down to 300 after an hour, and then push back lunch an hour or so.  It worked!!  The meat was perfect, and there wasn't a dern scrap left!  7 hours total the brisket baked, I prayed pretty hard and trusted God would help me out… I'm calling this the Miracle of Da Meat. It will be added to the newest new testament (NNTV) soon, I'm sure of it.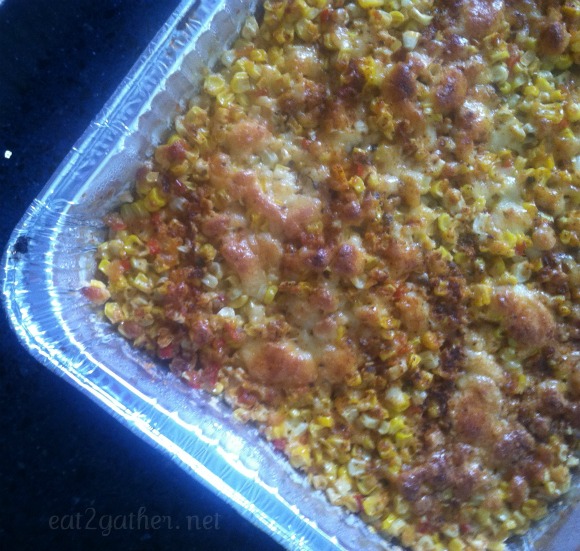 Ok now back to the real story….
My oldest daughter and I love Mexican Corn or Elote which translates to corn on the cob.  One problem is that Ainslie has braces and this makes for disastrous corn on the cob consumption, and I can tend to be a nightmare when it comes to eating corn on the cob, especially when it's slathered with mayonnaise, cheese and spices, I'm a messy eater.  Recently Ainslie cut the corn off the cob and mixed it with all the mexican toppings….that's when this recipe came to me WHa-BAM!  Why not cut the corn from the cob before cooking mix it with all the condiments that Mexican corn is eaten with and bake it?! Voila!  Easy to eat mexican corn.
I was thinking the recipe might need tweaking a bit, but everyone said NO, it's perfect don't change a thing….and it was all gone in a matter of minutes, there was nary a kernel left in the pan, so I decided to take the advice of friends and family and not change a thing!  I also thought I'd better share it with you real quick like, so you too can enjoy the delicacy of the Mexican Corn Bake many much times this summer….
Yes I said many much.  Don't question my grammar…just make this corn, it's good, real good.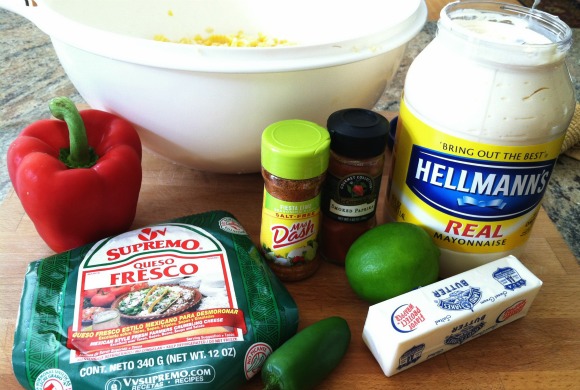 Here is most everything you will need.  The red onion was shy and did not want to be photographed today so I let her sit this one out.  I'm not one to argue with an onion.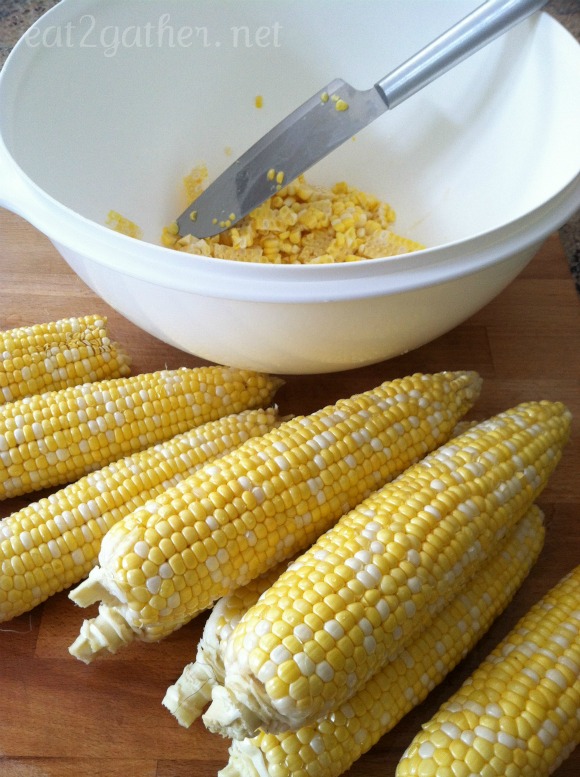 You'll want to start with 10 ears of corn.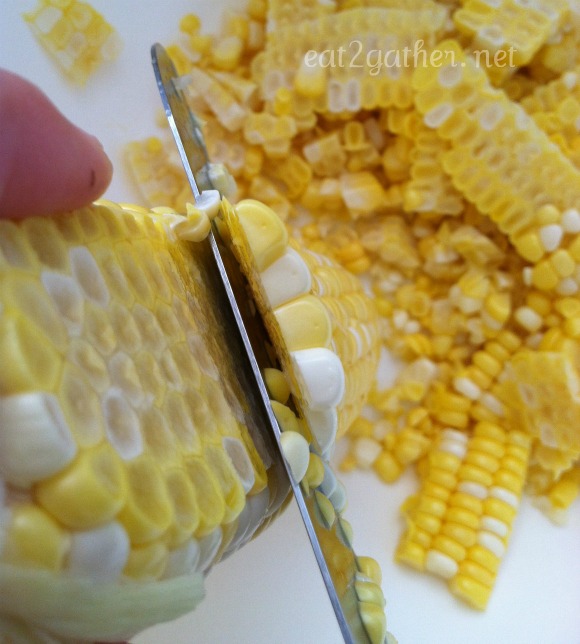 Cut it clean off the cob.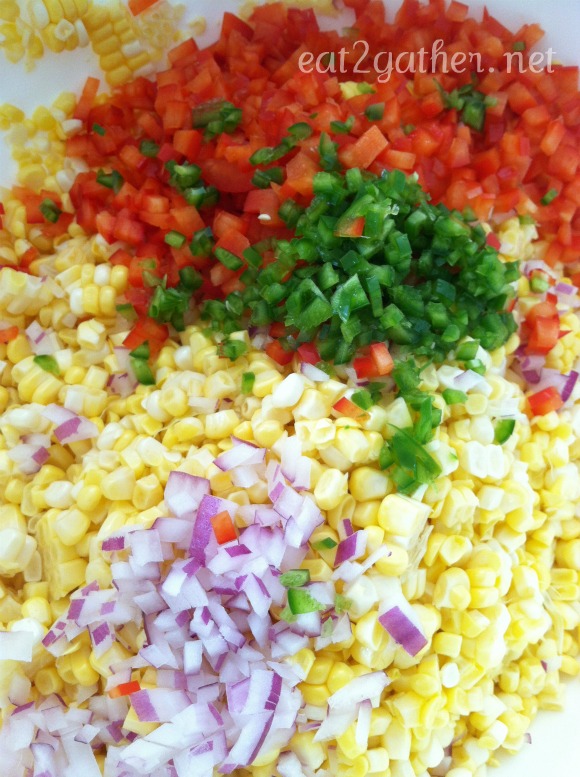 Add in finely diced red onion, red pepper, and  jala-peh-no.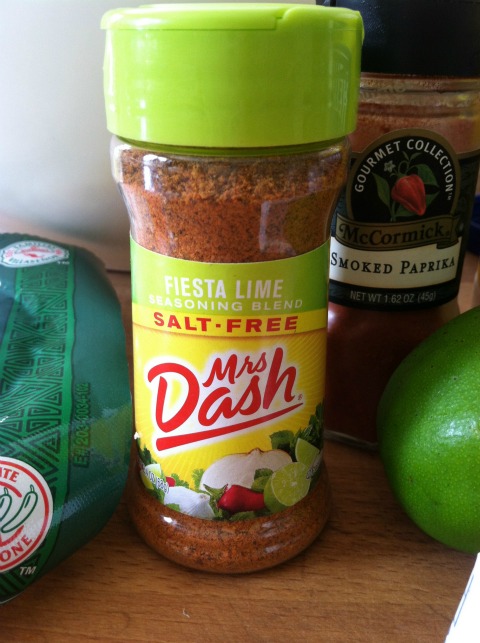 Mrs. Dash Fiesta Lime seasoning is the key to this dish.  I'm telling you, you need to find this stuff.
Mix together mayonnaise, fresh squeezed lime juice, lime zest, smoked paprika (this adds that smokey grill cooked flavor), and Mrs Dash Fiesta Lime Seasoning.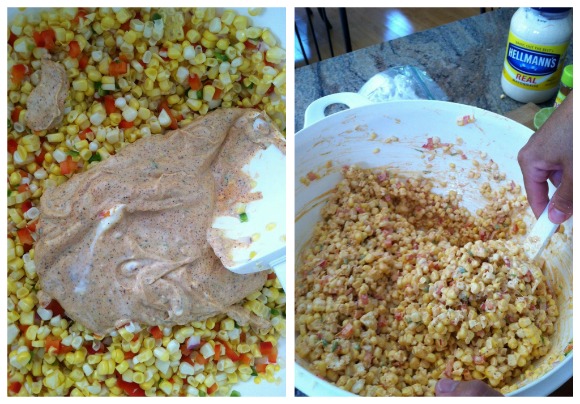 Mix the sauce in to the corn, making sure that the corn is completely covered with the sauce.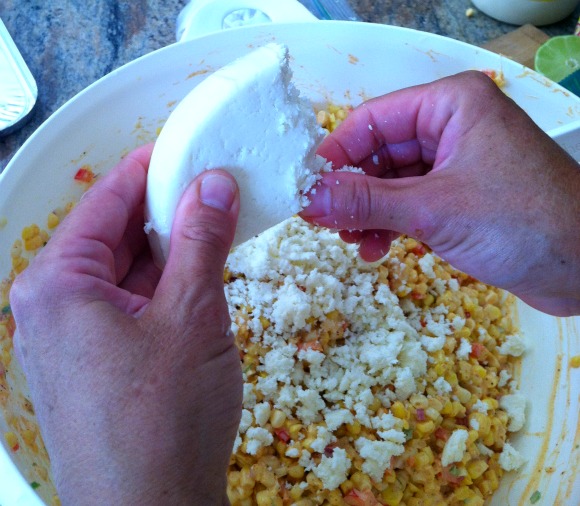 Crumble in half of the cheese.  If you can't find Queso Fresco cheese I think finely shredded Monterey Jack would work too. Now pour it in a 9×13 pan dob 1/2 stick of butter over the top, crumble remaining 3 ounces of cheese over top and sprinkle with an additional 1/2 teaspoon give or take of Mrs. Dash, pop in a 350 degree oven for 1 hour.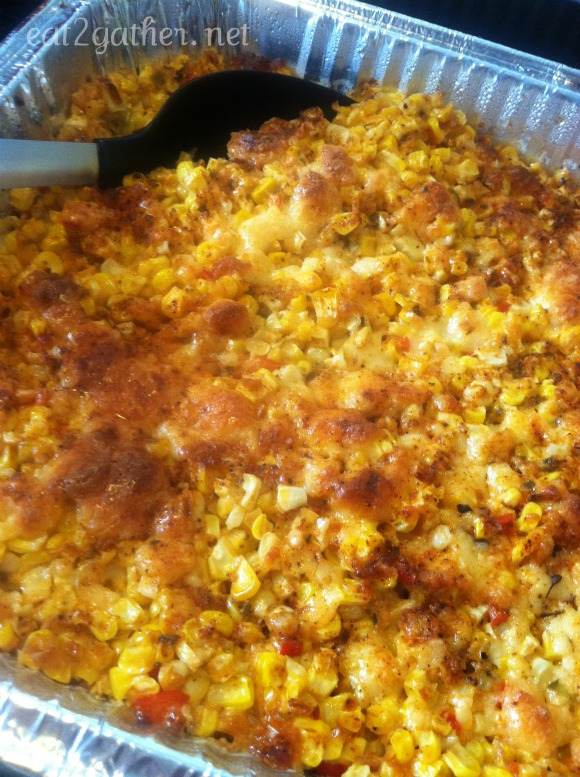 There she is…come to momma!
[print_this]
Mexican Corn Bake
serves 10-12
10 ears fresh Corn, or 10 cups of frozen corn
1/3 cup finely chopped Red Onion
1 Red Pepper, finely chopped
1 Jalapeno Pepper, seeded and minced, or if you want it spicy keep the seeds in
1 cup Mayonnaise
the zest from 1 Lime
juice from 1/2 a Lime
1 tablespoon Mrs Dash Fiesta Lime Seasoning Blend + 1/2 teaspoon for garnish
1/2 teaspoon Smoked Paprika
1/4 cup Butter, cold and sliced into thin pieces
6 ounces Queso Fresco Cheese
Preheat oven to 350 degrees.
1. Husk and clean corn, cut kernels off the cobs into a large bowl.
2. Add red onion, red pepper, and jalapeno pepper to corn and combine.
3. In a small bowl whisk together mayonnaise, lime zest, lime juice, Mrs. Dash Fiesta Lime seasoning blend, and smoked paprika.
4. Fold mayonnaise mixture in to the corn making sure everything is covered with sauce. Crumble 1/2 of the queso fresco cheese in with the corn and mix well.
5. Pour into a 9×13 baking dish place butter slices evenly across top of corn, sprinkle with remaining queso fresco cheese and sprinkle 1/2 teaspoon of Mrs. Dash Fiesta Lime seasoning over top. Bake in a 350 degree oven for 1 hour uncovered.
Enjoy!
[/print_this]
I look forward to corn on the cob all year long, I can't get enough of it!  What summer fresh vegetable can't you wait to have when it's in season?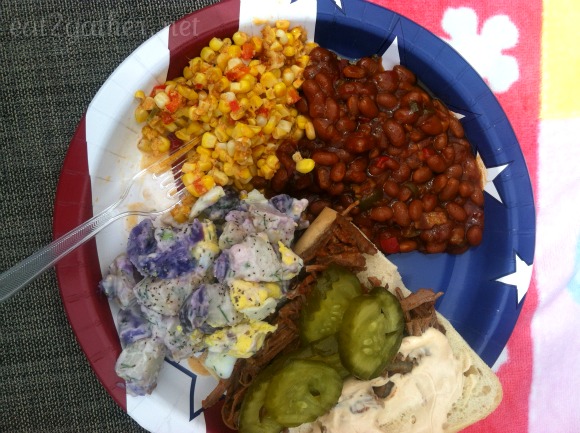 Theres's my pretty plate. Nummy for my tummy!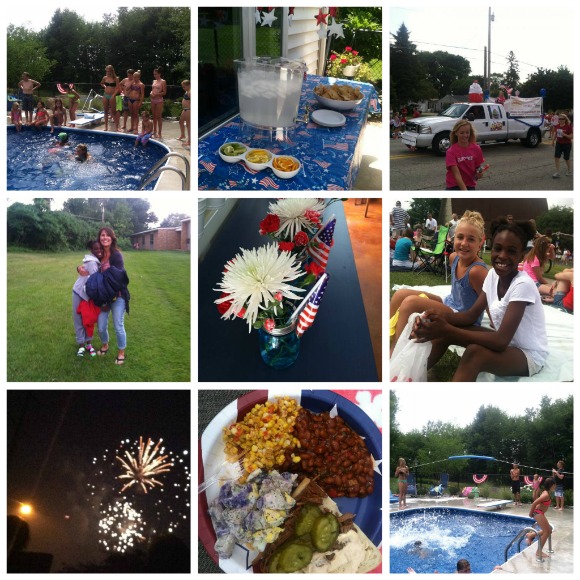 4th of July 2013
TIME TO LINK UP!!  If you have a recipe from your blog you want to share link up below or if you don't have a blog well then tell us all about it in the comments!
Much Luv, Sheila