I want to share one of my families favorite sandwiches, Baked Pizza Sandwich!  It's pizza.  What kid doesn't like pizza?  It's easy!  What mom doesn't like easy? First I'm feeling the need to sort of unload what's been happening around here lately…..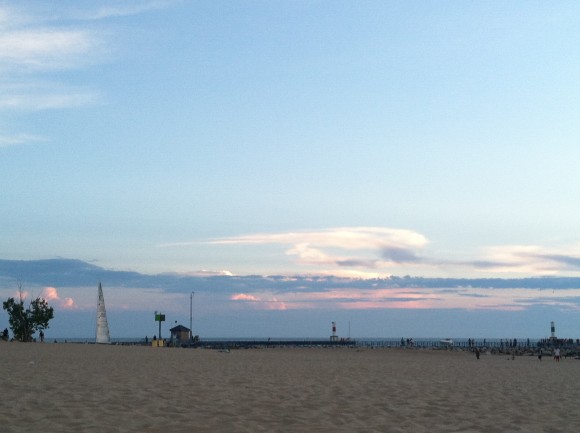 Two weeks into summer!  Ahhhhh!! So far its been a blur!!  My oldest, Noah, graduated from high school this year.  So between graduation activities, an all night party that I stayed up all night for and helped feed 300 kiddos from 10pm-4am, my mom being in town, two weekends of volleyball in Chicago, I'm like yo "life is cray cray".  My son opted out of a graduation party and went to NYC with four of his best buds for a week.  Yes I am that crazy mom that lets her kid drive to New Jersey for a week!  Hey, they've got to jump from the nest sometime right?  (This is not to say that I wasn't worried.  I was. Very. Much. So.)  They survived!  They ate lots of pizza, and only one of the boys got lost, but he was found, so no worries.  I can't wait for the stories to unfold over time.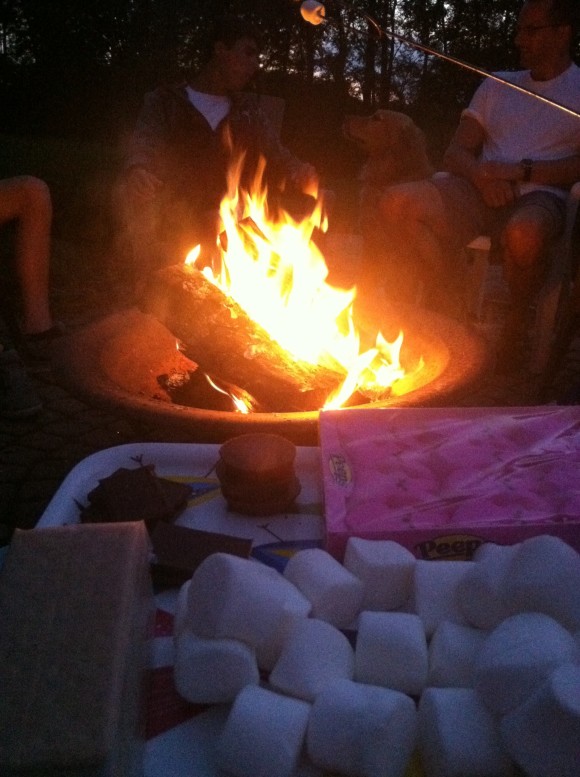 Let's see,  what else has been happening?  We've been making the grad party circuit, which is fun, because I love being social but it has kept me out of the kitchen.   Not much cooking going on around here, nor will there be for another ten days because this afternoon the fam is leaving on a jet plane for sweltering rainy Orlando, Florida!!  I've packed 20 bras, 15 gauze dresses, 50 pairs of undies, and a case of antiperspirants.  You know that I'm the Queen of Perspireation!!   Why Orlando in June?  Volleyball of course!!  Ainslie's team is ending their season at the AAU Nationals Tournament, being held in the Orange County convention center.  So we decided to go early, do the parks,  and bond, I mean sweat profusely together.  It should be fun.  I've barely planned, I haven't taken one book out of the library telling me how to maneuver the parks.  I haven't purchased park tickets yet.  I just decided to rent a car yesterday.  This is not like me at all.  I usually have a five page spread sheet and a list of restaurants a mile long.  I'm sure I will be tweeting, and putting out desperate posts on facebook from the airport…."what should we do, where should we eat?".  It will all work out.  Right?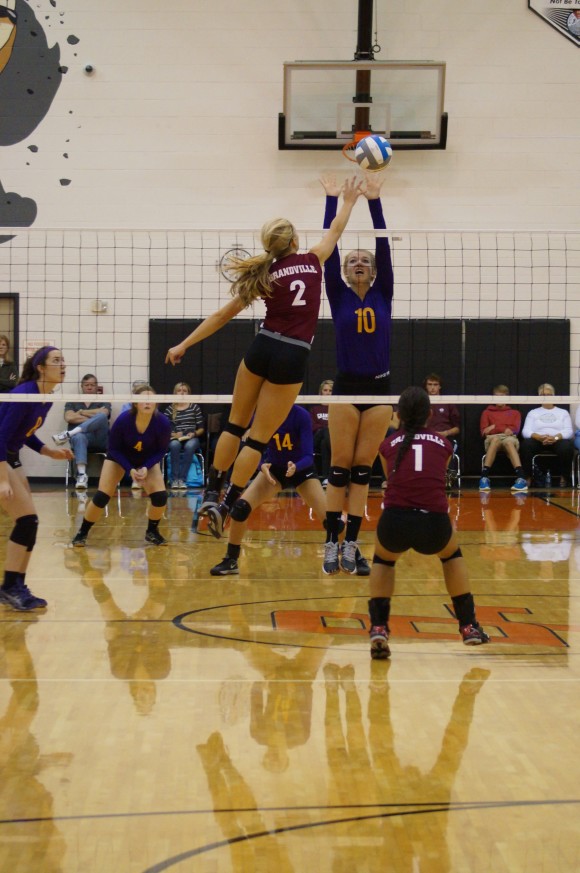 For the sake of my love of ALL things Michigan, I need to tell you we rarely leave this state in the summer, because Michigan is the place to be there is so much to do and see, and enjoy.  It's the summer vacation destination so why would we need to leave?  But we are.  Because we love our Sissa and we will travel to the ends of the earth to watch this kid play the sport she loves!  Please accept my apologies for the excessive amount of Orlando and volleyball photos and hashtags coming your way.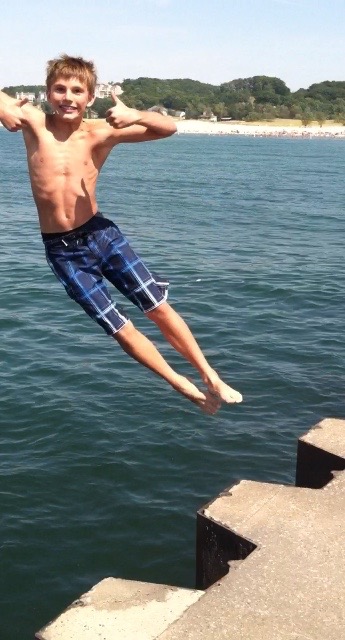 (If you are a state park ranger, or a state park rangers family member please do not be mad at me for jumping off the pier, or letting my kids do it, on occasion.  I realize it's against the rules.  Please forgive me for my careless behavior. OK, got that off my chest.)
After Orlando I'm very much so looking forward to the summer must do's.  Like bonfires, shrimp boils, drive-in movies, lazy days by the pool, long walks in the morning, evening sunsets at Lake Michigan, farmers markets, berry picking, oh the list goes on and on!!  I tried to get my children to make a summer bucket list.  Have I told you my kids, all four of them, are strong willed?   They don't really like to be told what to do or be dictated by a list.  They're all nerds!  Party poopers.  They said they wanted to be spontaneous…."mom it's not that we don't want to do fun things as a family, it's just that we don't want to have a list we have to follow!  Its summer we need to be free." said my second child. OK! WhatEvs I'm making my own private bucket list and then I will say "hey let's go jump off the pier", and they'll be like wow moms really spontaneous!!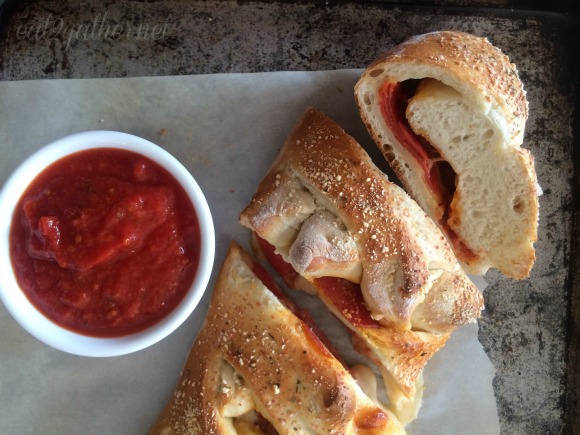 Eventually I will need to get back int he kitchen, and I'm sure when I do my baked sandwiches will make a frequent appearance at our table this summer!  The Ham and Cheese and this Baked Pizza Sandwich are running a close race as a favorite around these parts.  My personal fave is the Baked Reuben Sandwich!  There are so many ways that you can take this idea and make it your own!  Since I post the the Baked Reuben a few years back I've been hearing from friends/readers how they have made "the baked sandwich" their own.
What would be your perfect baked sandwich?  There are no rules!  Just layer your favorite cheeses, sauces, and meats, or roasted vegetables, maybe caramelized onions, the skies the limit, braid the dough, bake, slice, eat.  Repeat!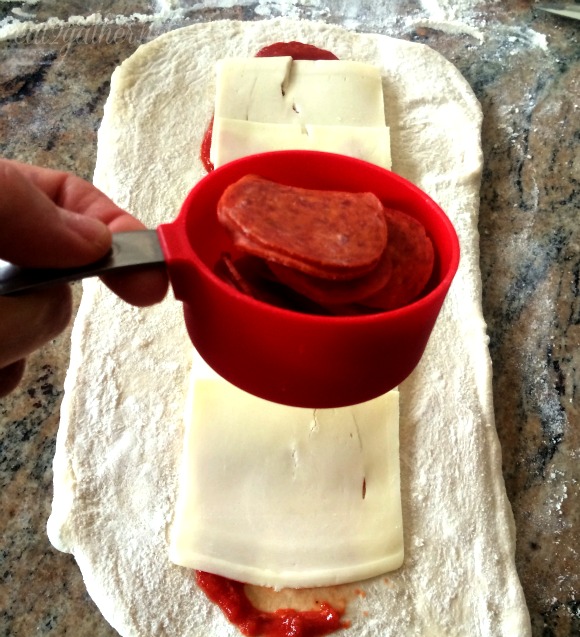 Same routine different ingredients; sauce, cheese, pepperoni, braid, brush with egg wash and sprinkle with parmesan cheese, and bake.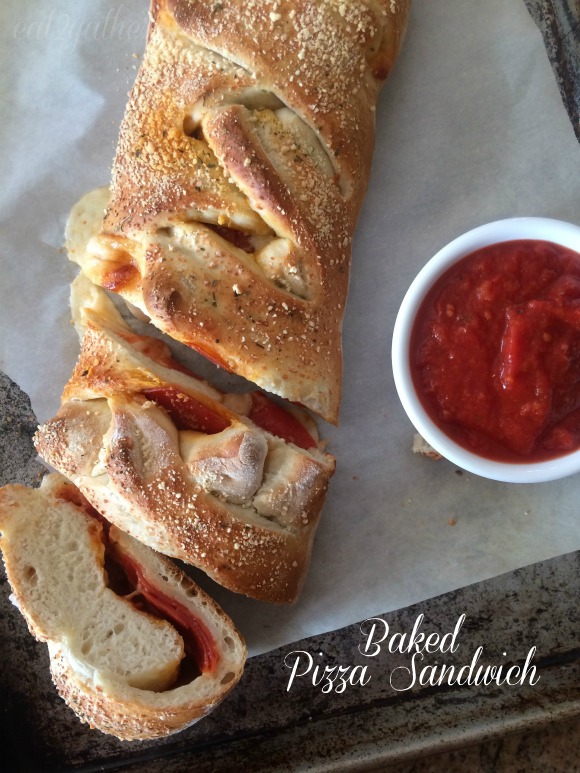 Voila!! Best Party Sandwich ever!!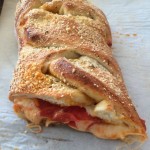 Print Recipe
Baked Pizza Sandwiches
Use frozen bread dough, pizza sauce, cheese and the fillings of your choice, for a tasty snack or a quick dinner.
Ingredients
2

loaves Frozen White Bread Dough

thawed

1

cup

canned Pizza Sauce

10

slices

sliced Provolone Cheese

Pepperonis as many as you like

1

egg white + water

garnish parmesan cheese and Italian seasoning
Instructions
Preheat oven to 400 degrees.

Dust counter with flour, roll one loaf of bread dough into a large rectangle (15″x12″).

Spread 1/2 cup pizza sauce down center of dough.

Lay 5 cheese slices on top of the pizza sauce

Layer pepperoni's on top.

Cut 4 slices into the dough, angling upwards on both sides of cheese and pepperoni. Tuck bottom of the dough up, and then criss-cross dough over top of the fillings until you have reached the top, then tuck bread dough in at the top. Place sandwich on a parchment lined baking sheet. (If you do not have parchment paper then make sure you grease your pan before baking.)

Repeat these 5 steps to make second baked pizza sandwich.

Whisk together the egg white and water, brush tops of sandwiches with egg wash, sprinkle with parmesan and Italian seasoning (to your liking) place in preheated 400 degree oven and bake for 20 minutes.

Remove and allow to cool for 5 minutes before cutting. Serve with a side of pizza sauce for dipping!
Notes
If you are baking this sandwich ahead of time to pack in lunches, move sandwich to a cooling rack to allow sandwich to completely cool without getting soggy on the bottom.
Ok so we're off!  Literally bags are in the car, and people are standing at the door!
I hope your well!  If you're summer plans bring you to Michigan email me!  Tag me in your instagram, or Facebook posts. Tweet me! I'd love to see where you are and what your doing!!
Peace out, Sheila