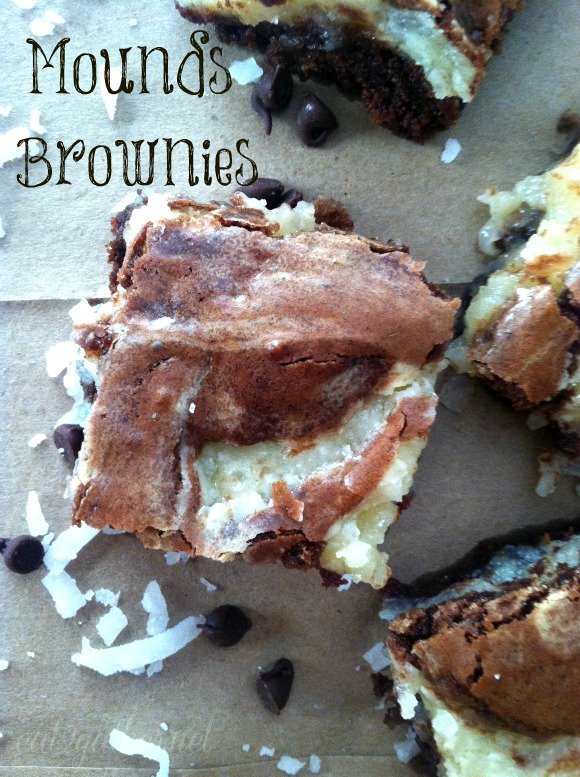 Most people would say I'm a nut, so one would think that I would prefer Almond Joy candy bars over Mounds…not the case!  I love, love, love Mounds candy bars.  Come Halloween I will be raiding my kids plastic pumpkins fo-shizzle.  I've been known to snag a Reeses or two also 😉
A friend of ours brought this recipe to soccer picnic once and I nearly made a fool out of myself standing over the plate….well truth me told I took the plate and ran away with it!  Dave,  I and my thighs and my chubby arms are forever indebted to you for introducing us to these brownies.  Amen.
So that said I should make it known that I cannot make these brownies unless I have somewhere very public to bring them.  If I made them just to have at home, hanging around calling my name every minute of every day….it would not be pretty.  I have a problem.  If you feel like a nut these brownies can accommodate your nuttiness for sure!  Just sprinkle whole almonds roughly chopped over top and Voila! You're a nut!
doo-doot Sometimes you feel like a nut
doo-doot Sometimes ya don't
Almond joys got nuts
Mounds don't!
Mounds got deep dark chocolate and chewy coconut. Oooooo
I apologize.  1. Because now you will have this dang jingle stuck in your noggin for the rest of the week.  2. Because once you make these brownies there is no turning back. It's all over. Don't say I didn't warn you. Don't blame me if you find yourself in a back alley covered head to toe in chocolate with coconut hanging from your two front teeth.  Just sayin'.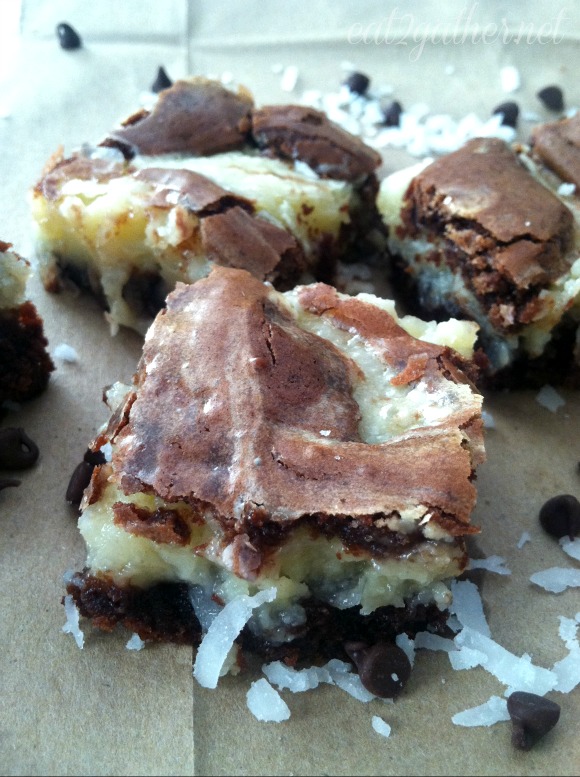 [print_this]
Mounds Brownies
makes 9×13 pan
1 package Fudge Brownie Mix
1/2 cup Vegetable Oil
2 Eggs
1/2 teaspoon Coconut Extract
Filling
1 8 ounce package Cream Cheese
2 Eggs
1 teaspoon Coconut Extract
1 teaspoon Vanilla Extract
3 3/4 cups Powdered Sugar
1 cup Coconut
Preheat oven to 350 degrees.
In a large mixing bowl, beat the brownie mix, oil, eggs, and coconut extract on medium speed until blended. Set aside 1 cup of brownie mixture for the topping. Spread the remaining batter into a greased 9×13 pan. This layer will be thin, it's ok.
Filling: Beat together the cream cheese, eggs, vanilla, and coconut extract until smooth. Add in the powdered sugar until it's completely incorporated and creamy. Fold in the coconut. Carefully spread the filling over the layer of brownie batter. Drop reserved batter by the teaspoon full evenly over the filling and swirl in. Bake for 45 minutes or until a knife inserted near the center comes out clean. Cool on a wire rack and store in refrigerator.
When ready to serve cut into 1 1/2 inch squares. These brownies are very rich so bite sized squares make the perfect treat!
Note: If you're a nut then you will want to rough chopped 1 1/2 cups of whole almonds and sprinkle them over the top of these brownies before baking.
[/print_this]
I'm wondering, are you a corner or a middle person?  I'm both. I'll take it all.  My son Luke is a corner/edge man, but my oldest daughter Ainslie likes the middle.  What are you?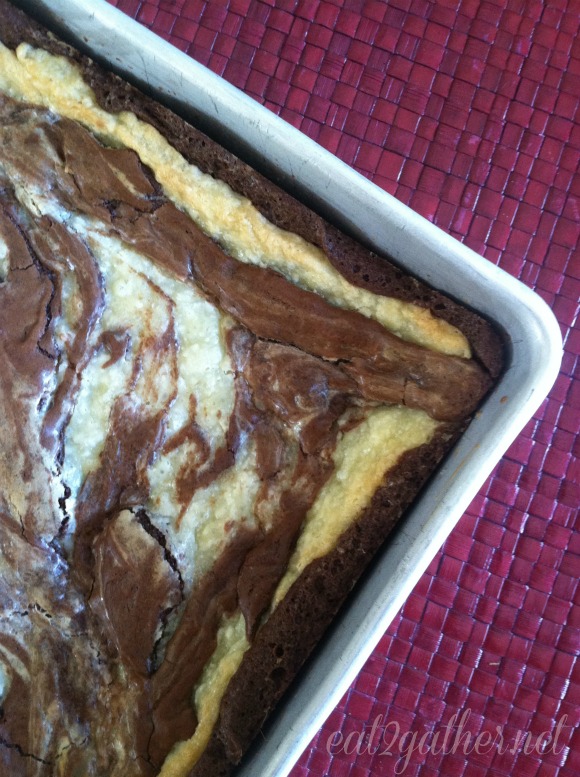 These brownies are perfect for sharing!  What delicious food will be share with your family this weekend?
Have a good one!
XOX, Sheila