I really need to apologize to you all.  Not  because this appetizer is so amazing that you will want to hoard it all to your self.  I mean it is that amazing, but… well…..and I'm not apologizing because of the simplicity of this appetizer….not that it's not simply.  It truly is the simplest appetizer I know how to make.  I'm not apologizing for the fact that goat cheese is one of the three ingredients…and yes I chose to call it chevre in the title, yes….because it does sound  yummier.  I do not apologize for anything relating to the goat cheese aspect of this dish because I do not and will never apologize for goat cheese. I love it like a child. Except for I don't eat my children.  Yeh…well now if you haven't lost your appetite all together I would like to say this:
I am thoroughly and absolutely mortified that I have been holding out on you with this recipe.  I'm sorry.  It was not nice, friendlike, or generous of me.  And well even though it's so easy, and not exactly an E2g original or anything….you quite possibly already make this in your own kitchen.  But if you don't, and you haven't, and you love goat cheese like I love goat cheese well then friend I am sorry that I have not shared this masterpiece with you earlier.
Because it is for all case and purposes the most wondrous, and staggeringly easy appetizer known to man!  The fact that I have not in three years of blogging shared it with you is quite mortifying.  I meant to, but then I didn't…but now I am….because I thought you might need it just as much as I did last weekend.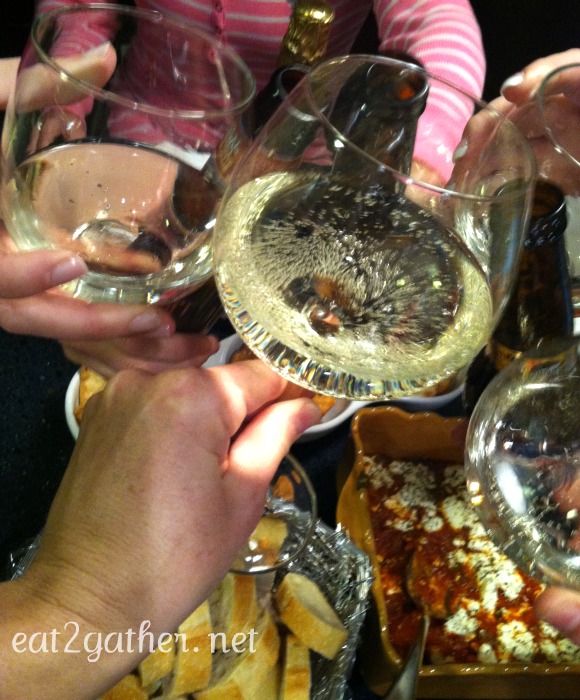 I needed some girl time, some adult time, some time set aside for cheese, cheer, and chums…not necessarily in that order!  The weather was horrible, but that did not matter.  We ate, we wore our jammies, and we laughed our keesters off.  It was necessary.  Sometimes a girls gotta do what a girls gotta do and if that means dragging her chums keesters out in there jammies in the dead of winter to eat warm goat cheese melted into a thick marinara sauce...well then so be it!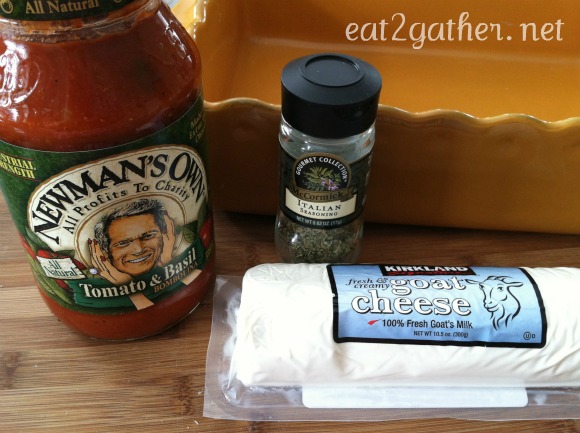 Here is all you need.  I am partial to Newman's Own Sauces, they are thicker than most and stand up perfectly for dipping.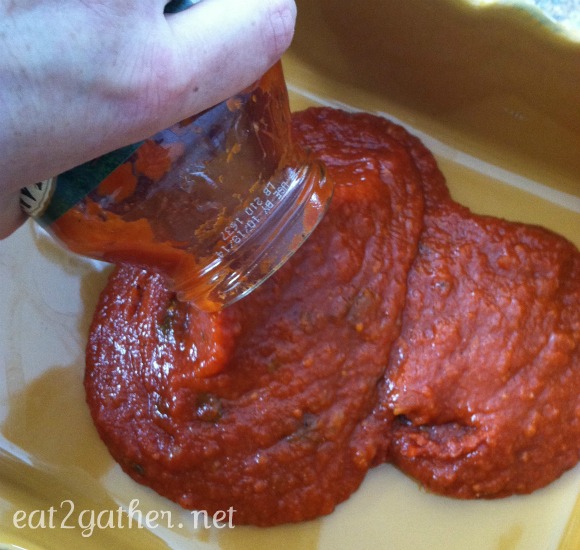 Pour the sauce into a dish…any dish will do, as long as it's oven safe and at least 11×7 or 8″ in diameter.   Heat oven to 400 degrees.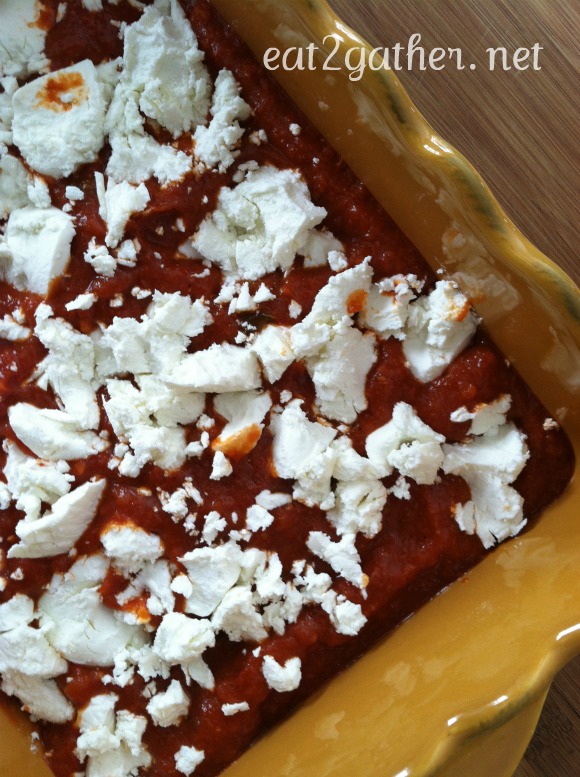 Crumble 11 ounces of Chevre over the top of the thick and tasty sauce.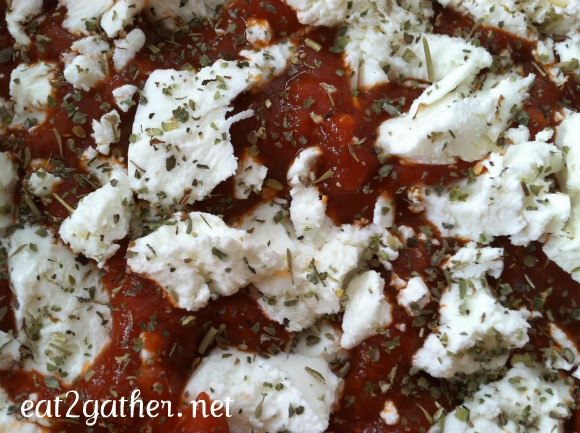 Sprinkle with Italian Seasoning, approximately 1/2 teaspoon…but you can use more if you like or if you are like me sometimes I forget it all together, because I am in too much of a hurry to throw my face into this dip!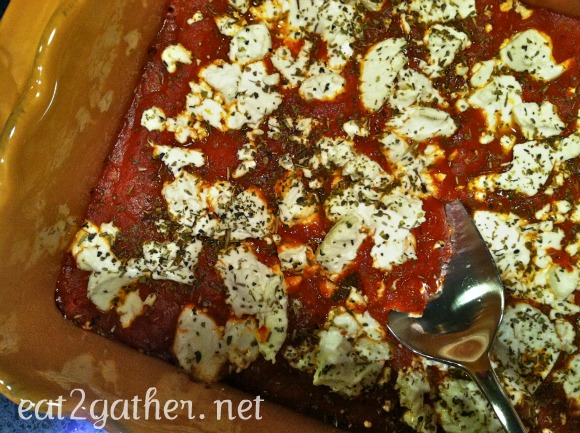 Pop in to a  preheated 400 degree oven for 20-30 minutes or until bubbly.  Voila!! That's it!  So easy to whip up last minute.  You just need some crackers, bread, or pita chips….a spoon will also do, just eat it straight out of the dish with a spoon..who needs crackers?  They're just added calories anywho!
[print_this]

Warm Italian Chevre Dip
1 jar Marinara Sauce ( I prefer Newman's Own brand,any flavor you like)
11 ounces Goat Cheese or Chevre
1/2 teaspoon dry Italian Seasonings
Preheat oven to 400 degrees.
Pour marinara into a baking dish 11×7 or at least 8″ in diameter. Crumble cheese over marinara, sprinkle with seasoning. Bake for 20-30 minutes or until bubbly. Serve with thin slices of baguette, pita chips, or any sort of cracker.
So easy! Enjoy!
[/print_this]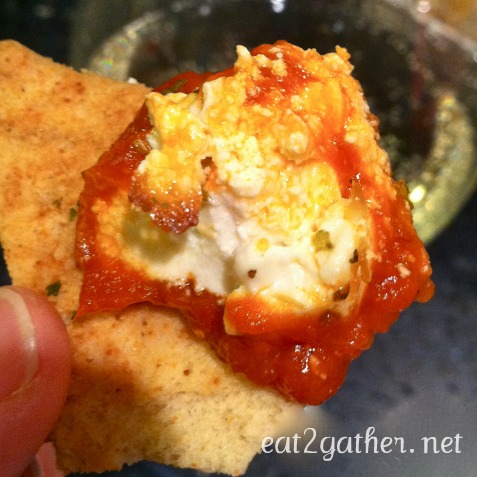 I also must tell you that if you happen to have any of this appetizer left over that it warms up wonderfully in the microwave for a fun little snack the next day!  Just thought you ought to know.
Cause I would never want to hold anything out on you people.
Cause I luv ya….
Sincerely,  Me