I realize curry is not everyone's cup of tea, but I encourage you to give this soup a try.  This is one of my kids favorite meals.  They have quite a few favorites but this is one they all love and will eat the leftovers of.  It comes together so quickly 30 minutes start to finish.  BAM! Dinner is served.  Another great thing about this recipe is that you can start with frozen meat!  Yes if you have forgotten to thaw your chicken, no worries all you need is a sharp knife and you can slice right through the frozen meat to get nice thin slices of chicken breast, and the thinner the strips the faster they will cook!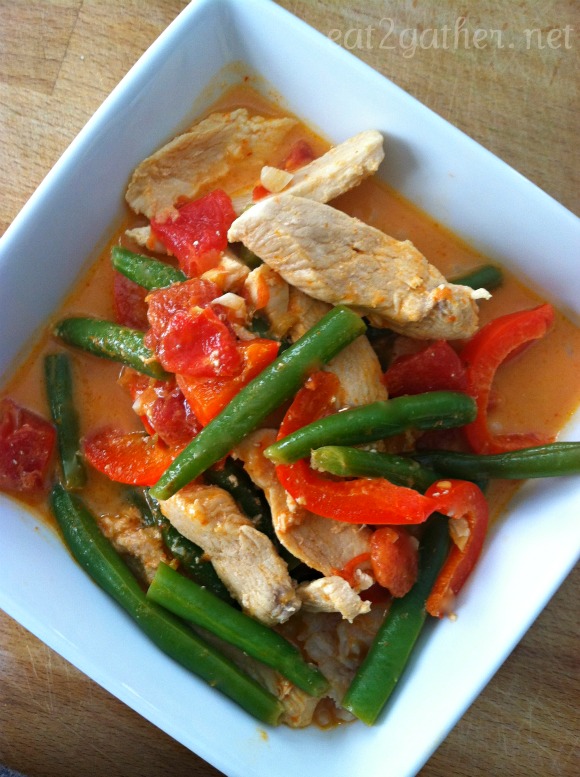 Every time I make this soup its slightly different because I use what ever vegetables I have on hand whether fresh or frozen.  I can make it work. I've made it meatless before too, I'll give you the "how-to" for that in the recipe notes.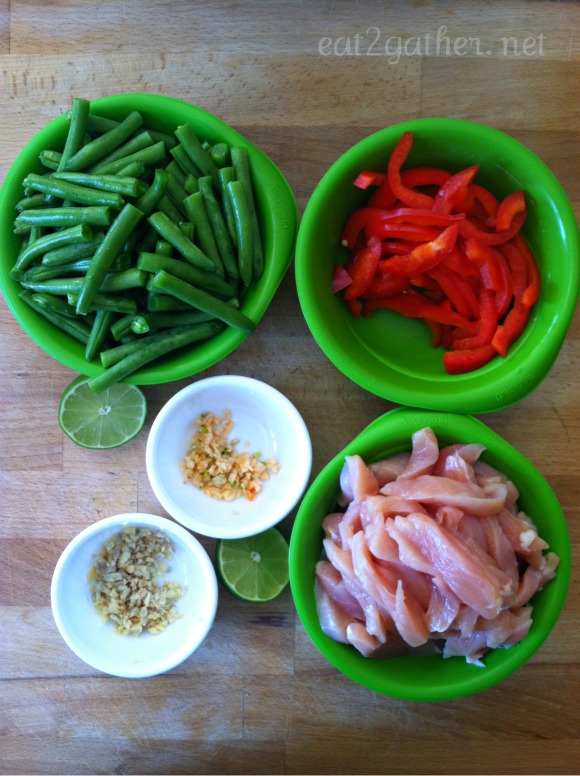 Fresh ginger may not be something you keep on hand, I like to keep mine in the freezer.  Ginger will keep for a couple months in the freezer and it's easier to peel and chop fine when it's frozen.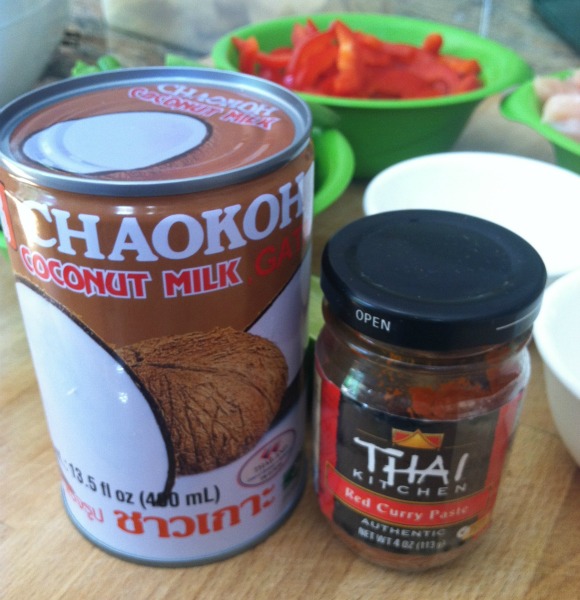 You will need to keep these two items on hand, both are inexpensive and they do not expire quickly, nice pantry items! (Although keep in mind once you open the curry paste it needs to be kept in the fridge!)  These are the brands my grocery store carries, so feel free to use other brands if you can't find these.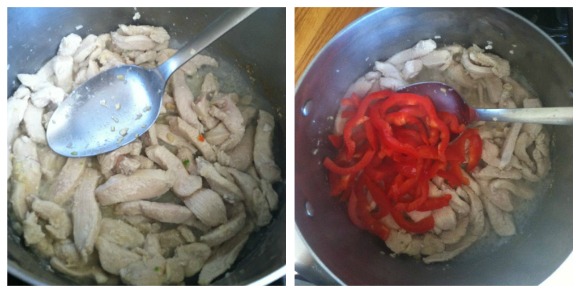 Get started by cooking your chicken in a large (6 quart) pan until there is no more pink, add in ginger and garlic saute' for a  minute, then add in pepper.  We prefer our vegetables with a bit of a crunch, so depending on how you like yours you can adjust the cooking times for longer if you prefer your vegetables softer.
Next….

Whisk together coconut milk and curry paste pour into pan with chicken let simmer over low heat.

Moving right along measure out 3 cups of chicken or vegetable broth in the same measuring cup that you used to mix the curry, this way you rinse all the goodness into the soup you don't want to loose any of that! Then comes a can of diced tomatoes, juice and all, and your vegetable.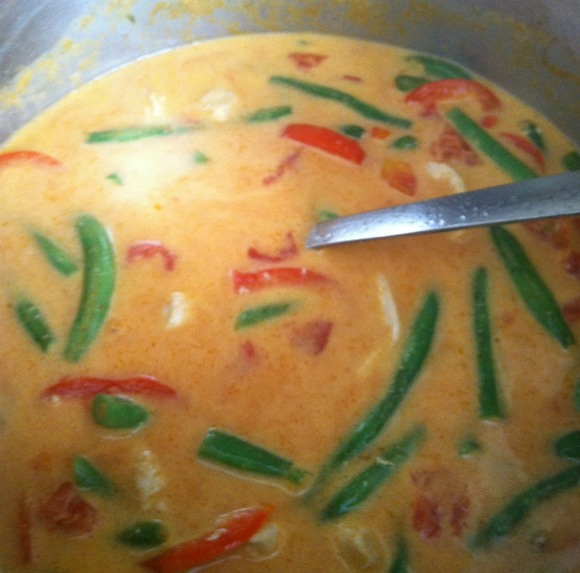 Cover pan and simmer for 10 minutes,  and Voila ready to serve!
[print_this]
Thai Curry Soup
serves 6
1 tablespoon Oil
2-3  Chicken Breast, sliced thin across the grain
2 cloves Garlic, minced
1 heaping tablespoon fresh Ginger
1 Red Pepper, seeded and sliced
1 can Coconut Milk
2 tablespoons Red Curry Paste
1 14 ounce can Diced Tomatoes
3 cups Chicken Broth
2 cups Vegetable of your choice (green beans, peas, broccoli, asparagus, spinach)
Garnish with a squeeze of Lime and Cilantro or Basil if you have it handy.
salt and pepper to taste
In a large sauce pan heat oil on high add in chicken slices cook chicken until chicken is no longer pink, about 5 minutes. Add in garlic and ginger and allow to cook for another minute. Now add peppers cook for 1-2 minutes. Whisk together coconut milk and curry paste pour in with chicken, then add broth. Turn heat down and allow to simmer for 5 minutes. Add in diced tomatoes and vegetable of choice simmer for 10-15 minutes. If you like your veggie's soft with no crunch then cook a little longer. We prefer ours with a crunch.
Garnish with a squeeze of Lime and Cilantro or Basil if you have it handy.
Serve as is or over rice. The leftovers are even better so you may get two meals out of this!
Notes: This recipe is easy to make with out meat.  Simply give the garlic and ginger a quick stir in the oil, being careful not to burn then add in pepper and onions if you like, also substituting vegetable broth for the chicken, from here continue on with the recipe as it's written above.
Enjoy!!
[/print_this]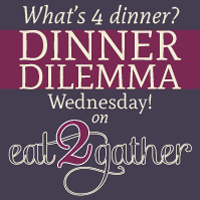 Dinner Dilemma to the rescue!  I'm here to help you get homemade meals on the table as quick and easy as possible so you can enjoy table time with your family.  Or at the very least they can be nourished by a hot meal made with love because the truth is with our busy schedule even if I get a meal made it doesn't necessarily mean that everyone will be there to sit down and eat it together.
If you have questions I'd love to hear them. If you are a blogger and would like to share your dinner dilemma strategies and recipes here on Eat2gather as a guest blogger shoot me an email I would love to have you!
With love, Sheila