The question is….How does one get a homemade dinner on the table, when everyone is running in different directions?  It's that time of year again.  Back to school,  fall sports, band, orchestra, piano, orthodontic appointments, homework…..from 3-9pm most nights are utter madness around here.   So when do we fit in our "eating together" time?
How often does your family sit down together for a meal?
We shoot for 2-3 times a week, some weeks that just doesn't happen, some weeks we luck out and get more table time.  I have found the key is to be flexible with meal time, plan ahead, and keep it simple!  Casseroles or Crock Pot meals are great for these busy nights.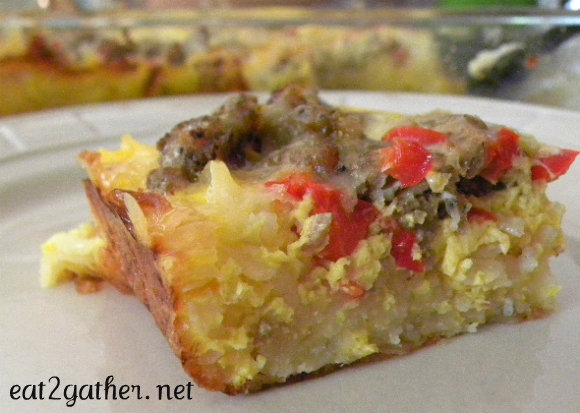 We love breakfast for dinner.  So recently I came up with this breakfast casserole that includes all of our favorites……minus bacon, but I think it could be easily added. Hash Brown Egg Casserole is hash browns, sausage, cheese, eggs, served up in one perfect dish.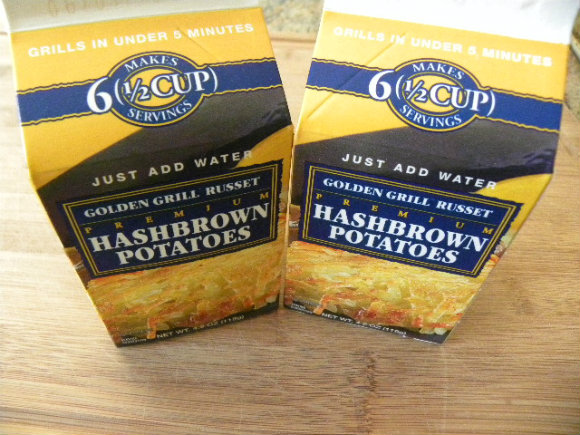 Feel free to use whatever type of hash browns you like, I happen to love this dehydrated variety from Costco.  You will need 6 cups hash browns.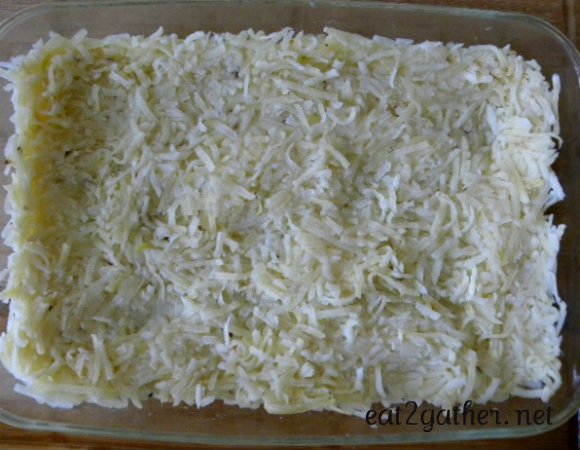 Press the hash browns in the bottom of an ungreased 9×13  baking dish.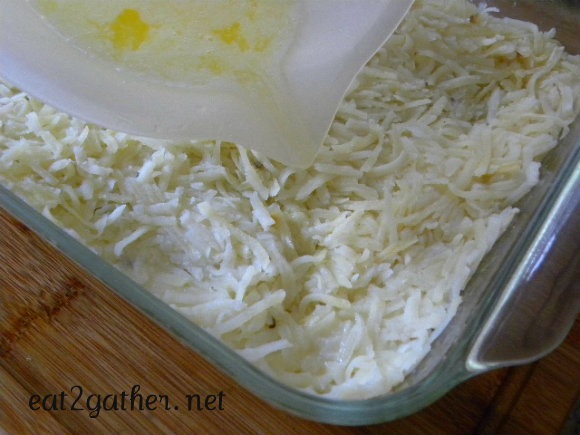 Preheat oven to 400 degrees.  Melt 1 stick of butter, and drizzle it evenly over the hash browns.  Bake for 20-25 minutes or until hash browns start to crisp up and turn golden brown.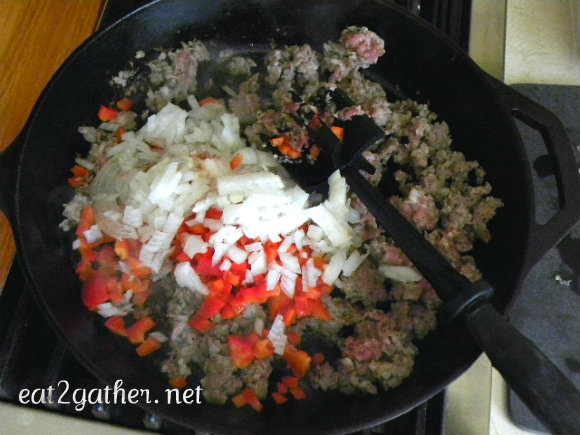 While your hash browns are baking, brown 1 pound of breakfast sausage (any variety).  When sausage is nearly finished browning add in 1 red pepper diced,  and 1 cup of diced onion.  Sautee until pepper and onion have softened and sausage is completley browned.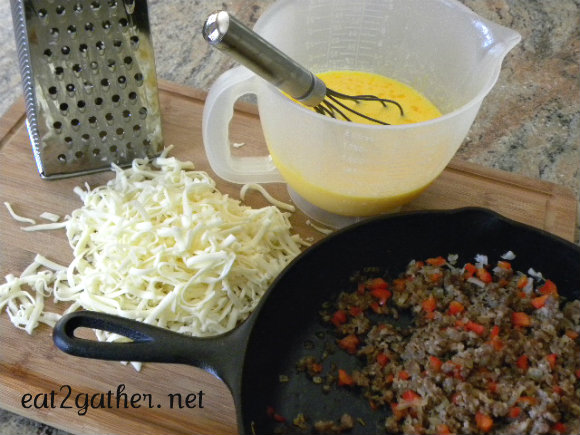 Grate 8 ounces of Monterey jack cheese, set aside.  Then whisk 8 eggs with 1 1/2 cups milk.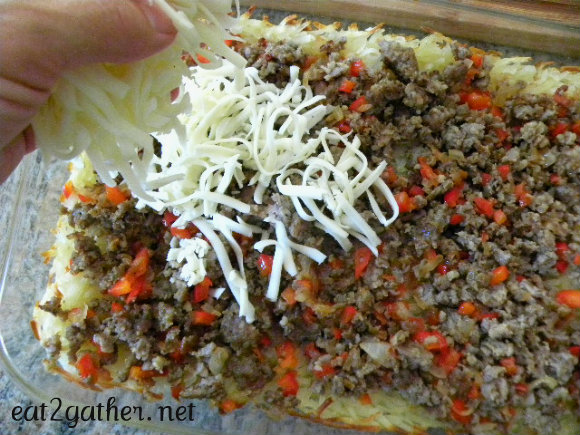 When hash browns are done, remove from oven and evenly spread sausage mixture over eggs, then sprinkle with cheese.
Note: If you wanted to make this dish ahead, at this point you could let it cool completely then place it in your refrigerator for up to 2 days, and finish later.  Or you could let it cool completely cover and place in your freezer for up to 3 months. The remaining steps will follow when you are ready to bake and eat.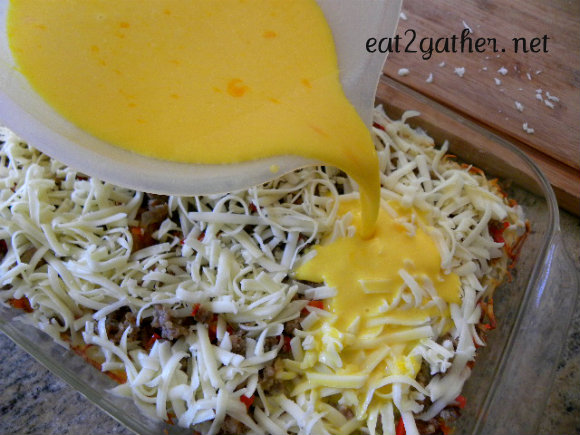 Pour egg mixture evenly over casserole.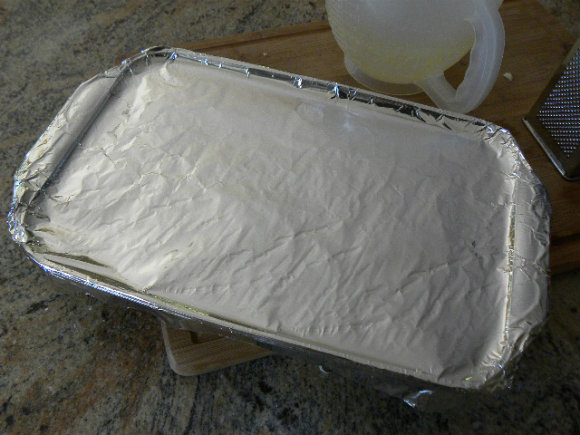 Cover with aluminum foil, turn oven temperature down to 350 degrees,  and bake for 30 minutes.  Remove foil and bake for an additional 10 minutes to allow the top to brown up all purdy.  Let rest for 10 minutes before serving….if you can wait.  I realize sometimes there just ain't time to wait 10 minute to let your casserole rest.  What's that saying?   " No rest for the scrumptious casserole"…..or is that weary casserole….or maybe it's no rest for a casserole…….Or was it no rest for the weary, which after some afternoons of running kiddos hither and yon I need a margarita on the rocks more than a casserole!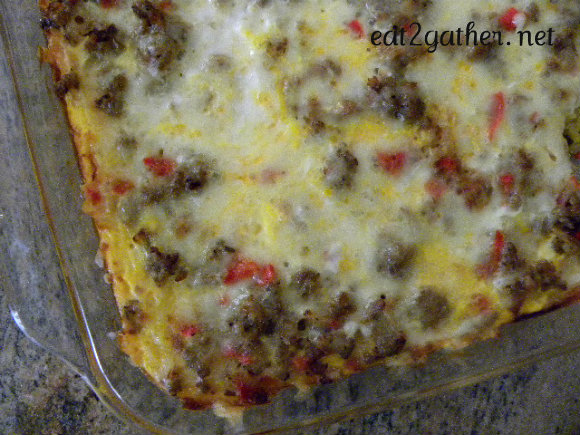 My littlest asked if she could have the leftovers for her after school snack the next day.  Seriously?!##@!@  I told her yes of course my dear child.
As you can see, I didn't serve any sides with this meal….it was an every man for himself, grab a plate, scarf it down and go kind of night, but if Hash Brown Egg Casserole were to be served with say…..some homemade biscuits and a fruit salad you would have yourself a beautiful breakfast, brunch, or dinner!
[print_this]
Hash Brown Egg Casserole
serves 6-8 people
6 cups uncooked Hash Browns
1 stick Butter
1 pound Breakfast Sausage, any variety
1 Red Pepper, diced
1 cup diced Onion
8 Eggs
1 1/2 cups Milk
8 ounces Monterey Jack Cheese, grated (cheddar, Swiss, mozzarella will do also)
Preheat oven to 400 degrees.
-Press hashbrowns into the bottom of a 9×13 baking dish. Melt butter and  drizzle over hash browns, place in oven and bake for 20-25 minutes or until hash browns start to crisp up and turn golden brown. ** note if you use the dehydrated hash browns hydrate them per box directions first**
-In a frying pan fry breakfast sausage breaking it up into little bits, when sausage is cooked through add diced red pepper, and onion to the pan, continue to cook until veggies are tender. If there is excess grease from the sausage, remove that from the pan with a spoon.
-Whisk together eggs and milk, set aside.
-Shred cheese. Any variety you have will work, and if you prefer the pre shredded cheese in a bag that works too!
-When hashbrowns are done remove from oven and layer sausage mixture over the top, then sprinkle evenly with cheese, next pour egg mixture evenly over the casserole. Turn oven temperature down to 350 degrees. Cover baking dish with aluminum foil, return to oven for 30 minutes, remove foil and let bake for an additional 10 minutes, or until top begins to brown.
Remove from oven and let casserole rest for 10 minutes before cutting, and serving.
Serve with a fruit salad and fresh baked biscuits for the perfect breakfast, brunch, or dinner!
NOTE: If you would like to make this ahead of time prepare all the way through the cheese step. At this point you can cover and leave in regrigerator for up to 2 days before finishing. Or you could also freeze for up to 3 months. When ready to cook whisk egg mixture together, poor over casserole, cover and bake as advised above. You will need to add 15+ minutes of cooking time if you are placing frozen casserole in oven.
[/print_this]
Do you enjoy breakfast for dinner?
I'd love to hear what's new with you!  Is fall a crazy time for you or do you just sit back and enjoy?
Thanks for stopping by,
Sheila