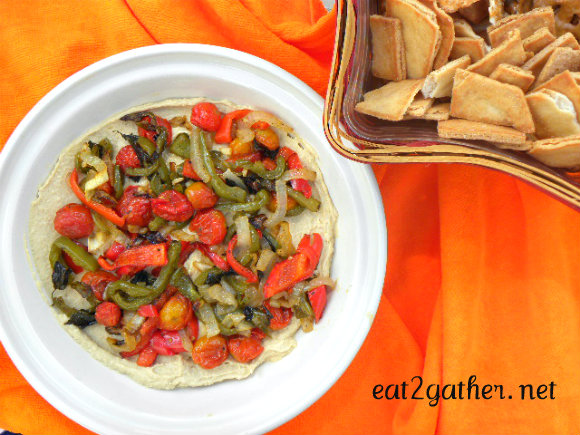 I have wanted a pool since we moved into our home 11 years ago. Our back yard was made for a pool! Finally this year my husband conceded….actually he surprised me and while I was out west with our boys!  When I came home there was a cement pond in my back yard!  Who does that???  Oh golly I love that guy!
It has been the perfect summer for a pool.  Having a pool gives me even more of an excuse to invite people over and feed them….because you know I love to do that!  Pool food needs to be simple, quick, and fresh.  Roasted Vegi Hummus is all of the above.  My gal Big D is to blame for my addiction to this luverly dip!  As much as I love feeding people I also want to be with them, and if I'm inside cooking and they are outside splashing in my pool that's no fun!  So I have found a few tried and true pool treats this summer, that I can either whip together quick, or make ahead and have on hand.
You can make your own hummus, but why when you can buy amazing fresh hummus in your grocery store.  I prefer Sabra Hummus , but you can use any brand, or by all means make your own if you'd rather!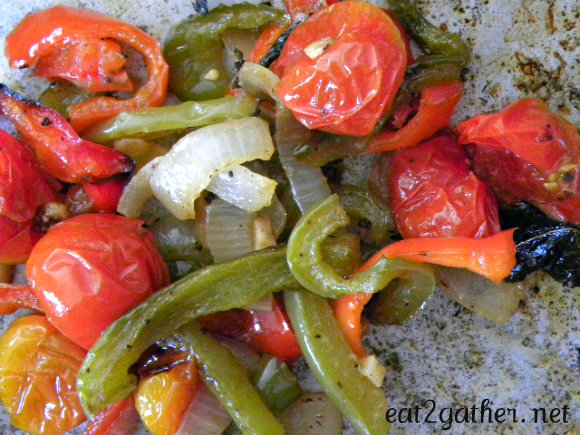 Roasting the vegetables takes about 45 minutes so I either do that the night before, or in the morning.  For one recipe you will need 1/2 Red Pepper sliced thin, 1/2 Green Pepper sliced thin,  1/2 cup sliced Onion, 1 cup Cherry Tomatoes, squeeze of fresh lemon, 1 tablespoon chopped Basil, 1 tablespoon Olive Oil.  Toss all this together.  Spread out vegi's on a baking sheet, bake at 400 degrees for 40 minutes or until vegi's start to caramelize and there is no watery juices in the pan.  Remove from oven and let cool.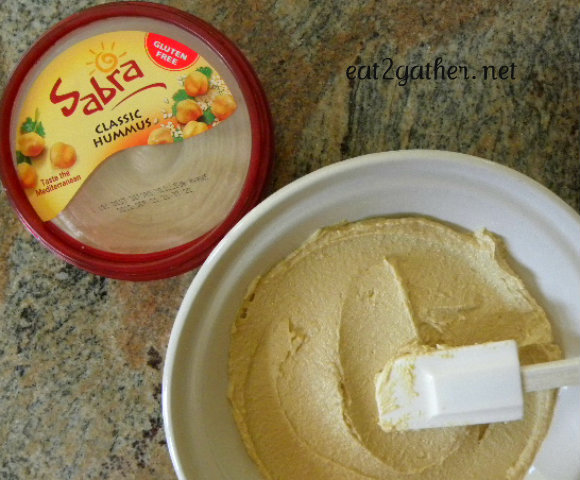 Spread one 10 once container of Sabra Classic Hummus in the bottom of a shallow dish.  You can use any flavor of  hummus you like.  I like to use the classic or plain, because it allows the flavors of the roasted vegi's to shine.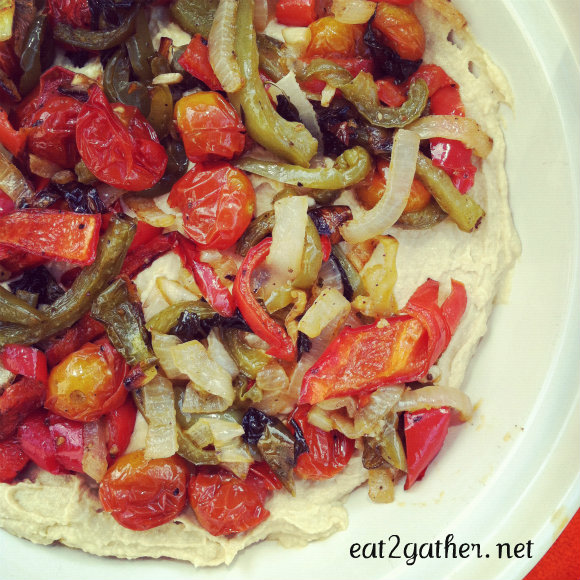 After the vegetables have cooled spread them over the top of the hummus, and there you have it a 2 minute pool side treat!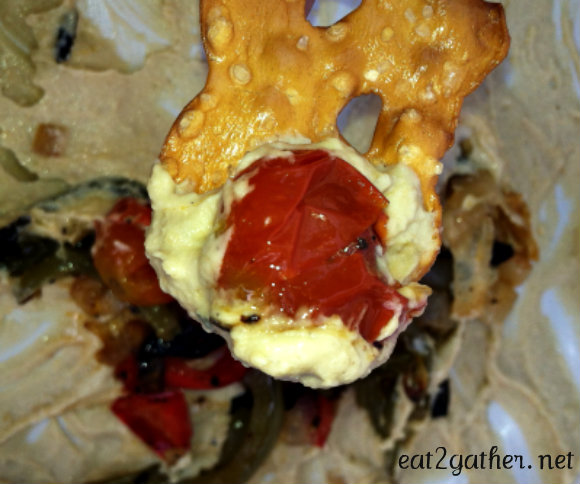 I love to serve Roasted Vegi Hummus with pretzel crisp, naan bread cut into bite sized pieces, or pita crisps.  Really it goes great with just about any cracker!
[print_this]
Roasted Vegi Hummus
1 10 ounce container Sabra Classic Hummus
1/2 Red Pepper, sliced thin
1/2 Green Pepper, sliced thin
1/2 cup Onion, sliced thin
1/2 Lemon, juiced
1 tablespoon fresh Basil, chopped
1 tablespoon Olive Oil
Preheat oven to 400 degrees.
Toss peppers, onion, and basil with lemon juice, and olive oil, spread out on a baking sheet and bake at 400 degrees for 45 minutes or until vegetables caramelize, and there is no watery juices on the pan. Feel free to open your oven and toss the vegi's around a bit, once or twice while roasting. Remove from oven and let cool.
Spread container of hummus in a shallow dish, cover with roasted vegi's, and serve with pita chips, pita bread slices, pretzel crisps, or any desired variety of cracker
TIP: Buy 2 containers of hummus, double the roasted vegetables and divide, after you use one container of hummus clean it out and put the other half of the roasted vegetables in it.  Store this neatly stacked in your fridge for your next unexpected guests!
Enjoy!
[/print_this]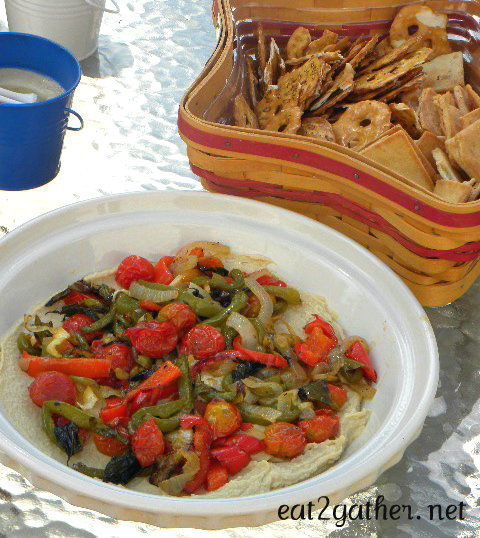 What is your favorite pool/beach side snack?