Smoky Cheese Broccoli Soup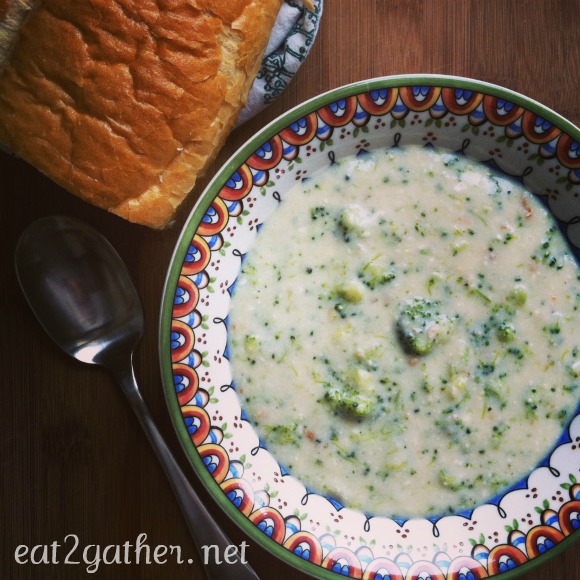 Cheesy broccoli soup is my oldest daughters favorite soup.  I have been making it for years.  My recipe is a combo of my moms and my friend Shelly's.  I don't have it written down it's just up there in my noggin.  This soup is rich, thick, and extremely cheesy!  The last few times I made it I attempted to slim it down.  It was not a hit.  Everyone wants the full fat version, so thick and cheesy it's almost like a dip!   I conceded and whipped up a pot of the "real"  cheesy broccoli soup.  (Thats what my Sissa asked for, "Mom could you make the real cheesy broccoli soup please?".)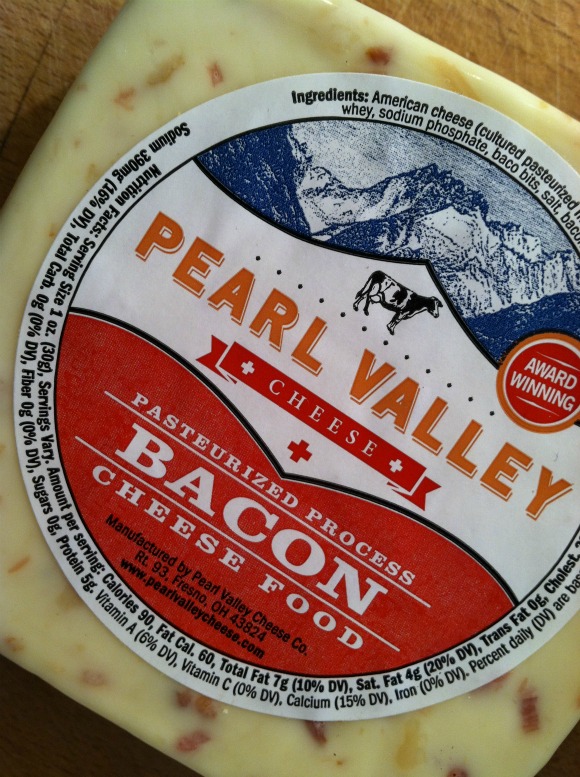 I knew when I saw this cheese while  in Ohio that I needed to buy it, for many reasons, but cheesy broccoli soup came to mind!  If you can't find this cheese or one similar, smoked Gouda is what I usually use, it's perfect for adding that smoky flavor.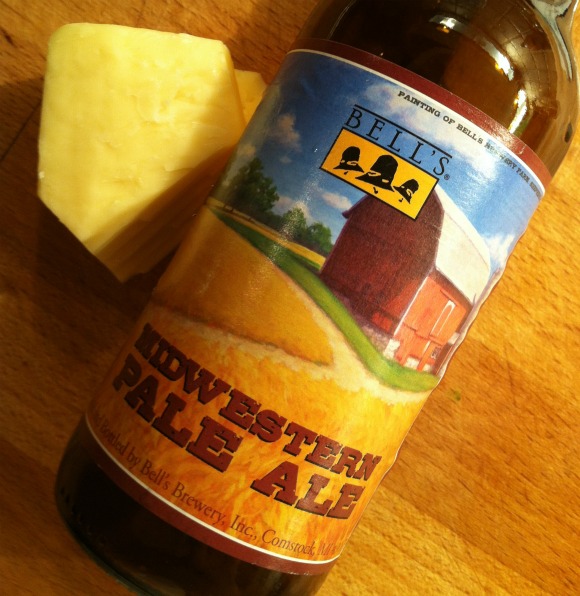 Any beer will also do, but Ale adds a nutty flavor that pairs with the white cheddar perfectly….so if you can get your hands on an Ale I advise using it, if not PBR works too!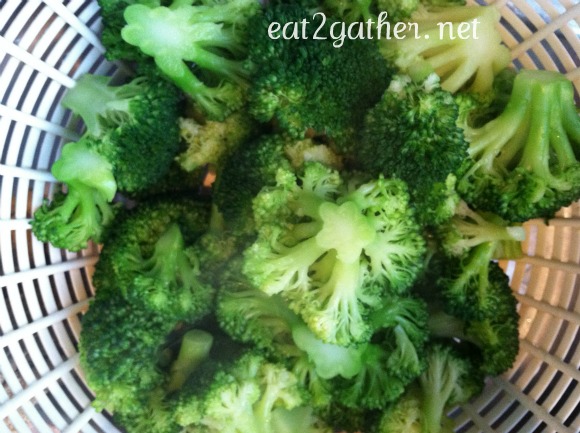 OK we have our smoky, our nutty, our cheesy now we need our broccolEEE-ee!  Bring a pot of salted water to a boil, toss in your clean broccoli florets into boiling water, let boil for 2 minutes, drain into a colander, and run under freezing cold water for a minute to stop the cooking process.  You an also remove the broccoli to a bowl of ice water, but I usually do it the aforementioned way.  Once your broccoli is cooled, chop into small pieces.  My kids don't like big chunks in there broccoli soup so I chop mine pretty fine.
Do you have a soup recipe your family begs for?
[print_this]
Smoky Beer Cheese & Broccoli Soup
8 servings
5 tablespoons Butter
1 cup finely chopped Onion
1 clove Garlic, finely minced
1/3 cup Flour
5 cups Whole Milk
2 cups shredded Smoked Gouda or a Monterey Jack with Bacon
3 cups shredded Sharp White Cheddar
1/2 teaspoon Mustard Powder
1/2 teaspoon fresh ground Pepper
salt to taste
1 12 ounce Beer (preferably Ale)
4 cups blanched Broccoli, cut into small pieces (approximately 2 large heads of broccoli)
1. Blanch broccoli, cut into small pieces and set aside.
2. In a 6 quart pan saute the onions and garlic in 1 tablespoon butter until translucent. Remove onions and garlic to a bowl.
3. Add remaining 4 tablespoons of butter to the pan and melt. Add flour and whisk until bubbles and begins to turn a caramel color. Gradually pour in milk while continuing to whisk. Stir until sauce becomes a nice thick soup consistency. If it gets too thick add a little more milk.
4. Add saute'd onions and garlic to white sauce along with cheeses, mustard powder, pepper and salt to taste. Whisk until smooth. Cook for 2 minutes stirring continually.
5. Slowly pour in beer so that it doesn't foam up. Bring to a slow bowl, then turn down to low and let simmer for 5 minutes. Add in broccoli. Continue to cook on low another 10 minutes.
Serve with a crusty loaf and a sprinkle of bacon and cheese if you wish!
[/print_this]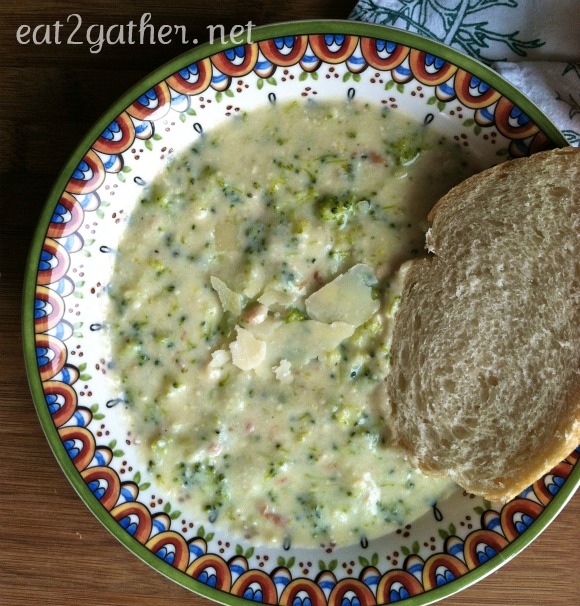 There you have it!!   Dunk a hunk of Italian break into the edge and cuddle up with a warm bowl of  of Smoky Cheese Broccoli Soup!  The perfect winter meal.
What season do you most often make soup in? Winter? Spring? Summer? or Fall?
"all ya got ta do is call….and I'll beeee there…yes I will…you gotta frand.."  
A little song for your soup eating pleasure ; ) !
Luvya, Sheila
Side Note: Have you noticed Blogher TV in my sidebar? Check it out! There are some incredible short videos with great cooking tips and tricks! Let me know what you think!