You still have today and tomorrow to enter to win a 12x12 Cafe Mount
    Print of your choice from 

REDLETTERWORDS

!!  ENTER to WIN
                           HERE!!!!
If there is one thing I know for sure, it's that Chicken and Biscuits is the poster child for comfort food.  Chicken, and veggies swimming in a savory gravy topped with flakey, buttery biscuits.  The gravy is  bubbling up through the biscuits.  Be still my heart……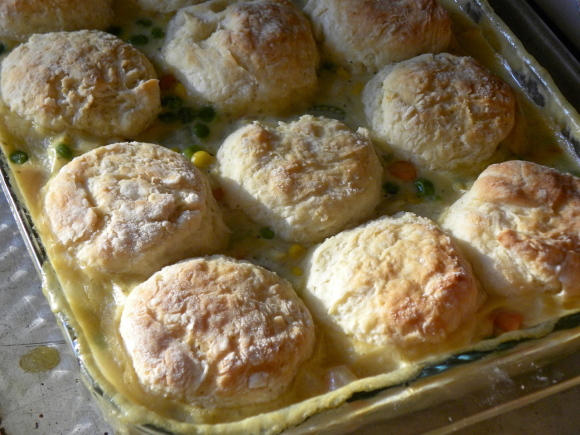 From my experience and from what you all have shared with me over the past 28 days, Comfort food is where it's at, when it comes to meal sharing.  If it's a one pot meal, veggies, and meat all in one comforting casserole, that's and added bonus.  Really just about any meal can be shared, but when push comes to shove the casserole is unsurpassed as the Queen of Meals 4 Sharing!
In order to make Chicken and Biscuits you will need to know how to make homemade biscuits, sorry the canned sort don't quite cut it….no pun intended!  Here's my version of my mom's no fail biscuits.   They are so easy.  Are you ready to master biscuit baking?  Here we go…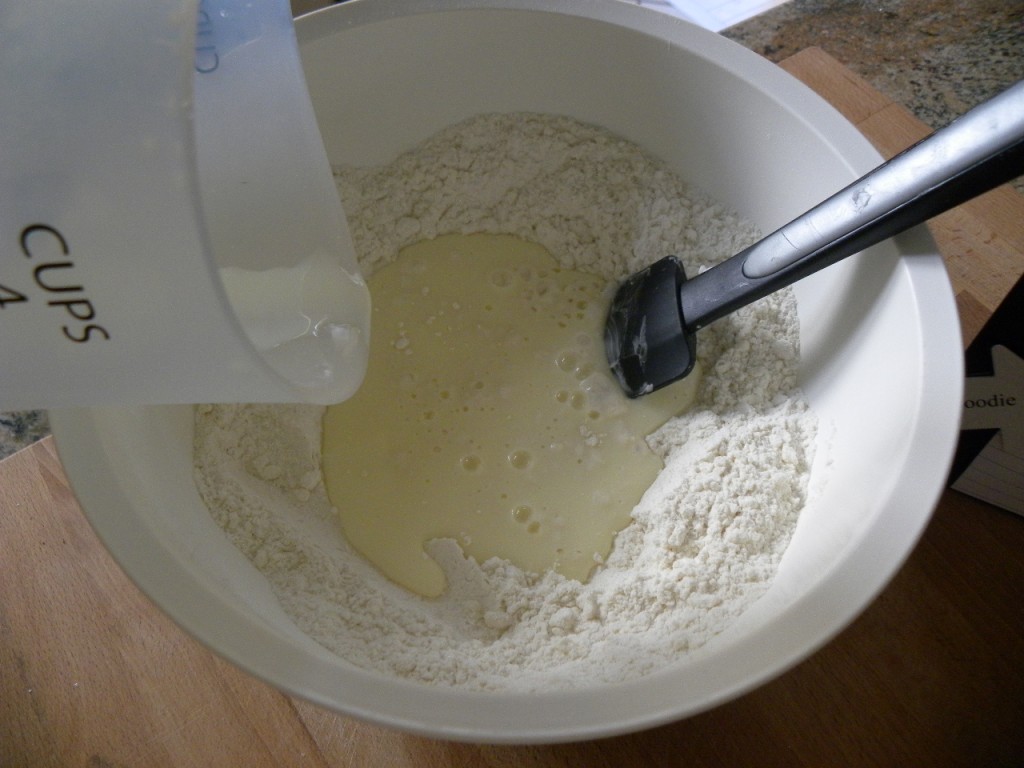 In a mixing bowl you will need to combine 2 1/2 cups flour, 3 teaspoons baking powder, 1 teaspoon sugar, 1/2 teaspoon salt, then cut in 1/3 cup Crisco shortening with a pastry cutter.  Whisk together 1 cup buttermilk with one whole egg.  Create a well in the flour mixture, pour in buttermilk egg mixture.  Fold together with a spatula until just combined.  Do not over mix.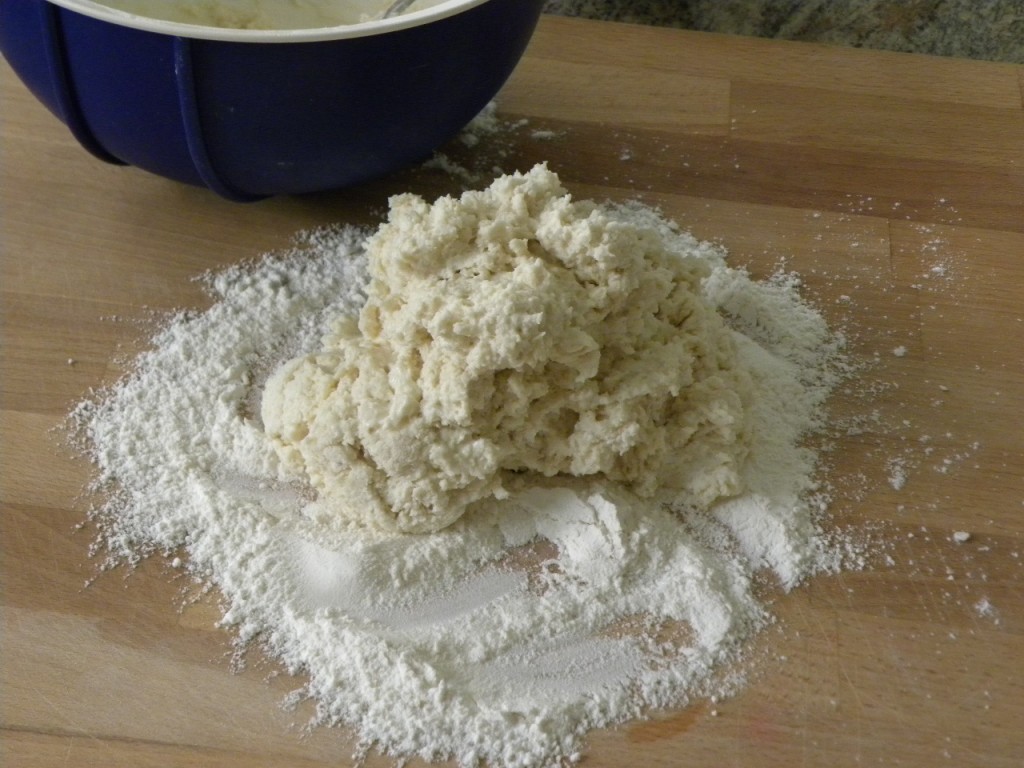 Plop the dough out onto a extremely well floured surface.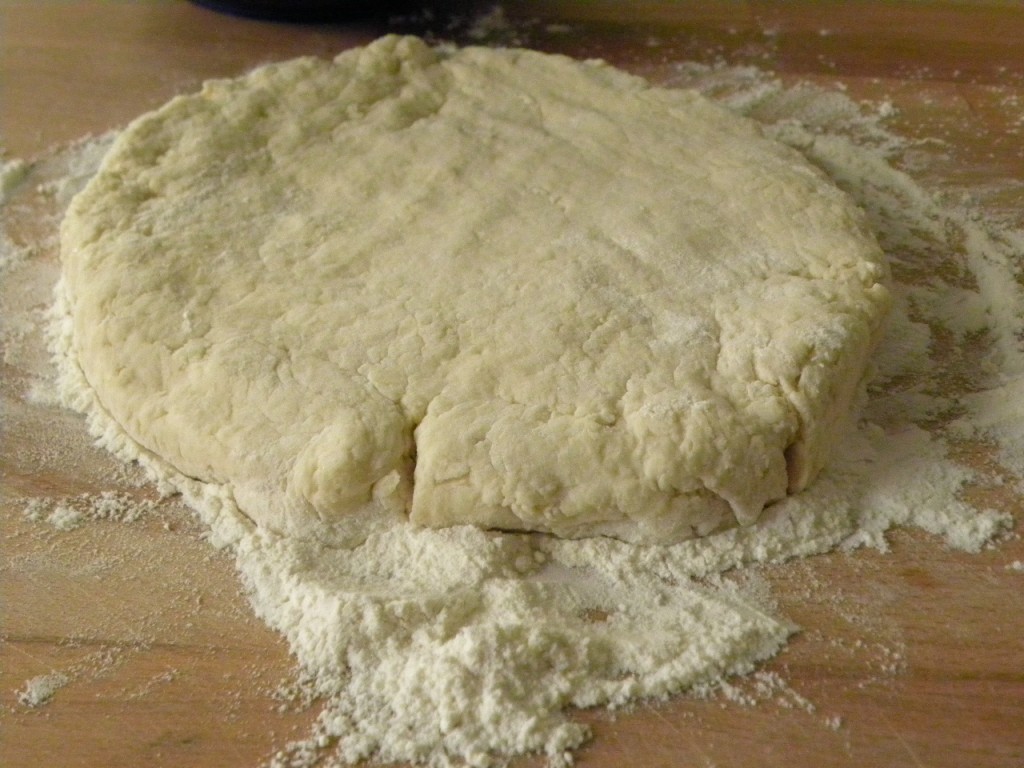 Flour your hands and pat dough into a disc of dough, aproximately 12″ in diameter, and 1″ thick.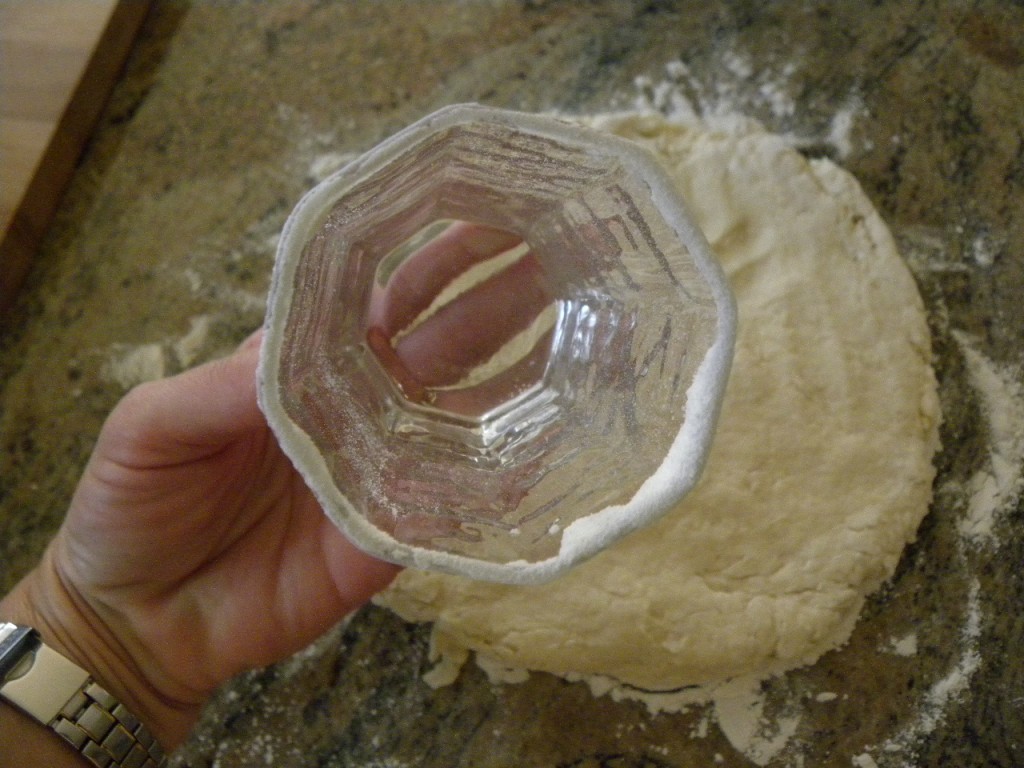 Now if you have biscuit cutters then super….but if you don't then a juice glass will do.  This ones close to 2 1/2″.  I have biscuit cutters, but for some freaky reason I prefer the juice glass.  I'm kinda stuck in my ways about some things.  If you're using a glass you will want to dampen the edge  and then dunk it in flour like so.  This way it won't stick, redunk in flour as needed.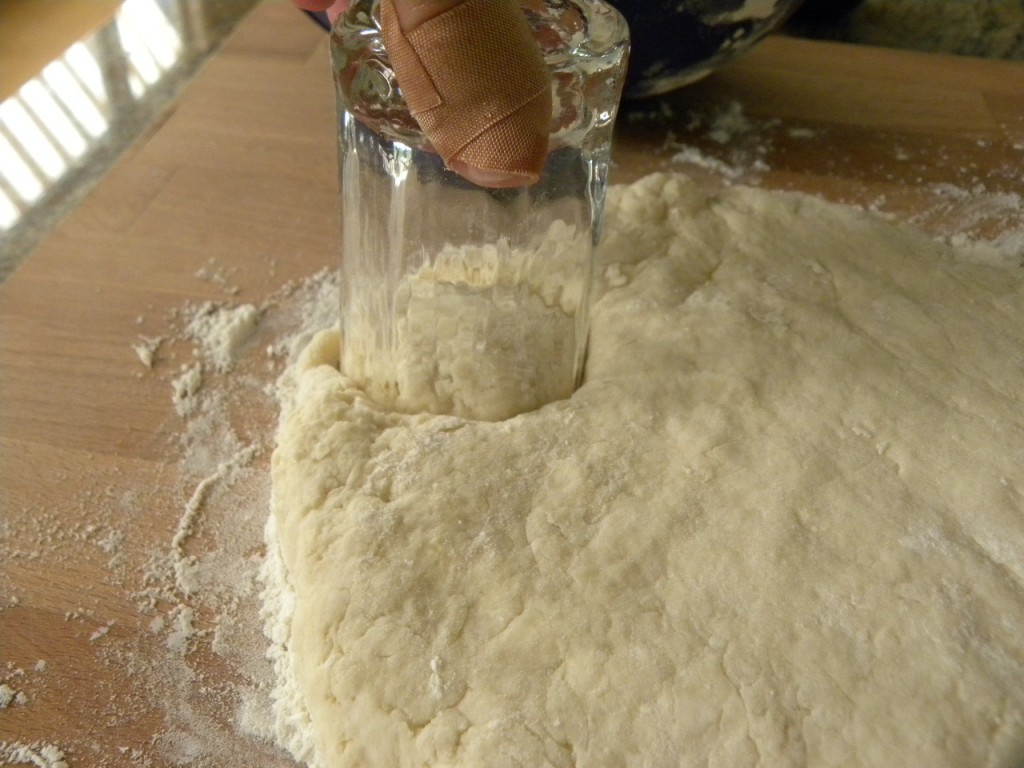 Continue cutting out biscuit, dusting with flour as you go if surface seems too sticky.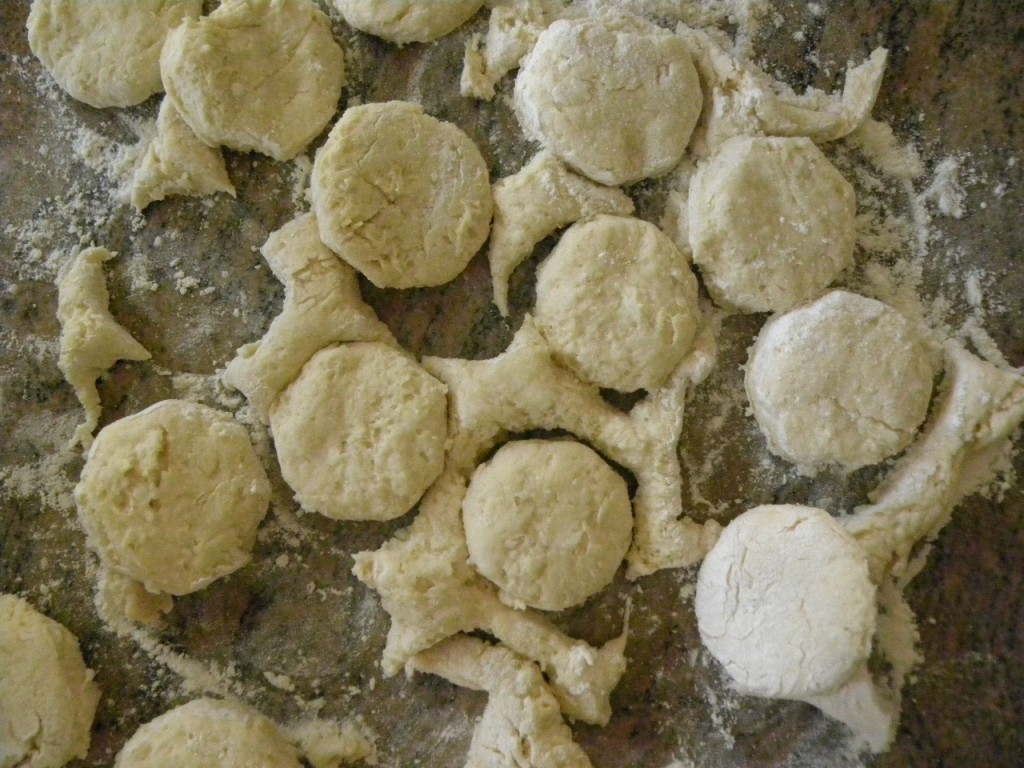 Recipe should yield approximately 12-15 biscuits depending on the size of your cutter.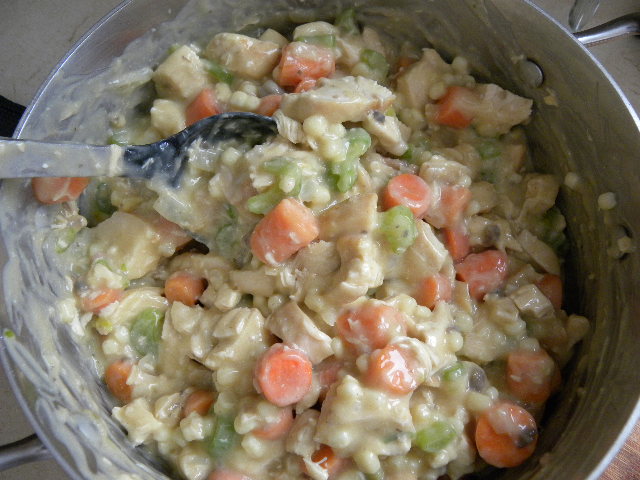 The filling for Chicken & Biscuits is the same filling I use for my Chicken Pot Pie, for the play by play you can go here. Or if you want you can just print off the recipe below.
I just had a flash back memory of this tunafishy stuff my mom used to make and plop on toast….it was not my favorite.  Quite possibley it could have been the name that turned me off  " _ _ it on a shingle"….real nice, super classy.  I know.  Hey we all have culinary starting points mine just so happens to include " sh_ t on a shingle".  Oh I digress, back to comfort food.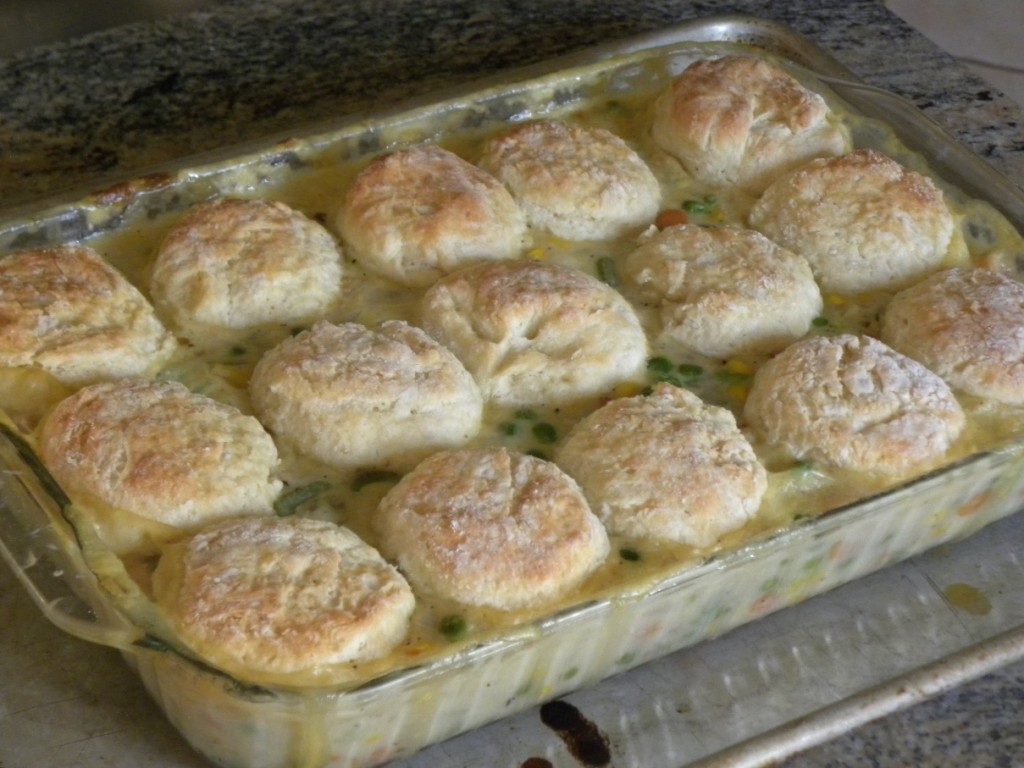 Pour chicken filling into a 9×13 ungreased baking dish.  Layer bisuits on top in nice purdy rows.  Bake at 350 degrees for 45 minutes or until gravy is bubbling and biscuits are perfectly browned.   If you are going to use a disposable baking pan for this make sure it is a deep baking pan, not a cake pan. When sharing Chicken in Biscuits it works best to bake ahead of time and let them reheat.  The biscuits will not hold up well sitting in gravy for very long with out baking.
If you want to make Chicken Pot Pies instead of Chicken and Biscuits click on the picture below.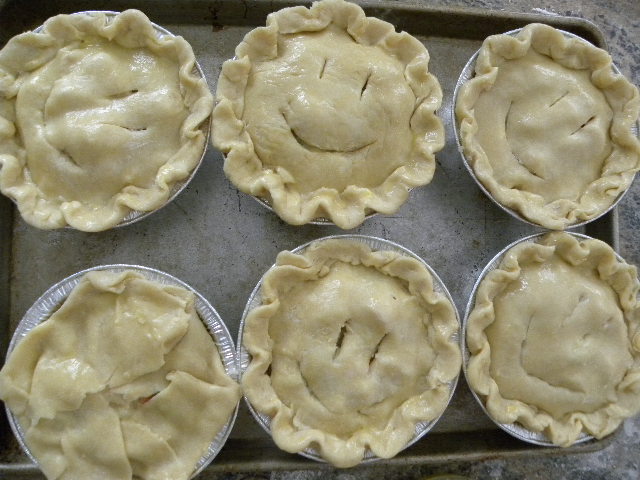 Aren't they cute?  Chicken Pot Pie with a smiley face will warm any ones heart!
Here's another option……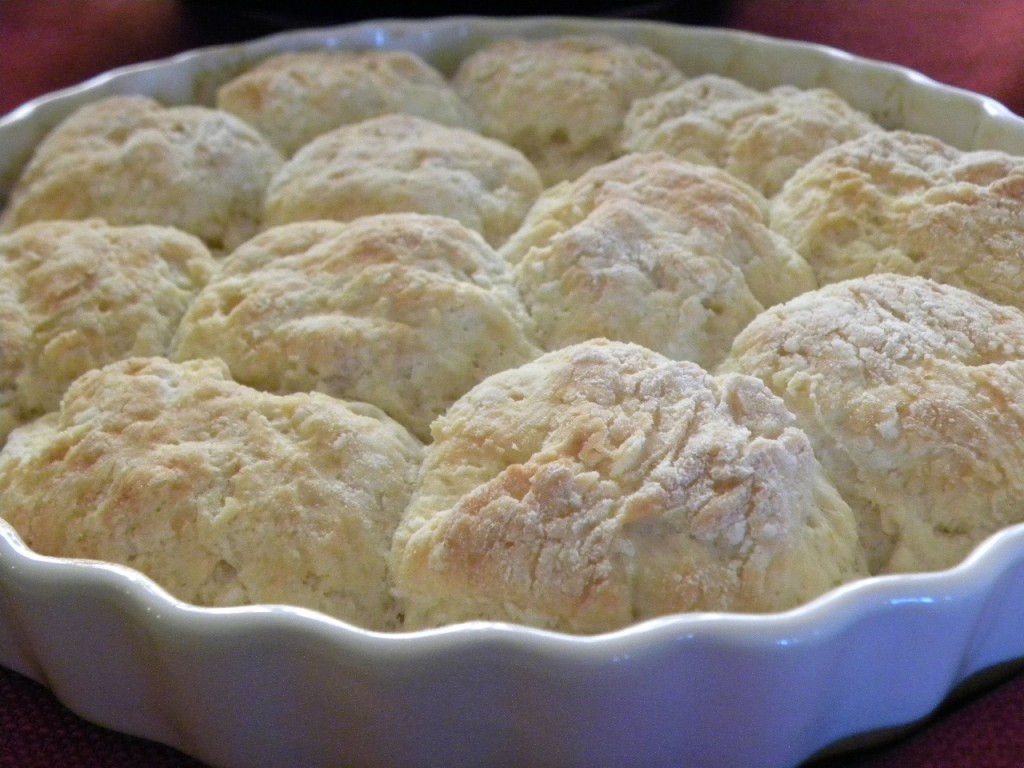 Butter a baking dish, place the biscuits in dish, you can place them pretty close together.  Bake at 375 degrees for 15-20 minutes or until golden brown and firm to the touch.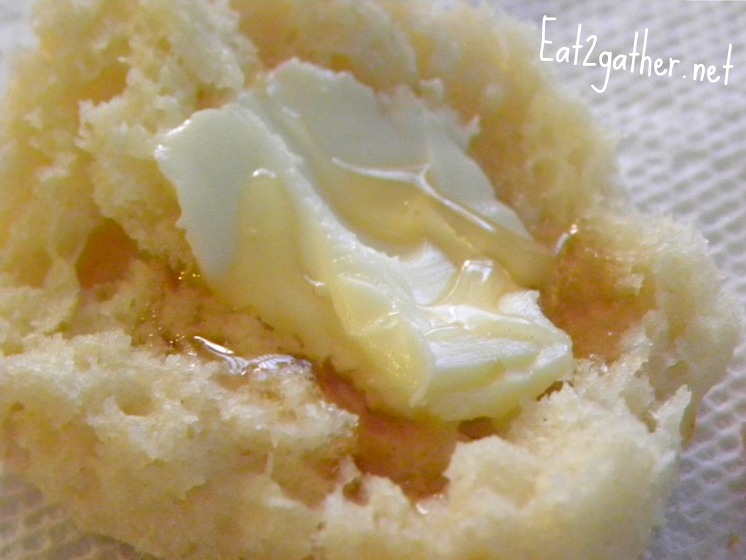 Eating while hot with butter and honey is mandatory!  Now that's comfort food…pause for yummy noises.
[print_this]
Biscuit Recipe
2 1/2 cups flour
3 teaspoons baking powder
1 teaspoon sugar
1/2 teaspoon salt
1/3 cup shortening
1 whole egg
1 cup buttermilk ( If you don't have buttermilk you can add 1 tablespoon white vinegar to a cup of milk.  Let it set for a minute.  Works just as good as buttermilk)
Preheat oven to 375 degrees
Mix flour, baking powder, sugar, and salt together in a mixing bowl.  Cut shortening into flour mixture with a pastry cutter.  Whisk egg into buttermilk.  Create a well in the middle of the flour, pour in egg mixture.  Using spatula gently fold together biscuit dough, until just combined.  Being careful to not over work the dough.  Pour dough out on to a well floured surface.  Pat into a round approximately 12″ by 1″ thick.  Cut into 12-15 biscuits.  Place in a buttered baking dish.  Bake for 15-20 minutes or until golden brown and firm not squishy to the touch.
[/print_this]
[print_this]
Chicken Filling – for pot pie or chicken and biscuits
4 Chicken Breasts, baked and cut into cubes or 1 whole roasting Chicken, shredded
1 10 ounce can of Cream of Mushroom Soup
1 10 ounce can of Cream of Chicken Soup
1 cup Milk
2 tablespoons Butter
1 cup Onion, diced
4-5 stalks Celery, chopped (include the leafy middle, it gives added flavor)
1/2 teaspoon Lawry's Seasoning Salt
2 cups Carrots cut into chunks
Optional: feel free to add any veggies you like.  Peas, corn, green beans.  I prefer to use frozen veggies.  Limit the total cups of veggies to 4 cups.
Bake chicken at 350 degrees for 30 minutes.  Set aside, when cooled cut into bite sized chunks.  In large pan saute onions, and celery in 2 tablespoons of butter until soft, add carrots continue to saute until carrots are heated through.  Add both cans of soup, and milk, stir to combine. Add chicken, veggies, and season with Lawry's continue to cook over medium low heat for 5 minutes.
Chicken & Biscuits – pour filling in a 9×13 baking dish, place biscuits in formation on top of filling.  Bake at 350 degrees for 45 minutes. When sharing Chicken in Biscuits it works best to bake ahead of time and let them reheat.  The biscuits will not do well sitting in gravy for very long with out baking.
Chicken Pot Pie – fill to 9″ pie shells with filling cover with top crust, seal edges.  Cut a slit in top to let out steam, brush top crust with an egg wash. Bake at 375 for 45 minutes. Chicken Pot Pie freezes really well.  Wrap them tightly with plastic wrap then a layer of foil.  When ready to use, remove from freezer, remove wrapping, pop in a 375 degree oven for 1 hour 15 minutes.
[/print_this]
What is your comfort food?
Giving comfort to others with the gift of food is a full circle blessing. It comforts those who receive it and it blesses the hands that have prepared it.   Chicken & Biscuits, Chicken Pot Pie or just simple ol' hot out of the oven biscuits a so deliciously comforting.  I hope you enjoy these recipes.  With the weather turning colder this makes the perfect Sunday Dinner!
By for now! We'll see ya tomorrow,
Sheila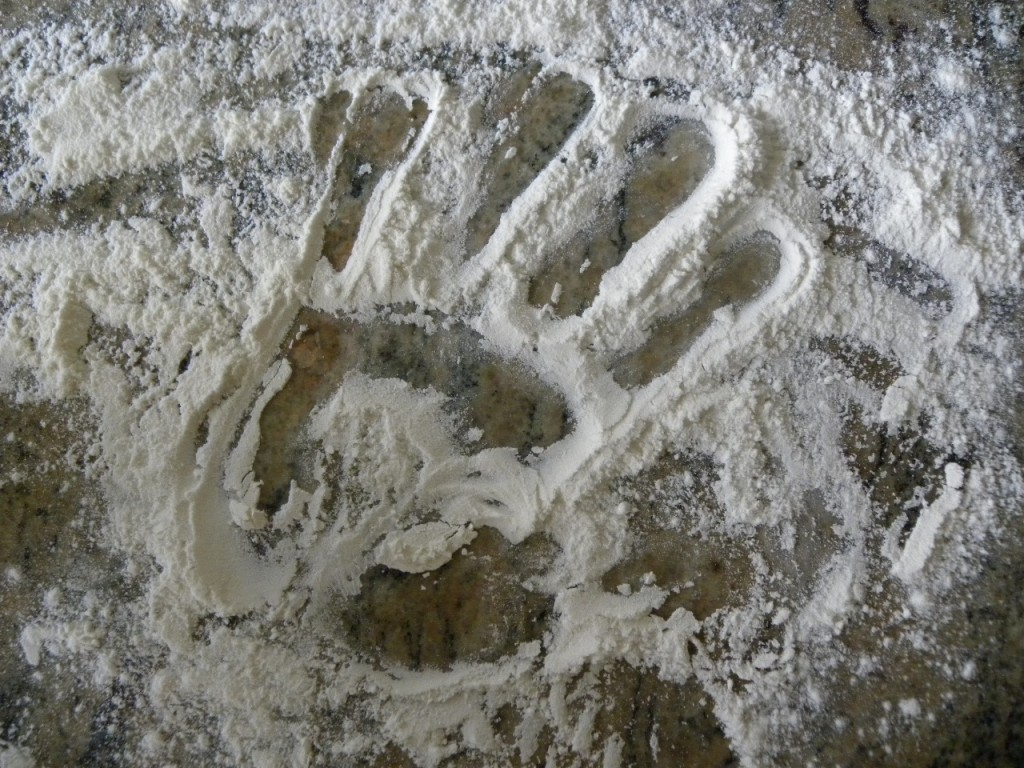 If you are just joining 31days of Meals 4 Sharing here's what you've missed…..
Day 1~ my Heart for Meal Ministry
Day 2~ "I'm not comfortable with bringing someone a meal"....
Day 3~ Reasons 4 sharing a meal.
Day 4~ Quick Easy Apple Sauce
Day 5~ Organizing a Meal Schedule
Day 6~ #1 reason -No reason at all!
Day 7~ #2 reason 4 sharing a meal - Baby...baby....baby..oooo
Day 8~ Chicken Supreme
Day 9~ It doesn't have to be home cooked to be a Blessing
Day 10~ partnering 2 SHARE a meal
Day 11~ Dare
Day 12~ #3 reason Hostess Meal
Day 13~ #4 reason Back 2 Work
Day 14~ Chicken Salad - the perfect meal 4 SHARING
Day 15~ Containers
Day 16~ reason #5 illness/injury
Day 17~ (#6) Loss & an update on BwoB JOPLIN
Day 18~ bring your NEW neighbor a meal
Day 19~ Swedish Meatballs
Day 20~ #8 reason 4 sharing-last minute dinner invitation
Day 21~ Holiday Giving
Day 22~ Pumpkin Gingerbread
Day 23~ Chicken Fontinella
Day 24~ Redletterwords GIVEAWAY
Day 25~ Meat and Potatoes
Day 26~ reason #9 Teams & Teachers
Day 27~ go2 Meals 4 Sharing
Day 28~ 10th reason for sharing- MOVING