Who's your team?  The Seattle Seahawks or the Denver Broncos?  We are a house divided.  Ken is rooting for the Broncos for all the technical and statistical reasons, and I'm rooting for the Seahawks because I like their uniforms, they are from a town that has all sorts of good food, they have a really cool stadium right on the water ummmm let me see what else Oh in college I was friends with the roommate of the daughter of Mike Holmgren the Seahawks former coach…..so yeh that's why I'm hoping the Seahawks win the Super Bowl.
WooHOO GO SEAHAWKS!
Ken likes to throw out trivia questions at me during big sporting events (well really just on a daily basis) to prove how smart he is and how dumb I am when it comes to sports.  OK buster you'd be eating frosted flakes during halftime if not for your beautiful wifey.  So sheetup!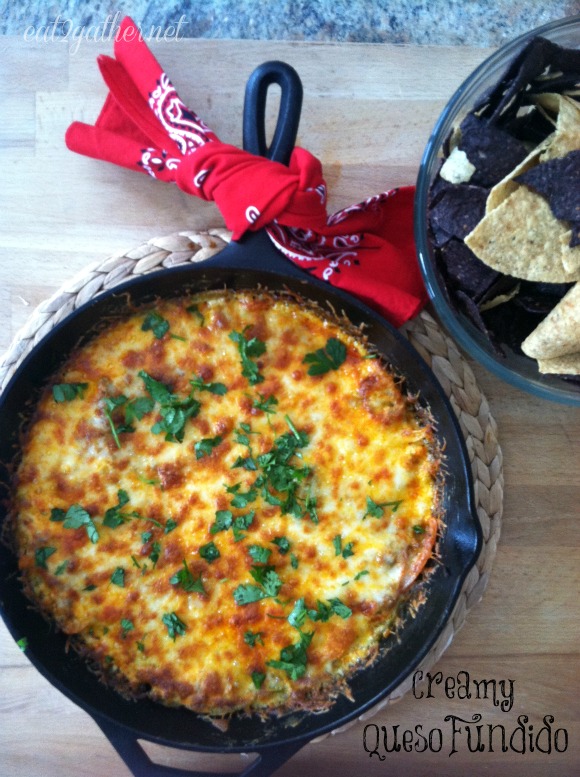 Are you sitting down?  You need to be! This spicy creamy cheesy dip is gonna knock your socks off!  In the words of my 15-year-old daughter after her first bite "ohmergerd this is soo goood".
I always gravitate to the Fundido if it's on a menu.  I mean with a name like Fundido who can go wrong!  This just decided, if we ever get another dog we are naming it Fundido!!! Awe now I want another doggy.  Sorry off track.  Recently we went out to a new Mexican restaurant in Grand Rapids for my Seestors birthday, we ordered the fundido-dee-dee-doe-doe.  It was amazing!  It had girth. It was super creamy, and cheesy, spicy and chunky.  I had to figure out how to recreate it at home.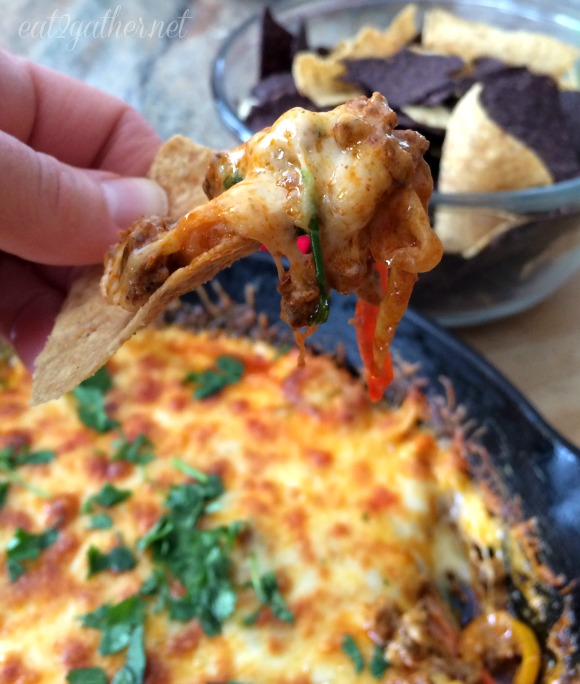 Nailed it!
I made this midday on Monday during our first of three days off from school because of snow.  It was screaming for a Corona with lime to wash it down, plus it would make for a more authentic Super Bowl picture, right?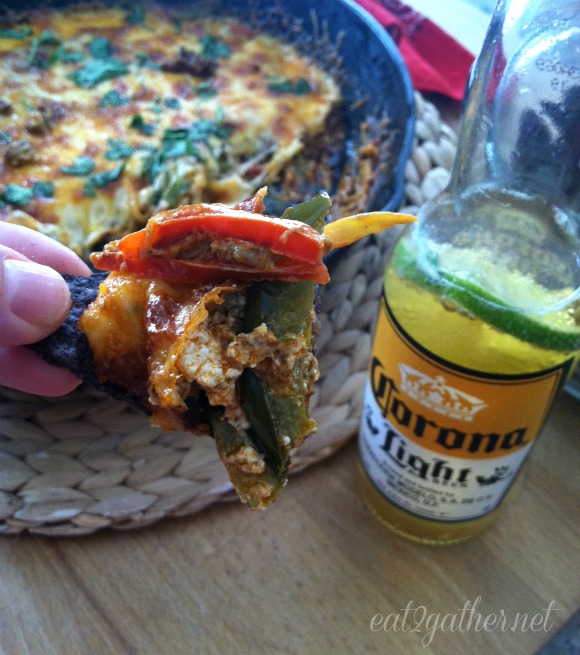 Except when my eleven year old and her friend find me in the kitchen hawking (as in Seattle) down on the fundido, swigging my brewsky at exactly 11:05 am.  Needless to say it looked a little suspicious, and of course I had to defend myself to the wee one that had never been to our home before………
"MOM! really?"  Cece hollered 😉
"um I'm shooting for a Super Bowl blog post, and I needed it to look authentic and such…um er dumm dumm dee dum.  Emily do you know what a food blogger is?  No?  Well it's a person who makes fundido in the morning and drinks a beer with it all in the name of a photo op. Yup that's me." says Me.
Says Emily " that's OK my mom drinks sometimes too!".
Phew! For the love of fundido.
So here's is how you fun-DEE-dough.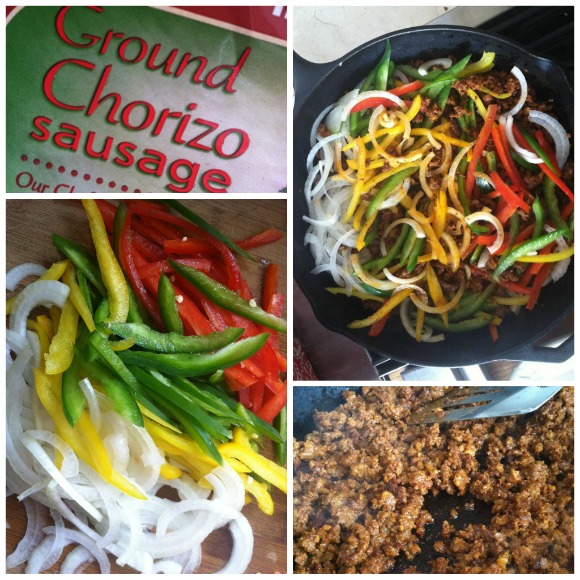 And then you cheeseyO your dee-dough like this…….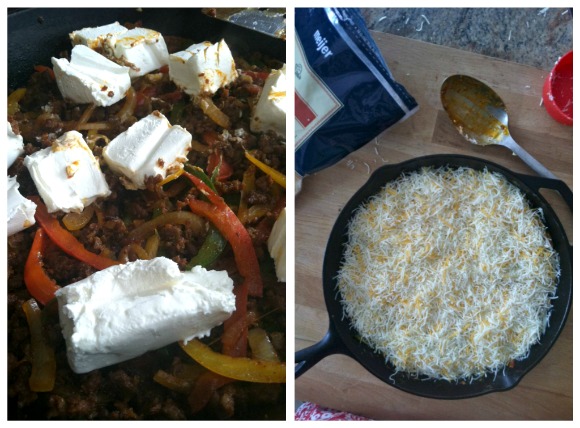 And then you popO your cheesyO fundee-dee-dO in the ovenO and it comes out like this….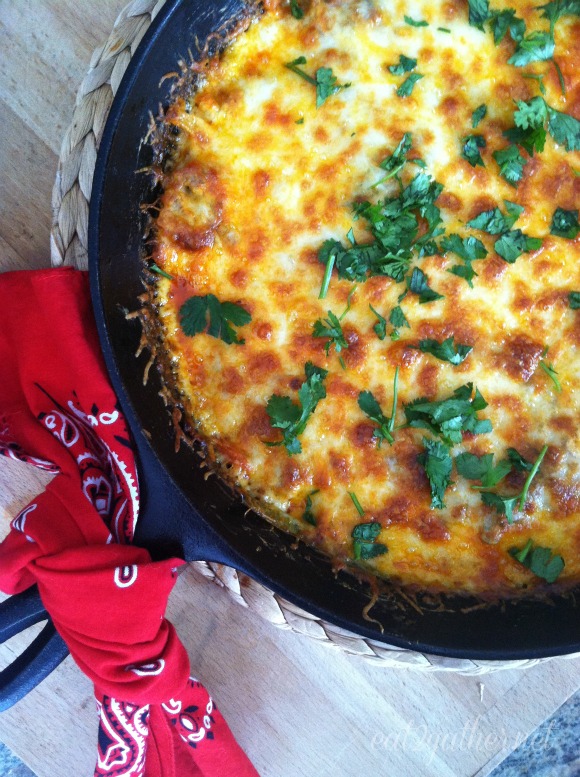 AMEN!
[print_this]
Creamy Queso Fundido Dip
1 pound Chorizo Sausage
1/2 Red Pepper, seeded and cut into thin slices
1/2 Green Pepper, seeded and cut into thin slices
1/2 Yellow Pepper, seeded and cut into thin slices
1 half medium Sweet Onion, cut into thin slices
1 8 ounce block Cream Cheese
3-4 cups Mexican Blend Shredded Cheese
Cilantro for garnish
Tortilla Chips, warmed Corn Tortillas, and/or a spoon for dipping and a cold beer with a lime for drinking!
Preheat oven to 375 degrees.
-Brown chorizo sausage in an oven proof pan, make sure to break up sausage as it browns so there are not any large chunks, meat needs to be a fine consistency.
-When meat is completely brown drain off any excess grease and add peppers and onion to the pan saute with sausage until peppers start to caramelize.
-Break cream cheese into chunks, plop on top of sausage mixture, turn off heat, fold cream cheese in to the meat.
-Sprinkle shredded cheese over the top, place pan in oven for 15 minutes or until cheese is bubbly and starts to brown.
-Sprinkle with fresh chopped cilantro and serve with tortilla chips, warmed corn tortillas, or just eat it as is with a spoon!
Enjoy!
[/print_this]
Kennys Trivia Questions:
#1 Which team has the best offense? Seahawks or Broncos?
#2 Who's the quarterback of the Denver Broncos?
#3 Which NFL team has won the Super Bowl six times?
You may think these questions are easy, I was stumped by them all.  I'll give you the answers with my answer to your Super Bowl XLVIII sweet tooth tomorrow!!
See you tomorrow! Sheila