Meals 4 Sharing is back!!!
 If you are new to Eat2gather you may not remember that every Friday I used to do a Meals4Sharing linkup.
What is Meals 4 Sharing?
1. M4S is a place to  where you can share in the comments about a recipe or a meal that you have made for those you love.
2.  If you have a blog you can link up any post old or new that has to do with loving on others with food.
What does this look like?  What does loving on others with the gift of food mean?  Here are a few examples: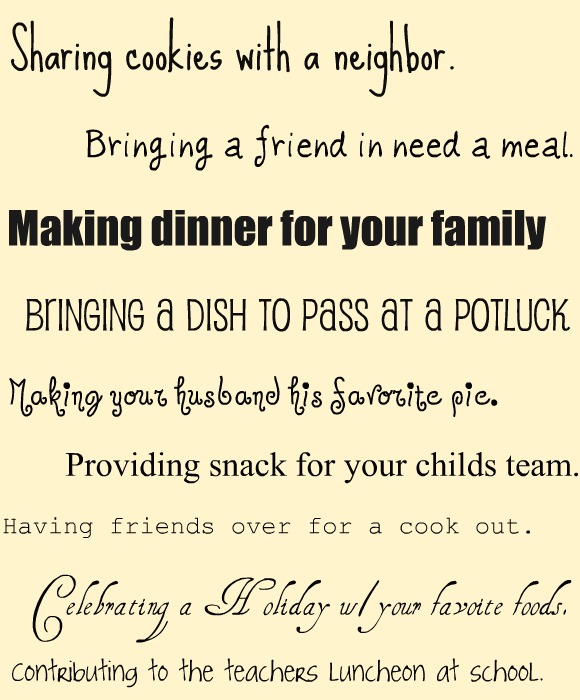 So pretty much anytime you make someone food you are loving on them, you are nourishing them, feeding them, letting them know you care!  It's that easy.  Every Friday you can stop by and leave your 2 cents in the comments about how you've loved those around you or you can link up a post from your blog with a recipe or a story about food/recipe that you have shared with others. If you want to read more about how to love on others here's a link to a 31 day series I wrote on it a while back.
I'm excited to revisit Meals 4 Sharing again. In this fast paced world we live in I think we need all the inspiration we can get regarding loving others.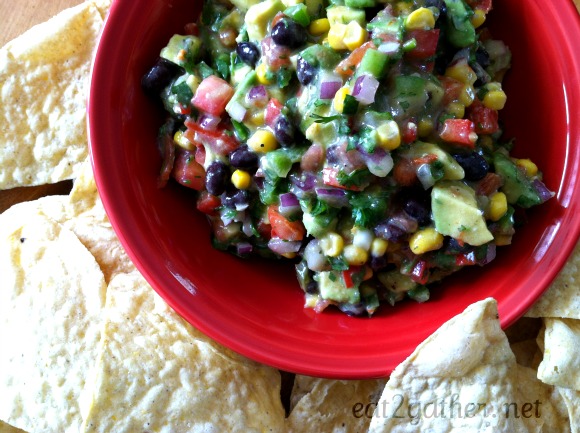 Recently a good friend of mine had the misfortune of breaking her leg, and having to have surgery.  She's a nurse and a mother to four boys.   Let me just say, "aint nobody got time fer dat!!"  Oh my goodness!  Really, really?!  I was feeling horrible for her, transferring her dilemma to my life, thinking what would I do if I had to be immobilized for any length of time?!  I thought to myself if I had to sit and keep my foot up for the majority of each day I would definitely want a yummy snack to eat while I did.  Right?! Wouldn't you?  I knew my friend loved avocados so I decided to make her some Cowboy Caviar, a relatively healthy snack to munch her time away with.
I have made this dip a gatrillion times.  I love it!  It takes a little prep, but it makes a huge batch so that makes it easy to share.  I not only like to dip tortilla chips in it, I love to top grilled chicken with it or pile it on a hamburger, or a taco.
[print_this]
Cowboy Caviar
Where does this name come from? I am not sure. I originally got the recipe from my cousin Sara so I always called it Sara's Dip, until another friend told me it was Cowboy Caviar so I conformed. You have to say it with a southern drawl. [Cah-boi Cavi-yaaar]

3 Avocados, pitted and diced
1/2 Red Onion, diced
4 Roma Tomatoes, seeded and chopped
1 Red Pepper, seeded and chopped
1 Jalepeno Pepper, seeded and chopped fine
1 16 ounce can Black Beans, drained and rinsed
1 15 ounce can Fiesta Corn, drained
1 package dry Good Seasons Italian All Natural Zesty Salad Dressing Mix
2-3 Limes juiced (1/2 cup)
1 clove Garlic, minced
1/3 cup Olive Oil
1/2 cup chopped Cilantro (more or less to taste)
Prepare and combine the first six ingredients in a large bowl. In a mason jar or any jar with a lid combine dressing mix, lime juice, olive oil, garlic, and cilantro shake vigorously for about 30 seconds. Pour dressing over vegetables and fold together. Refrigerate for 1 hour before serving.
Enjoy!
Note: Make this recipe your own add more or less of any ingredient,  add different vegi's. I don't think the red pepper was in the original recipe but I like red pepper so I added it!
[/print_this]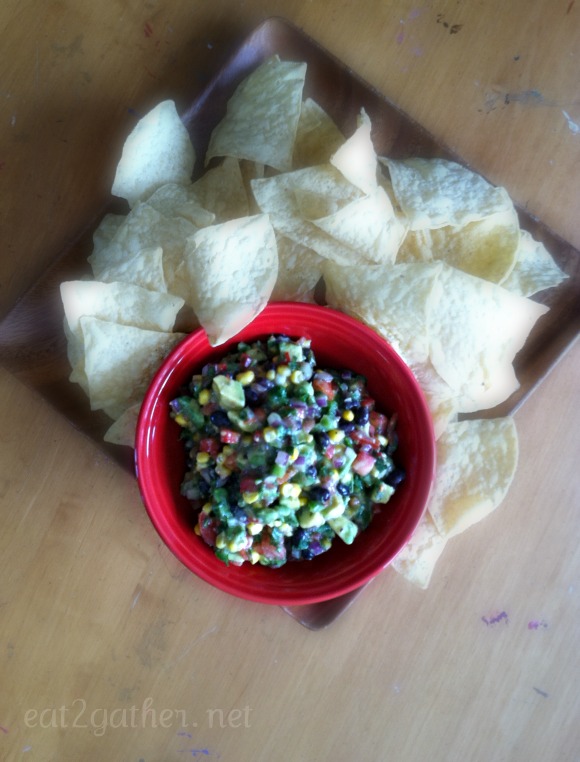 So now it's your turn!  Share how you've loved on others recently in the comments or LINK-up below!
Any questions? Feel free to share so others can too!
Have a great weekend!
Luvya, Sheila