Mexican Turkey Meatball Soup
  Mexican Turkey Meatball Soup is everything I love in a soup!  Spicy and full of healthy vegetables not to mention the surprise of  tasty bite sized little turkey meatballs.  This light but hearty soup is sure to hit the spot!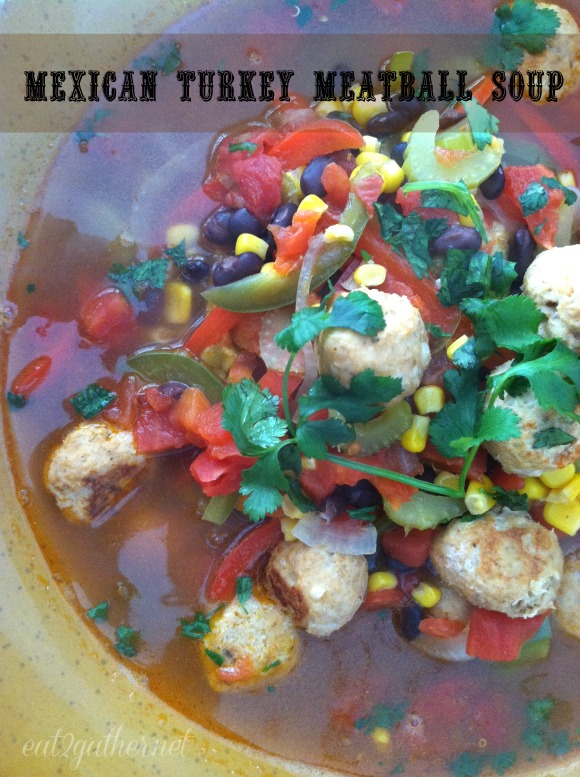 Twenty plus inches of snowfall, high winds,  sub-zero temps, three consecutive days off from school, what does this all add up to?  Me wanting to stay home, in my pj's, make soup, watch movies, read books, and not go outside until March!  If you don't see a post here in the next couple days….send help…er at least some sunshine and or a blowtorch to melt us outta here!
OK back to the soup! The secret ingredient in this soup is the lovely little meatballs.  These little beauties are perfect not only in soup, but also paired with pasta and your favorite sauce.  They are perfect on pizza, or lined up in whole wheat hotdog buns with marinara for a healthy twist on meatball subs!  I usually make a double or triple batch  of these little beauties, I let them cool then I place them in zip-loc bags and freeze them.  Ready to toss in to soup, sauces or on top of pizza!
They are super easy, but you may have to get your mittens a little messy.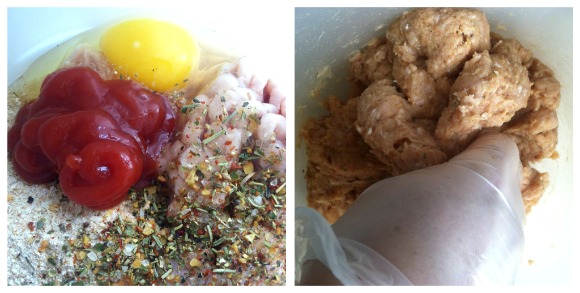 Place ground turkey meat, egg, ketchup, bread crumbs, and italian seasoning in a bowl.  Using your hands mix ingredients together.  As you see I'm somewhat of a wussy when it comes to the squishing part and I use a disposable food grade glove when I squish. So forget what I said about mittens getting messy and stuff.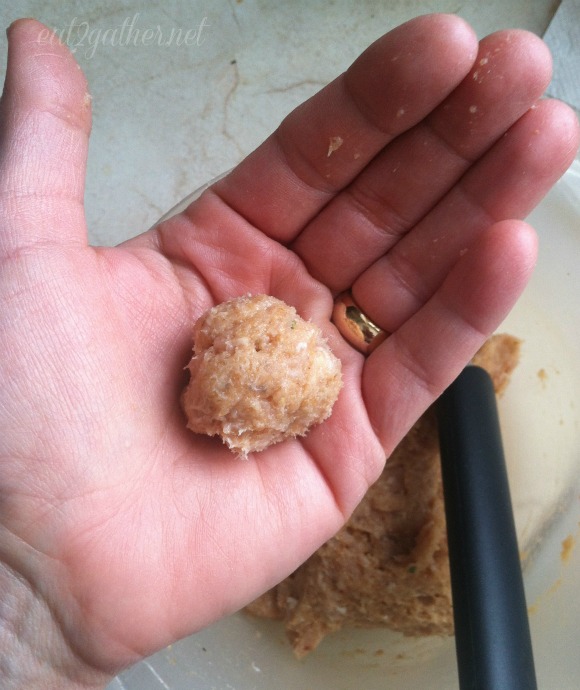 You can use an everyday spoon to scoop out the meat and then roll it in the palm of your hand.  I used a melon baller to get the size I wanted.  Just remember you want these little babies to fit on a spoon along with other goodies from your soup, for the perfect bite!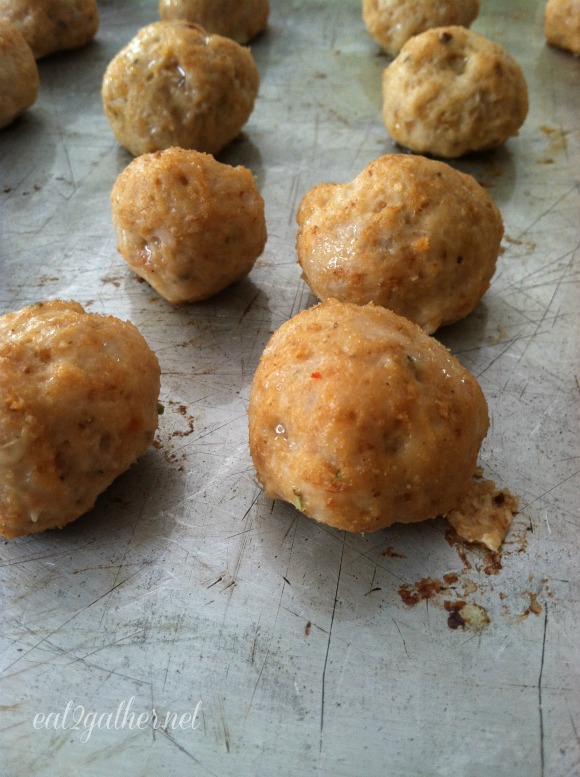 Preheat oven to 350 degrees, drizzle baking sheet with olive oil, place meatballs on baking sheet and bake for 15 minutes.   *If you are going to freeze these little guys, let them cool,  pop them in zip-loc bags, and place them in your freezer for another day!  Then take your right hand reach over your left shoulder and pat yourself on the back!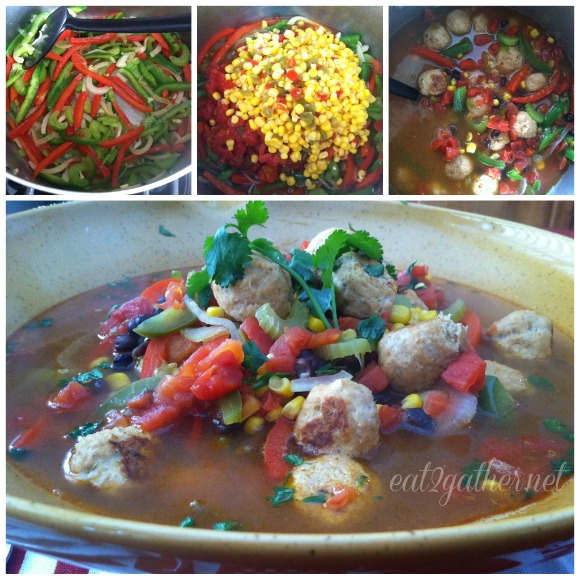 The body of the this soup comes together quickly, while your wee little balls are baking saute' the peppers, onions, and garlic when they are soft add in the remaining ingredients!   Bring to a low boil turn heat down to low and allow to simmer for 15 minutes!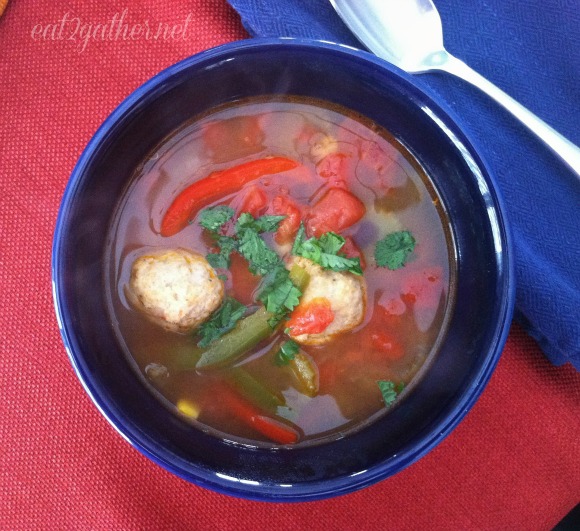 Because I am attempting to cut back (I say attempting because with the kids off school for 33 years it's been hard to stick to my no/low carb diet.)  I ate this soup as is, which is more than sufficient!  However my kids hauled out the tortilla chips, cheese, guacamole, and sour cream, see what I've taught them?  I'm raising food monsters.  I watched them eat their lunch in horror as I ate mine plain with a sprinkling of fresh cilantro…it was marvelous.
[print_this]
Mexican Turkey Meatball Soup
Serves 6
meatballs
1 pound ground Turkey
1/2 cup Bread Crumbs
1 teaspoon Italian Seasoning
1 tablespoon Ketchup
1 Egg
olive oil, for greasing baking sheet
1 Red Pepper, seeded and thinly sliced
1 Green Pepper, seeded and thinly sliced
2 stalks Celery, cleaned and diced
1/2 medium Sweet Onion, sliced thin
1 clove Garlic, minced
Olive Oil
1 teaspoon Salt
1 can Black Beans, drained and rinsed
1 can Fiesta Corn, undrained
1 28 ounce can Rotel Original Tomatoes
1/2 teaspoon Cumin
1/2 teaspoon Chili Powder
32 ounces Chicken Stock
Cilantro for garnish
Meatballs: Preheat oven to 350 degrees. Makes 40+ meatballs.
In a medium bowl combine the meatball ingredients leaving out the olive oil. Use your hands to make sure all the ingredients are incorporated well. Drizzle olive oil on a baking sheet and smear around to grease the pan. Form meat into small bite sized meatballs, place on baking sheet. Place in preheated oven and bake for 15 minutes.
Soup: Place 6 quart stock pot on medium high heat, drizzle olive oil in pan add peppers, onions, celery, and garlic to pan, sprinkle with salt, saute until reduced to half and soft. Add black beans, corn, tomatoes, spices, and chicken stock to the pot along with the meatballs, bring to a simmer, let cook for 15 minutes. Ladle into bowls and garnish with cilantro.
Note: The meatballs are actually a recipe unto themselves they go well with pasta and any sauce you like, they are also wonderful on pizza. Make a double batch allow them to cool and freeze half for your next batch of soup or another meal!
Enjoy!
[/print_this]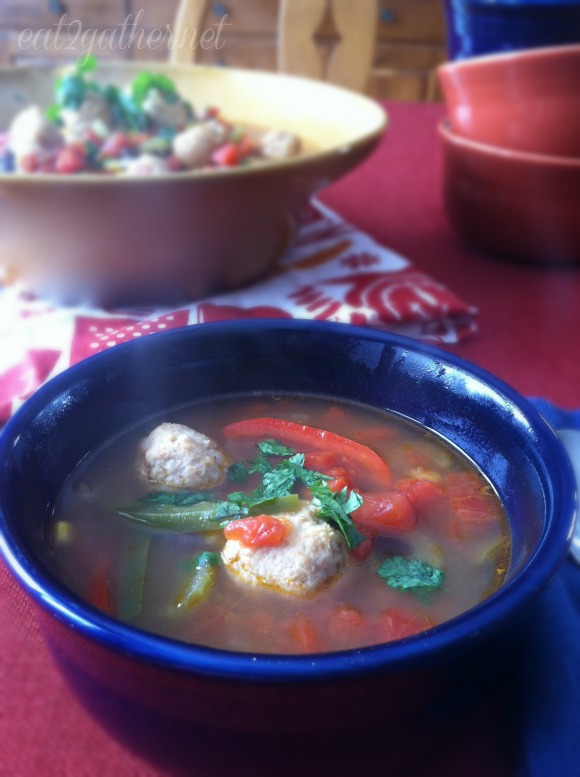 There you have it!  Come and get it!  Soups on!  and all that jazz.
Enjoy and for goodness sakes STAY WARM because baby it's cold outside!  (Sorry I just can't stop saying that and hashtagging it, and singing it, cause gol dernit…babyitscoldoutside!)
Luvya, Sheila