Getting my family around the table for dinner is usually not too terribly difficult, it's the keeping them there longer than five minutes that's tricky.
Peanut Butter Snack Cake is worth hanging out at the table a little while longer for!!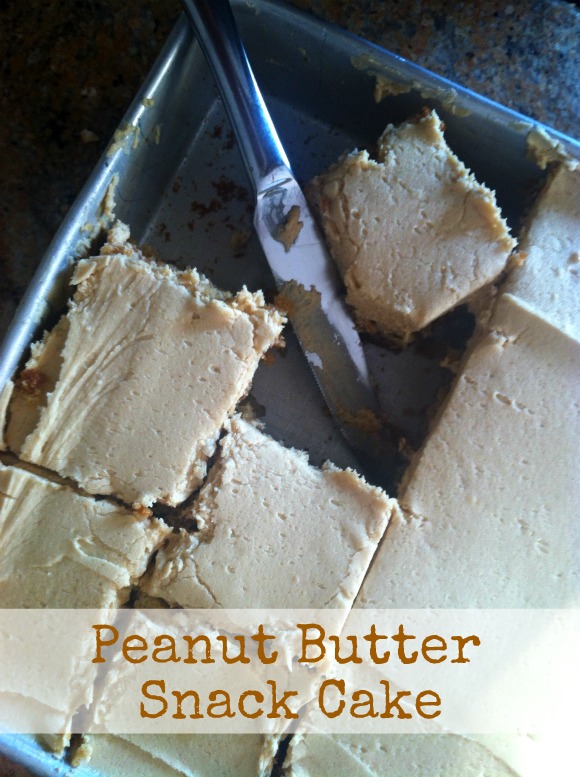 Recently someone asked me what the hardest part about family meal time is.  My knee jerk reaction was to say "getting us to the table is the hardest part" but that's not really true.  The hardest part is keeping us there,  lingering, and not rushing off to our perspective corners.   I've found if I tease them with some dessert before dinner, they stick around longer!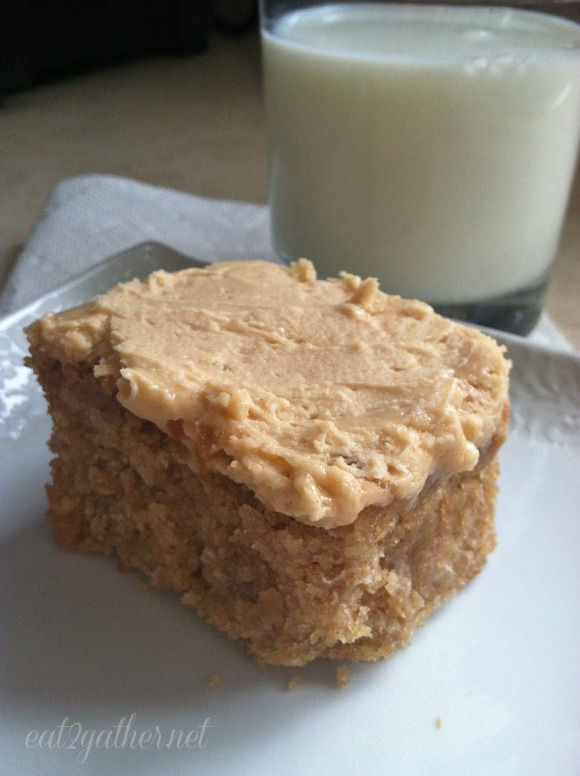 And then of course the longer you sit the more one talks, and then you start eating moist and delicious peanut butter cake and before you know it, our family has been around the table together for a whopping 30 minutes!
What's the most challenging part of meal time for you?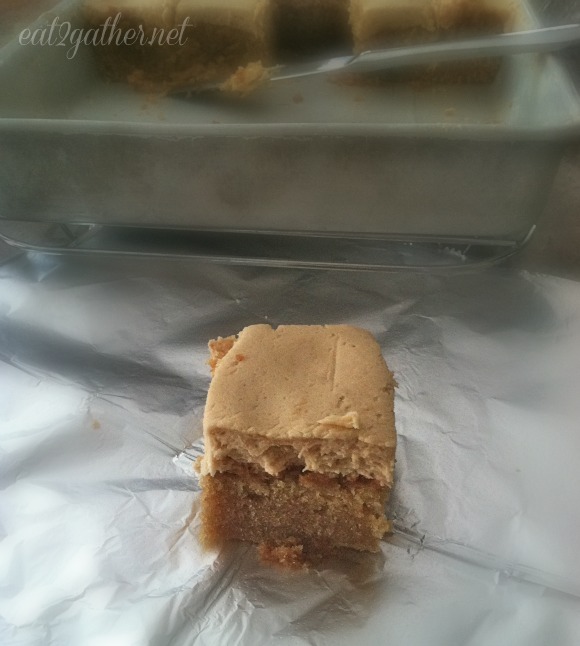 This recipe was given to me by a friend and relative…I guess you could say it's a family recipe.  It's been made for weddings, birthdays, picnics, and after school snacks.  It's definitely a family favorite!  I realize not everyone can eat peanut butter, if you are that person I have another delectable cake for you to try (another old family favorite).  One of the best thing about both of these cakes is that they stay moist for days.  I usually pack the leftovers in my kiddos lunches, it's so dense and moist there's no need for a fork, you can pick it right up with your fingers without any crumbling!
[print_this]
Peanut Butter Snack Cake
1 9×13 cake (cut into 24-30 pieces)
2 cups Flour
2 cups Sugar
1 teaspoon Baking Soda
3/4 cup creamy Peanut Butter
1 cup boiling Water
1 cup Butter
1/2 cup Sour Cream
2 Eggs
1 teaspoon Vanilla Extract
Peanut Butter Frosting
3/4 cup softened Butter
3/4 cup Peanut Butter (you can use crunchy or creamy for frosting)
1 teaspoon Vanilla Extract
3 tablespoons Milk (more or less to get correct consistency)
1 pound Powdered Sugar (3 3/4 cups)
Preheat oven to 350 degrees. Grease a 9×13 cake pan.
Combine flour, sugar, and baking soda in mixing bowl. In a separate bowl place butter and peanut butter pour 1 cup boiling water over butters, stir until butter is melted and everything has come together to make a runny peanut butter slurry. Slowly add peanut butter mixture to the dry ingredients mix until combined. Add in sour cream and vanilla continue to mix. Add eggs mixing after each until batter is smooth. Scrape bowl and mix on medium speed for another minute. Pour into prepared cake pan. Bake in preheated 350 degree oven for 40 minutes or until toothpick comes out clean when poked in center.
Frosting: Whip butter and peanut butter together until smooth and fluffy, gradually add in powdered sugar alternating with wet ingredients (vanilla and milk). Whip until frosting is fluffy and smooth.
When cake is completely cool, frost cake and cut into smaller 2″ square pieces, perfect for snacking!
Enjoy!
[/print_this]
One of my favorite quotes ever:
"I can't imagine life without a table between us. "  from Bread & Wine by Shauna Niequist
This is how I feel about my family everyday.  I can't wait to get them around the table, and when it doesn't happen the day just doesn't seem complete.  I hope you're able to get your family around the table this weekend.  Make this cake and they are sure to come running!
Much Love, Sheila