Are you sitting down?   Because this recipe  is serious.  Seriously addicting that is!!  Sea Salt Pretzel Toffee is easily the most intensely addicting treat you will make ever, and you won't believe how easy it is!
This treat is great to have on hand for surprise guest to nibble on or box it up and give it as gifts!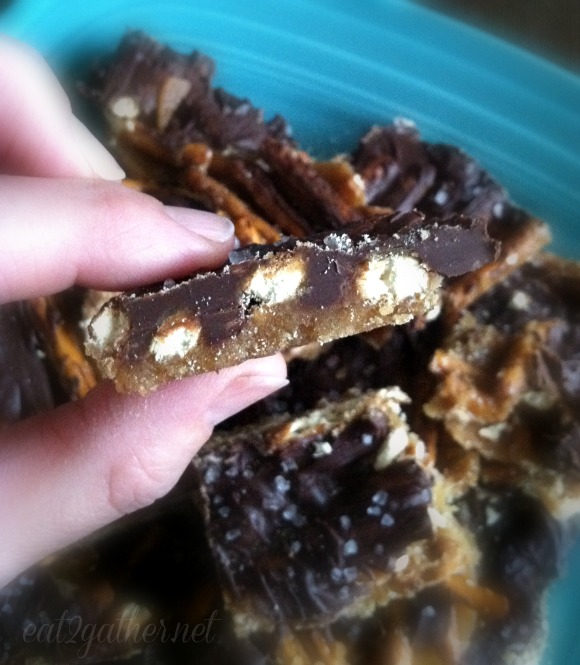 It's salty and sweet and crunchy, and to top it all off it is so gol darn easy to make.  You couldn't mess this stuff up if you tried!
Years ago a co-worker brought a similar goody to work, this is essentially the same toffee treat only I swapped out the crackers for pretzels…well and then sprinkled sea salt  all over it!  The original version was really good but this new updated version is the best treat ever!! Seriously….cross my heart, hope to die, stick a needle in my eye.  Who says that sort of thing?  I take that back.  Please forgive me.  Just believe me when I say this stUFF IS SO GOOD!
And did I say it's as easy as 1 2 3!?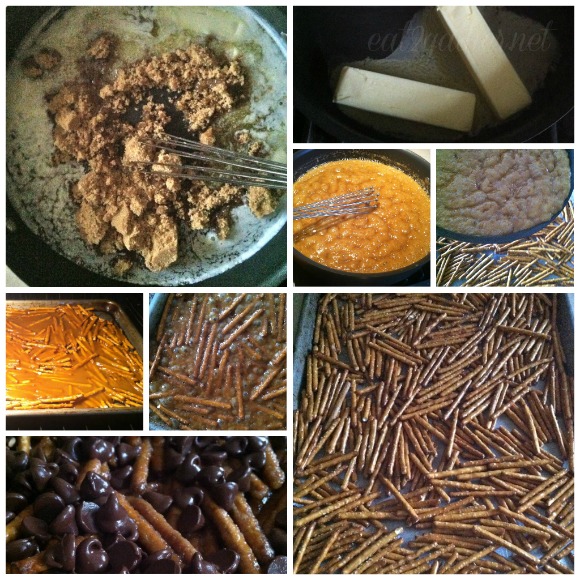 1 Spread pretzels in a baking pan.  2. Melt butter and brown sugar together pour over pretzels and bake. 3. Sprinkle with chocolate chips and sea salt.  VOILA!  You've got TREATS!!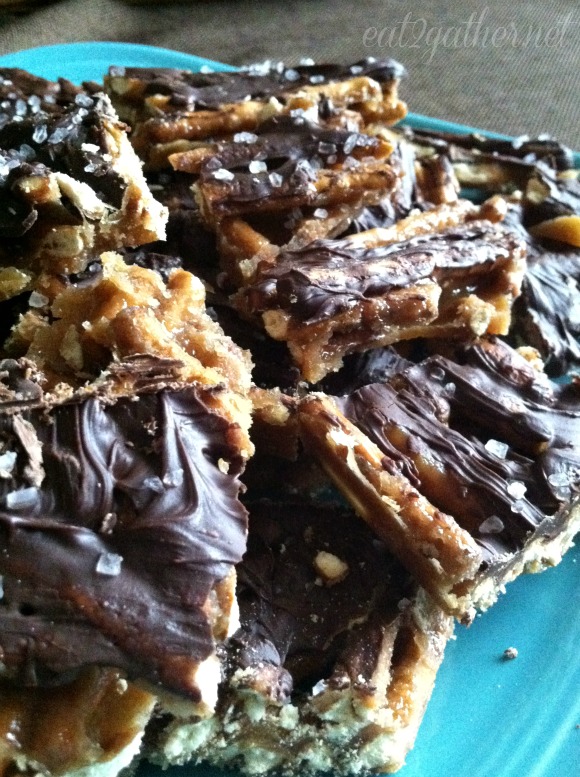 Sea Salt Pretzel Toffee shouts my name all day long if I keep it around.  I can't stay out of it!  Neither can my kiddos, especially Noah I had him take a container of it to Heather who cuts his hair.  I had to call her and make sure that he gave it to her, because I suspected that he might keep it in his truck for himself. Now he's a good kid, and not usually selfish and hoardy but this toffee is so darn good it's apt to bring out the selfish treat hoarder in all of us.  BEWARE!
What treat shouts your name at the holidays?
[print_this]
Sea Salt Pretzel Toffee
3 sticks of Butter
1 1/2 cups Brown Sugar
1 15 ounce bag of Pretzel Sticks (you won't use the whole bag, and you can use twist pretzels too if that's all you have)
2 cups Semi-sweet Chocolate Chips
1 tablespoon (more or less) Sea Salt
Preheat oven to 350 degrees.
1. Lightly grease 12×15 baking sheet with butter. Spread pretzels evenly over the entire pan.
2. In a large skillet, over medium heat, melt butter add brown sugar to the butter and whisk until the two become one and they come to a low bowl, allow to bubble up like this for 3 minutes, when caramel just starts to take on a darker color remove from heat and pour over the pretzels as evenly as possible. (if some areas don't get covered it's ok because when it bakes the caramel will spread out) Place in preheated 350 degree oven for 10 minutes.
3. After you remove pretzels from oven let stand just a minute, then sprinkle with chocolate chips, they will melt immediately, spread chocolate evenly across toffee with a rubber spatula, allow to cool an additional 10 minutes then sprinkle with sea salt.
4. Place pan of toffee in the refrigerator for 30 minutes. Remove and break into bite sized pieces. Stored in an airtight container.
[/print_this]
Signed, Me and my flea