Chocolate Chip Cookie Dough Ice Cream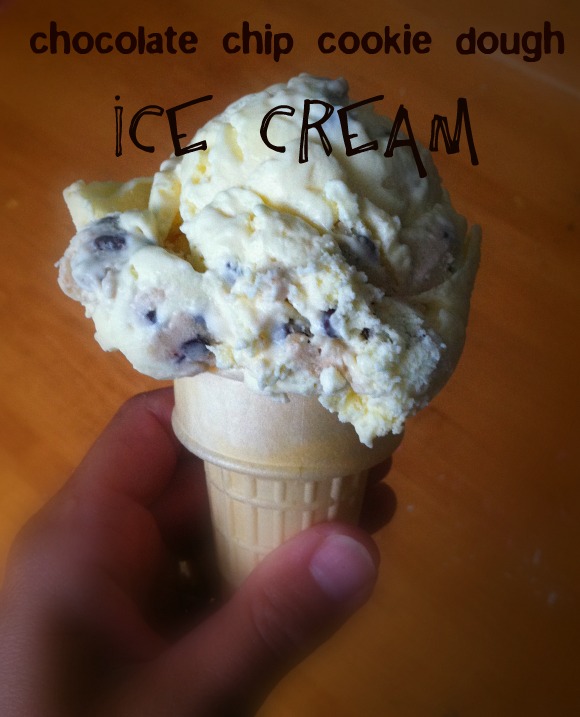 First of all I need to thank Dorothy S. for leaving me a comment that led to the making of this ice cream.  Dorothy your comment most definitely has changed the lives of my family as well as many others!  Thank you!   Thank you!
Hug, hug, kiss, kiss, big hug, leetle kiss. (name that movie)
Dorothy left me her 2cents about how quick and easy it is to use Jell-O pudding to make the base for ice cream.  I had a WOW!  Why didn't I think of that moment.  Genius.  Simply genius!
The number one ice cream and or ice cream topping ordered by my children, when we go out for ice cream,  is Chocolate Chip Cookie Dough.  I decided to give homemade chocolate chip cookie dough ice cream a whirl using the Jell-O pudding method.
The result?
Creamy, rich, smooth, perfectly sweet vanilla ice cream with buttery nibbles of cookie dough tucked in it!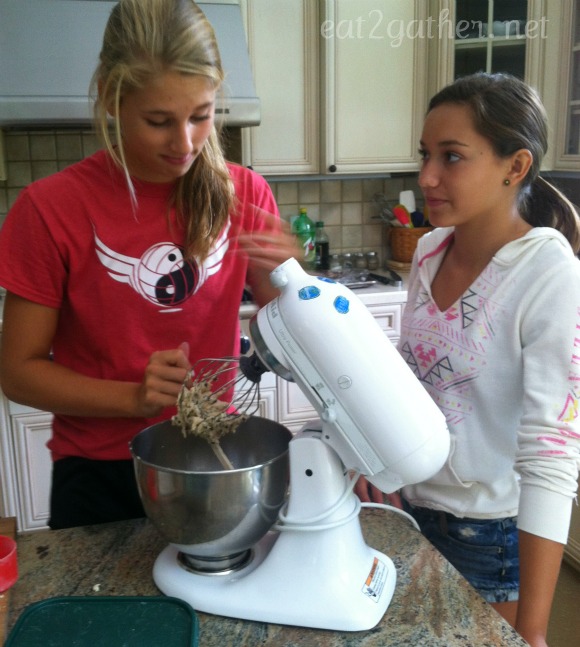 I enlisted these two doofenschmertzes to whip up a batch of edible cookie dough.  They did so with pleasure, eating approximately one-quarter of the dough in the process.  Which was really not a problem there was plenty left over for the ice cream.  I love these doofenschmertzes, just in case you wondered.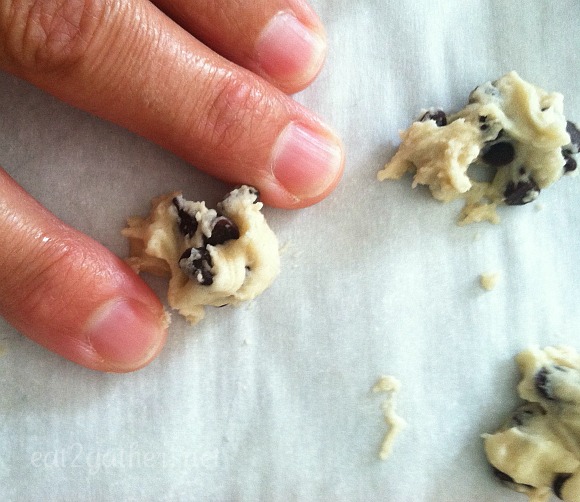 Then I had the girls plop bite sized nuggets of the cookie dough on a parchment line cookie sheet and place the sheet in the freezer for at least one hour.  I took this picture so you could get an idea how big my nuggets were.  I'd equal them to a half a bite….or a nibble.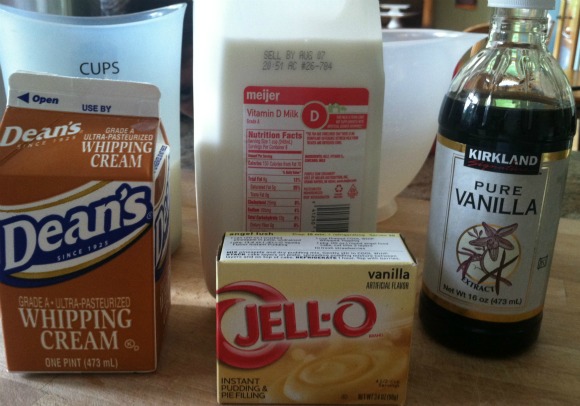 Heavy whipping cream, whole milk, one small package Jell-O instant vanilla pudding, and vanilla extract is all you will need to make the base for this ice cream flavor.  Do you spy a photo bomber?  Let me know if you see doofenschmertze number three.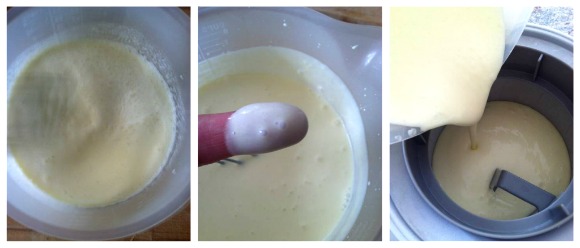 Whisk together heavy cream, whole milk, instant pudding and vanilla until it starts to become thick and coats the back of a wooden spoon, or your finger…..which ever you prefer.  Pour ice cream base in to your freezing cold ice cream maker bowl, and churn until the consistency of soft serve ice cream.  In this case it took about 20 minutes.  The colder your ice cream makers bowl is the faster your ice cream will freeze for you.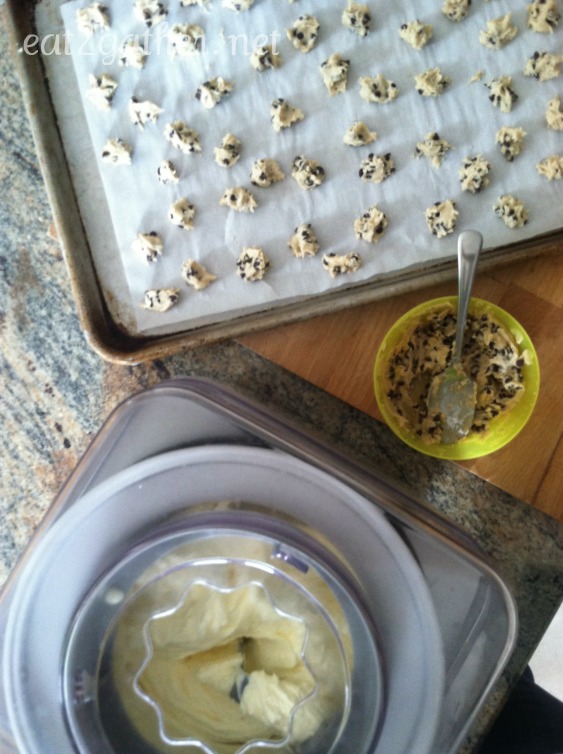 When the ice cream is the right consistency (soft serve) take chocolate chip cookie dough nuggets from freezer and get a freezer safe container ready.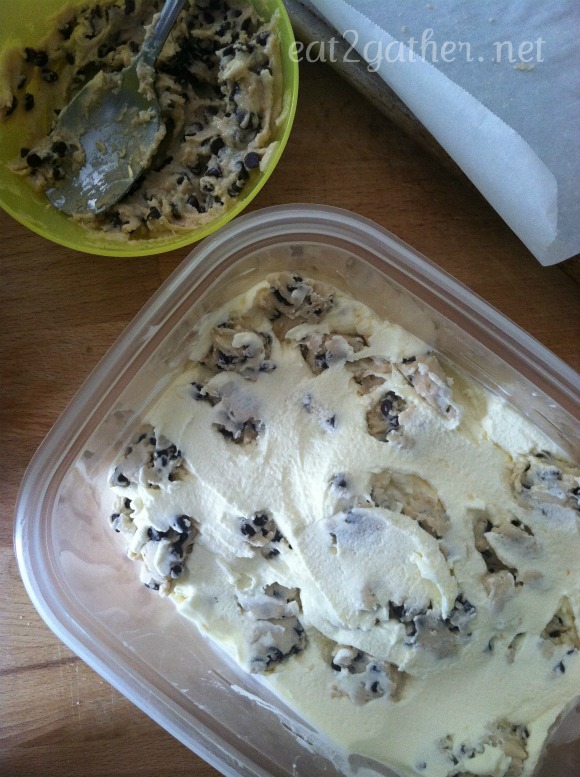 Spread half of the vanilla ice cream in to your container, sprinkle with one cup of cookie dough, layer the other half of the ice cream on top and repeat with cookie dough.  Pressing the cookie dough nuggets down in to the mixture as you layer.  Cover ice cream and freeze for at least 2 hours before serving….or honestly dig right in if you must.  I will never ever hold digging right in to homemade ice cream against you!
[print_this]
Chocolate Chip Cookie Dough Ice Cream
Chocolate Chip Cookie Dough Pieces
1 cup Flour
1/2 teaspoon Salt
1/2 teaspoon Baking Soda
1 stick Butter, softened
1/2 cup Sugar
1/3 cup Brown Sugar
1/2 teaspoon Vanilla
3 tablespoons Milk
1 cup Mini Semi-Sweet Chocolate Chips
Combine Flour, baking soda and salt. Cream together butter and sugars in a mixing bowl, add vanilla scrape bowl continue to mix gradually adding in flour mixture and milk alternately. Add chocolate chips and mix well. Drop small balls of dough on to parchment lined cookie sheet place in freezer until ready to add to ice cream.
Vanilla Ice Cream
2 cups Whole Milk
1 3/4 cup Heavy Whipping Cream
1 3 ounce package Instant Vanilla Jell-O Pudding
1/2 teaspoon Vanilla
Whisk all ice cream batter ingredients together in a bowl until mixture starts to thicken about 2 minutes, mixture will still be runny but should coat the back of a wooden spoon.
Making the ice cream: Make sure ice cream maker bowl is frozen and ready to use before you begin making the ice cream mixture. Pour ice cream mixture into ice cream maker and churn until the consistency of soft serve ice cream. Scoop half of the ice cream in to a freezer safe container, sprinkle one cup of cookie dough nuggets over the ice cream and repeat. (Any nuggets you have left over you can use as topping or for  eating!) Freeze for two hours before serving.
Enjoy!
[/print_this]
There you have it the easiest darn ice cream you will ever make and it is seriously sinful!  Thanks again Dorothy S. for sharing your super time-saving rich and creamy ice cream secret with us!
There are so many flavor options you could make with Jell-O pudding which one would you try?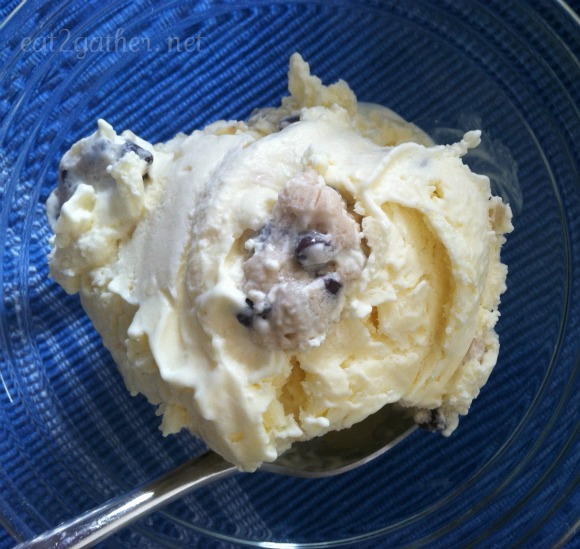 Enjoy!
Sheila