Signs of Summer:
1.  Screen door slams every 2 minutes.
2  Fridge door is open more than it's closed.
3.  There's grass clippings all over the house.
4. There are 100's of shoes by the back door….who do they belong to?
5. The laundry pile is growing exponentially.  (exponential: a math word  Another way I know it's summer Cece is working her way through her summer skill builder books and I am feeling like I quite possibly I never went to school….I never remember learning any of this stuff!)
6. My kiddos are up till the cows come home, reading watching movies, talking, eating, swimming.  They have (in my book) passed the age of enforcing a bedtime, but I have a hard time going to sleep when there's fun stuff going on, so if it were possible for me to get any less sleep than I already do….I am. Insert haggard looking emoji.
7. I hear the phrase multiple times (there's my math language again 😉 ) "There's nothing to eat.".  As if they really knew what it was like to have nothing to eat. Please people. I'm booking them a trip to the Sahara desert then they will honestly be be able to say "there is nothing to eat".
 "The" beach at Lake Michigan…heaven, the kids have to drag my butt off of it.
8. I know that it's summer when I am looking at my weather app like every five seconds.  What's the weather outlook for the next 10 days, 10 hours, 10 seconds, when will the sun set?  How is the weather on the Big Lake?  BTW We live 30 minutes from Lake Michigan, straight shot to the beach from our house, but sometimes its beautiful weather at home and you get to the beach and it's windy, chilly, and even foggy and there are icebergs floating in the Lake because the wind blew in from the polar regions, so one never ever heads to "the beach" without consulting Craig James….er um their weather app.
(Who is Craig James?  He was the meteorologist for 40 years in Grand Rapids, he retired in 2008. So when I think weather…I think Craig. Craig should start-up tweeting the weather for retirement kicks and giggles.)
9. I know it's summer when I justify eating ice cream for every meal, because well it's summer…and summer is short in Michigan so why not.
10.  And last but not least I know it's summer when breakfast becomes lunch and lunch is Monkey Bread!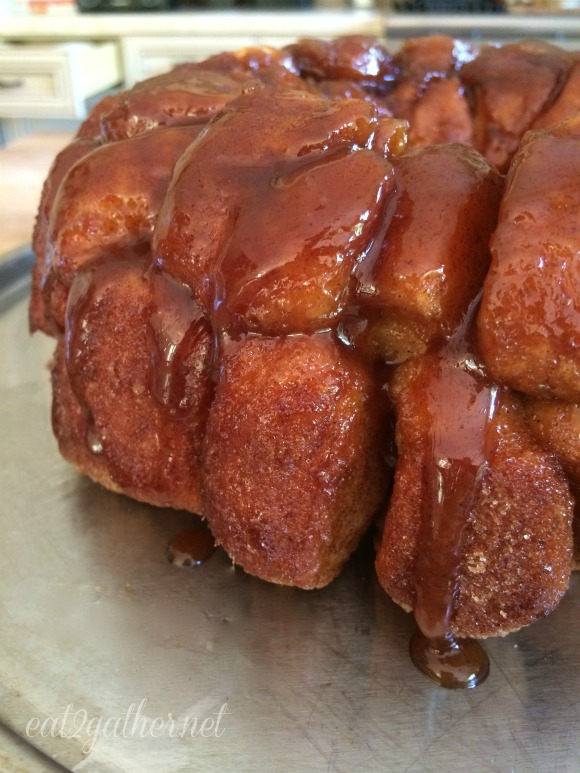 Monkey Bread is a food group right?  A justified replacement for whatever else one might eat in the morning.  During school breakfast is about getting something healthy down quick, an egg, a smoothie, some granola and maybe yogurt.  In the summer breakfast is about bacon, and sugar, and ice cream on french toast.  Woo Hoo it's Summer!
I hope at some point in your life you've had, or made Monkey Bread.  You probably have a recipe for it somewhere.  I have two versions.  This is the easiest one.  Here is the other recipe, venture in at your own risk that is a really old blog post people.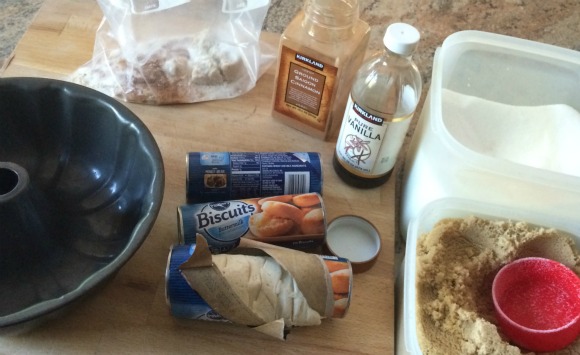 This is it.  Canned buttermilk biscuits, sugar, more sugar, cinnamon, vanilla, and Oh butter…the butter was melting in the microwave.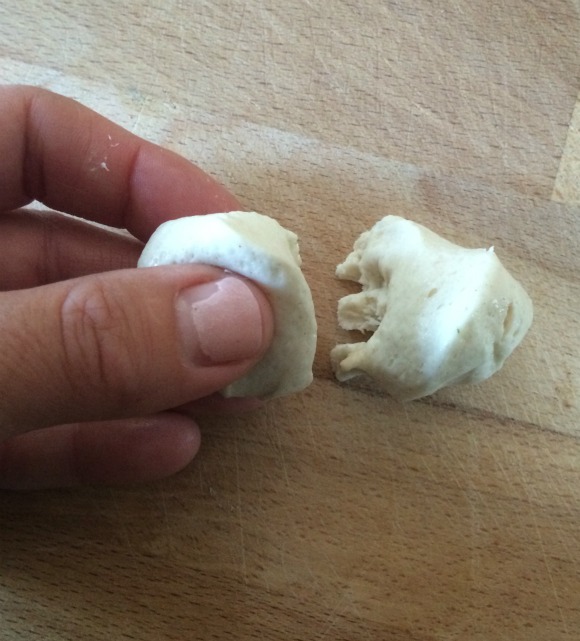 Pop open the biscuits (I always wince and give a little scream when they pop open…you too?) and break them into small pieces, each biscuit into halves or thirds.
Number eleven reason you know it's summer:  For some crazy reason I think I should get a manicure and well in 2 hours it looks like the above shot.  My hands were never meant for mani's….plus I'm a picker.  You pickers know what I'm sayin'.

Toss pieces with the sugar and cinnamon.

Pour them in a bundt or tube pan, melt some butter, stir vanilla in to the butter, drizzle butter vanilla mixture evenly over sugar coated biscuits.  Drizzling butter is one of my favorite things to do in case you wondered.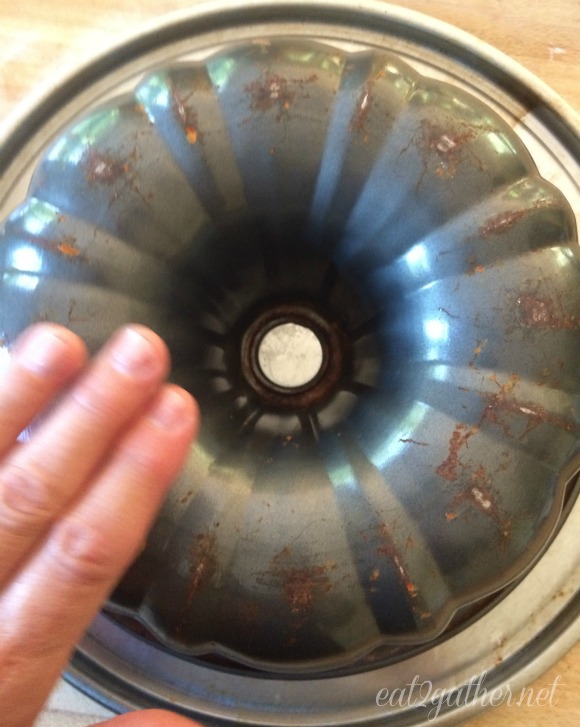 Bake for 30 minutes, and then invert on to a platter or a large plate. Give pan a pat.  Thank You trusty bundt pan.  This pan was a wedding gift.  It's baked a few bundts cakes, and a few more recipes of monkey bread.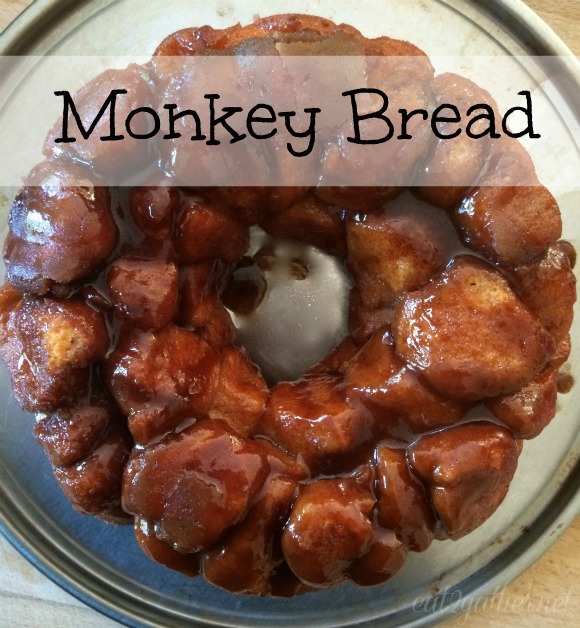 Voila!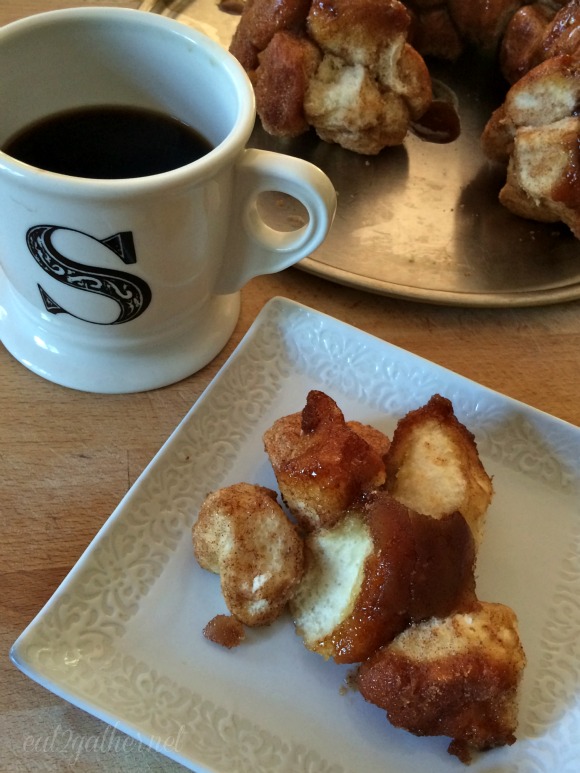 Number 12 reason I know summer is here.  I get to eat my monkey bread in peace while the rest of the house sleeps.  Here in lies the reason I don't get any sleep in the summer.  I stay up with everyone, but I like my "me" time so I get up at the crack of dawn to make monkey bread, read emails, and write.  Then if I'm lucky I'll catch a nap by the pool, or on the beach later in the day!
Cheers to Summer! XOX, Sheila
[print_this]
Monkey Bread
3 cans Pillsbury Buttermilk Biscuits
1/2 cup Brown Sugar
1/2 cup Sugar
2 teaspoons ground Cinnamon
1 stick Butter
1/2 teaspoon Vanilla
Preheat oven to 350 degrees.
1. In a plastic zip-loc bag mix sugar and cinnamon.
2. Melt butter in a large dish in microwave, then stir in vanilla.
3. Pop open biscuits break into pieces and toss into bag with sugar. Zip bag closed ever so often and toss dough pieces around, so every piece is covered with sugar.
4. Pour dough pieces and sugar into a nonstick tube or bundt pan. Make sure dough is evenly distributed around the pan.  Drizzle melted butter and vanilla evenly over the dough. Place in oven and bake for 30 minutes. Remove and let set for 5 minutes before inverting onto a large plate or platter.
Enjoy!
[/print_this]