Have you ever had one of those weeks where nothing goes as planned?  That was this week for me.  A week where you can barely get a meal on your own table let alone make one for someone else?  I can't believe it's Friday.  Can I have a do over?  Sick kids, sprained ankle, snowstorms, rain storms, power outages, doctors appointments, orthodontic appointments…..one day was so crazy it was 1pm before I even got my first cup of coffee.  That is crazyness right there folks!  But hey, I can't complain…it's Friday and we all made it through mostly in one piece.  "Give thanks in all circumstance", Amen!
So today in the spirit of sharing, and because I didn't get around to writing this post until 11pm,  I want to share with you some delicious finds from my Deliciousness Board on Pinterest.
Are you on Pinterest? 
I held off until this past December.  I was afraid it would be one more thing to distract me and suck my time away.  I was right.  It does distract me and it sucks my time, but I love it! I think Pinterest is genius! I love how I can pin things, to my boards,  that I want to go back to from the world wide web (giggle).  No more wishing I could remember where I saw that great recipe or awesome idea.   I made my daughter get her own account.  I get so tired of her pulling things off on to my computer screen and cluttering it up!  I finally tickle tortured her until she gave in and got on Pinterest.  Poor girl the things she won't do to make her momma happy.
So here are some recipes I've tried, and some I still need to try.  I hope you visit their sites and pin them too!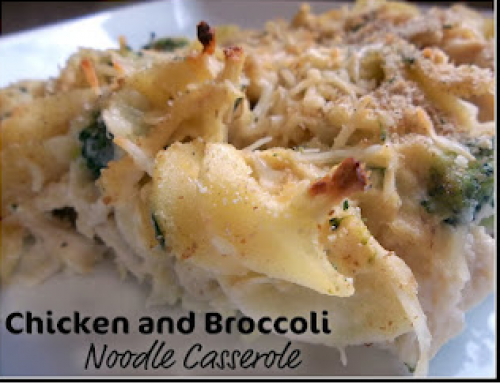 Chicken and Broccoli Noodle Casserole from Six Sisters.  I actually made this this week.  Yes I did get dinner on the table a couple of times, despite the chaos.  Kenny loved it.  It was perfect because I had everything on hand to make it, and everyone ate it, no complaints!  Hallelujah!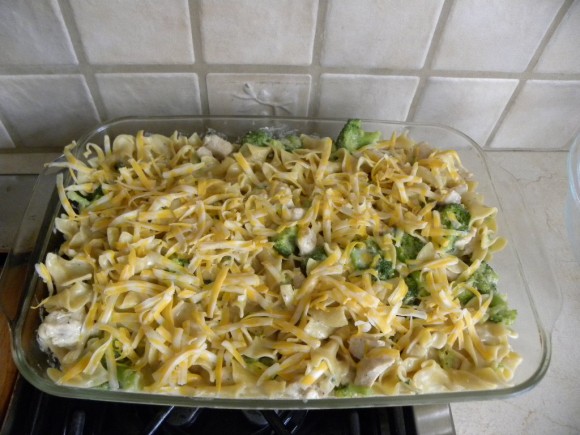 Just to prove I really made it! Chicken Broccoli Noodle Casserole was pure comfort food for this girl.  In fact if you exchanged the chicken for tuna and the broccoli for peas this would basically be my Tuna Noodle Casserole!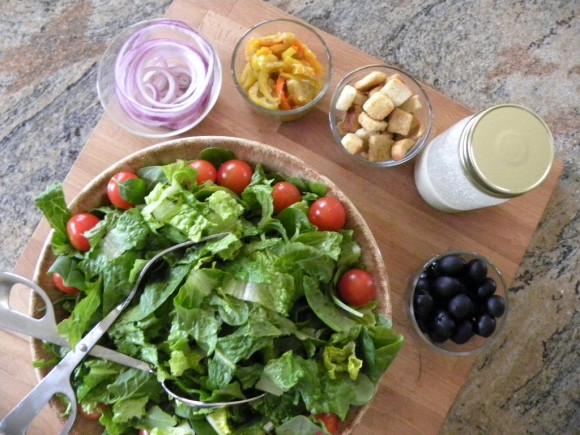 Olive Garden Salad Dressing from CopyKat.com.  Because everyone likes their salad different I made a little salad bar.
My kids love Olive Garden's Salad Dressing.  So in an attempt to get them to eat more green stuff, I when to CopyKatRecipes.com and looked up Stephanie's version.  It was a hit.  I did tweak it ever so slightly, but that's just because I can't leave well enough alone!  After I found it I pinned it on my board right away so when I was ready to make it I knew where to find it it, lickety split!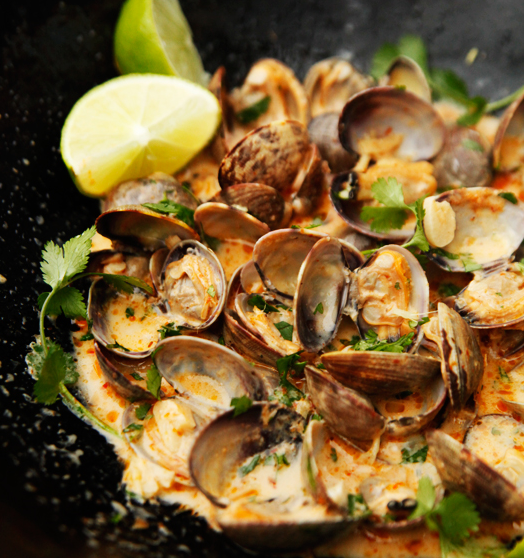 Red Curry, Coconut, and Ginger Infused Steamed Clams from SavorySweetLife.com.
I have not yet made these, but I have been drooling over this recipe ever since I first laid eyes on it.  Be still my ever lovin heart.  Curry, Coconut, Ginger three of my favorite flavors…now if she had added chocolate in there we would have hit the jack pot with this recipe.  One of these days I'm gonna ship my kiddos off to friends houses over night, open a bottle of Pino Grigio, light some candles and steam some clams….watch out Kenny!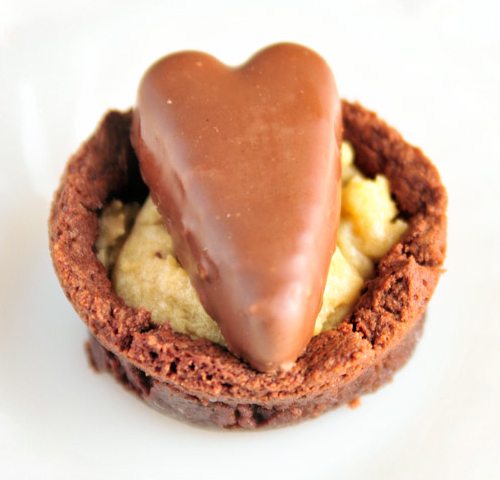 Peanut Butter Cup Chocolate Chip Brownies from Robyn at AddaPinch.com.
ARE YOU KIDDING me right now!  These are crazy over the top.  A brownie, with chocolate chip cookie in the center topped with a peanut butter cup….come on Robyn, I'm trying to loose weight here….stop, stop, stop with your deliciousness!  Because I am attempting to loose the donut around my middle I have not made these, YET!  But you can bet your bottom dollar I'm going to celebrate my goal weight with these babies!
I've got many more finds I'd love to share with you, if you would like to follow my Pinterest Boards you can go here.
What have you found on Pinterest and made?
Because we want to give credit where credit is do, if you are sharing a blog post of something you've found on Pinterest and made, please make sure the original is credit in your post.  I'd love to hear your 2 cents in the comments let me know if you are on Pinterest and leave a link to your boards I'd love to follow you!
Let the sharing begin! Share your favorite meals and recipes, they don't have to be from pinterest.
1. Click on the Add link below then Add the permalink from your post.  Please do not link your websites homepage.
2. Select the photo you wish to link to your site and include the title of what you are sharing!
3. Create a link to Eat2gather.net within your post, to share all the great recipes with your readers.  I also included a blog button below if you share this on your sidebar or in your post I will hug you and kiss you!!  Well not literally, but maybe if I happen to run into you. (wink)
Eat 2gather is family friendly so make sure what you are sharing is also.  I reserve the right to delete any link if I feel it necessary.