Almond JOY Oreo Cookie Ball Recipe
Rich decadent OREO cookie balls are a scrumptious addition to your Holiday goodie table, and perfect for giving as gifts.  Cookie balls are fun and easy to make and will satisfy even the choosiest of sweet tooths!
Thank you to OREO for sponsoring this post.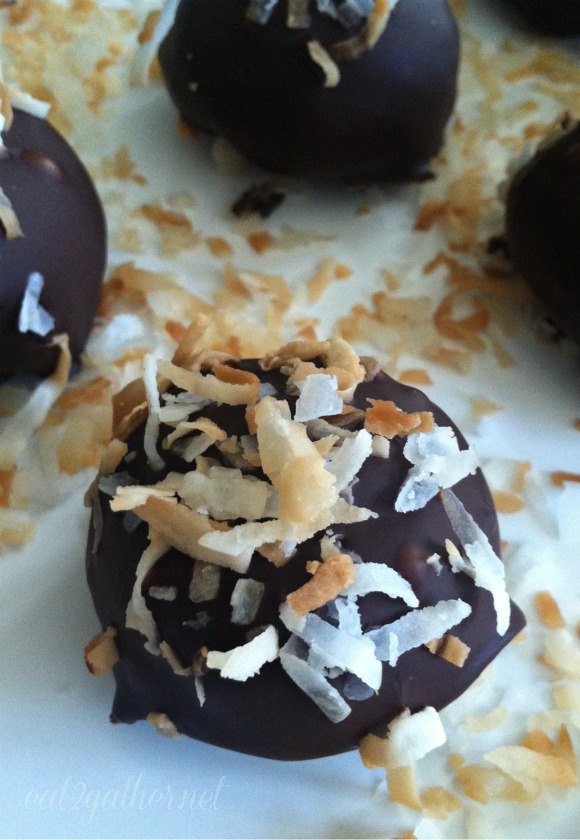 If you've never made Oreo Cookie balls before?  You really should.  Your friends will think you stopped at a fancy candy shop.  They are seriously so easy to make and so delicious!!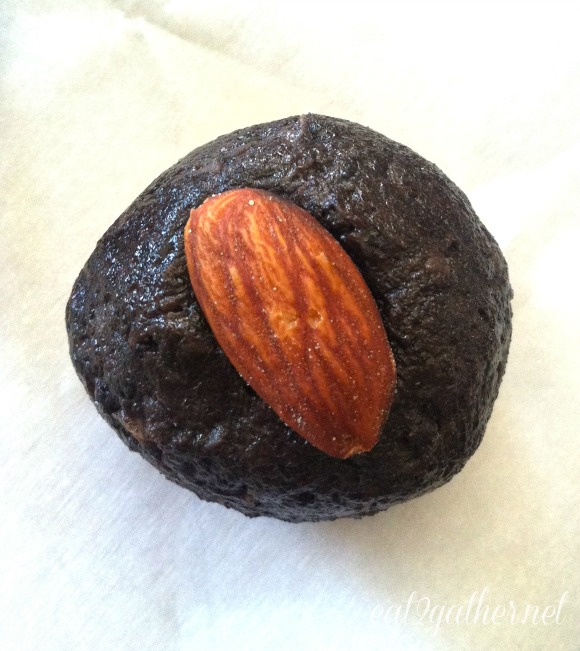 I love how versatile they are, add a few fun ingredients to the basic recipe, of Oreo cookie crumbs and cream cheese, and you have yourself a whole new treat.  I had all sorts of ideas of how to make Oreo cookie balls my own, but in the end I settled on almonds and coconut.  I love Almond Joy and Mounds candy bars.  These cookie balls hit the bull's-eye for this Almond Joy lover. I used a salted roasted almond and placed it right into the ball before dipping it in chocolate.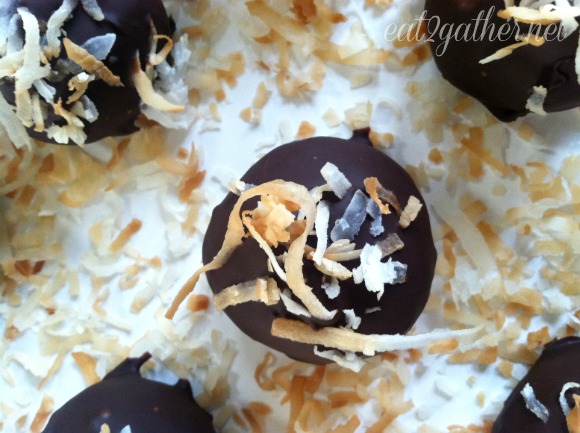 I love toasted coconut! Toasting 1/2 cup of the coconut and sprinkling it over the Oreo Cookie Balls right after they've been dipped in melted semi sweet chocolate chips, makes them pretty, and tasty!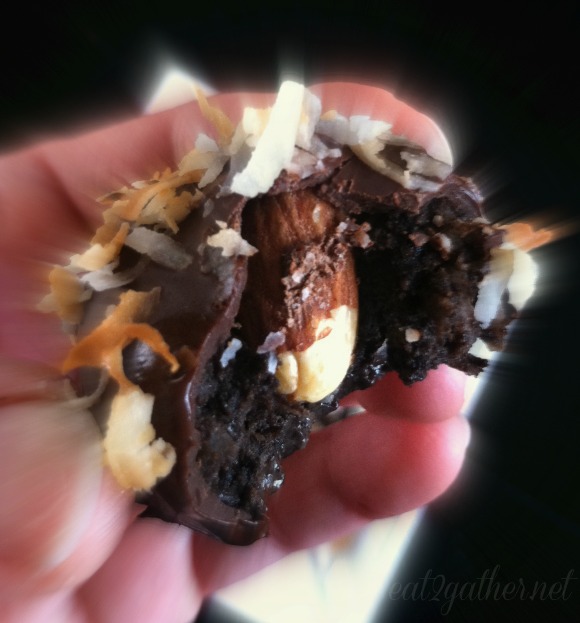 Simply a gorgeous bite!  My kids devoured these treats.  They're small so no harm done, a perfect little bite to curb your sweet tooth, and so easy to make.  I literally whipped out a whole batch of these in less than an hour.  If you are thinking of making them for gifts, that would be time well spent.  You would spend that much time finding a parking spot at the mall these days.  BY THE WAY the mall is a mad house all ready, and has been for two weeks!  What's up with that?  I say make some Oreo Cookie Ball treats to give as gifts and stay home!
[print_this]
Almond Joy Oreo Cookie Balls
makes 4 dozen
1 8 ounce package Cream Cheese, softened
36 Oreo Cookies, crushed fine
1 teaspoon Coconut Extract
1 1/2 cups Coconut
48 whole roasted salted Almonds
2 cups semi-sweet Chocolate Chips
Combine softened cream cheese, crushed Oreos, 1 cup coconut and coconut extract until mixture is smooth. Shape mixture into 48 1 inch balls by rolling a spoonful in the palm of your hand.  Press 1 almond into the top of each ball, place cookie balls on a parchment lined cookie sheet place in freezer for 10 minutes.
Preheat oven to 400 degrees, sprinkle remaining 1/2 cup of coconut on cookie sheet and toast in oven for 8-10 minutes or until just starting to brown. Set aside to be used as garnish.
In a glass bowl melt chocolate chips. Remove cookie balls from freezer and dip in chocolate, return to parchment paper, sprinkle with toasted coconut. Refrigerate for 1 hours allowing the cookie balls to become firm.
Enjoy!
[/print_this]
Oreo Cookie Balls would also be a fun addition to your Thanksgiving Day dessert table, want just a little bit to curb your sweet tooth….these will do the trick!
I would love to hear what you would add to Oreo Cookie Balls to make them your own!
XOX, Sheila
Disclosure: This post is sponsored by Oreo.  As always all ideas and content is my own.