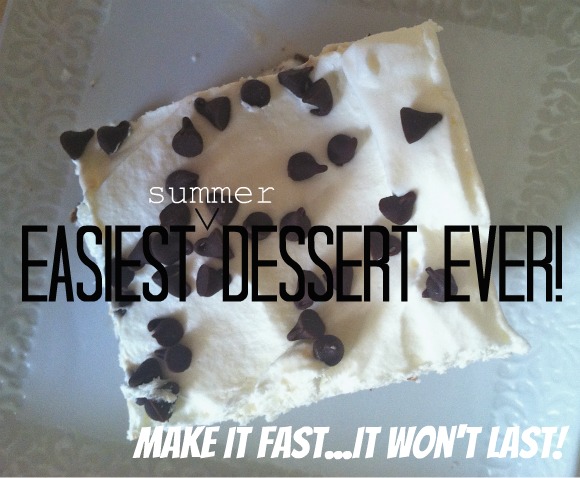 Summer can be busy, but it should never be too busy for a little dessert!  In my book dessert is a must, but honestly sometimes dessert falls to the wayside, I tend to use up all my culinary energies on the main course, that's why this dessert is perfect.  It's pretty, its delicious, it's not too heavy, or too sweet.  Layered Ice Cream Dessert is going to be your "goto" dessert for Summer!
It's so dad-blame easy a kindergartener could make it!  Pinky swear.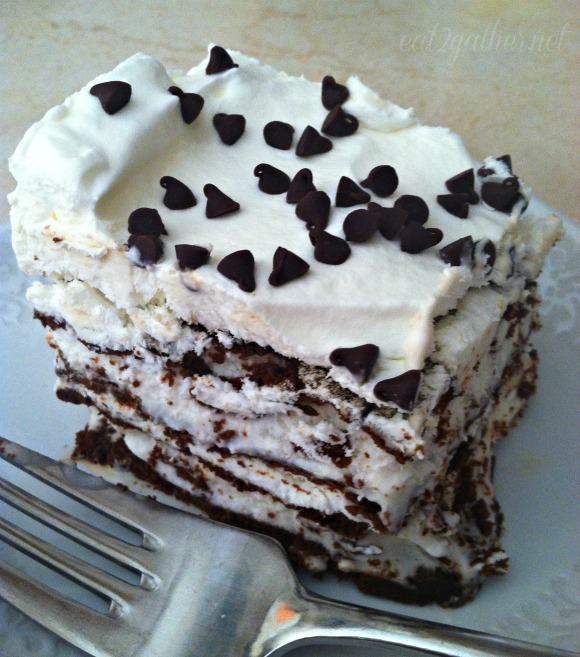 Can you stand how delicious this looks?  I realize this is my no means homemade, but who cares!  Get over yourself.  This is good stuff right here, and if no one asks no one needs to know that all you did was layer ice cream sandwiches with whipping cream and sprinkled mini chocolate chips on top!  Make them think you slaved over baking and layering, and whipping.  Tossle your hair and blop a smidge of whipping cream on your cheek!  You can use Cool Whip, instead of homemade whipping cream.  That would make this "recipe" even easier.  If you can imagine that!
I grew up on Cool Whip, but have become somewhat of a whipped topping snob.  It's true, Imawhiptoppingsnob.  Hashtag that.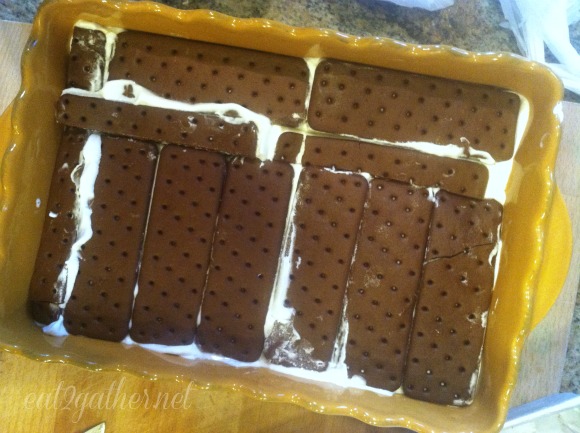 Not the prettiest picture, but well I just wanted you to see how I fit the ice cream sandwiches in.  Depending on the size of your pan 11×7 or 9×13 and the size of your ice cream sandwiches (they do come in different sizes depending on the brand) you will have to figure out which way they fit best, and you may have to use a serrated knife to cut some in half.
One layer of ice cream sammiches.
One layer of whipped topping.
Another layer of ice cream sammiches, another layer of whipped topping, and VOILA!
Sprinkle some mini chocolate chips or make some pretty chocolate shavings, or drizzle some chocolate sauce on top and you have yourself the best dessert ever!  You can make this dessert anytime anywhere, and if you find the mint chocolate chip ice cream sammiches well then aren't' you just a lucky duck!
[print_this]
Layered Ice Cream Dessert
20 Ice Cream Sandwiches
1 pint Heavy Whipping Cream
1/2 teaspoon Vanilla
2 tablespoons Sugar
Mini Chocolate Chips or Chocolate Syrup for garnish
1. In a glass bowl add heavy cream whip until peaks start to form, add vanilla continue to whip on high-speed, gradually adding sugar. Stop when stiff peaks have formed. Set aside.
2. Unwrap ice cream sandwiches and line the bottom of a 11×7 or a 9×13 rectangle pan with the sandwiches. You may need to cut them to fit the pan properly.
3. Take half of the whipped topping and spread over ice cream sandwiches.
4. Unwrap ice cream sandwiches and place another layer on top of whipped topping.
5. Scoop remainder of whip topping out on top of 2nd layer of sandwiches, spread to all corners of the pan. Garnish with mini chocolate chips, or a drizzle of chocolate sauce.
Serve right away or cover and store in your freezer until you are ready to cut into squares and enjoy!
Note: It's just fine to used Cool Whip if you prefer it. Also this dessert is really yum with mint chocolate chip ice cream sandwiches if you can find them. One more thing to think about if you have Heath Toffee Bits burning a hole in your pantry sprinkle them in between layers and on the top then drizzle on the chocolate sauce.
[/print_this]
Enjoy!
Sheila