Reese's Puffs Ice Cream is a MOOvolous idea for National Dairy Month!
Today is the kids last day of school for the 2013/14 school year.  Another year done.  Next year I'll have three in the high school!  Hep meh! (I may need to start-up a cocktail blog to get me through it!)
Summer always means more relaxed schedules.  This attitude often carries over into our meal plans as well.  Like for example ice cream for breakfast.  Or maybe cereal for a snack before bedtime.  Seriously why not ice cream for breakfast?!  You'll be voted Mom of the Year for sure!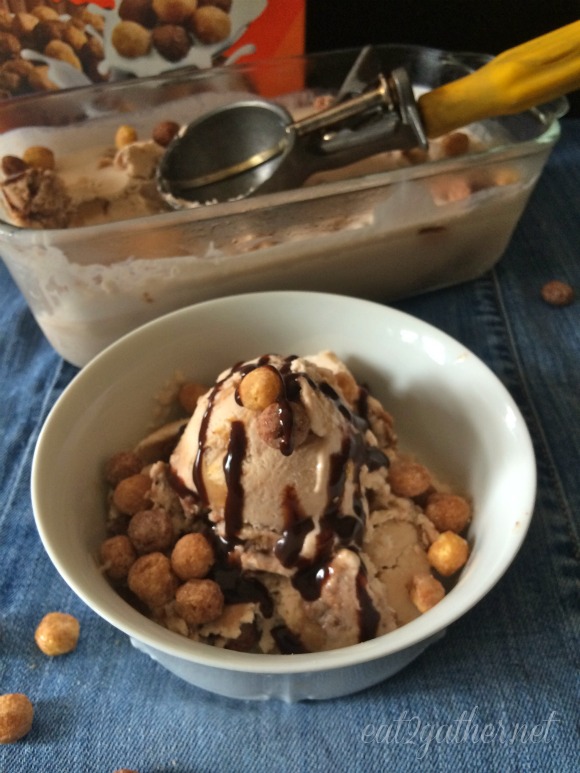 To celebrate National Dairy Month I am partnering with the ADA Mideast and sharing my cereal inspired ice cream recipe.
It is seriously MOOvolous!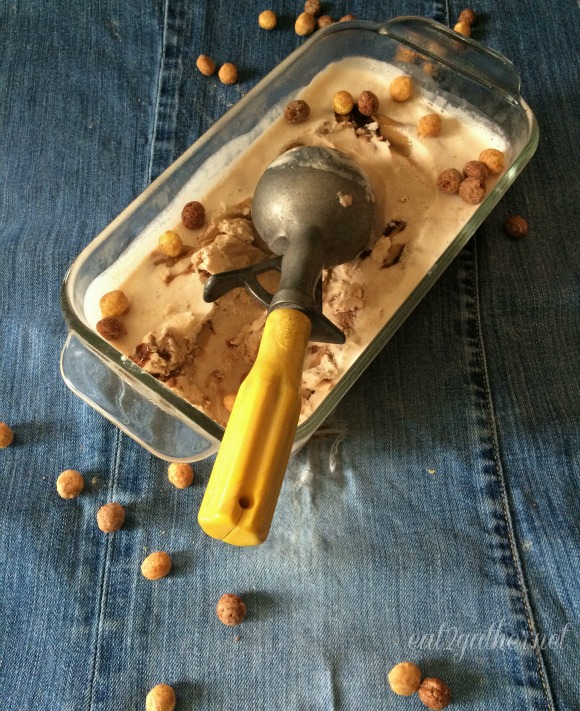 We love cereal.  Usually "sugary" cereals such as Reese's Puffs, Coco Puffs, and Captain Crunch are reserved for vacation times.  It's a treat.  And let me tell you my kiddos treat themselves to these cereals often when we have them in our pantry!  For breakfast, for snacks, and even at night before bedtime.  I figure hey they are getting a serving of milk right!  Not that getting them to drink milk is a problem we go through as much as 10 gallons a week!
• Milk is the single greatest source of three of the four nutrients the Dietary Guidelines identified as lacking in the American diet – calcium, vitamin D and potassium.
• Experts recommend three servings of low fat or fat-free dairy foods every day, yet most of us need to add one daily serving of nutrient-rich dairy to help meet recommendations.
• Dairy foods are a tasty, convenient and cost-effective way to power up with protein throughout the day. On average, one serving of milk, cheese or yogurt provides eight grams of high quality protein.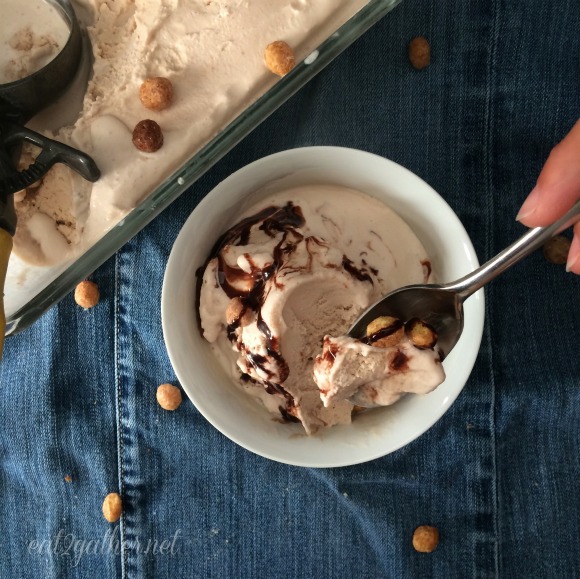 My kiddos gobbled this right up!  And you will notice no sugar added! I know, I know there's enough sugar in the cereal to send a cow into diabetic shock.  Indulge me on this one. This is pure dairy goodness!  A bowl full of creamy smooth ice cream anytime of day or night!  I say YOLO!
You may say, "I SCREAM YOU SCREAM WE ALL SCREAM FOR ICE CREAM FOR BREAKFAST!!"  er lunch er dinner er a snack.
[print_this]
Reese's Puffs Ice Cream (Cereal Ice Cream)
Because we should all be able to have a little ice cream for breakfast once in a while! This recipe can be adapted to whatever your favorite cereal may be. Cinnamon Toast Crunch, Coco Puffs, Captain Crunch, Fruit Loops, feel free to get creative, the add-ins are optional!
**Makes 4 cups of ice cream or 1 quart**
5 cups dry Reese's Puffs Cereal
4 cups Whole Milk
1 cup Heavy Whipping Cream
add-ins
3 tablespoons Creamy Peanut Butter
3 tablespoons Chocolate Syrup
– Add 4 cups of cereal to a medium sized bowl, pour 3 cups of milk over cereal, mix to get all the cereal covered with milk cover with plastic wrap and place another small bowl on top of plastic wrap to press cereal down into the milk. Put milk and cereal in refrigerator for at least 4 hours allowing the milk to fully take on the cereal flavor, you can keep in refrigerator as long as over night.
– pour cereal and milk through a strainer, press cereal down with a spoon to squeeze out all of the milk, discard cereal.
– in a blender add remaining cup of cereal with 1 cup of whole milk, blend until smooth pour this mixture through a strainer add to previous strained milk.
– to this add the heavy whipping cream and whisk together
Making the ice cream: Make sure ice cream maker bowl is frozen and ready to use before you begin making the ice cream mixture. Pour ice cream mixture into ice cream maker and churn until the consistency of soft serve ice cream. Scoop ice cream into a freezer safe container. Warm peanut butter in microwave drizzle over the top, then drizzle with chocolate syrup, using a spatula swirl add-ins into ice cream. Cover and allow to freeze for two hours before serving.
Note: add-ins are optional. If using other cereal flavors you may want to change up your add-ins to complement that cereal.  Serving ice cream with the cereal sprinkled on top is the best!
Enjoy!
[/print_this]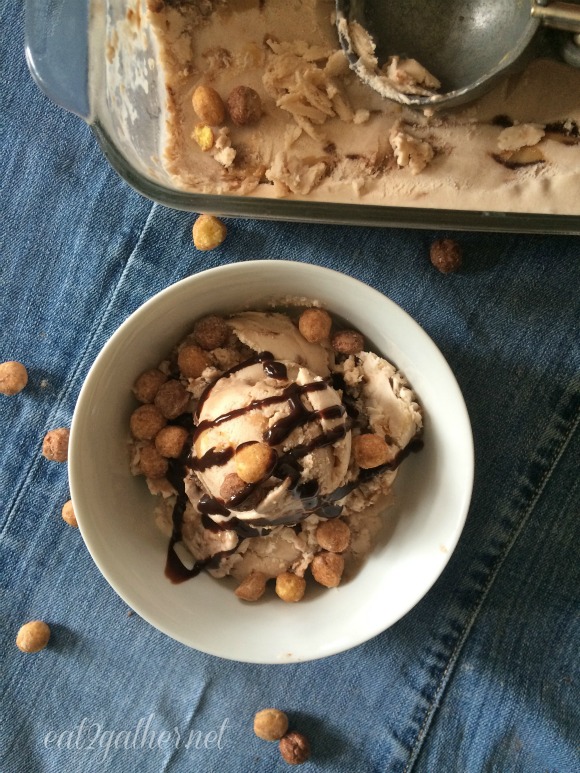 I would love to hear the creative ways you get a serving or 3 of dairy in your kiddos everyday during the Summer months when lemonade and pop are at every turn!
Join me for the American Dairy Association #BarnParty on Twitter for more information and ideas on dairy!!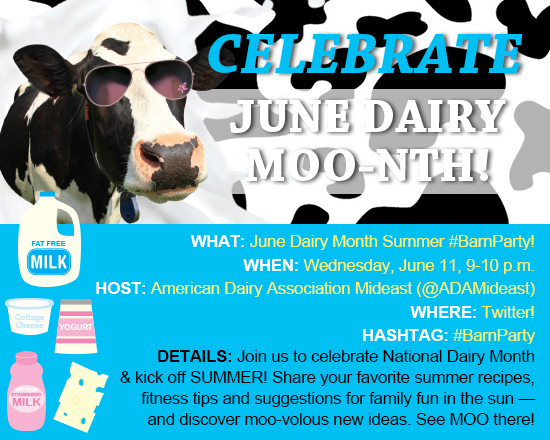 Disclaimer:  The ADA Mideast compensated me for sharing this recipe.  As always all ideas are 100% my own!