You know I like pie.  I'm not discriminating when it comes to variety.  If it's in a pie plate my fork is ready!  I know people who say they are not pie people, I don't know them well, but I've heard distant whispers of these sorts of people.  There is no doubt in my mind that ice cream pie makes it onto everyone's top dessert list!  Unless they've never had it, and in this case what you don't know CAN hurt you!  Proceed with caution non pie lovers.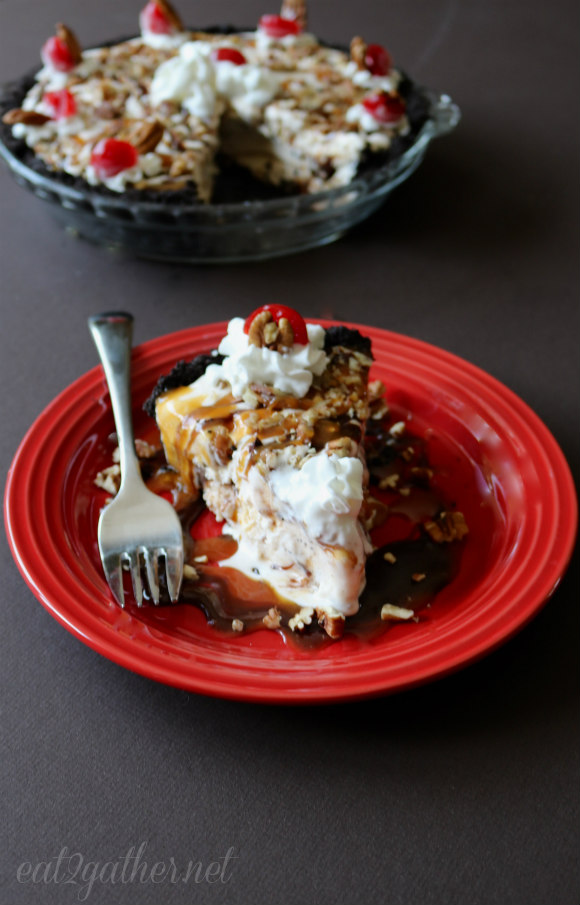 How's your summer going?  Have you been able to sit back and enjoy all that the season has to offer?   Have you had your fare share of ice cream?  I for one, have not!  When the kids where little we would hit our local ice cream parlor at least twice a week, now that they are older and its harder to get us all together at the same time ( like herding cats this family!!)  we have not been out for ice cream nearly as often as we should! Boo-hiss!
However….
I have been making my own ice cream fun right at home. Don't get me wrong I have had a few ice cream outing, but for the most part my ice cream consumption is taking place on my couch while watching the boob tube.  Speaking of tubes and boobs are you watching The Bachelorette?  Complete crazy waste of time, but I can't stop myself!!  Oh Jojo what have you gotten yourself into??  In my opinion she needed to stop the madness after Ben.  But she didn't, so now she just needs to pick Chase and be done with it.  And then I roped myself into watching Friday Night Lights on netflix.  I'm obsessed.  To say the least.  Ok we must move on, back to ice cream and pie the real heartbreakers.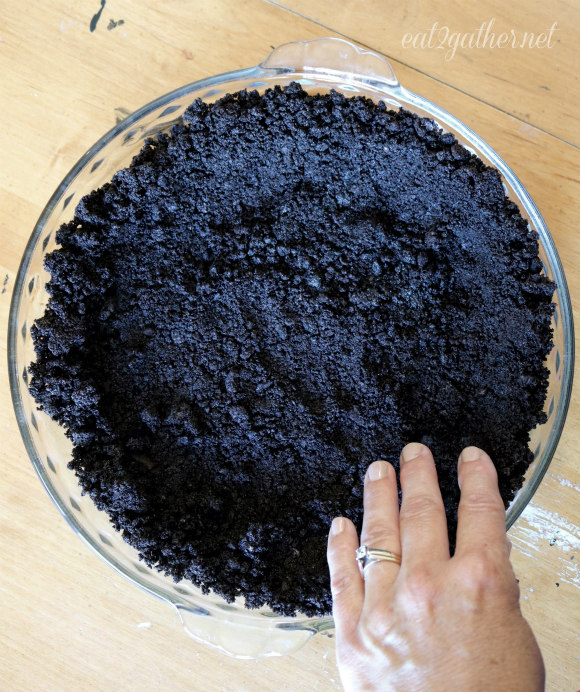 You could purchase a pre made chocolate cookie crust, or you can make your own.  I prefer making my own, for a couple of reasons.  One, its easy.  Two, homemade cookie crust is thicker.  Three, I like to have an excuse to buy oreo cookies.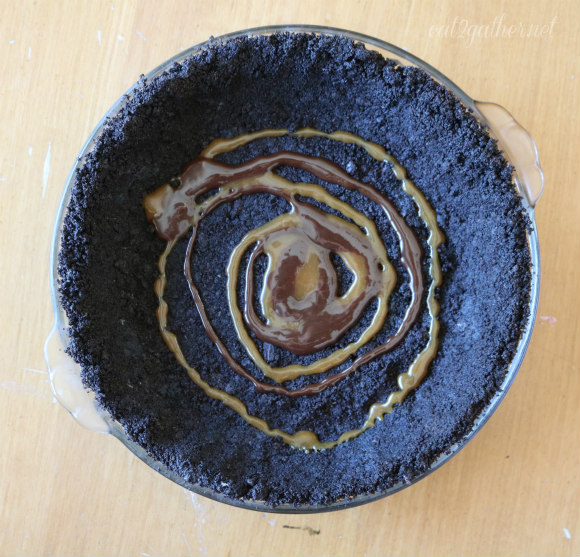 Once you've made your easy peasy cookie crust, drizzle caramel and fudge sauce in the bottom.  Can I ask you a question?  Is there anything better?  Maybe we should just stop right here, and smash our face in this.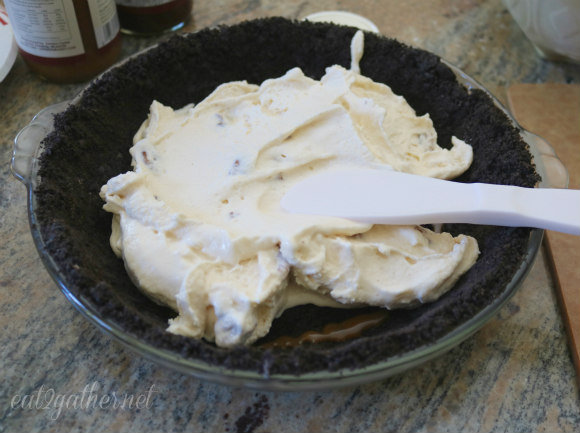 Nope moving on…cause here is where things get real.  Butter Pecan Ice Cream.  This is the key to the best dern turtle pie you have ever had in your life.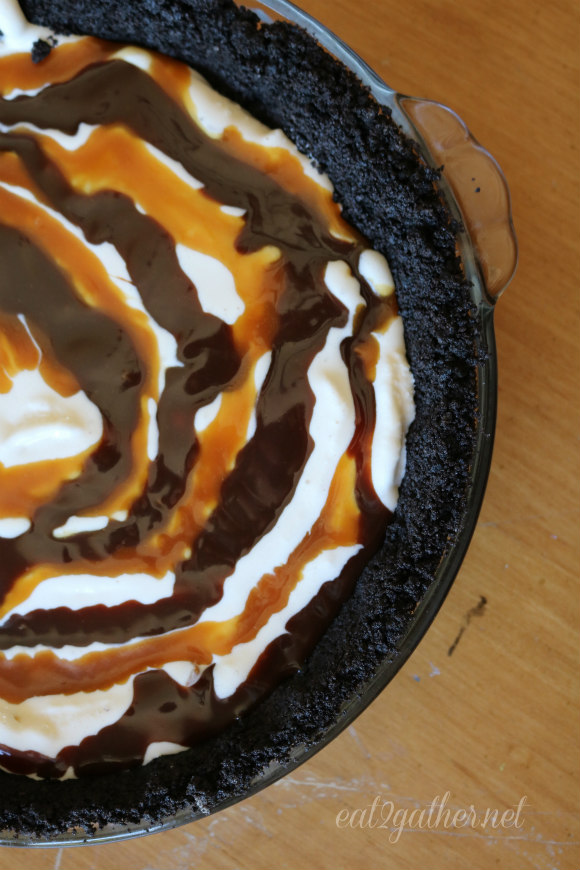 More caramel and fudge sauce…..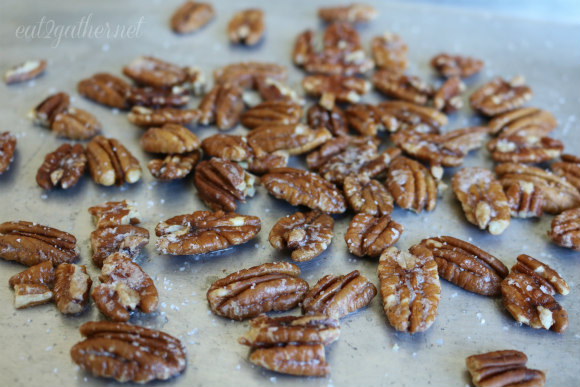 Now this, butter toasted and salted pecans.  Can I get an Amen?!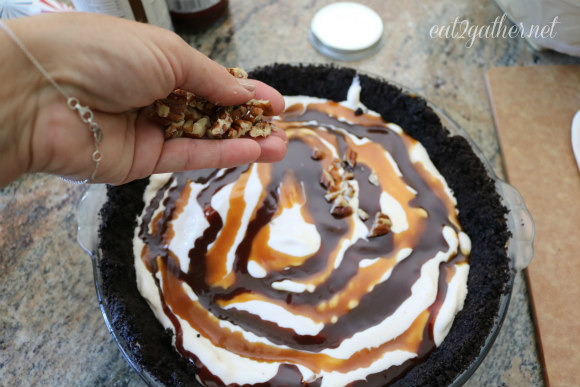 No words can describe this.  Except maybe yum.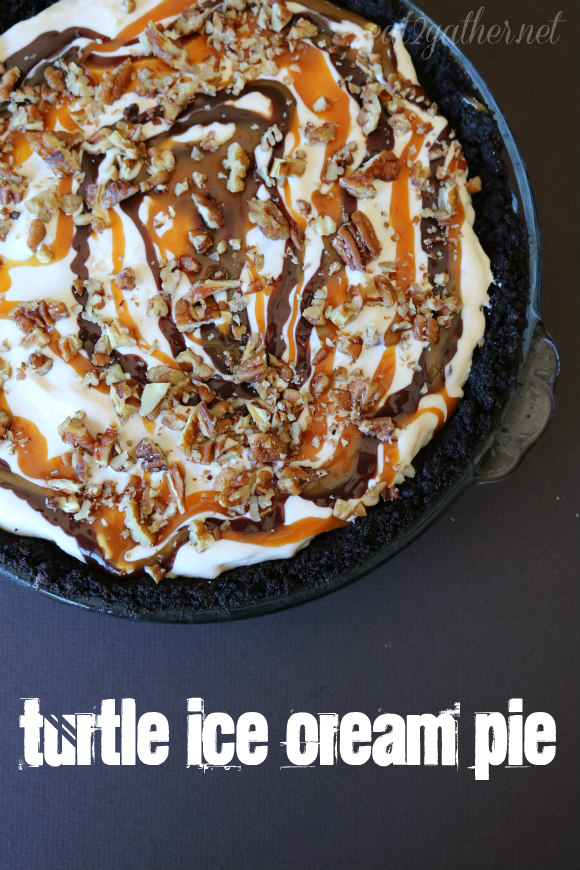 Repeat the madness. I mean goodness, and pop it back in your freezer for an hour or more.  Spruce it up with some redi-whip and maraschino cherries.  Voila!  You're the best dern pie maker on the planet!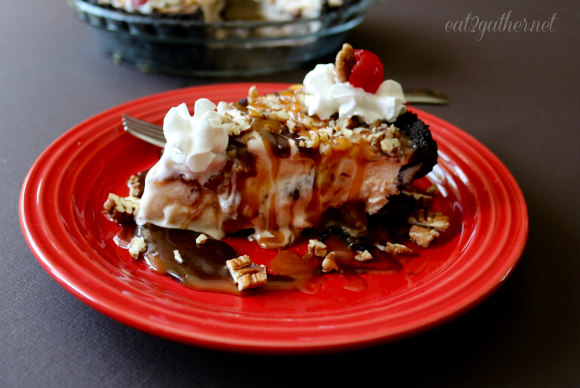 And the angels are singing.   Hallelujah!!  Pure and utter heavenliness, ice cream pie-loveliness. (Utter heavenliness is a thing, as is pie-loveliness, these are vocabulary words, so study up.)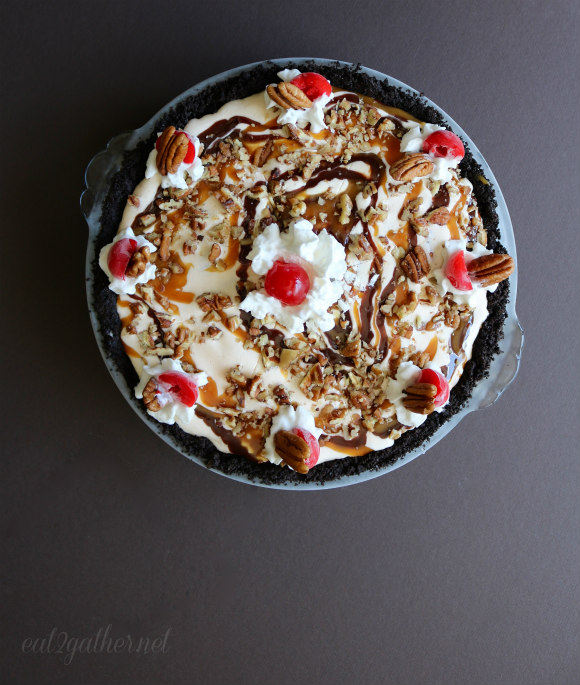 Speaking of heavenly.  Yes, I was speaking of heavenly in case you skipped the above nonsense.  Kyle.  Chandler.  I've had a small crush on this guy since Homefront.  Not like I'm obsessed, I'm only obsessed with one man, that would be my Kenny.  But as far as T. V. goes Coach Tyler pretty much takes my breath away.  There is something about a guy who can stay married to the same gal for 20 years in Hollywood that is just hot, smokin' hot.   Same with Harry Connick Jr., Harry and Kyle two guys who better not break my heart by doing something stupid, like leaving their wives!!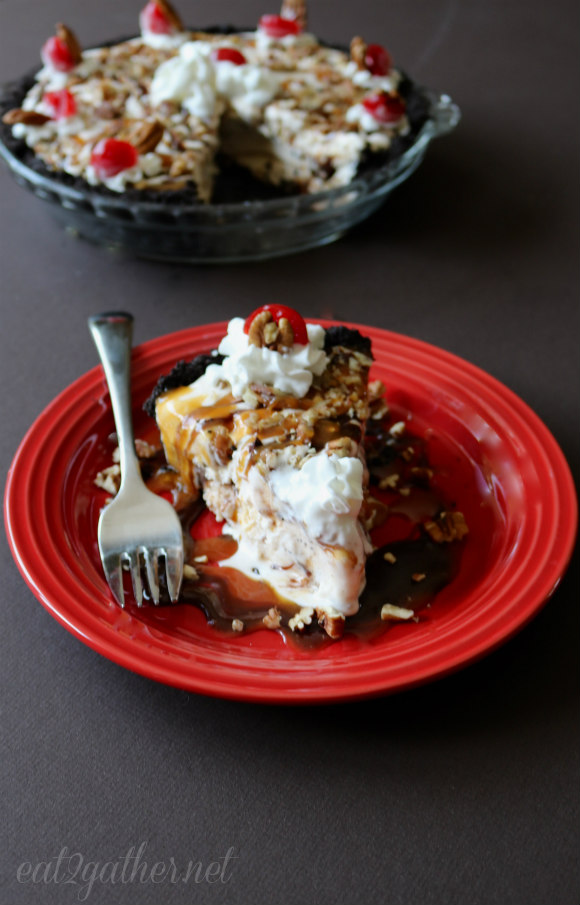 So there you have it!  Now you know my crushes and you have an awesome pie recipe to make and share with your loveys.  What could be better??
Turtle Ice Cream Pie
Turtle Ice Cream Pie is a delicous, easy, recipe that will wow your friends and family!
Equipment
You will need a 9 inch pie plate.
Ingredients
1.75

quarts

Butter Pecan Ice cream

3/4

cup

Hot Fudge Ice Cream Topping

3/4

cup

Caramel Sauce

1

cup

Pecans

1

tablespoon

Butter

1/4

teaspoon

Kosher Salt
Crust
30

Oreo Cookies

4

tablespoons

Butter

melted

Redi-Whip Topping for garnish

Marchino Cherries for garnish
Instructions
Take ice cream out of freezer and let soften while starting on other components of the turtle pie.

Place pecans in small skillet with 1 tablespoon of butter and turn heat on medium high, toast pecans with butter for 5 minutes, remove pecans to a plate and sprinkle with salt. Let cool. Chop into smaller pieces.  (Don't let butter burn if pecans are looking toasty after only 2 or 3 minutes stop there.)

Place cookies in food processor pulse until cookies are a fine crumble, drizzle in melted butter and continue to pulse another 15 seconds. Pour cookie crust into a 9 inch pie dish. Using your fingers press cookie crumbs evenly into the pie plate, making a cookie crust. Place in freezer for 15 minutes.

Measure out fudge and caramel sauce, heat in microwave for a few seconds so sauce is easy to pour.

Remove crust from freezer and drizzle 1/4 cup of each sauce into the bottom of the crust (you can eyeball it), sprinkle with buttered pecans, spoon 1/2 of the ice cream into the shell and smooth out with a spatula, drizzle another 1/4 cup of each sauce over ice cream, sprinkle another layer of pecans, finish by spooning the last half of ice cream on top and smooth out with spatula. Drizzle last of the caramel and fudge sauce over the top, sprinkle with the remaining pecans, and place in freezer for 1 hour.

Cut into 8 pieces and garnish each with whip topping and a maraschino cherry.
Notes
Note: You can buy a pre made cookie crust, which makes this pie super easy to take to a party or picnic because you don't have to worry about bringing your dish home!  Just a thought 😉
I sure hope you are enjoying your summer, and of course eating your quota of ice cream! For more summer treats check out Milk Means More pinterest board.
XOX, Sheila
Disclaimer:  I am proud to be an ambassador for the United Dairy Industry of Michigan.  Thank you for helping support Eat2gather by supporting your local dairy farmers!