Crumble Topping ~ make ahead freezer recipe
Well hello there.
It's been awhile.  May sort of came and went like a flash!  I've been traveling, I can't wait to tell you about that, but right now I want share this recipe with you!  Cause summer is here, which means berry season is near!  (pssht I'm a poet and I didn't knowit!)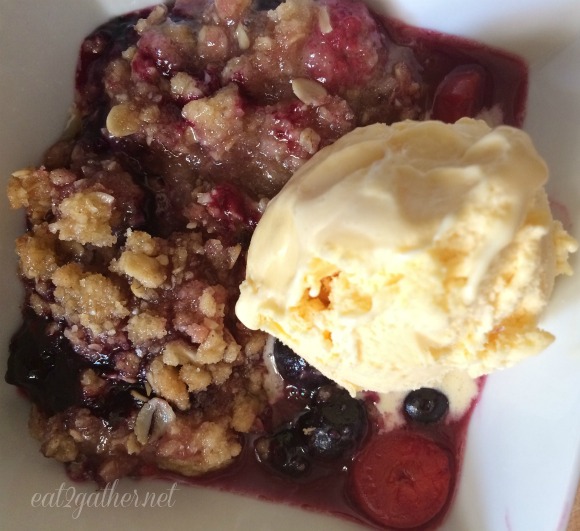 One of my absolute favorite, and easiest summer dessert recipes is fruit crisp.  So easy, add ice cream and start drooling.  It's like summer in a bowl.  The best thing ever is leftovers eaten straight from the pan for breakfast the next day!  It's the little things people.  The seriously delicious little things that keep me moving forward.
 So here's the deal.  If you make this crumble topping recipe you will be able to whip a homemade dessert together in literally a blink of an eye!  Friends pop over unexpectedly?  BAM!  Make some crisp.  Get asked to a last minute potluck?  Not sure what to bring?  Voila!  Make crisp. The kicker is you will need to also have berries, or fruit on hand but well that's not a problem is it?  Keep a few bags of frozen berries in your freezer at all times, or slice up a few apples.  NO. Big.  Deal.  You got this!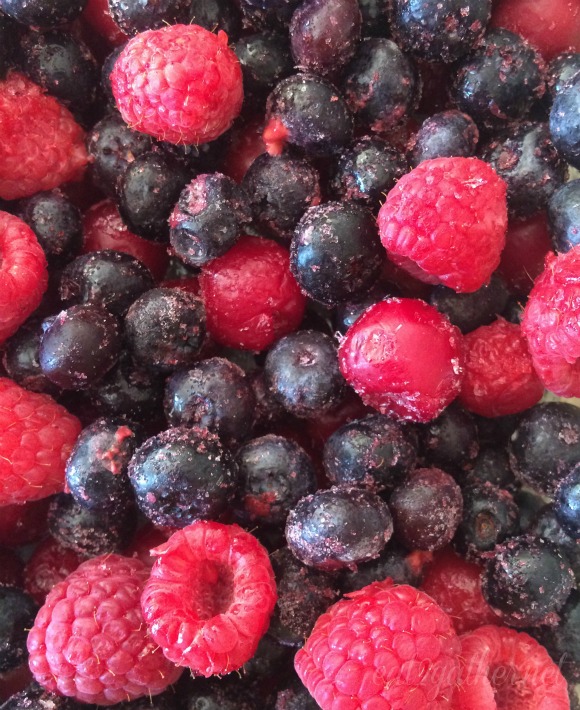 Q: What fruit/berries work best for crisp?
A: Strawberries/Rhubarb, Blueberries, Blackberries, Raspberries, Mixed Berries, Cherries, Peaches, Apples, or mix any combo of these fruits.  I love blueberry peach, apple blueberry works too, or any combination of berries and cherries.  It all works!
Q: Do I just use plain fruit with the topping or do I need to add stuff to the fruit?
A: I use plain fruit, there's enough sugar in the topping.  You can add a squeeze of lemon juice and/or zest is always good to brighten up the flavors.  You cannot ruin this dessert.  Cross my heart and hope to die stick a needle in my eye.  Pinky swear.
Take a few minutes (like 20) and make a batch or two of this crumble topping.  I promise you, it will be so worth it!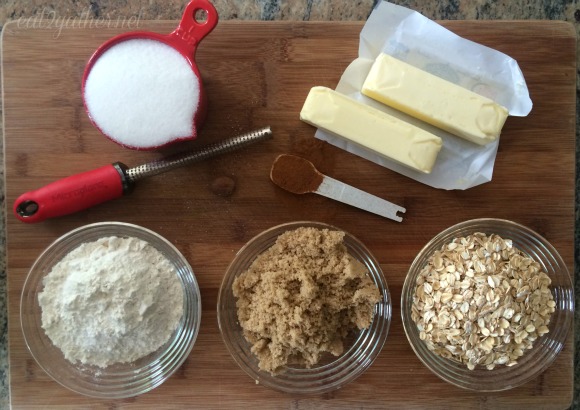 Here's what you will need.  You can use preground nutmeg if that's how you roll.  I roll that way sometimes too.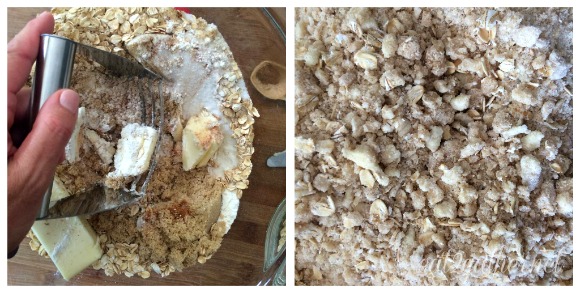 Toss dry ingredients together and cut butter in with a pastry cutter until it is the consistency of oatmeal.
Or if you have a food processor….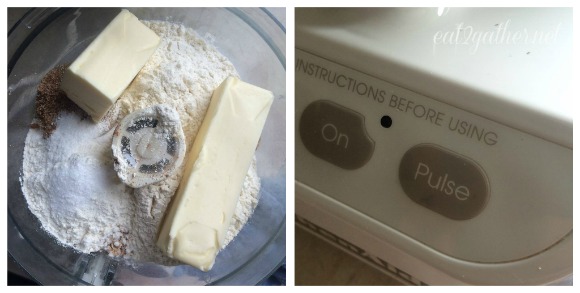 Then do this.  Pulse.  Pulse.  Pulse.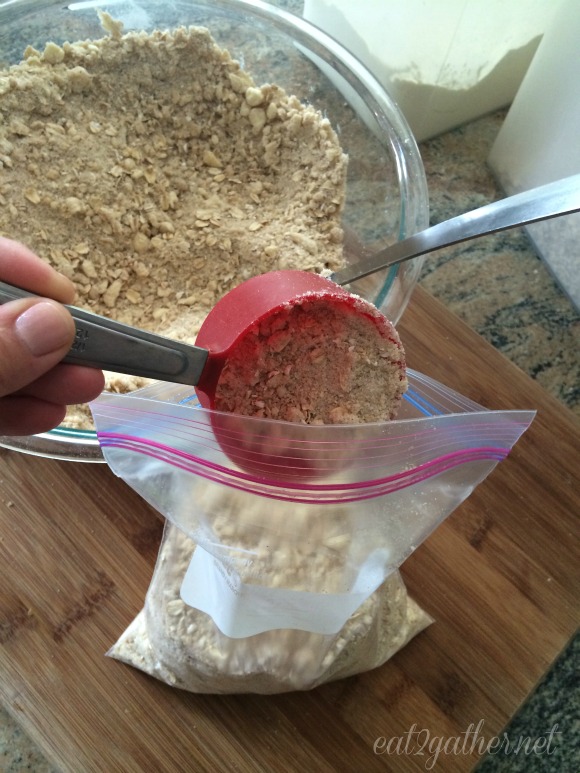 Measure into quart sized freezer zip-loc bags. Label.  Store in freezer until ready to use.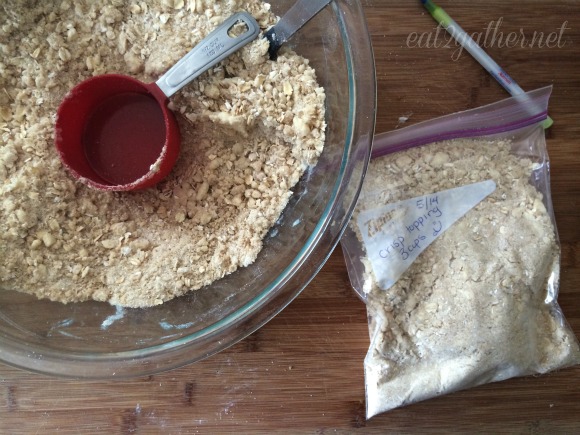 That's all there is too it!  I measure 3 cups into each bag.  This makes 1 8×8 pan of crisp, or can be used as the crumble for one pie.  If you like your fruit crisp thinner you can make 31/2 cups stretch over a 9×13 pan (use 6-8 cups of fruit).
[print_this]
Crumble Topping
Makes 3 bags of crumble topping (3 8×8 batches of fruit crisp or crumble top pies)
2 cup Flour
2 cup Brown Sugar
2 cups White Sugar
2 cups Oatmeal (optional)
1 teaspoon Cinnamon
1/2 teaspoon Nutmeg
1 teaspoon Salt
3 sticks cold Butter
Add all dry ingredients to an extra large bowl and toss together. Add butter and using a pastry cutter cut butter into the dry ingredients until crumble is fine and there are no pieces bigger than the oatmeal.
Food Processor: If using a food processor this recipe works best if you do in two batches. Add half of the ingredients to food processor, pulse until butter is completely incorporated and crumble is uniform in size, no giant pieces of butter. Place first batch in large bowl and make your second, then add to bowl toss both batches together.
Measure 31/2 cups of crumble into quart sized zip-loc freezer bags. Place in freezer for up to 6 months.
Crisp: Add 4-5 cups of fresh or frozen fruit to a 8×8 baking dish or a 10 inch pie dish, spread crumble topping evenly over fruit. Bake for 1 hour at 350 degrees.
Pie: Place bottom crust in pie plate and crimp edges, add fruit 5 cups of your favorite fruit filling, spread crumble topping over fruit, bake at 375 degrees for 45-60 minutes or until crust is done, crisp topping is nice and brown and fruit is bubbling up through the topping.  Allow at least 1 hour to cool before cutting into, or dig in right away it will just be a little soupy.
Nutty Version: Add 1 cup of your favorite nut to the mix.  I love pecans!  Walnuts or almonds work perfectly too!  If making crumble by hand, chop nuts before hand and add them in at the end.  If using a food processor just throw them in with the other ingredients.
Enjoy!
[/print_this]
A few other scrumptious crisp ideas for you dessert time pleasure:
Heather's Strawberry Rhubarb Crisp