The possibilities are endless with these fun cups of deliciousness. Everyone loves them, young and old, they are a favorite treat to celebrate most any holiday or special occasion!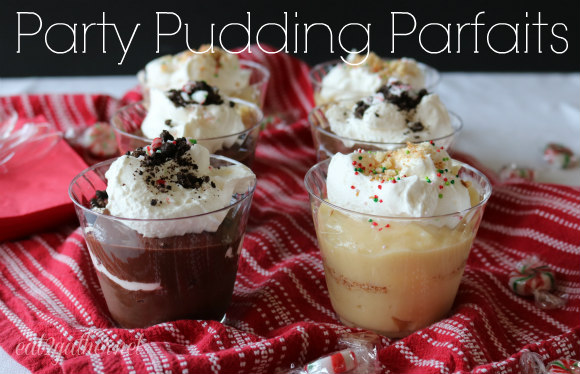 Pudding parfaits are perfect for the busy holiday season for so many reasons. One, they can be made ahead of time. Two, they can be served in disposable cups. So you can get a jump on your menu, and look forward to not having anything to clean up in the end!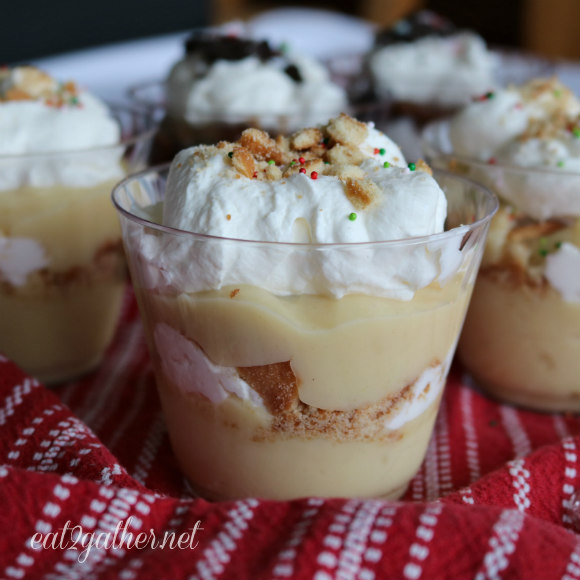 Party Pudding Parfaits are also great to make for a crowd, the recipe easily can be doubled, triple, or quadrupled, to make dozens of dessert favorites. They just need to be refrigerated until ready to serve, so make sure you have room in your refrigerator or rent out space in your neighbors fridges….you can pay with parfaits!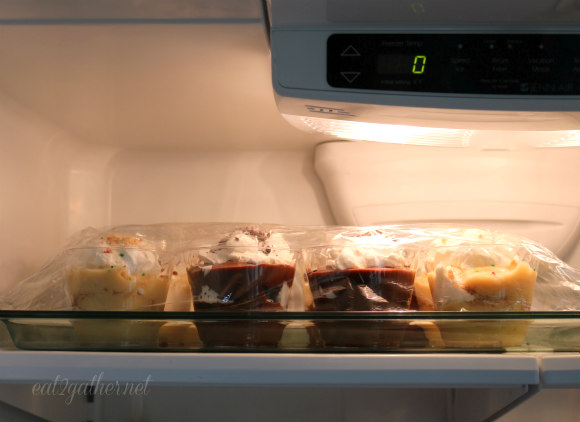 Not only is this dessert fabulous, and easy, it's an awesome recipe to enlist the help of your kiddos!  Layering the pudding and whipped topping, with favorite cookies and candies, is easy and a fun activity.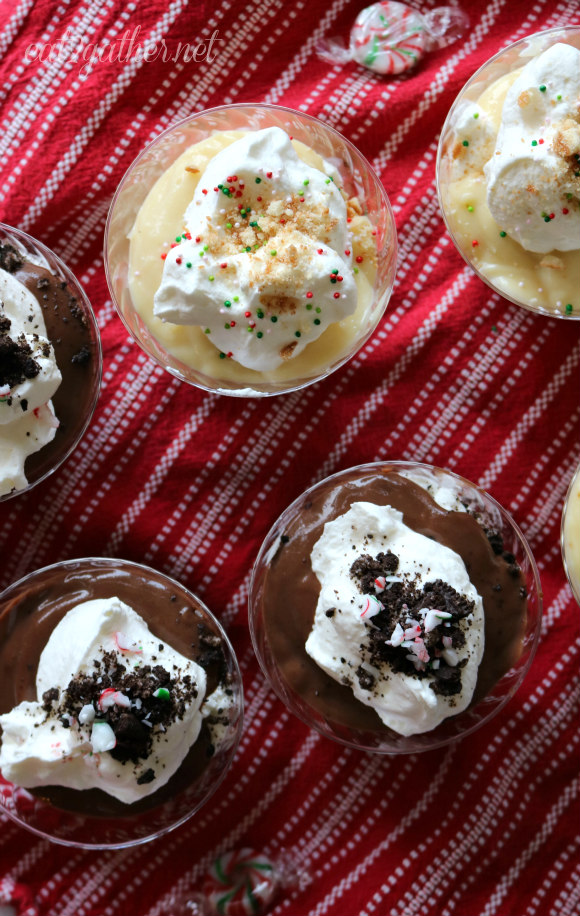 You could make this recipe with boxed pudding mix, but why? Honestly,  homemade pudding is so easy, you will ask yourself why you haven't made it before!! No preservatives or extra coloring. Just simple easy ingredients, you always have on hand! Flour, sugar, vanilla, butter, cocoa, and MILK! Cooking with milk is an easy and delicious way to add calcium and other essential nutrients to your holiday dishes. Winner, Winner eat Pudding for Dinner!!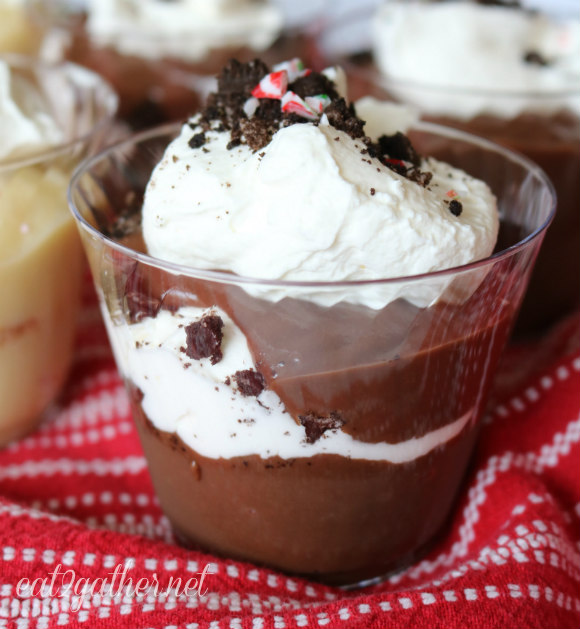 If you know you me,  you know that more than anything I am passionate about getting families around the table together and making sure that kids are cared for, by having healthy food available to them. I would love for you to help me raise money, this holiday season, for the Great American Milk Drive. I am partnering with the American Dairy Association Mideast to help pour milk forward! ADA Mideast will donate 25 cents, the average cost of 1 glass of milk, to the Great American Milk Drive for every "like", comment or share on the ADA's facebookpage, of each of the these 10 recipes between Tuesday, December 2-11, up to $3000. Together we can give everyone a glass of milk to drink this holiday season!!  So GO NOW and check out ADA Mideasts FACEBOOK Page and like, comment, and share!!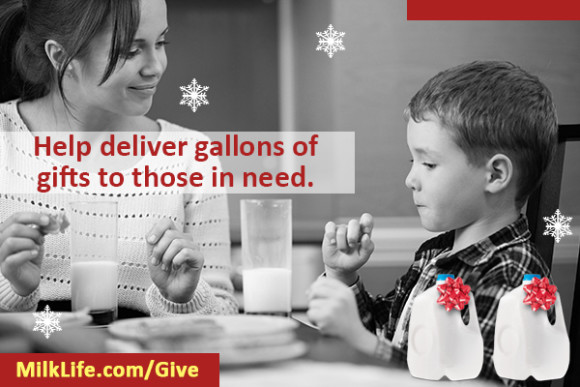 Interesting fact I did not know until recently: Of the thousands of pounds of food available in food banks, only 5.3%  is dairy, and 95% of food banks say they don't receive enough milk to meet their clients needs. With out milk, families miss out on high quality protein and milks 9 essential nutrients that kids need to grow healthy bodies!
[print_this]
Party Pudding Parfaits
Makes 12
Difficulty level: easy, beginner
Prep time:20 minutes
Assembly time: 10 minutes
Vanilla Pudding
1 1/2 cups white granulated Sugar
1/2 cup all-purpose Flour
1/4 teaspoon salt
5 Egg Yolks
4 cups whole Milk (any milk will work whole milk makes creamier pudding)
1 tablespoon Vanilla Extract
2 tablespoons Butter, room temperature
Chocolate Pudding
2 cups white granulated Sugar
1/2 cup all-purpose Flour
2/3 cups Cocoa Powder
1/4 teaspoon salt
5 Egg Yolks
4 cups whole Milk (any milk will work whole milk makes creamier pudding)
1 teaspoon Vanilla Extract
2 tablespoons Butter, room temperature
1. Measure all dry ingredients together in a medium sized sauce pan and stir to incorporate.
2. In a large pourable bowl or measuring cup add milk, vanilla, and egg yolks whisk until smooth.
3. Pour wet ingredients into dry and whisk together. Place pan over medium high heat and continually whisk until mixture comes to a low boil and becomes thick enough to coat the back of a wooden spoon. Remove from heat and stir butter into hot pudding. Place a piece of plastic wrap over the surface of pudding and let cool. (this is so a skin doesn't form on pudding, step can be skipped! That is if you don't mind having a few lumps in your pudding parfaits.)
Whipped Topping
2 cups heavy Whipping Cream
2 tablespoons Sugar
1/2 teaspoon Vanilla Extract
Place ingredients in a bowl and whip with electric mixer on high until soft peaks form. Place in refrigerator until ready to make parfaits.
Parfait Add Ins: Crushed Oreo Cookies, Crushed Vanilla Wafers, Crushed Ginger Snap Cookies, Crushed Peppermint Candies, Mini Chocolate Chips, Chopped up Candy Bars any and all are delicious, Toffee Bits, sprinkles, nuts, the sky is the limit!
Assembly: 1/2 cup pudding in bottom of 9 ounce clear disposable cup, a dollop of whipped cream, a tablespoon of extra add-ins of your choice, more pudding to cover, another dollop of whipped cream. Cover with plastic wrap, and store for up to 2 days in refrigerator. When ready to eat, sprinkle more add-ons to the top.
Enjoy!
[/print_this]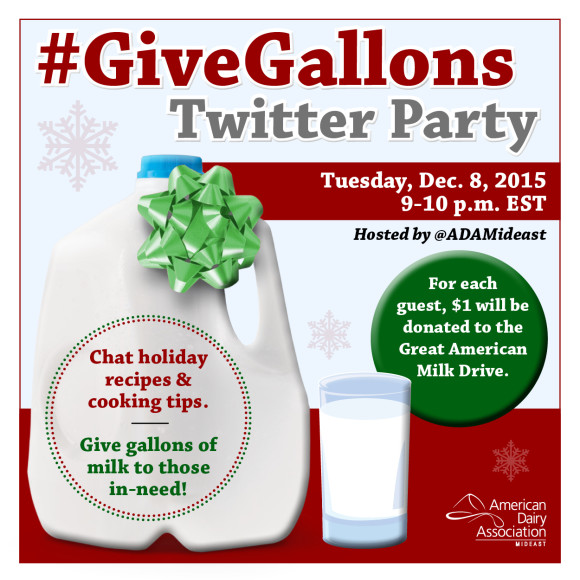 JOIN me, and these aMOOzing bloggers below, Tuesday December 8, from 9-10pm EST, for a TWITTER Party with ADA Mideast, and help raise even more CHA-ching for the Great American Milk Drive.  Remember to use the hashtag #GiveGallons!
Beef Wellington Macaroni and Cheese, by Climbing Grier Mountain
Frozen Whipped Cream Topping, by Shugary Sweets
Cranberry Sour Cream Coffee Cake, by Well-Plated
Chocolate Peppermint Cheesecake, by In Katrina's Kitchen
Roasted Garlic Asiago Cheese Ball, by Lemons for Lulu
Avocado Mint Gluten Free Cheesecake with Brownie Bottom, by Food Faith Fitness
White Chocolate Peanut Butter Pudding Pie, by Inside BruCrew Life
Easy Irish Cream Chocolate Fondue, by Wanna Be a Country Cleaver
Gingerbread Milkshake, by Love Grows Wild
Disclaimer:  I am proud to be a part of  blogger network that works with the American Dairy Association Mideast.  Thank you for helping support Eat2gather by supporting your local dairy farmers!