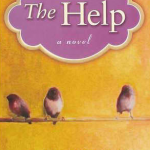 One of my all time favorite books is The Help. I love so many things about this book, but one of my favorites is the part    where the character Minny teaches Celia how to cook…well and then the part where Minny bakes Hilly this pie with a little something special in it. I watched the movie again recently, and after I recovered from the final scene which brings me to my knees every single time in heaps of snot and sobs, I decided I needed some chocolate to mend my aching heart. So I headed to the trusty world wide web typed in Minny's Pie and gol dern it a whole slew of recipes came up, which where all pretty much the same, so I picked the first one and made it. It was easy, too easy.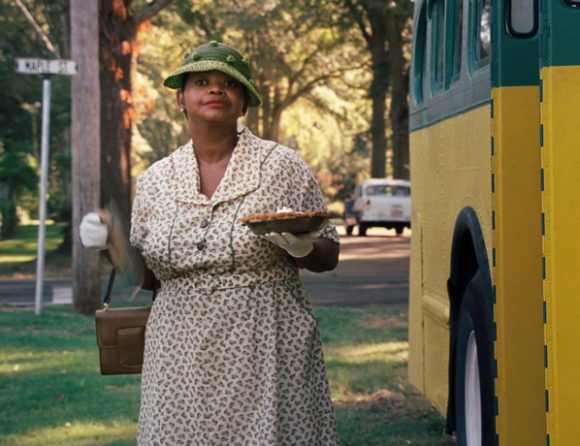 I've made a few different chocolate pies in my time, but this one is by far the easiest and the most amazing!
When I sat Minny's Chocolate Pie down in front of my family it was literally like a crazy whirl wind of crust, and crumbs, globs of whip topping, chocolate flying here and there and bah-BAM just like that the pie was gone, disappeared! No left overs. One child ate two pieces. I will not mention any names but we are now calling her 2 slice Hilly.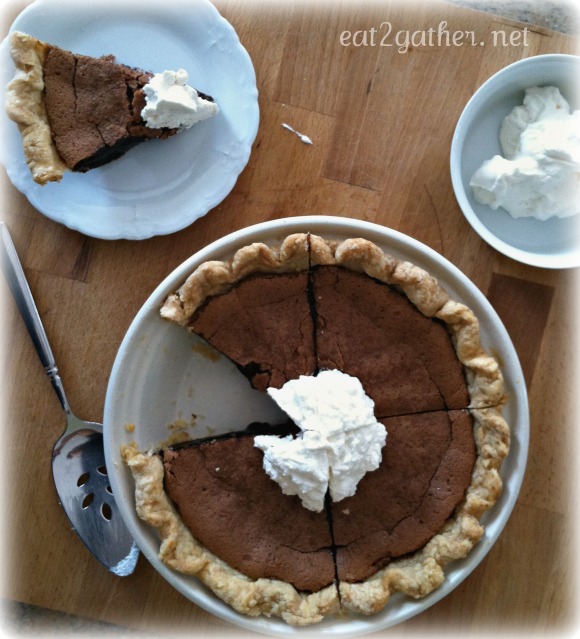 Well, you can see a few globs of whip cream flying there if you look close.  I should have had the mind to take a picture of the carnage 10 minutes after this shot.  Gone baby gone gone gone….like yesterday.
So let's do this thing! Get the party started.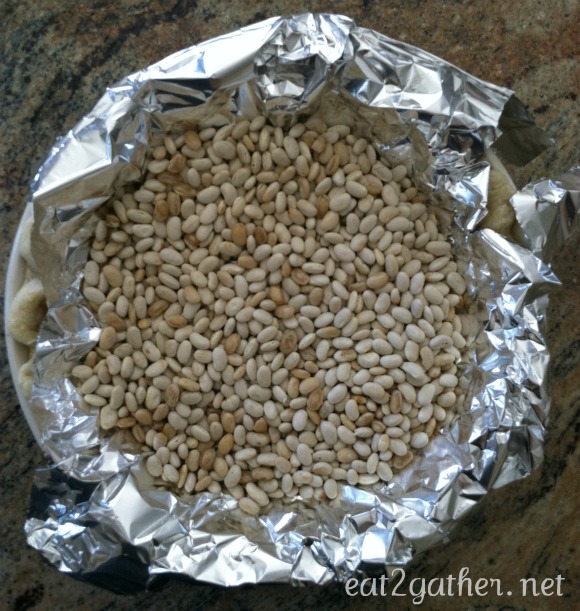 Probably the most complicated thing about his pie is the crust, and if you buy Pillsbury crust well then …..no problem.  Here's how I make my crust. Roll the crust out and lay it in the pie plate, crimp the edges and then poke the bottom of the unbaked crust with a fork.  Careful place aluminum foil in crust and fill with 1lb of beans, any bean will do this holds the crust in place so it doesn't shrink.  Pop this assembly in to a 350 degree oven for 15 minutes.   Remove, let cool for 10 minutes, grab the foil by the edges and remove it and the beans.  (Let the beans cool and save them in a zip-loc bag for the next pie crust.)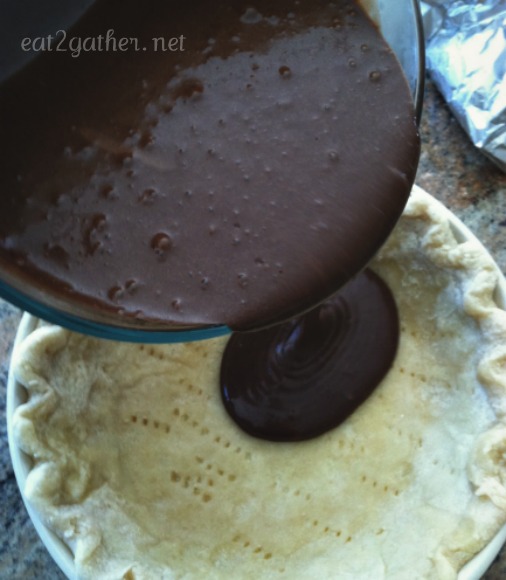 Now for the good stuff whisk together sugar, cocoa, melted butter, eggs, evaporated milk, vanilla, and salt.  Pour the chocolate mixture into your par-baked pie crust pop it back in to the 350 degree oven for 50 minutes, or until the pie filling is firm, but has a very slight jiggle in the middle.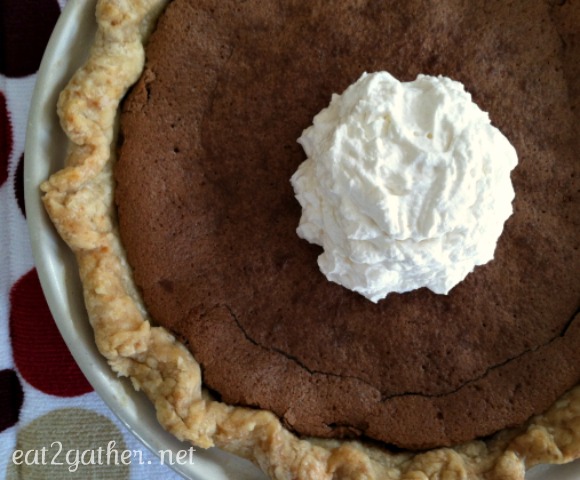 Remove from oven to a wire cooling wrack let cool completely, serve with whipping cream.  If you happen to have any leftovers store them in the refrigerator, but I don't think this will happen!
[print_this]
Minny's Chocolate Pie
makes one 9″ pie
1 1/2 cups Sugar
3 tablespoons Cocoa
4 tablespoons Butter, melted
2 Eggs
3/4 cup Evaporated Milk
1 teaspoon Vanilla Extract
1/4 teaspoon Salt
1 Pie Crust
Whipped Cream (see recipe below)
Preheat oven to 350 degrees.
1. Roll out pie dough, lay in pie plate and crimp the edges. Prick the bottom of the crust with a fork. Take a sheet of aluminum foil and carefully press into crust, now take 1lb of dry beans pour them into the foil and bake pie crust for 15 minutes. Remove from oven, let cool for a few minutes before removing foil and beans. (save the beans in a zip-loc after they cool for your next pie)
2. In a mixing bowl combine sugar, cocoa, melted butter, eggs, evaporated milk, vanilla, and salt. Whip until smooth. Pour into pie crust. Return to 350 degree oven and bake for 50 minutes or until pie is firm, but just barely has a jiggle to the middle.
3. Remove from oven, place on wire cooling wrack, allow to cool completely before serving with whipped topping. If you have any leftovers store them in the refrigerator.
Whipped Cream: 1 cup of whipping cream, 2 tablespoons granulated sugar, and a dash of vanilla whipped with a mixer until stiff peaks form.

Source: Inspired from the book The Help, found online at FoodandWine.com contributed by Lee Ann Flemming.
[/print_this]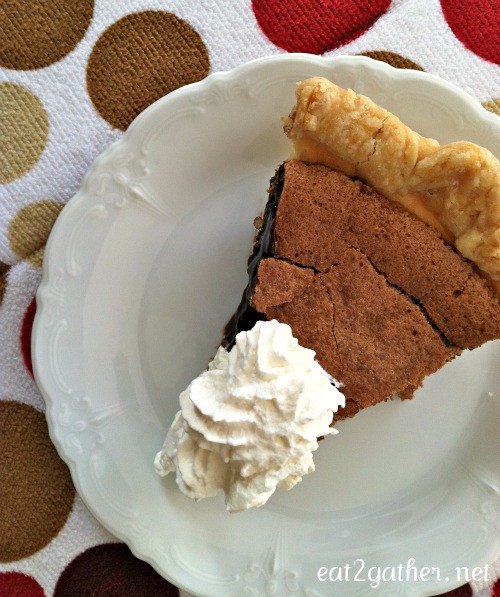 I'm just going to say it, this pie makes me sing…….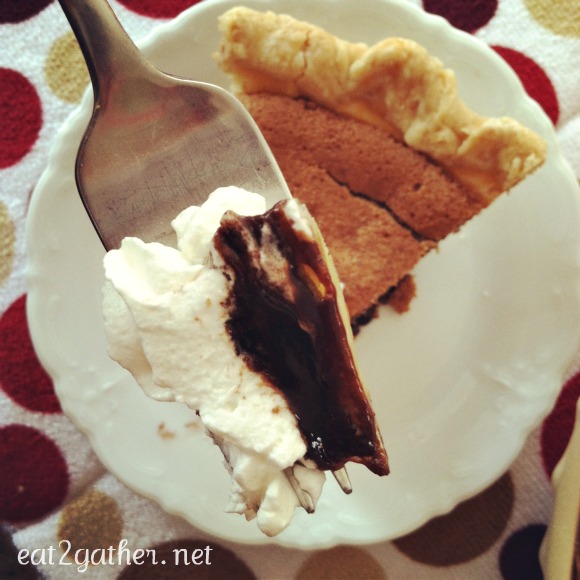 Nom nom nom Laaaaaa lala laaahhh!
Have a super fantabulous weekend! xoxox
Sheila