This pumpkin bread is full of warm spices, and it comes together quickly! With a few simple ingredients, before you know it your kitchen will be smelling delicious and your family will come running!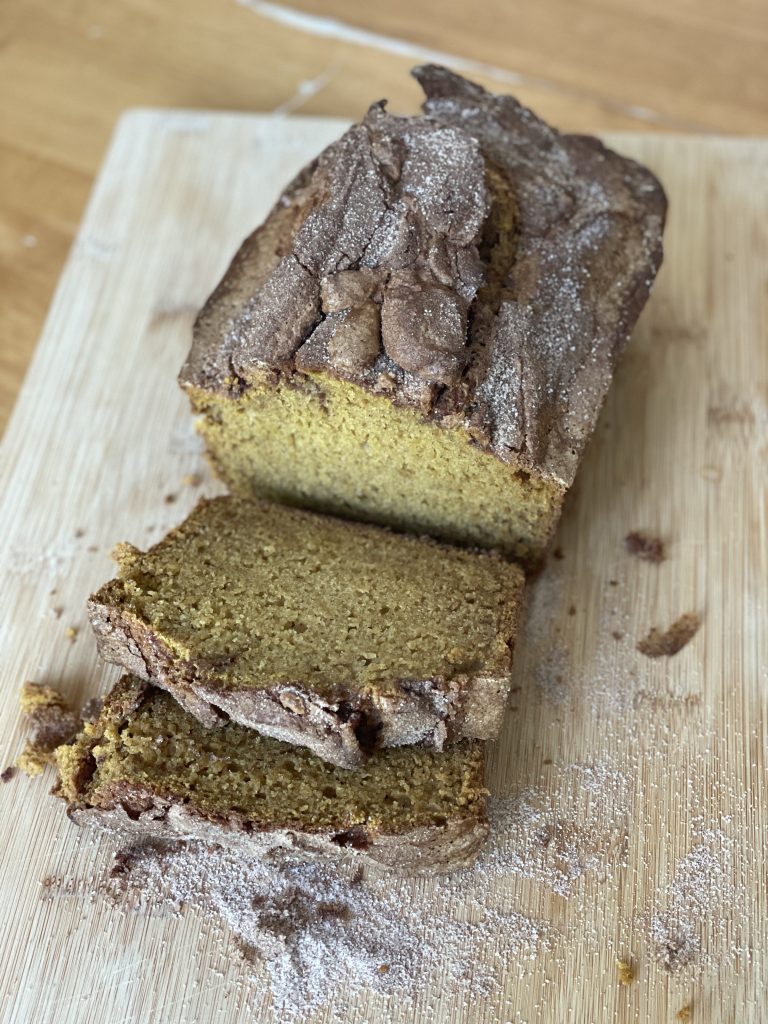 HI! How've you been? Some of you have kept coming back over the past years to check in and use the recipes that I have accumulated here at Eat2gather, and for that I am incredibly thankful!  It has given me the encouragement to get back on the horse.  Maybe you didn't even notice I took a hiatus?  I do that sometimes with blogs, I go there to find certain recipes and then all of a sudden I look at the date and notice OH! they haven't added anything for years, and then I say a little prayer that whatever it is they are doing now is making them happy and I give thanks for the recipes they have shared. Amen.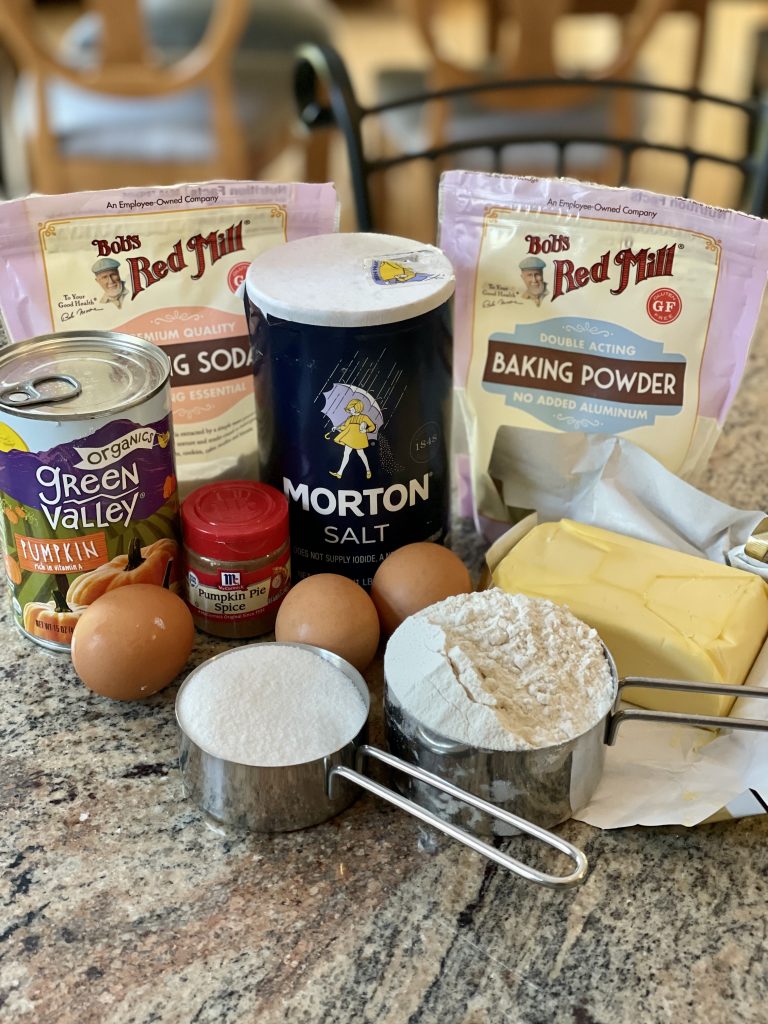 I thought I would share this very easy quick pumpkin bread recipe. Seemed like a good recipe so start back up with! I couldn't believe that this recipe had not been shared yet on E2g. Many other pumpkin recipes have, but this one is making its debut here today. I thought what better way to say Hi, I've missed you, grab a cup of coffee and let's chat. Wouldn't that be nice?!
So let's get started the above ingredients are all you will need, plus a large bowl, a whisk, a spatula, and a 9x5x3 baking pan. Preheat your oven to 350°.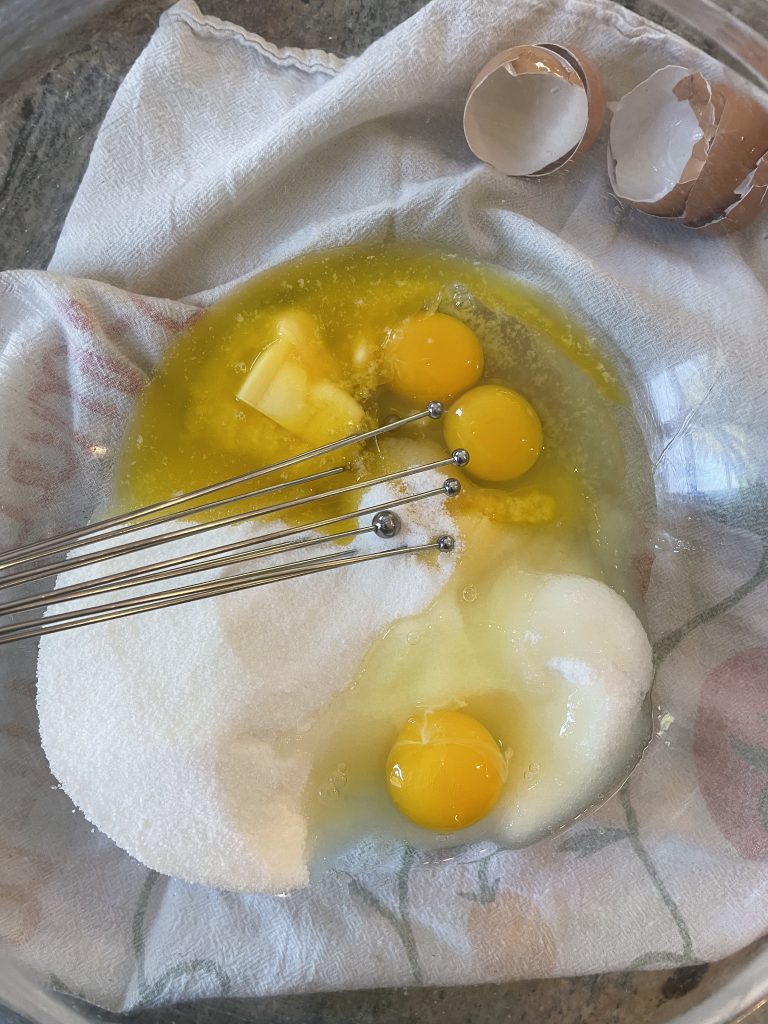 Make sure the butter is good and soft, almost melted but not quite. You can do this in the microwave, just don't over do, because you don't want your butter hot. Add butter, sugar and eggs to bowl whisk until a smooth and silky consistency.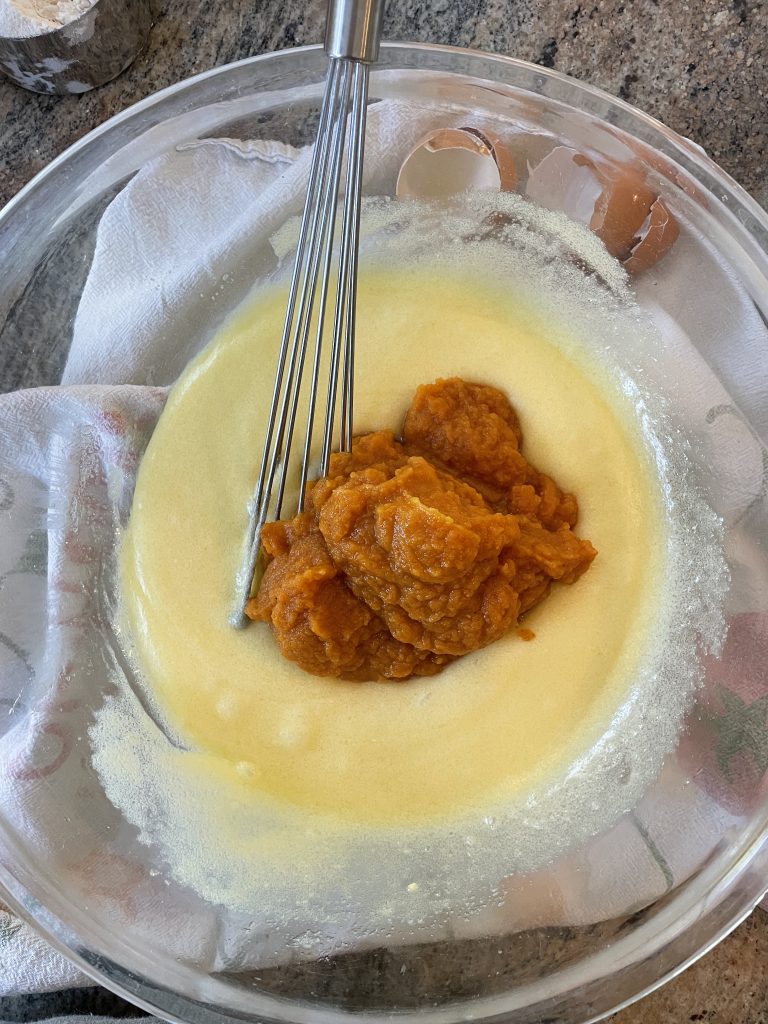 Now add your pumpkin and give this a whisk-a-roo! This may seem like too much batter for one loaf pan, and I agree your pan will be about three quarters of the way full, trust me, it will give you a nice high dense and perfectly moist loaf of bread.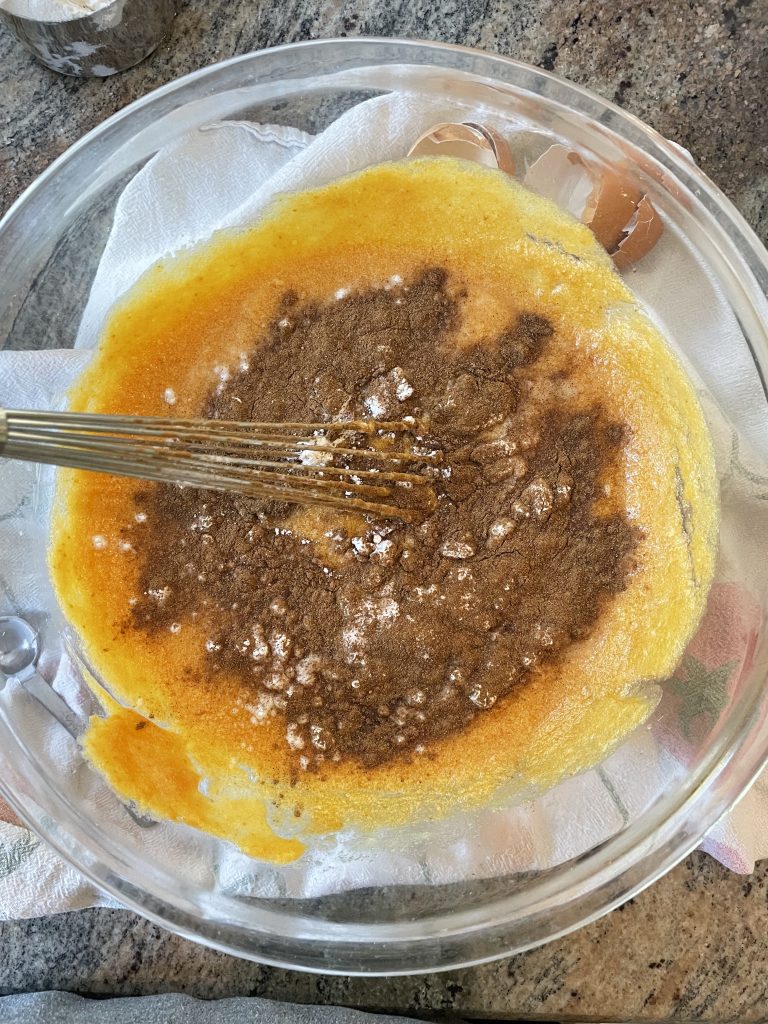 Sprinkle this mixture with baking soda, baking powder and salt allow this to set for a minute and soak in; then add the pumpkin pie spice, combine this well, making sure there are no lumps of leavening powder in the batter!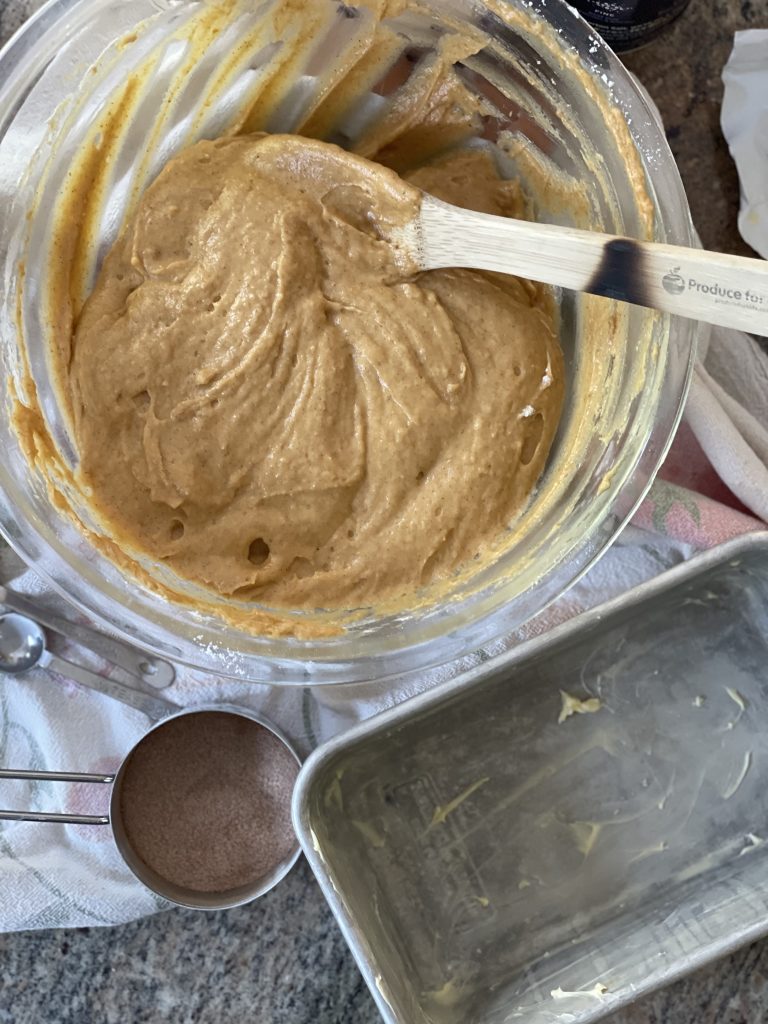 Now it's time to add the flour. Butter your loaf pan, and mix together the cinnamon and sugar. Pour batter in loaf pan, smooth out top and sprinkle the cinnamon sugar evenly over batter, using a knife give the batter a swirl to mix in some of the sugar. Place loaf pan in preheated oven and bake for 1 hour and 15 minutes. After an hour I usually give my bread a check and if its not done on the inside, however it's getting too brown on the top, then I take a sheet of foil and cover the loaf for the last 15 minutes so it doesn't get too toasty.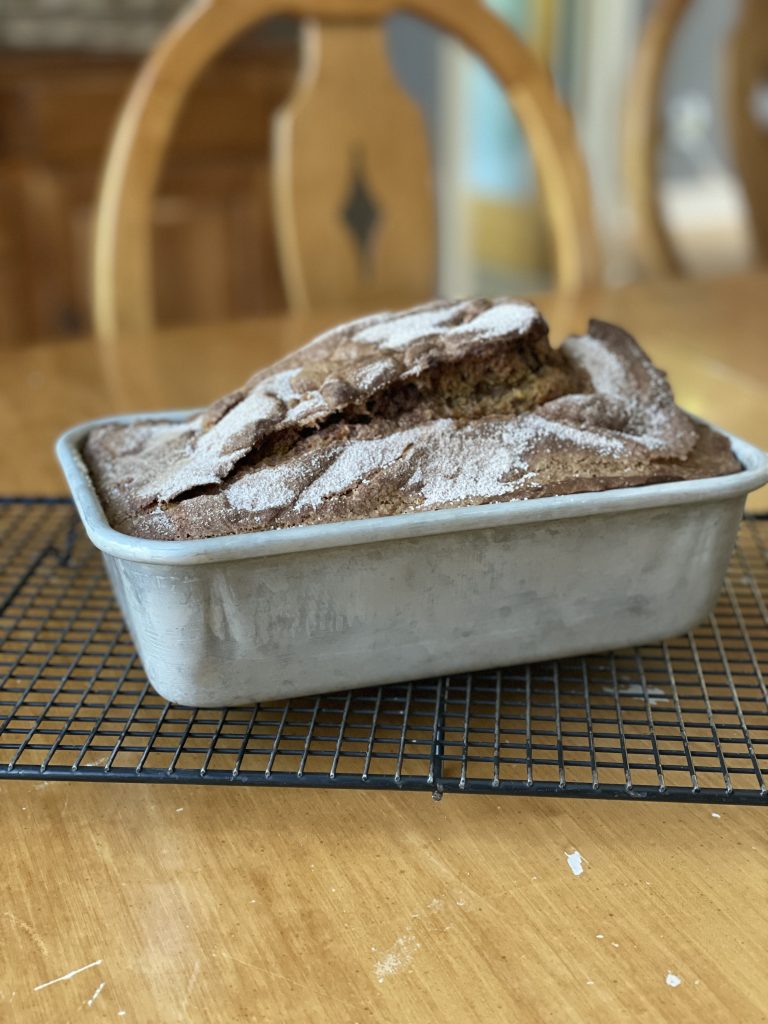 Remove to a cooling rack, allow to cool for about 15 minutes before removing from loaf pan and slicing.
'Back in the day' when all my kiddos where home this would not have lasted 30 minutes around here. Now it's just Ken and I and three days later we are still nibbling on it.  I will definitely need to put a few slices in the freezer for Ken to take in his lunch for work!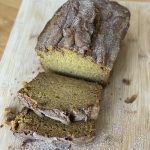 Print Recipe
Pumpkin Bread
A few simple ingredients, a bowl and a whisk are all you need to make this warm, sweet, and perfectly spiced pumpkin bread!
Equipment
1 large mixing bowl

1 whisk

1 small spatula
Ingredients
1/2

cup

butter, melted

you do not want butter too warm, do not melt all the way to a liquid if it is very soft, and just starting to liquify this is best

1 1/2

cups

granulated sugar

3

whole

eggs

1

15 ounce

can pumpkin puree

1 1/2

tsp

baking powder

1

tsp

baking soda

1

scant tsp

salt

2

tsp

pumpkin pie spice

if you don't have this on hand see notes to make your own

2 1/4

cups

flour
topping
2

tbsp

sugar

1

tsp

ground cinnamon
Instructions
Preheat oven to 350° , and butter your pan.
In large mixing bowl: add butter, sugar, and eggs. Whisk until batter is of a smooth consistency and there are not lumps. Batter should be very smooth.

add pumpkin to the bowl and whisk vigorously about 1 full minute until pumpkin is completely mixed in.

sprinkle the baking powder, baking soda, salt, and pumpkin pie spice over batter and allow a few a minute for it to soak in, and then whisk to incorporate. At this point you can gradually add your flour until it is all mixed in and batter is a smooth consistency.

spread batter into previously buttered or greased pan. smooth top so its even.

in a measuring cup add the 2 tablespoons of sugar and 1 teaspoon of cinnamon, mix, and sprinkle evenly over the top of the batter, taking a knife swirl in the cinnamon sugar. place on middle rack in a preheated oven for 1 hour and 15 minutes or until cake tester comes out clean. See Note below.

remove from oven and allow to rest for about 15 minutes before turning out on to cutting board to slice
Notes
Note: Check bread after it has been in the oven for an hour, if it's done remove it not you may want to lay a piece of foil over the loaf for the last 15 minutes so it doesn't get overly brown. 
Pumpkin Pie Spice: 2 teaspoons cinnamon, 1/2 teaspoon allspice, 1/4 fresh ground nutmeg, 1/4 ground ginger, 1/4 ground cloves
This makes a bit more than you will need for the bread. You could double or triple the recipe and save for later.  
If you are like most people when they flip ye ol' calendar over to October and you go gung-ho with all things pumpkin spice I've added a few links below for you to try!
Pumpkin Spice Cookies with Caramel Frosting
Caramel Pecan Pumpkin Bundt Cake
Pumpkin Spice Latte Cake (this one is a real show stopper!!)
Whole Wheat Pumpkin Oat Muffins are easy and freeze nice, great to add to kids lunches.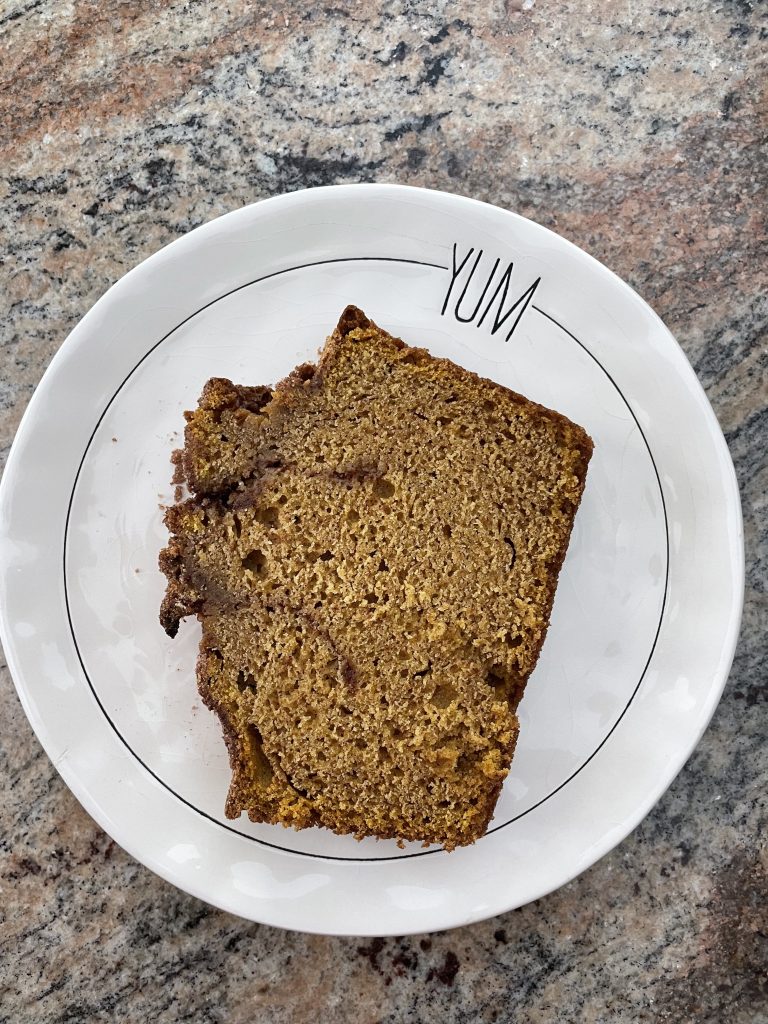 Thanks again for hanging out, I'm so glad you stopped by I've missed you. I will be working on getting this site back in tip top shape, so come back soon, and bring a friend next time!
Mwah! XOXO,
Sheila