Chicken and bean stewp is one of my quick throw it together meals.  Sometimes I make it and we eat it right away, other times I make it, throw it…literally,  in a crock pot, turn it on warm, and let the troops eat as they roll in.  What is a stewp?  Well it's not as thick as a stew, but not as watery as a soup and it's chocked full of all sorts of spice, and vegetables, and meat.  Stewp is a hearty soup!  If you wondered I stole this word from Rachel Ray….that girl has all sorts of foodyisms, gotta love her!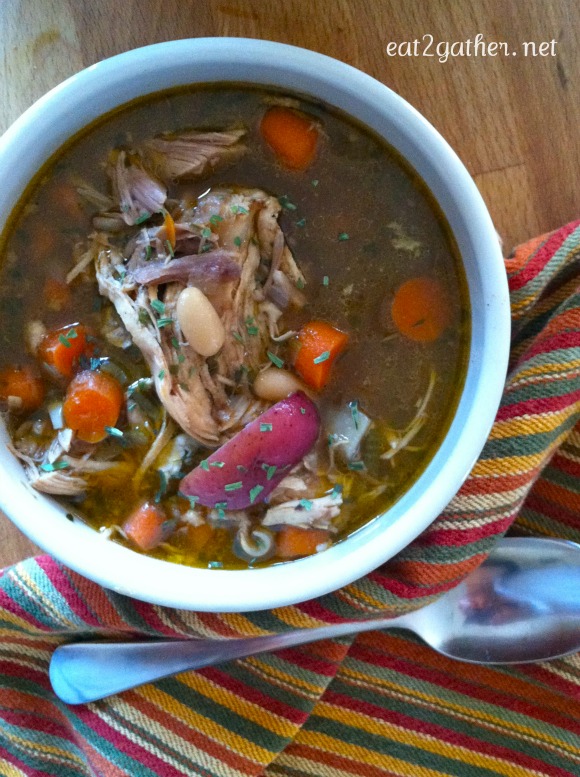 I'm going to keep it short today…cause I know ya'll are busy, with it nearing the holidays and all!  You just need to get dinner on the table! Chicken and Bean Stewp does call for one spice blend that you may not have in your cupboard…it is one of my very favorite next to curry. Garam Masala is a spice blend typically used in Indian cooking it includes cinnamon, cardamon, cumin, cloves, and peppers.   I love to use it in soups, stews, and marinades.

[print_this]
Chicken & Bean Stewp
6 hearty servings
1/2 whole Chicken, boiled and pulled from bone (approximately 4 cups of cooked chicken)
1 tablespoon Olive Oil
1 cup Onion
4 stalks Celery, chopped
2 cups chopped Carrots
3 Red Potatoes, cut in cubes
2 cloves Garlic, minced
1 1/2 tablespoons Garam Masala
2 cups Vegetable Broth
1 Bay Leaf
3/4 teaspoon dried Tarragon
1 can Cannellini Beans
Salt & Pepper to taste
1. Cover chicken 3/4 of the way with water, boil for 30 minutes or until chicken is falling off the bone. Pull chicken off bone and place in a bowl. Strain boiled chicken juice over chicken, set aside. Give pan a quick rinse and return to stove.
2. Add 1 tablespoon of olive oil to pan, heat over medium-low heat add onion, garlic, celery, carrots, and potato to pan sauté for 5 minutes. Sprinkle garam masala over vegetables and mix around, cover and let cook for 3 minutes.
3. Remove lid, and deglaze pan with vegetable broth, using spatula to scrape any bits from bottom of pan. Add chicken and juices back into pan along with bay leaf, tarragon, and salt and pepper to taste bring to a low bowl, turn down to low, cook for minimum of 30 minutes.
Crock Pot version: If you are going to use your crock pot for this recipe you can remove chicken and strain juice directly into the crock pot dish. Sauté vegetables and deglaze pan add this to crock pot. Mix in beans and additional spices. Turn crock pot on low or keep warm for 2-4 hours.
[/print_this]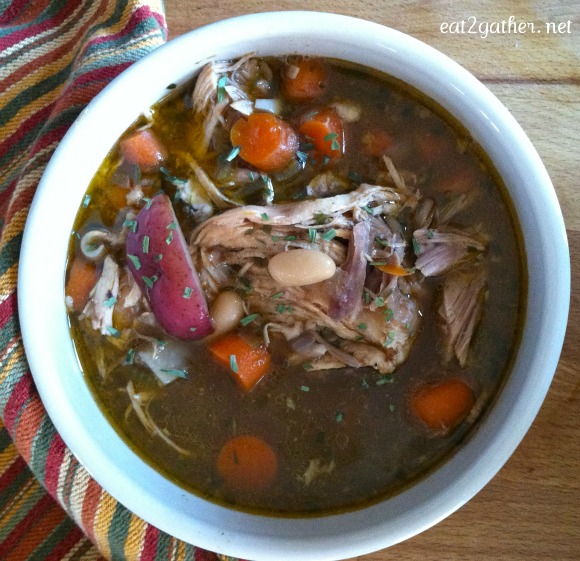 This is a great Sunday afternoon dinner, serve her up with a crusty loaf,  and for dessert serve slices of Pumpkin Gingerbread with a scoop of vanilla ice cream Yum! Your house will smell amazing! And your family will thank you profusely for the scrumptious meal you fixed them. No need to tell them how easy it was!
Luvya Much! Sheila