Disclaimer: I tried to stay away from posting anything pumpkin this fall, because well pumpkin is a bit over done. Dontcha think?  I love pumpkin just as much as the next person, probably more.  I apologize if you have been pumpkined to death.  I just had tah.  I couldn't stop myself.  This cake is that amazing. Ah. May. Zing!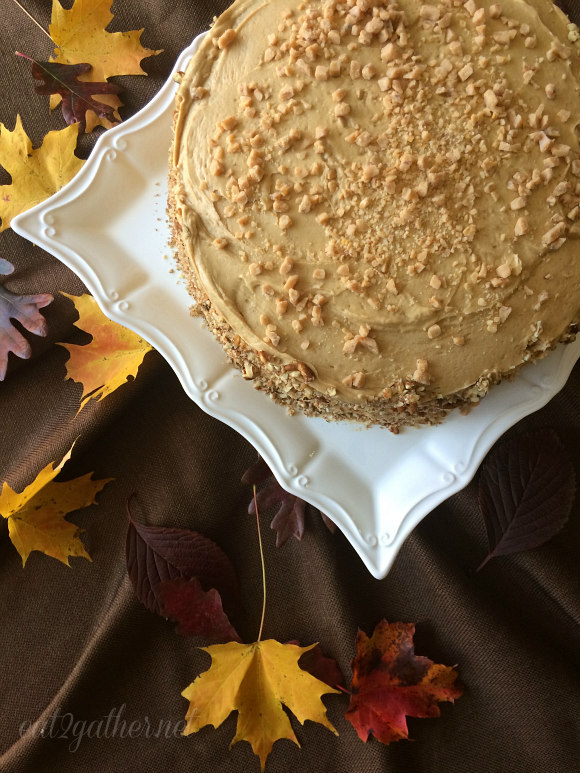 I love talking about food.  I could talk to you about food all day long.  In fact instead of greeting people with a "hey how are you today?", what I really want to say is "hey what did you eat today?", but people would think I was a total nut job, fersher.  I like to know!  I find myself watching people in public and wondering, not where they got their cloths, or who cuts their hair, or what they drive; I'm wondering what they've eaten that day, did they eat breakfast?  Do they take their coffee black or with cream?  Do they cook at all?  I wonder  do they like bacon?
I know I'm a weirdo.
It's who I am.  I do like to talk about books, and TV shows, travel, I like to discuss the bible and what God is doing in the lives of people around me, but mostly I just want to know what you like to eat, and why, and who makes it the best, and how long you've like to eat it, and when was the last time you ate it?  Who did you eat it with?  Do you like your food spicy or mild?  Mexican everyday?  Or pizza only on Fridays…..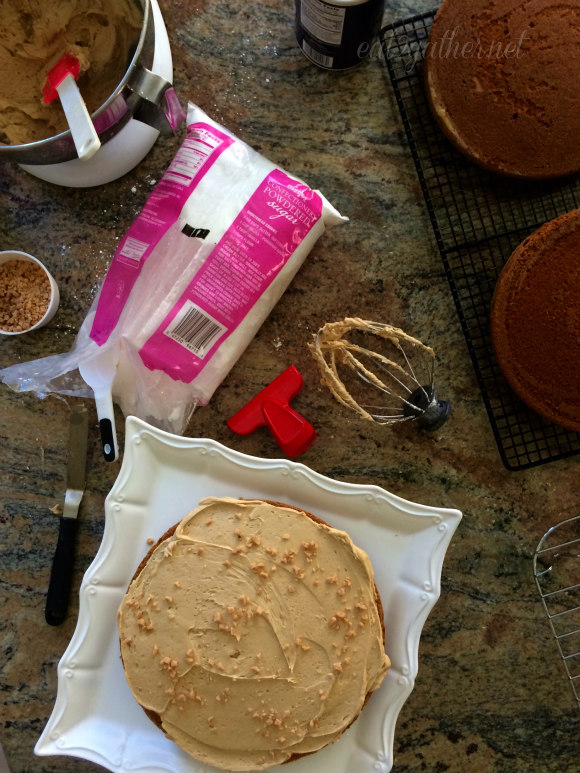 I make lunch for Kens office once or twice a month.  These people like food.  I love these people.   I love it when the girls, ladies, professionals call them what you will, scoot out of their offices to see what I've made and then talk to me about what and where they've eaten.  What have they baked or cooked at home?  Some of them go into much detail about these matters.  Talking about food is my love language.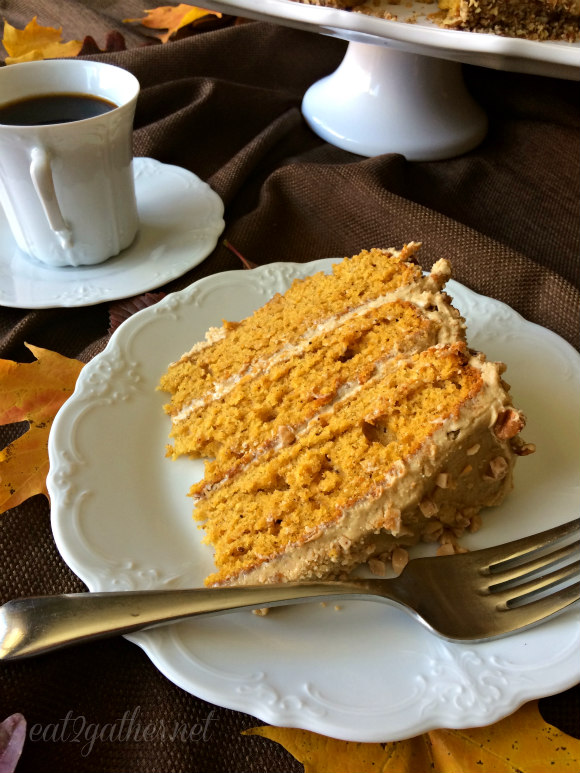 Recently,  I brought lunch into the office and one of the office lady girl professionals (I don't want to offend, but I'm not sure what to call them…my office lady friends, maybe that will work) came sneaking into the kitchen area with a very mischievous grin on her face.  I knew she was going to tell me about something she had eaten.  Stacy shared with me how she took my Caramel Pecan Pumpkin Bundt Cake and switched it up, by taking out the nuts, making it three layers, and frosting it with a coffee butter cream, then she sprinkled the top with toffee bits.
I swooned, and drooled ever so slightly.  I WAS NOT ABLE TO STOP THINKING ABOUT THAT GOL DERN CAKE!!  I knew I had to make it!  I literally laid awake in bed that night and thought of when I might be able to make this cake.  Again. I'm. A. Weirdo.
This is it, or at least my take on what Stacy described to me.  She doesn't like nuts.  So there were no nuts anywhere near her delicious cake, but I couldn't resist.  You are what you eat!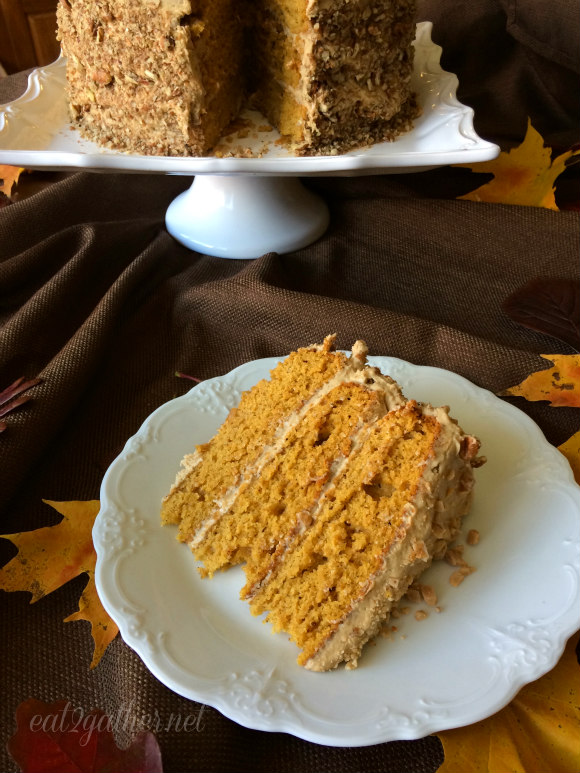 This is what they will be serving in heaven I'm quite sure of it.  As you enter the pearly gates thick slices of pumpkin spice cake with coffee buttercream frosting will be handed to you on golden platters with silver spoons.  I had a vision, and this is it.
So if you are a coffee fanatic, as am I.  And you are also a pumpkin freakazoid, as am I.  This cake needs to made in your kitchen today.  Yesterday even.  Drop everything, except your pants, and make this cake!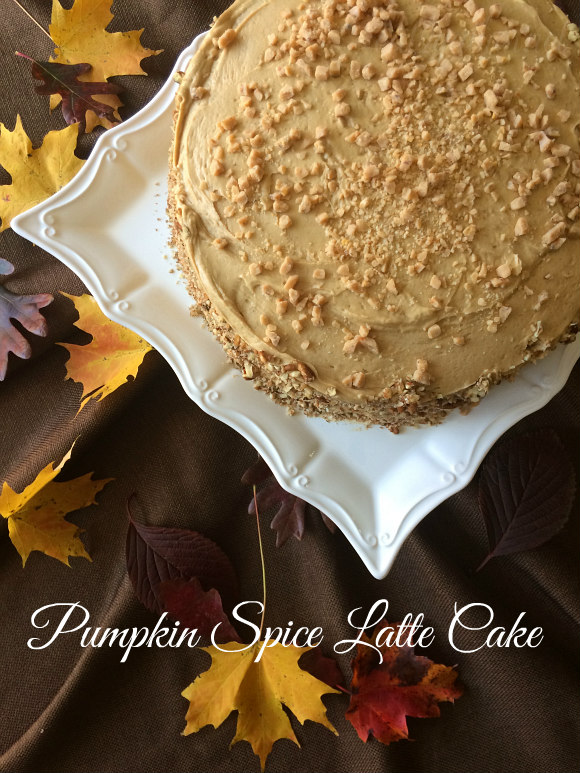 [print_this]
Pumpkin Spice Latte Cake
3 9″ round cake pans or 1 bundt cake pan
serves 16
1 cup Vegetable Oil
2 cups Sugar
3 Eggs
3 cups Flour
2 teaspoons Soda
1 teaspoon Cinnamon
1/2 teaspoon Nutmeg
1/4 teaspoon ground Clove
1/2 teaspoon Ginger
1 teaspoon Salt
1 15 ounce can plain Pumpkin
2/3 cup Toffee Pieces for garnish
1 cup chopped Pecans for garnish
1 recipe Coffee Buttercream Frosting
Preheat oven to 350 degrees. Grease pans.
Combine oil and sugar in mixing bowl beat until combined then add in eggs one at a time, beat on medium high until light and fluffy.
Measure flour, add soda, cinnamon, nutmeg, clove, ginger, and salt to flour and stir in. Slowly add dry ingredients to wet ingredients. Taking time to scrape the side of the bowl once or twice. Continue to blend on slow speed, when dry ingredients are completely incorporated gradually add in pumpkin, scrape sides of bowl and beat on medium for another minute.
Pour batter in to greased pans, bake at 350 degrees for 20 minutes until toothpick comes out clean when poked in center of the cake. Allow to cool before frosting and layering cakes with Coffee Buttercream (recipe below).
**When frosting layered cake sprinkle toffee bits between layers and on top, press pecans on the sides of cake. Both of these add ons are optional.
Coffee Buttercream Frosting
1/2 cup strong brewed Coffee
1 tablespoon Instant Coffee Crystals
1 1/2 sticks Butter, room temperature (12 tablespoons)
6 cups Powdered Sugar
1 teaspoon Salt
Add instant coffee to coffee, stir until crystals have dissolved, let cool (I place mine in the refrigerator for 10 minutes or more). Beat butter with mixer on high-speed until creamy and whipped gradually add powdered sugar and salt, alternate with coffee liquid, continue to beat on high until frosting is smooth and whipped if frosting seems too thin add more powdered sugar if too thick add teaspoon of coffee at a time until you get the right consistency.
Note: This cake can be made in a bundt pan as well, bake at 350 degrees for 50 minutes. 9×13 bake for 35 minutes or until toothpick comes out clean when poked in the middle.
Enjoy!
[/print_this]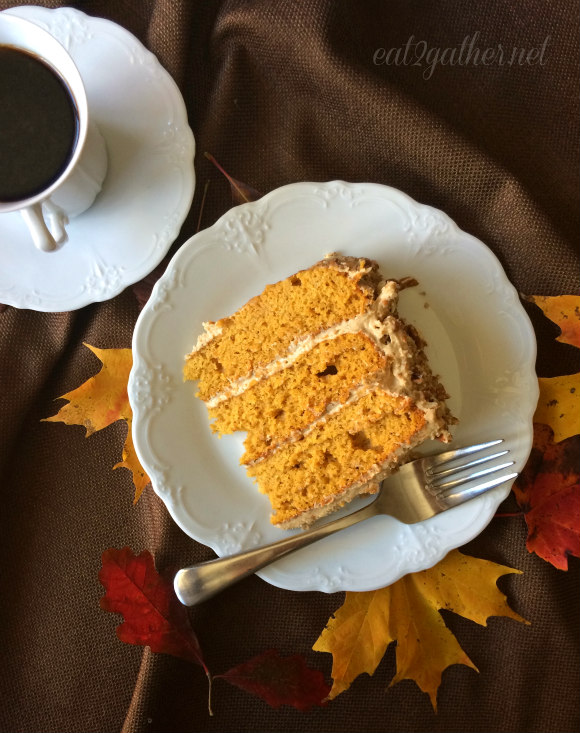 So what is your favorite topic of discussion??  Inquiring pumpkin coffee freakazoid minds wants to know!
Have a great weekend!
Sheila
P.S. Raid your kiddos trick or treat bags take all the good stuff, which by the way most kids don't like the really good stuff like almond joy, mounds, and snickers, anyway so is this really even raiding or just saving?  So much for Save the Whales….I say Save the Almond Joy.   I'm making that one into a t-shirt. Or better yet Save the Mounds…LOL.