Chocolate Chip Cookie Bars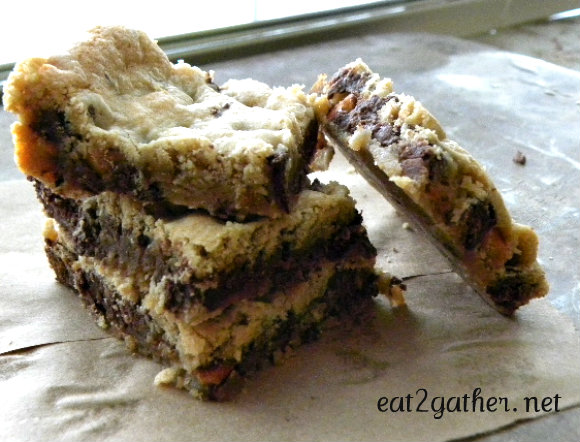 In this busy chaotic non-stop world I live in Chocolate Chip Cookie Bars have become a staple.  Who has time for drop cookies?  I always burn the last sheet of cookies anyway.  Don't you?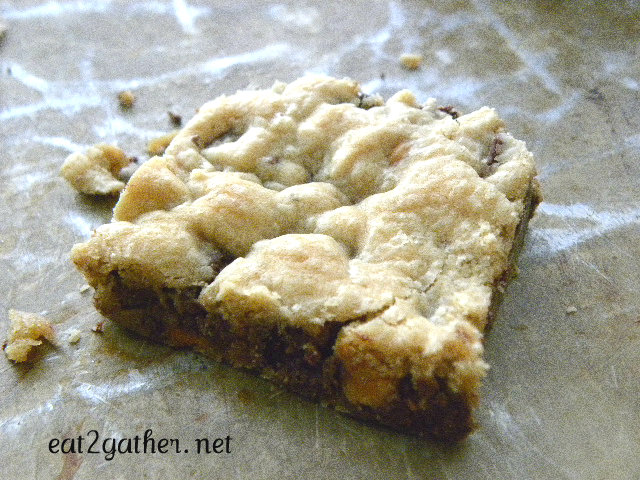 I can whip these up in a matter of minutes, press them into a 12 x 15″ baking sheet, pop them in the oven for 20 minutes and VOILA!  Kids (and adults) don't care they eat them just the same!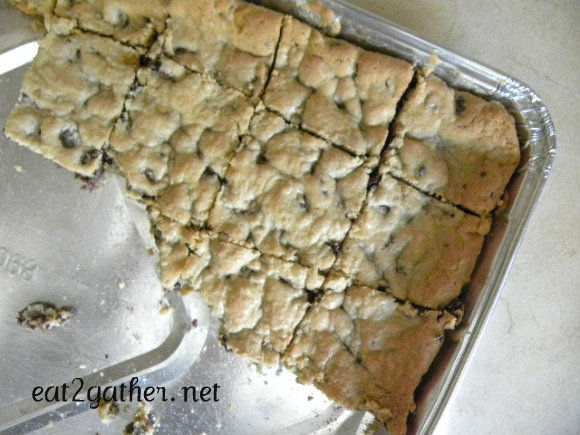 In a matter of minutes this sheet pan of cookies was whittled down to this.  Hokey Smokers stand back.  With teenagers you just never know who might end up at your home, and I've said it before, but it's worth repeating, when you bake for kids they hang around and eat, and talk, and you learn things about them….and because you've taken time to bake for them, they know you care.  Chocolate Chip Cookie Bars are like hugs in a pan.
It's a busy time of year so today I'm keeping it short.
I just wanted to share my "go to" cookie bar recipe with you in case you don't have one.  Chocolate Chip Cookie Bars are spectacular for tailgaters too!
Do you have a "go to" bar recipe? Feel free to share it in the comments!
[print_this]
Chocolate Chip Cookie Bars
makes 1 12x15x1″ baking sheet
1 cup Butter, softened
1 1/2 cups Brown Sugar
1/2 cup granulated Sugar
2 teaspoons Vanilla
3 Eggs
1 teaspoon Salt
1 teaspoon Baking Powder
1 teaspoon Baking Soda
3 cups Flour
3 cups Chocolate Chips, or any combination of chips you like
Preheat oven to 350 degrees.
Cream together butter, and sugars in mixer. Add vanilla, then add eggs one at a time, being sure to mix well after each. Scrape down bowl. In separate bowl combine flour, baking powder, baking soda, and salt. Gradually add flour to butter/sugar mixture. Add chips, scrape sides of bowl, and continue to mix for 30 seconds or so. Grease a 12×15″ baking sheet, using a large spatula dollop cookie dough on to baking sheet, using spatula spread dough around sheet until it completely covers baking sheet. Dough will be spread thin, and there may be a hole or two, that's OK when it bakes it will rise and fill in the empty spots. Bake at 350 degrees for 20 minutes, until just barely brown. Remove from oven and eat right away or feel free to let cool, and cut into bars.
[/print_this]
What's keeping you busy this fall?  Work? Kids in sports? Yard work? Camel racing?
I hope you enjoy these cookie bars!
Luvya, Sheila