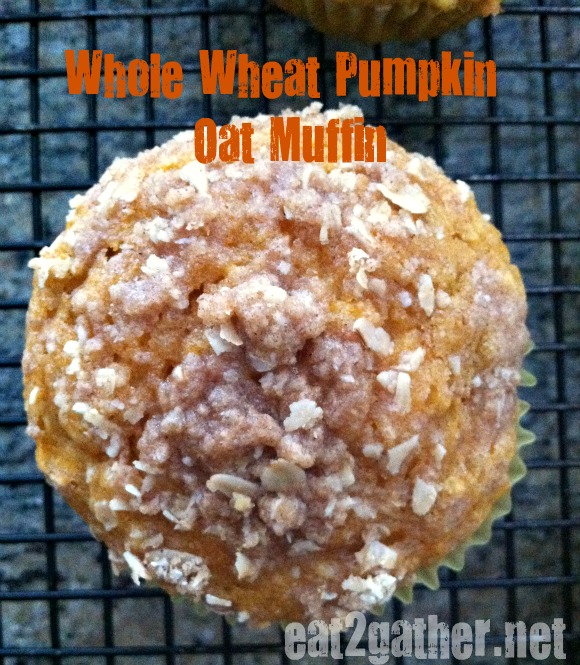 I wanted to share with you a new twist on my Oatmeal Breakfast Muffin.  I was having a my friend Liz over for coffee, Liz is like all healthy and stuff…so I was like OH my Gah what am I going to make for her that would be worthy of her healthy foodieness.  Well I know she loves pumpkin, and oatmeal and she uses whole wheat when ever possible….which I never ever do, but should!   I decided to give  King ArthursWhite Whole Wheat Flour a try, I swear by their Unbleached All-purpose Flour for everything!  And I love their Bread Flour for my bread machine, so I am not surprised that I loved this variety too!  
So anywho the night before Liz was to visit I quick whipped up my new recipe for her.  I left them out to cool on the counter and went to tuck my precious baby giants in to there beddy-byes, and when I returned to the kitchen my muffins where gone!   "KEEEENNN-Nah-eeee!!!!"  Where were they all?  Did Ken put them away for me?  And where was the Hairball?!!
Yes Darling….did you call?  (cause my husband always calls me darlin….NOT.  Deeny….Looscious Sanfred….don't ask….Lover Girl, maybe but never Darling.)
Where are the muffins I JUST made?!!
Um well…..the Hairball ate them.
What the bleepity bleep bleep! Wah hahah ahahahA…snort snerk.  (To my defense I was recovering from a sinus infection, and Aunt Flow was in town…I was feeling a bit overwhelmed.  And the fact that my stupid dog just ate a whole batch of homemade muffins…pushed me over the proverbial edge!)
What did I do?  What. Did. I. Do.   Well, I'm not proud of it…please don't call the doggy social services on me, but I got right in the hairballs snout and I said, You had better watch your tail!  Then I kicked his tail out of the house!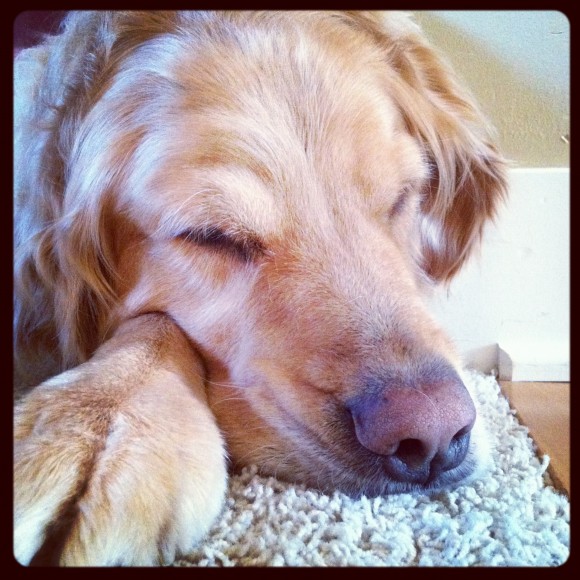 I showed him who's boss.  Yes I did. I could tell he was skeered, really, really skeered!  I don't think he'll ever do that again!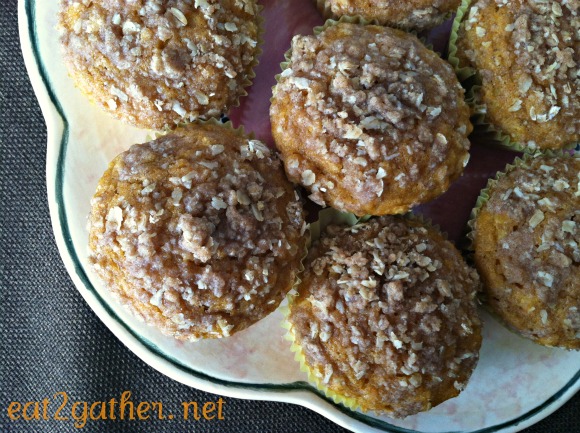 I went to bed.  Got up and made a new batch.   I had slept it off.  It was a new day, and I decided I might as well forgive the Hairball.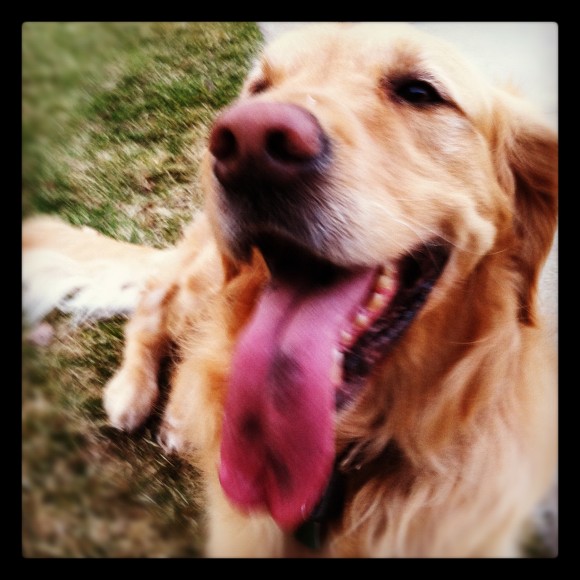 Who could stay mad at a face like this very long…sheesh!
So here they are…I dare say they are better than the original!  Especially if you love pumpkin, and oatmeal like my gal Liz…I think her little man liked them too!  Do you like bananas?  If you do I've got a banana version for you too…and well someone shared that they tossed in blueberries so I gave that a try, and it was quite scrumptious.  These muffins are just plain versatile!
What would you add to my Oatmeal Breakfast Muffins? 
Fruits, nuts, mini chocolate chips?
[print_this]
Whole Wheat Pumpkin Oat Muffins
20 small muffins or 10 large muffins

1 cup Oatmeal
1 cup Buttermilk
1 Egg
1/2 cup Brown Sugar
1/2 cup Vegetable Oil
1 cup canned Pumpkin Puree
1 1/2 cups White Whole Wheat Flour
1 teaspoon Baking Powder
1/2 teaspoon Baking Soda
1/2 teaspoon Salt
Streusel Topping
1/4 cup White Whole Wheat Flour
1/4 cup Brown Sugar
1/4 cup Oatmeal
1/2 stick butter
1/2 teaspoon Cinnamon
dash of Salt
Preheat oven to 350 degrees.
Muffin Batter: Mix Oatmeal and buttermilk together in bowl and let set for 10 minutes. In large bowl whisk together, flour, baking powder, baking soda, and salt. Back to the oatmeal buttermilk mixture, add in one egg, vegetable oil, and brown sugar, blend well.  Combine flour mixture, pumpkin, and oatmeal mixture with a spatula.
Streusel Topping: Combine flour, brown sugar, oatmeal, cinnamon, and cut stick of butter into dry ingredients until you get a consistent crumble topping.  A pastry cutter or a fork work good for this, or if you like you can use your food processor for a real speedy job!
Spoon muffin batter into paper lined muffin tins, cover top of batter with streusel topping, be generous. Bake at 350 degrees for 18 minutes or 22 minutes for large muffins or 15 minutes for regular sized muffin tins.
Banana Nut Version: In the batter replace the pumpkin puree' with 2 ripe smashed bananas.  Then add 1/4 cup chopped pecans or walnuts to the streusel topping.
[/print_this]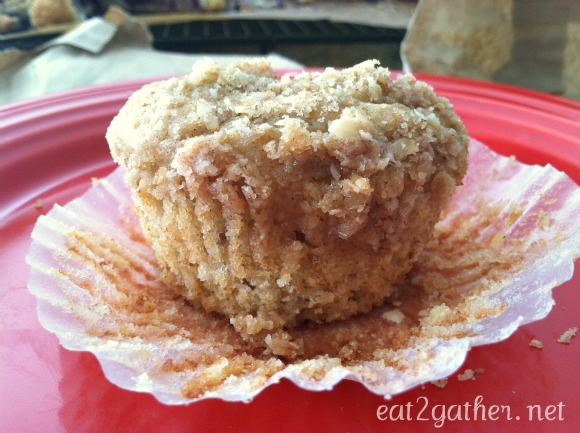 There they are!  Banana Nut Oatmeal Muffins, my kiddos love it when I pack these in their lunches.
Hope you're having the kind of day where your dog doesn't eat your muffins!
Love, Sheila