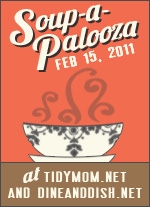 I love squash. I am not particularly in love with it's name though, SquwASH. Maybe it's my Midwestern accent, when I say it out loud it sounds so, so, um squwAshy and harsh. Like I am hitting a bug or something. Maybe I should become part of the "new word" movement and think of a better word for squash. Got any good ideas?
I always roast squash. Then I puree it, which is a favorite side dish at Thanksgiving time for our family or sometimes I just eat it smack dab off the pan. For lunch. It never even makes it to my family. Lots of butter, and salt and pepper. MMMmmm heavenly. This is how I roast squash.
First preheat your oven to 400 degrees, then cut it in half, scoop out the seeds…as in the above photo.
Pop it in the oven for 30 minutes or until fork tender. Voila! Roasted squash, you can do this a few days ahead of time, store in airtight container in the refrigerator.
Now if you want to make Curried Squash Soup out of those delicious roasted morsels you can proceed to the second half of this post. But if you just lost control and ate all that squash…well then….you have two choices 1. start over with your squash roasting or 2. go take a nap and sleep it off.
1 large butternut squash roasted
1 large tart apple, peeled, cored and cut in chunks, roast with squash
1 heaping teaspoon curry powder
1. Melt butter and saute onion and garlic in it. When onions are translucent then add 1 heaping teaspoon of curry powder and whisk, let bubble in pan for a few seconds. Take a deep breath…mmmm I love the smell of curry.
I discovered a great little store in Holland (Mi) this summer, The Seasoned Home. They carry all sorts of spices and spice blends and they will even grind them fresh right there while you wait. Plus they carry an assortment of other fantastic items for your kitchen and home. It's my new favorite store in Holland.
Now, my friend, you will need to get out your blender or food processor and scrape your roasted squash and apple into it. Scrape it all in there.
Add 1 cup of chicken stock and the sauteed onion curry mixture.
-Blend until smooth. Pour back in to the pan that you sauteed the onions in.
-Take a cup of the chicken stock and pour it in the blender, give blender a whirl…this will help you get all of the squash puree out to of the blender, you don't want to be washing any of that wonderful goodness down the drain.
-Pour that in pan. Now add the remaining stock. It really depend on how thick you want the soup.
-Add salt and pepper to taste.
-Let simmer for aproximately 5 minutes and serve.

Once every three months my husband has a board meeting at our home and I fix the members lunch. This is what I served to them this time, along with my Roasted Tomato Basil Soup a crusty baguette, and my Pumpkin Donut Muffins. I made both soups the night before, stored them in the refrigerator and reheated them in crock pots the next day. The Squash Soup was gone…gone, all gone. I did scrap some out of the bottom of the crock pot for a few bites….I think they liked it.