One of my favorite goodies that my mom made while I was growing up were her Pumpkin Spice Cookies with Caramel Frosting.  She did pumpkin spice before pumpkin spice was cool.   I almost didn't post this recipe, because I can't stand over kill….for goodness sakes there's pumpkin spice everything these days!  Coffee, donuts, cake, cookies, cereal, creamer, and even pumpkin spice face scrub!  Not to mention that I have a pumpkin whipped souffle styling creme for my hair, my husband thought he was going to bed with a candle!  But OH how I love pumpkin, and OH how I love these cookies, so I just had to do it.  I just had to put one more pumpkin spice recipe out into the WWW.  (world wide web 😉 )
 A few years back my mom, my sister,  my moms recipe box, and I went on a girls weekend together.   My mom lives year round in Florida, and we only get to see her once or twice a year.  So we I took measures into our own hands as a way to curb our astronomical phone bills,  resulting from our recipe inquiries.  Email isn't the best way to communicate while trying to figure out your mommas cookin.  We needed real time guidance.  So anyway….I purchased the products for us each to make our own family recipe scrapbook while we where away together.

Unfortunately, this is all the further I got.  A few finished pages and the rest is just loose pictures and my moms recipe cards tucked away in the unfinished book.  Sorry mom, if you are wondering where your Dream Bar, Date Nut Bread, and Pumpkin Cookie recipe cards are, I am the guilty one.  So much for being all organized and getting my momma's recipes recorded!  I try, I really do try to be organized and such, but then life comes and whisks me away…and that's all I think I need to say, cause we got some cookies to talk about!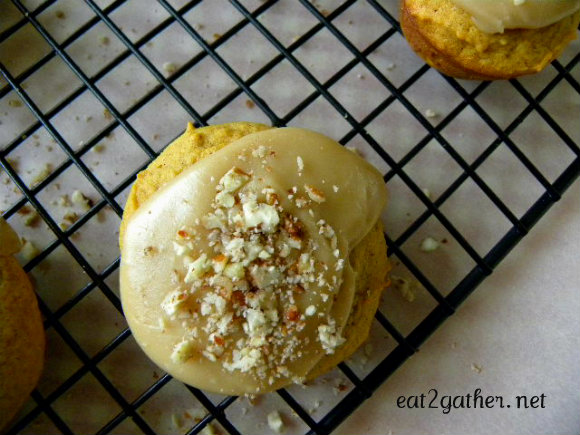 Pumpkin Spice Cookies are like a comforting bite of Fall in a cookie.  They just melt in your mouth, and that salty, creamy caramel frosting makes it really hard to stop at just one, or two, or three.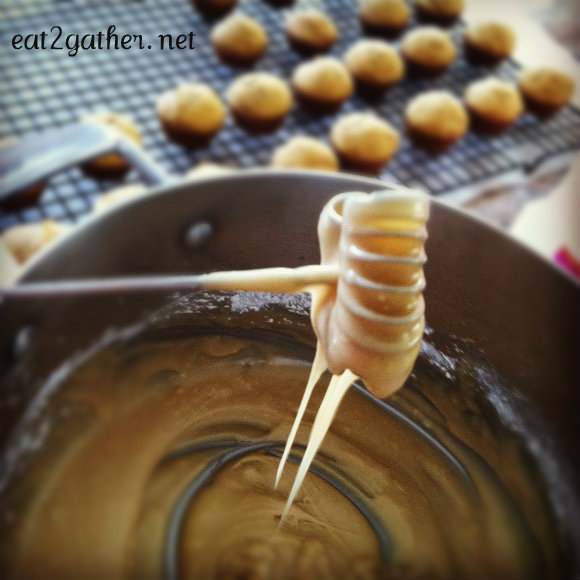 This frosting is so good.  It's my all time favorite frosting.  It goes great on all sorts of goodies, muffins, cake, scones, the back of my hand….by golly I bet it would even be good slathered on pork loin.  Now there's a new trend for you pork luvah's frosted tenderloin….please don't tell me it's all the rage already and I missed out.  It wouldn't surprise me….I am always the last to hear of these things.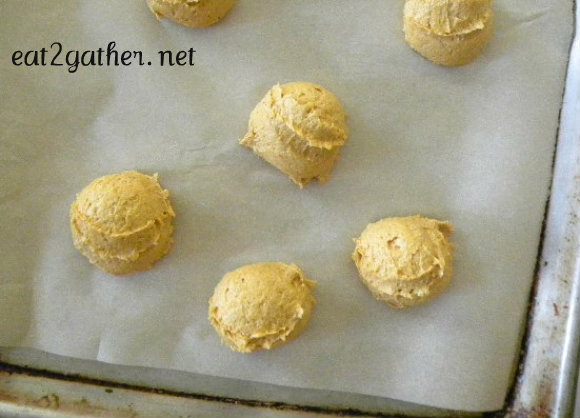 Pumpkin Spice Cookies are a cakey cookie, so the dough is slightly looser than say chocolate chip cookie dough, no worries. Spoon onto a parchment lined cookie sheet.  And bake at  375 degrees for 12 minutes.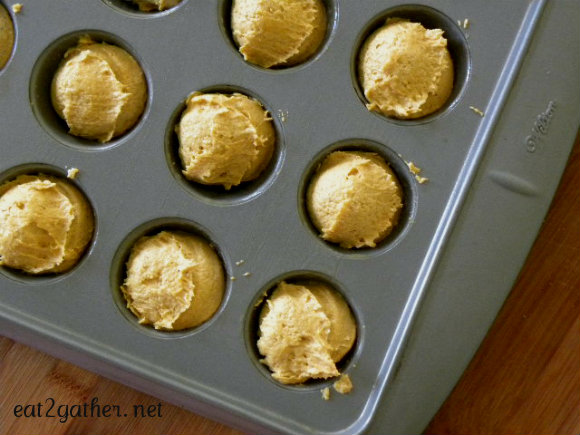 I tried something new this time and plopped the dough into a greased mini muffin tin.  It worked great.  Of course they taste the same….same cookie different shape.  Sometimes change is hard for me, so I'd have to say, I probably will never do that again.  Just twernt the same.
While these cookies are baking, you can get busy making the most marvelous frosting this world has ever tasted.  "Never fail" Caramel Frosting….like I said it's good on just about anything.  Did I say I love this frosting?   I do.  We eloped.  Don't tell Kenny I'm two timing him.
Here's how you can make your own.

Melt 1 stick butter with 1/2 cup brown sugar, and 1/4 teaspoon salt, in a saucepan.  Cook over medium heat until it begins to bowl, stir continuously,  for 3 minutes, until the caramel is smooth and beginning to thicken.  Remove from heat whisk in 2 tablespoons milk, and 1 teaspoon vanilla.  Let cool for a couple minutes, then add 1 cup powdered sugar and whisk until smooth.  Refrain from standing over the pan and taste testing until the frosting is nearly gone, and you need to make another batch.  Not that this has ever, in a million years, happened to me or anythang….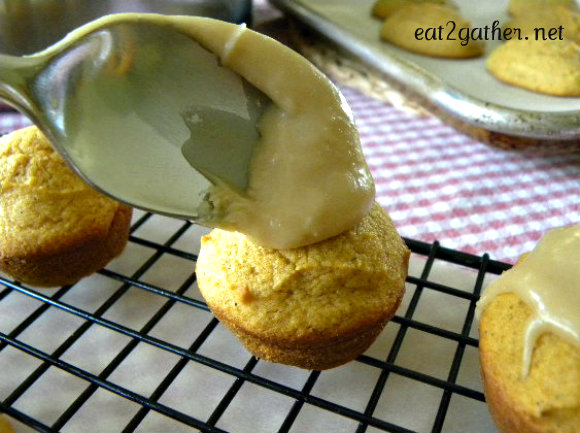 Spoon over cookies, while still slightly warm.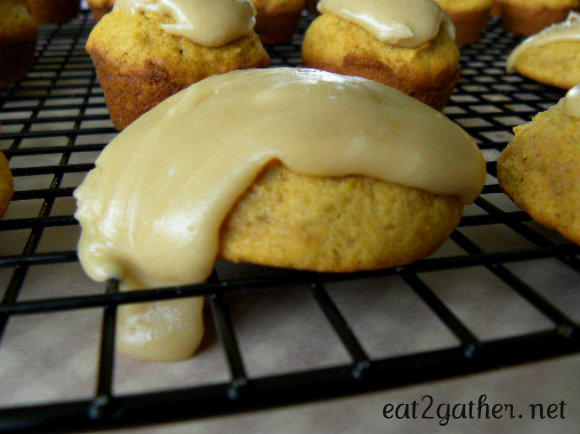 Don't be afraid to let the frosting do it's thing.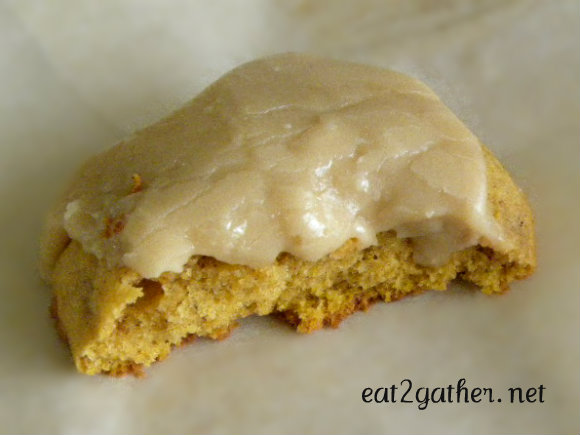 See that?  Is that not perfection.  Comfort cookies.  OK enough already…no more pictures!  You need to get busy making these babies.
And….Remember it's nice to share!
[print_this]
Pumpkin Spice Cookies
3 dozen
1/2 cup Shortening
1 cup Sugar
1 cup Pumpkin
1 teaspoon Baking Soda
1 egg
2 cups Flour
1/2 teaspoon Salt
1 teaspoon Cinnamon
1/2 teaspoon Clove
1/2 teaspoon Nutmeg
1 cup Rasins & chopped Nuts optional
Preheat oven to 375 degrees.
Beat shortening, sugar, pumpkin, and baking soda until creamy. Add egg. Combine flour, salt, cinnamon, clove, and nutmeg, gradually add to wet ingredients. Scrape sides of bowl, continue to mix for an additional 3 minutes. If you like add raisins and nuts at this time. Drop by tablespoon onto parchement paper lined baking sheet or into greased mini muffin pan, bake at 375 for 12 minutes.  Remove to a cooling wrack, let cool for a few minutes, before frosting.
Never Fail Caramel Frosting
1 stick Butter
1/2 cup Brown Sugar
1/4 teaspoon Salt
1 teaspoon Vanilla
2 tablespoons Milk
1 cup Powdered Sugar
Melt butter, sugar, and salt together, whisk continually until butter is melted and caramel is bubbly. Remove from heat whisk in vanilla and milk. Let cool for 2 minutes, add in powdered sugar, whisk until thick and smooth. Spoon over pumpkin cookies.
[/print_this]
I am going to be bold and say my mom was way ahead of her time with these cookies.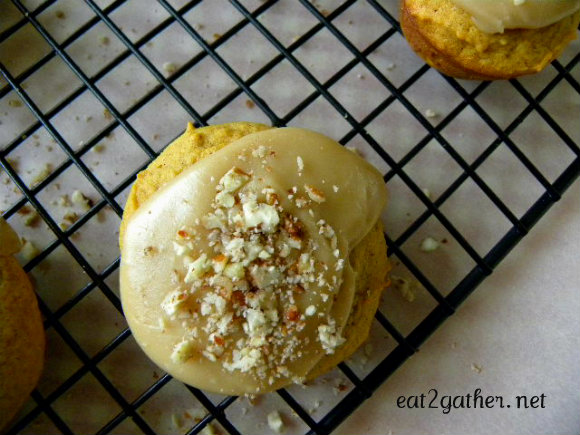 Feel free to finely chop some walnuts or pecans and sprinkle them on while the frosting is still warm.  My Dad loves these with the nuts and raisins in the cookies.  I prefer them without.   Do you prefer cookies with or without nuts?
Do you have a comforting fall recipe that brings back memories?  A cake, pie, bread, 
or maybe a big pot of your Grandmas Bonnie's soup....