Cheesy Potato Breakfast Casserole
This cheesy hash brown breakfast casserole is so good. So dern good. Too dern good. It's good. Did I mention how good this casserole is? Oh oops I see that I did. You might want to make a plan to make this soon. Real soon.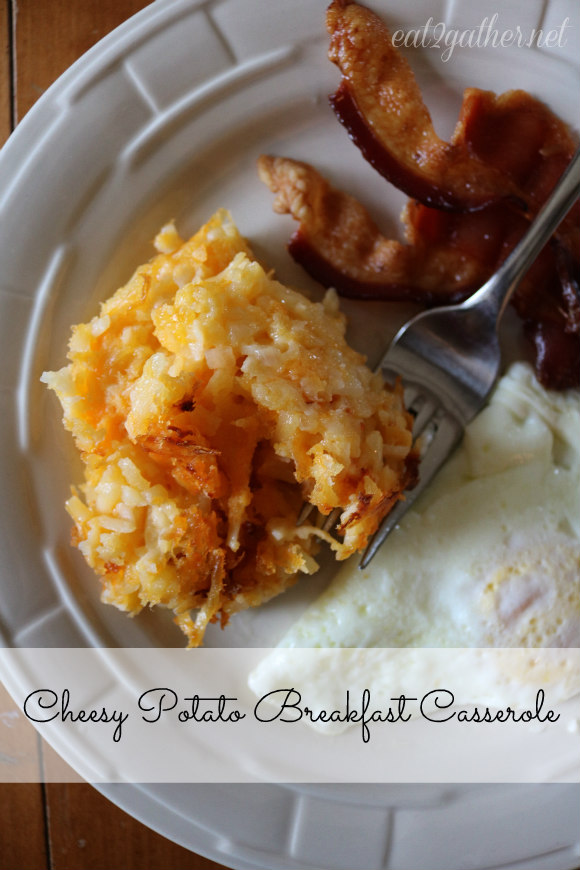 We had an argument…..yes it's true we argue at the table, almost every time we sit down, we argue.  Cue the argument.  Yeh, our meal times are anything but peaceful.  Anywho, I was saying we had a little discussion about the cheesy breakfast casserole; some said this is just cheesy potatoes!  Why are you calling it cheesy potato breakfast casserole?  Insinuating that I am a liar liar pants on fire, they were.  But honestly this is a different recipe.  If I were to make my cheesy taters and this casserole and put them side by side, my children would see that they are horribly mistaken.  This one reminds me of Cracker Barrels breakfast potatoes, have you had them?  OOOdoggie they're thumbs up!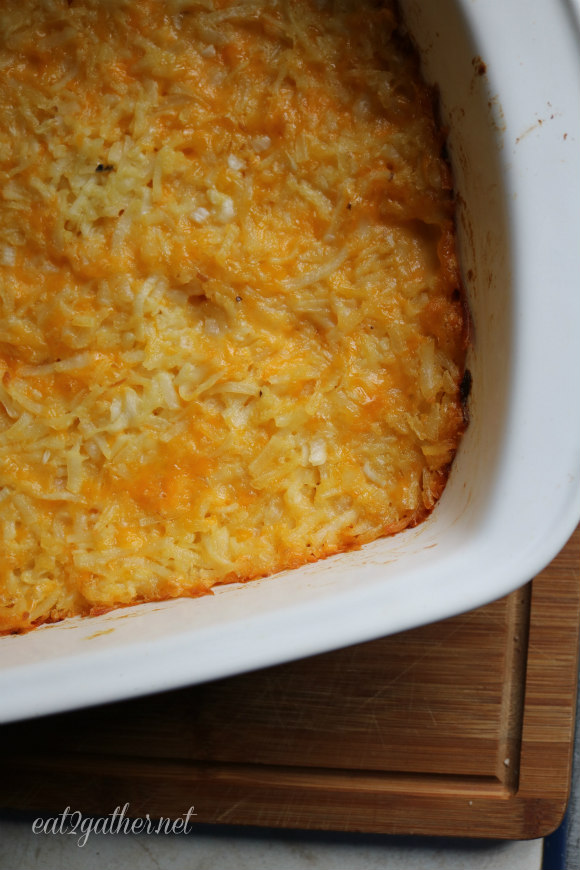 Whatever.  Who really cares?  They ate it.  They loved it in fact.  Multiple cases of yummy noises took place at the table.

It's really so easy, and the fact that you can make it ahead of time if you want,  makes it even more perfect. The hardest thing is chopping up the onion, real fine.  Piling cheese.  Easy.  And the melting butter part is my favorite.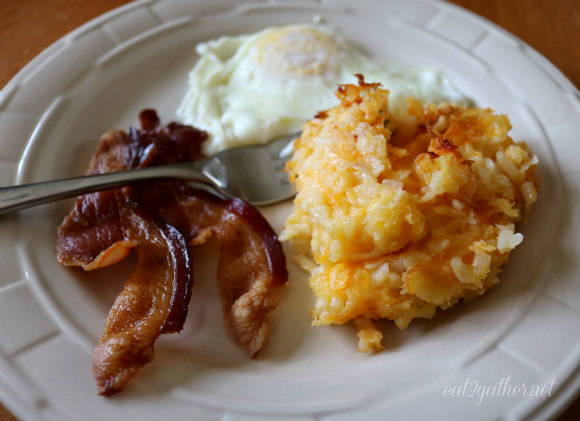 It's no mistake, there is no salt or pepper, and the dish does not need to be greased.  I'm telling you, a kindergartener could whip this up!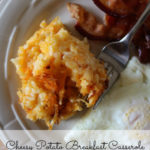 Print Recipe
Cheesy Potato Breakfast Casserole
Easy and Delicious cheesy casserole is great for brunch or makes a great potluck side dish!
Ingredients
Preheat oven to 350 degrees.
1

30 ounce

bag frozen hash browns

2

cups

shredded cheddar cheese

1/2

cup

finely chopped onion

1

10 ounce can

cream of chicken soup

8

tbsp

butter

melted
Instructions
preheat oven to 350 degrees.
Allow hash browns to thaw just enough so there are no lumps or big frozen chunks, they can still be partially frozen.

Combine hash browns, cheeses, onion, and soup.

Melt butter and pour over hash brown mixture, mix together making sure all ingredients are incorporated well.

Spread into a (ungreased) 9×13 baking dish and bake for 1 hour, possibly longer you want potatoes to get browned and crunchy around the edges.
Notes
Note: This can be made the day before, keep covered in refrigerator until ready to bake.
Disclaimer:  I am proud to be an ambassador for the United Dairy Industry of Michigan.  Thank you for helping support Eat2gather by supporting your local dairy farmers!