Are you ready for summer? Ready to gather around the picnic table with family and friends and enjoy your favorite summertime foods? I know I am! This baked bean recipe is a favorite, and is always on my cookout menu, I thought it was about time I share it with you lovelies.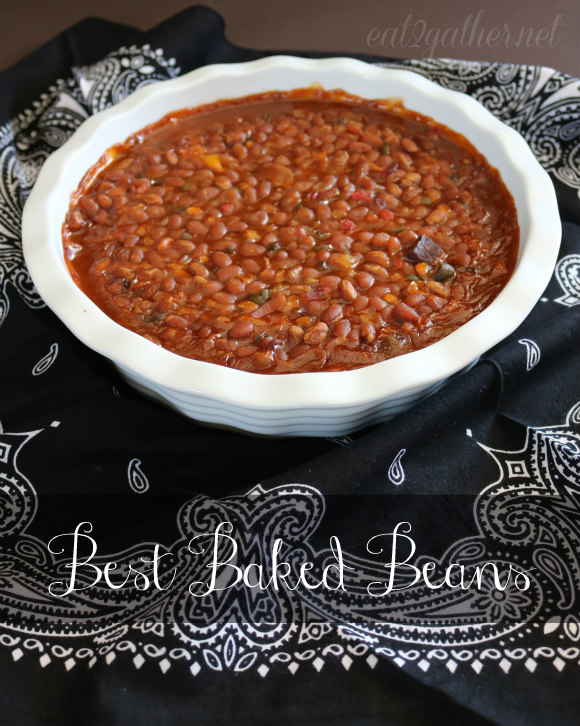 These baked beans are worthy of the "best" title.  Everytime I make them people say "these are the best baked beans I've ever had!", and I smile and shake my head in agreement.  YUP!  They are!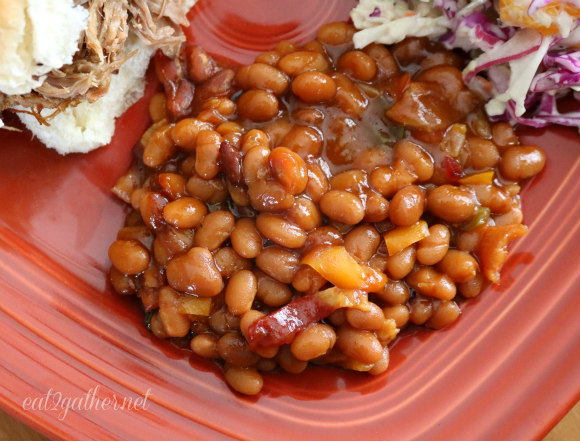 I wish I could take credit for these beans, but I can't, not completely.  Although the recipe isn't a far cry from my recipe.  I think it's the addition of the peppers, and well the bacon fat that push it over the top.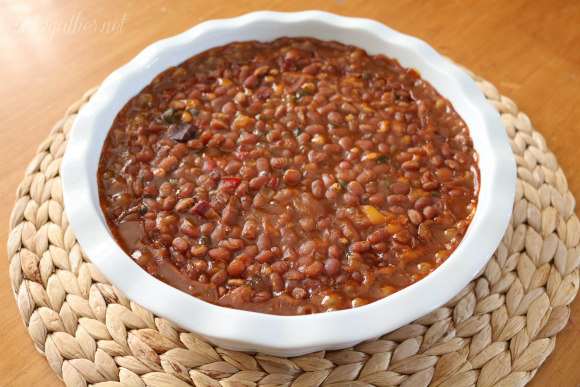 I first found this recipe on PW's website, but the recipe is Pam Andersons.  Not Pamela. Pam. Anderson.  Former executive editor of Cooks Illustrated magazine, and NY times bestselling cookbook author!  Pam is my favorite cookbook author.  She also has a blog with her two beautiful daughters, Three Many Cooks, go check it out!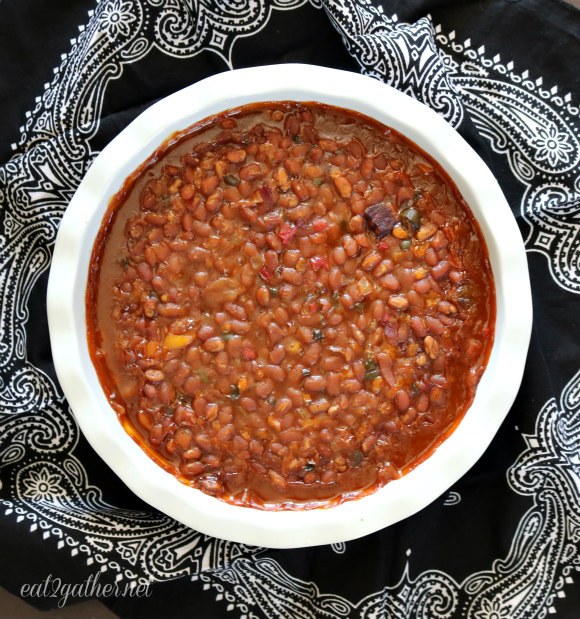 I have taken a few liberties with these beans, sort of made them my own; basically they are Pam's southern style baked bean recipe.  I'm telling you need to try these.  I recently made them for a cookout at church, I had a few people pass them by and sort of turn up their noses and I was like "um you need to try these beans, I promise you will love them, if you've never like baked beans before these will make you a lover of baked beans", and guess what?  I was right.  They both came up to me and said, I can't believe it "I loved those beans".  YUP!
I knew it!
[print_this]
Baked Beans (best ever!)
serves 12-15 bean eaters
1 pound thick sliced Bacon
1 Green Pepper, diced
1 Red Bell Pepper, diced
1 Orange or Yellow Pepper, diced
1 large Sweet Onion, diced
1 large Jalapeno Pepper, seeded and chopped fine
3 28 ounce cans Bushes Original Baked Beans
1/2 cup Barbecue Sauce (my favorite is Sweet Baby Rays Original)
3/4 cup Brown Sugar
1/4 cup Apple Cider Vinegar
2 tablespoons Yellow Mustard
2 dashes Worcestershire Sauce
Fresh Cracked Pepper to taste
Preheat oven to 350 degrees.
Take half of the bacon and cut into 1/2 inch chunks (set the other half aside for now), add bacon pieces to a large pan with onions, and peppers cook over medium high heat until bacon starts to brown and onions and peppers are soft. Add the beans and the remaining ingredients, stir well, let cook on stove top for about five minutes. Allowing beans to get bubbly, and flavors to start to meld together. Pour into a large baking dish and lay the remaining bacon on top of the beans.
Bake beans uncovered for 1 1/2 to 2 hours or until beans are bubbly, thick, and the bacon has browned on top.
Enjoy!!
This recipe is my version of Pam Andersons  Southern Style Baked Bean.
[/print_this]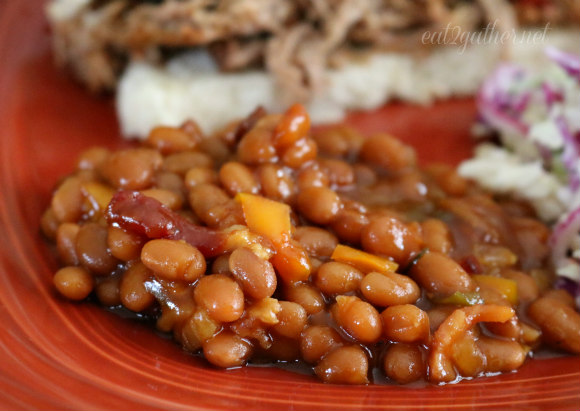 Well hello there beautiful beans!  Welcome to the party!
Whats your favorite summertime picnic recipe…besides baked beans that is?
XO, Sheila