As sad as I am to see summer go, I am just as happy to see fall arrive, because with fall comes Apple Pie!!  Dutch Apple Pie is a family favorite. A smidge of nutmeg and a buttery crumble top this pie is soon to be a family favorite for you too!!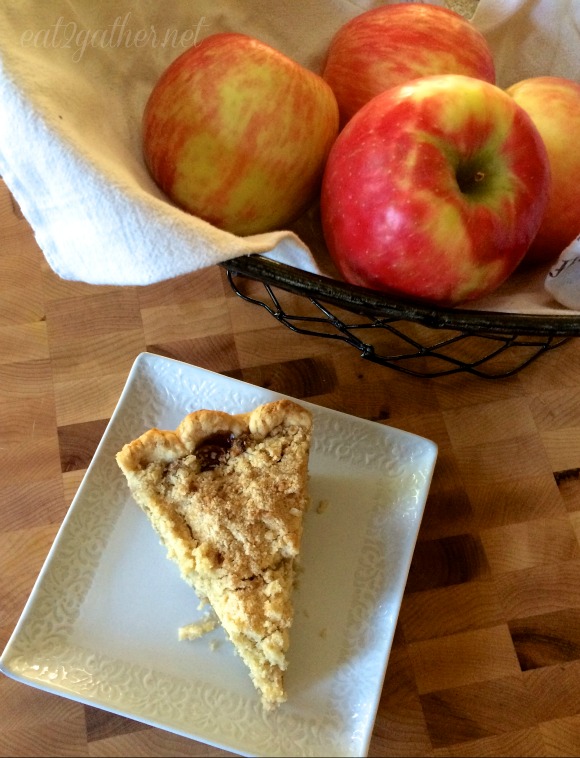 Now, if you know your apples, you'll notice this is not a macintosh apple in the photo above.  It's a honey crisp.  The best eating apple, in my opinion, ever!  I prefer to bake with spy or macintosh apples, and for apple sauce I like to use a variety of apples cooked together.  Growing up I couldn't drive anywhere without seeing an apple orchard.  In fact I grew up right on the edge of what's known as Fruit Ridge.  Hundreds of acres of fruit farms.  It was a lovely place to grow up!  Never take your fruity roots for granted, that's my motto.
True Story: A friend and I used to sneak out at night for innocent walks in the dark through the apple orchard at the end of my grandparents street. (I often stayed weekends at my grandparents lake home.)  The orchard owner got a little miffed a our midnight raids of his orchard so one night he hung plastic snakes in his trees.  It scared the bee-jeebies out of my friend Tina and I, as we each grabbed for an apple we also grabbed a snake!!  We screamed.  We shook our snakes and whipped them against the tree, dropped all our apples, and ran for our lives!  A week our so later my friend told me she heard on the bus about the prank the "apple guy" had played on us with the plastic snakes.  I vowed that I would never steal another piece of fruit, or anything else for that matter, as long as I lived.  The end.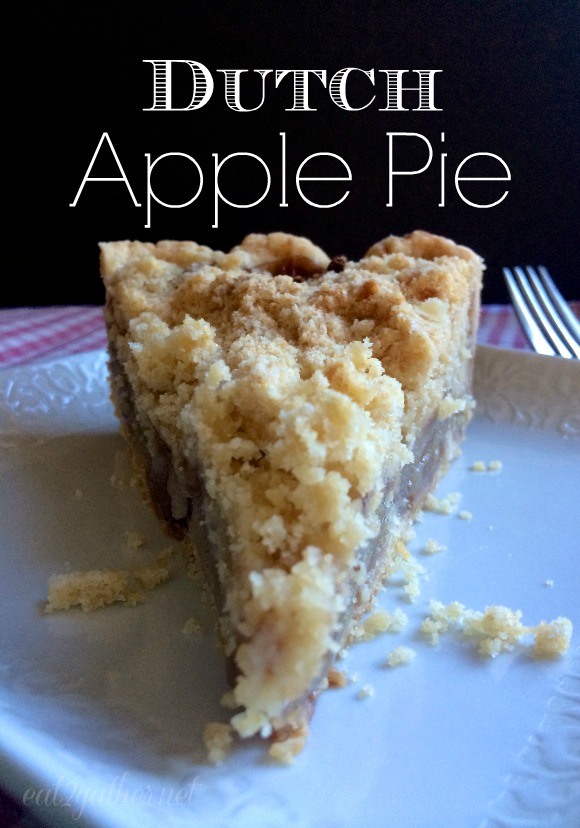 I've shared this recipe before with two other pies that I also call favorite.  You'll notice there are no pics of this pie dripping with vanilla ice cream.  This is not because I am against warm pie with vanilla ice cream, it's because I wanted you to enjoy this pie in it's purest state.
This pie is the piece de resistance of pie.  Ask my Noah.  I actually made two pies and he ate one of them (practically) all by hisseff!  In his words its "piefection". 
See for yourself…..

PIEFECTION = flakey crust + apples laced with nutmeg, and cinnamon + a buttery crumble top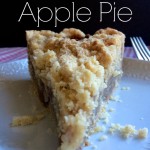 Print Recipe
Dutch Apple Pie
PIEFECTION = flakey crust + apples laced with nutmeg, and cinnamon + a buttery crumble top
Ingredients
1

9" unbaked pie crust

5

whole

Apples, cored, peeled and sliced (I prefer Spy or MacIntosh.) Should be about 5-6 cups of apple slices.

3/4

cup

sugar

2

tbsp

flour

1

tsp

cinnamon

1/8

tsp

nutmeg
crumble top
1/3

cup

cold butter

1/3

cup

brown sugar

3/4

cup

flour
Instructions
Preheat oven to 375 degrees.
Core, peel and slice apples. toss apples with granulated sugar, flour, cinnamon, and dash of nutmeg.

Roll out pie crust, put rolled out crust in your pie pan, crimp edges, and fill crust with apple mixture.

Crumble Topping: combine butter, brown sugar, and flour until mixture is a crumbly consistency. I use my food processor but a fork works just as well (it just takes longer)

Pour crumble topping over apples, make sure it gets in all the nooks and crannies of the apples.

Bake in 375 degree oven for 30 minutes, then turn oven temperature down to 350 for an additional 30 minutes. Let pie set for 30 minutes before cutting.
Notes
Serve warm with whipped topping or a scoop of vanilla ice cream.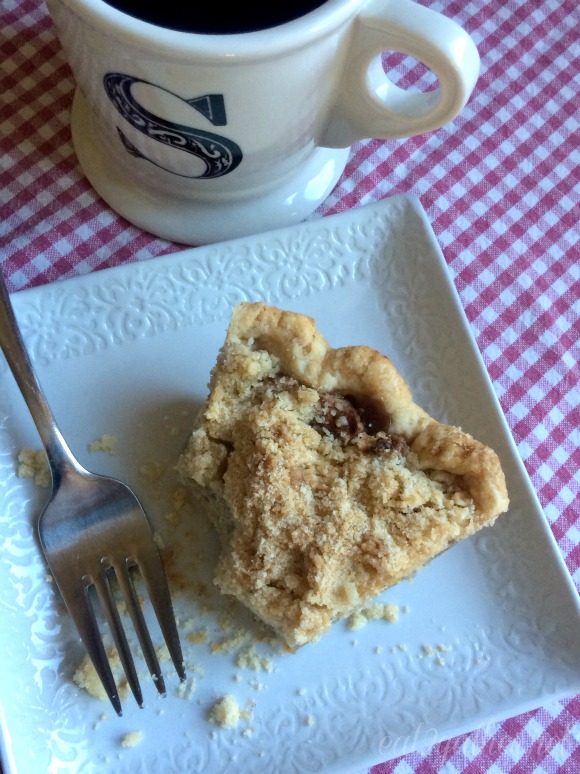 This weekend we are making our annual trip to the apple orchard to get fresh pressed cider, donuts, and you guessed it apples!!  I'm planning on making this pie again, and this time I'm going to hide a piece so I can have it for breakfast.  Because there isn't anything finer than leftover apple pie for breakfast!!
It's pie o'clock somewhere!
Sheila