Coleslaw can tend to be soggy and boring, not this coleslaw with its surprise ingredient and sassy dressing this recipe will win over even the most skeptical!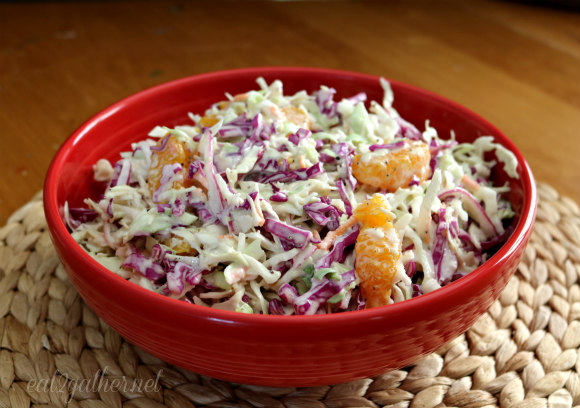 When we vacation it's all about the food.  We all look forward to finding new, and interesting places to eat, and often if we find a good spot we will keep going back!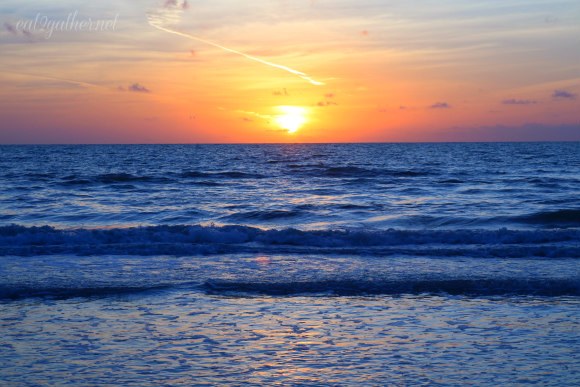 Last year we visited Indian Rocks Beach for the first time. It's on the Gulf Coast of Florida.  We fell in love with the beaches, the amazing sunsets and all the great places to eat within walking distance.  We made a habit of walking down the beach at sunset to our dinner destination, then we would walk the lighted sidewalk home, but not without a stop at the Kooky Coconut for ice cream. (by the way they have a dang good lunch too!)
One of our absolute favorites is Keegans, if you are in this area you have to give this little joint a try, I could honestly eat there most nights!  So good! Not fancy, or perfect just tasty food at a good price.   Another thing I love about not cooking and eating out for a week or so is that I get new inspiration and I am always motivated to get back in my kitchen!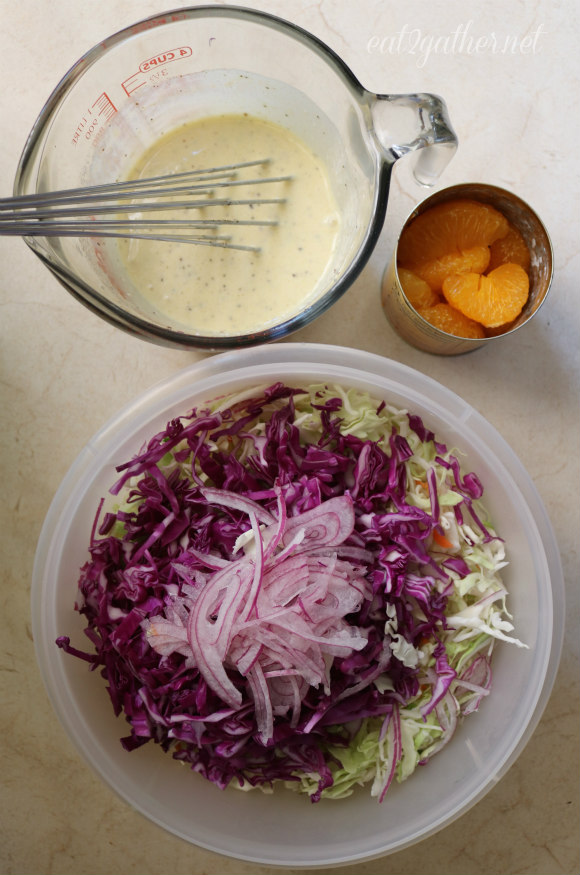 Ooh isn't that purdy?  This coleslaw was not from Keegans, it's from another Indian Rocks restaurant called The Pub.  This place is not exactly a favorite of mine, but their coleslaw makes it worth giving this place a try.  They do have a nice deck, if the weather is good, it's nice to sit outside, as long as the seagulls don't steal your grouper sandwich.  Not that I've ever seen this happen or anything.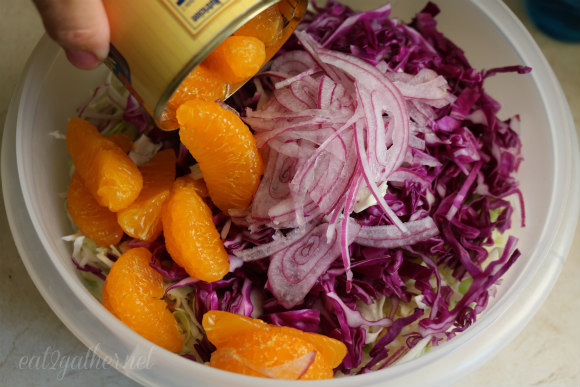 The mandarin oranges are such a surprise, at first I was like what did they throw in my slaw?  Sort of picking around at it, but as soon as you try it, you're sold.  Sweet, citrus, crunch, tangy, and slightly mustardy sauce it's quite honestly amazing!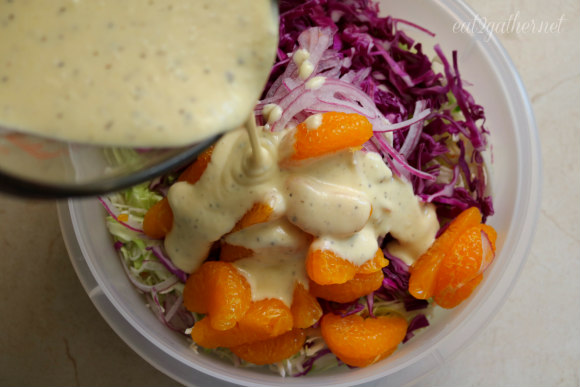 One thing about slaw is you don't want to put the dressing on it more than an hour before you serve it, or it can get runny and slightly soggy.  Mix the two components separately and then when your about ready to eat toss them together.
My girls and their daddy walking to dinner together.  Sweet memories.  Sigh…I wanna go back!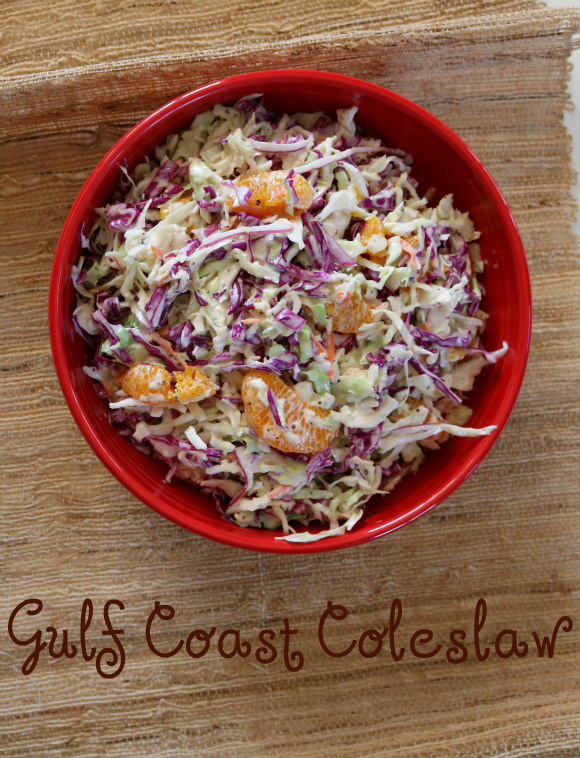 [print_this]
Gulf Coast Coleslaw
makes enough for a small gathering 6-10
1 14 ounce package Classic Slaw with carrots
2 cups finely shredded Red Cabbage
1 11 ounce can Mandarin Oranges, drained
1/4 cup thinly sliced Red Onion
Dressing
3/4 cup Mayonnaise
1/4 cup Apple Cider Vinegar
3 tablespoons Sugar
1 teaspoon prepared Yellow Mustard
1/2 teaspoon Salt
1/2 teaspoon freshly ground Pepper
1/2 teaspoon Celery Seeds
3 dashes Tabasco Sauce
dash Garlic Powder
1. Combine package of slaw, red cabbage, and onion together in a large bowl(need room for mixing).
2. Whisk together dressing ingredients. (dressing can be made several days ahead of time, just make sure to store in an airtight container and whisk again before using)
3. Pour dressing over slaw mixture, mix to combine, fold in mandarin oranges. Transfer to a smaller bowl, cover with plastic wrap and refrigerate for an hour before serving.
Enjoy!
Note: Do not mix dressing with slaw more than three hour before serving, slaw looses it's crunch the longer it sits in the dressing, and you want that texture.
[/print_this]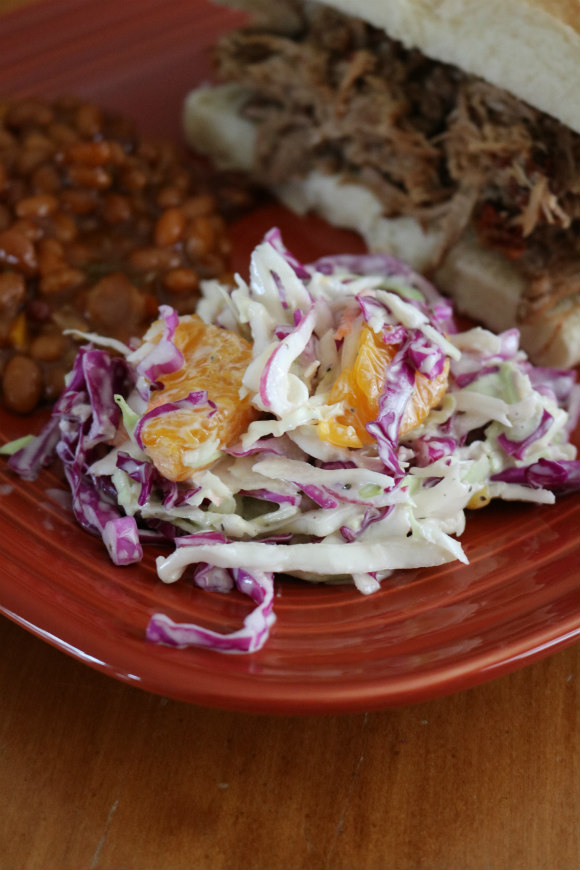 Spring and Summer cook out beg for this coleslaw to be on your table!  I'm telling you on its own or piled high on some pulled pork, this stuff is nom nom nommy.
Enjoy, Sheila