Phew!  It's been a busy couple weeks around here.  Can you tell?  Have you been missing me?  Or did you just give up and go elsewhere? Wahhhh!  Come back!  I'm here for you, I promise!
In fact,  I'm here for you with ribs.
I know.  Right?!  Rib therapy.  It's a thing.  For reals.
At least in my house it is.
If I want to get in good with my family, like if I want wood chips laid, and landscaping weeded I make ribs.  If I want to say I love  you, without actually saying the words I love you (Which I have no problem with! I throw those 3 words around like nobodies business!) I make ribs.  If we have German peoples staying in our house I make ribs!  Cause if you didn't know it German peoples love ribs, and beers, and chocolate. I love German peoples.   Especially these ones…..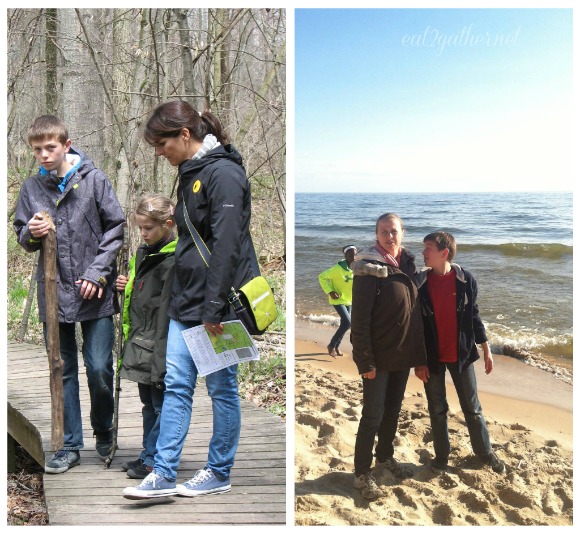 My German sister Andrea came to visit with her two little krauts…who aren't so little anymore.  They come every couple of years to visit.  It's fun.  We do lots of shopping, and eating, and beach walking, and eating, and sight-seeing, and eating.  We try to always have barbecue something at least once while they are here.
The best thing about these ribs is that you can make them up to two days ahead, store them in the refrig and throw them on the grill, add a few easy sides (see my suggestions below) and you've got yourself a finger licken' good dinner!
Here's how!  Oh and BTW the rib rub is something you might want to double up on and use on grilled pork chops and chicken too!  It's a mighty fine rub if I do say so myself.  No packaging and selling it now, this is my secret recipe.
Well, I guess it's not anymore.
But I trust you, I know you'll do good by it.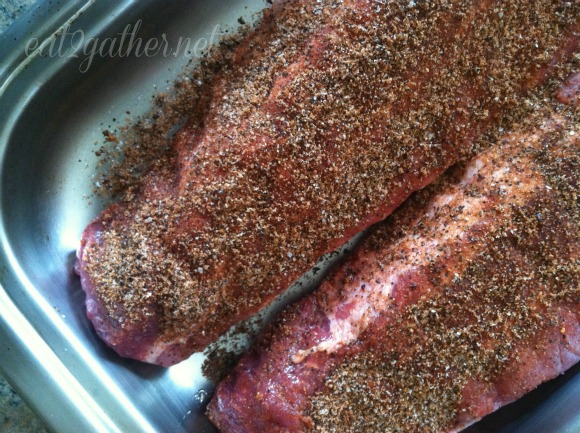 Mix the rub ingredients together, and sprinkle them generously all over the ribs, and then give your ribs a little massage.  Not literally your ribs, but the baby back ribs that you are going to eat.  Silly goose.  However, you might be rubbing your ribs and moaning after you're done eating.
Take heavy-duty plastic wrap, I prefer the Kirkland brand, and cover your roasting pan tightly.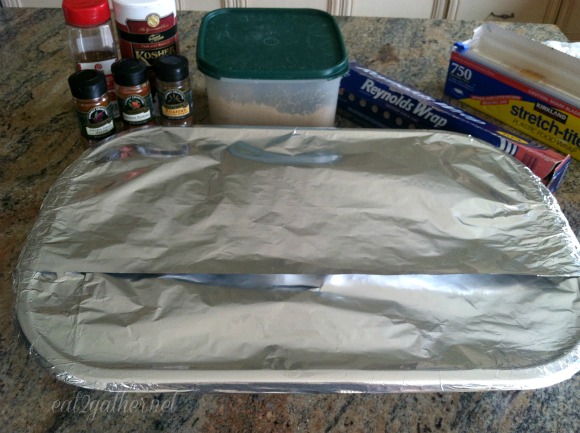 Then cover the pan with aluminum foil.  I learned this trick on T.V., specifically Diners Drive-ins and Dives.  It creates a seal and keeps the meat tender and juicy.  Now bake your ribs for 3 hours at 300 degrees.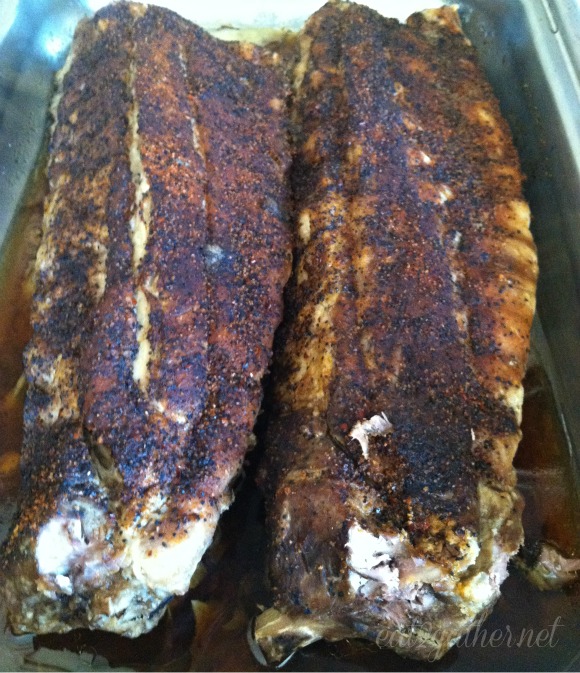 Uncover and either let cool and store and refrig for later or…… (can you tell I did some nibbling?  had to make sure they were good for our guests 😉 )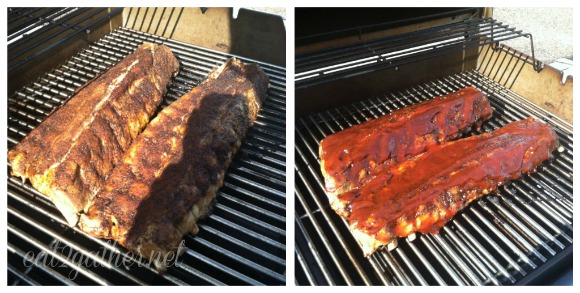 Fire up your grill and throw on da ribs!! Slather them in your favorite barbecue sauce, ours is Sweet Baby Rays original.  I buy it by the gallon.  It's ridiculous.  My family could bath in it!!

There you have it!  So easy!  Serve them with your favorite sides, like Roasted Potatoes, Baked Beans, Cole Slaw, Corn on the Cob.
I've got some traveling coming up in the next couple weeks, first Miami, and then NYC, but I'm going to do my best to keep feeding you people!  Because it's important to me that you are inspired to get around the table often with those you love!
Sheila ~ specializing in Rib Therapy and Tastepeutic Massage ~ foo.D., M.D., RND, BVD
[print_this]
Barbecue Ribs
Serves 6 hungry people
6 pounds Baby Back Ribs
Rib Rub (recipe below)
1 cup Sweet Baby Rays Original Barbecue Sauce (or you can use your favorite)
Rib Rub
1 1/2 tablespoon Kosher Salt
1 1/2 generous tablespoon Lawrys Season Pepper
1 1/2 tablespoon Brown Sugar
1 teaspoon Smoked Paprika
1/2 teaspoon Roasted Cumin
1/2 teaspoon Ancho Chili Powder
Mix all of the above together in a small bowl. This rub is great on chicken and pork chops as well!
Rinse ribs in cold water and pat dry with paper towel, lay ribs in a shallow roasting pan. Sprinkle all of the Rib Rub over the ribs and rub it in. Cover roaster with heavy duty plastic wrap making sure it's tight over the pan not laying on ribs, then cover the plastic wrap  with tight layer of aluminum foil. Bake for 3 hours at 300 degrees. Remove from oven, allow to cool for a few minutes before removing cover, there will be a lot of steam when you remove the covering be careful not to burn yourself.
Place on grill over medium to low heat.  Slather with your favorite barbecue sauce, shut lid of grill and allow for sauce to cook into and caramelize on to the ribs.   Cook time: approximately 15 minutes.
Remove from grill and cut into serving size portions, place on a platter for serving.
Serve with Roasted Potatoes, Baked Beans, Cole Slaw, Corn on the Cob….perfect picnic food!
Make Ahead:  This recipe is easy to make up to two days in advance just cook the ribs in the oven and refrigerate them until you are ready to grill.  Remove from refrigerator and allow to come up to room temp, place on grill slather in barbecue sauce and cook for 20-30 minutes over low heat or until ribs are heated through and sauce is getting nice and sticky on the meat!
Enjoy!
[/print_this]