During the winter months there is nothing better than a hot steamy cup of Caramel Cappuccino.   Use this easy to make dry cappuccino mix  and you will be able to whip yourself up one at a moments notice!  Just add hot water!!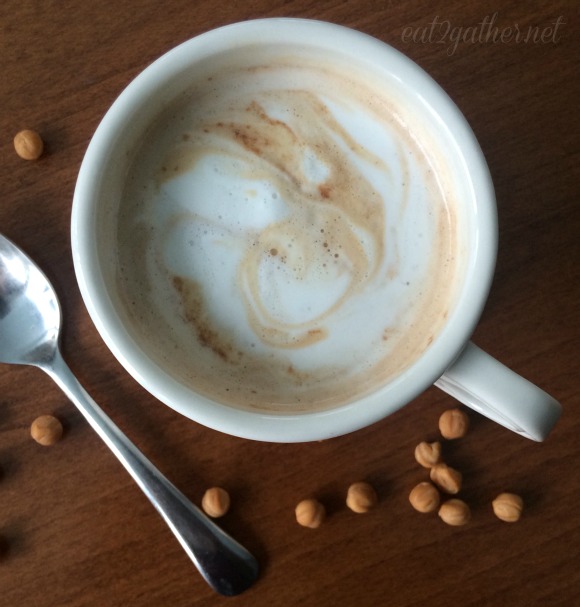 I have a serious weakness for caramel and an even seriouser (word?) weakness for coffee, put the two together and stand back!  I know most teens have a pretty serious weakness for frothy sweet hot drinks as well, if you have a couple of said people in your house this drink mix is a great way to save them a few calories as well as a few dollareenies!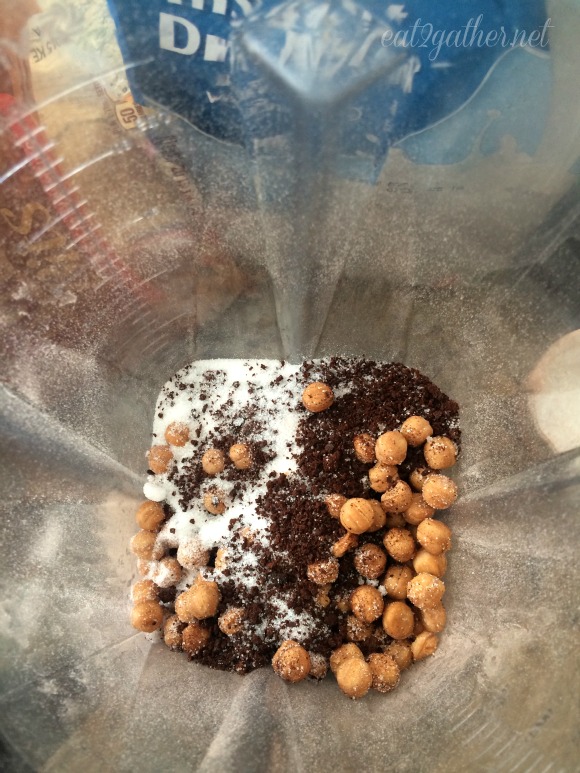 You will need a blender and a few ingredients.  Caramel bits are what give this mix it's caramely flavor.  One thing to note you must freeze the bits before processing them in the blender otherwise the heat from the blade will turn them into a big gob.  Once they have been pulverized they will melt perfectly into your drink!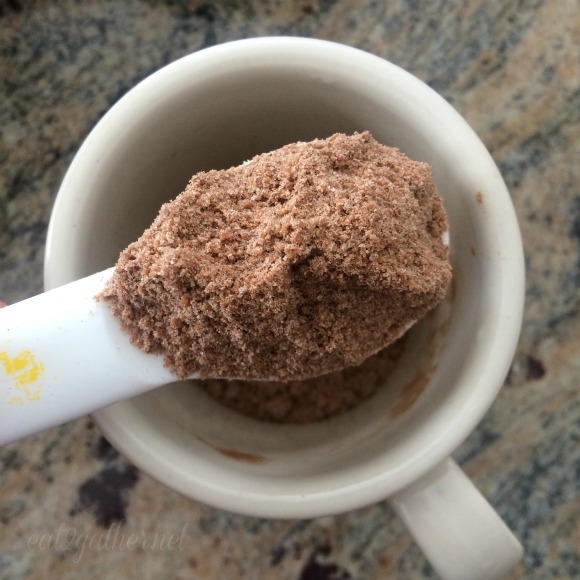 Then all you need to do is scoop 1/4 cup of the mix into a cup, fill cup with 1 cup of very hot water, stir, find a cozy corner with a good read and you're welcome!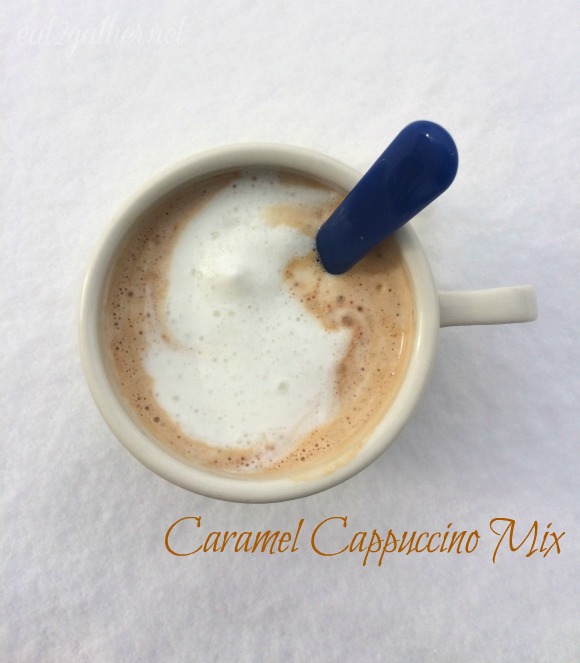 It is so cold today.  Winter has officially arrived in the Mitten, when the temperatures dip below zero I want to keep a warm drink in my hands at all times!  Having this delicious caramel drink mix on hand means that I can make a froo froo drink right in the comfort of my home with out venturing out!
My sixteen year old caramel froo froo drink lover thinks this drink mix is the bees knees!  She's sitting in a chair reading a book slurping it down right now!  I didn't do the calorie math, but I would bet there is less sugar and calories in a cup of this than her favorite froo froo drink from you know where.  I would also bet that you could drink about ten of these for the cost of one of those.
Put this mix in a mason jar, tie a cute bow around the neck of it and Voila! you've got yourself an amazing gift!
[I feel the need to tell you that I added some steamed milk to the top of this drink to make it look frothy and whippy.  So when you make a cup it won't look quite as whippy and frothy as mine, but it will taste every bit as yummy and if you want whippy frothy then just put some milk in the microwave whisk it up a bit, and spoon the froth on top of your Caramel Cappuccino!]
Cheers to a dairylicous warm drink on a cold January day!
XO,
Sheila
[print_this]
Caramel Cappuccino Mix
makes 3 1/4 cups mix or 10 servings
1 cup Non-fat Instant Dry Milk
1 11 ounce bag Kraft Caramel Bits, frozen
1/2 cup Hot Chocolate Mix (any brand without marshmallows)
2/3 cup Instant Coffee
1/3 cup Sugar
1 generous dash of Nutmeg
**Place bag of caramel bits in freezer for at least 30 minutes before making mix.
Add ingredients to blender in order above, blend on high-speed for 30 seconds. Remove pitcher from blender and give a shake if ingredients seem to be sticking to the side, return to base and blend for another 30 seconds, dump in a bowl and mix with a spoon to make sure all ingredients have been finely blended. If not return to blender and blend on high until mix is a fine powder.
Mix 1/4 cup caramel cappuccino mix with 1 cup hot water and ENJOY!
Store: In an airtight container or a glass mason jar. Makes a great gift!
Note: Do not skip freezing the caramel bits or they will turn into a caramel wad at the bottom of your blender.
[/print_this]
Disclaimer:  I am honored to be partnering with the UDIM this year.  I look forward to creating and sharing healthy dairy recipes that will have your family running to the table!  As always all opinions are 100% my own.