Chicken Fajitas (for a crowd)
When we travel I like to eat out, but honestly it gets to be a bit much especially when traveling with a crowd, so usually I will cook half of the meals in and the other half we will eat out.  Vacation meals are never fussy.  A protein, veggie, maybe a salad and bread….always bread.  We had this bread with our mahi mahi the other night, and we used the extra sauce as a dip for our fish. PHE(nom nom)enal.
You know this family hearts Mexican food.  We've eaten it twice already, and we have two more nights of it planned.  My son brought a couple of friends, one of which could live on guacamole.  Can I adopt this child? I think his mamma would say NOT!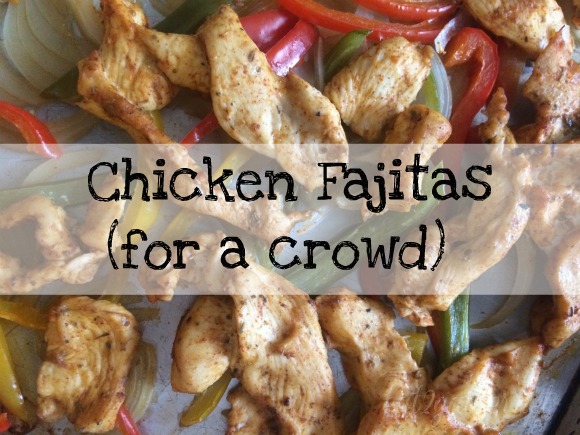 My gal Tina told me about this pinterest recipe she found, that she knew we would love.  I looked it up and lo and behold she was right, we would love this.  In fact, I usually make something very similar to this on the grill wrapped in heavy duty aluminum foil.  However since the weather was not cooperating for grilling I decided to give the baked version a try.  So easy.
Here's how ya dewey.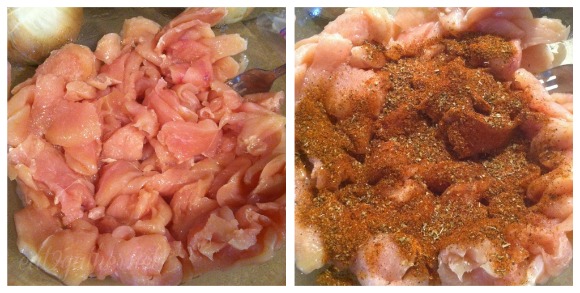 Slice chicken breast into thin strips. (This takes a sharp knife, so if you are on vacation I hope your brought your own, because rented condos NEVER have sharp knives.  It must be a liability thing.  I've learned my lesson, I always bring my favorite knives and sharpener.)  Drizzle vegetable oil over meat, and sprinkle seasoning mix over meat, mix so that seasonings get all over each piece of meat.  Let sit while you prep your veggies.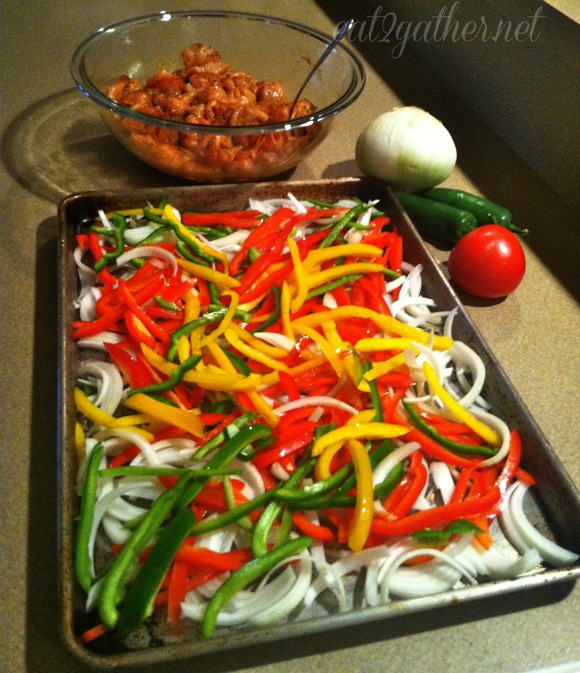 Lay sliced onions and peppers in a baking pan or a roasting pan.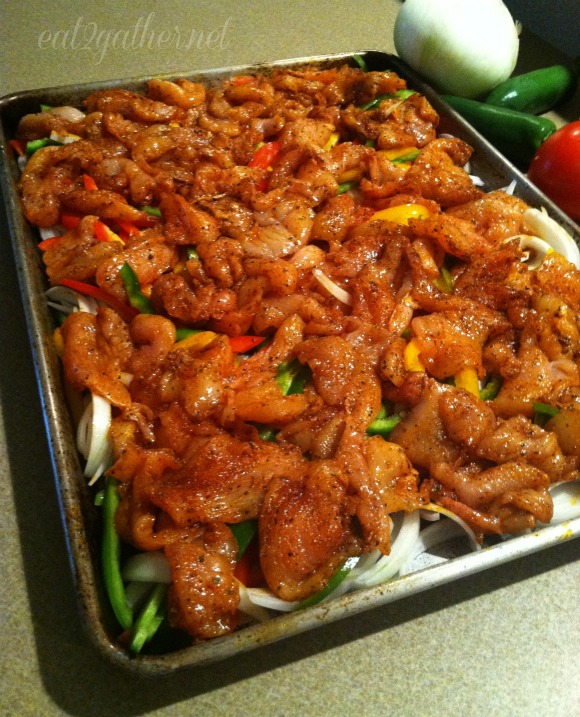 Spread chicken out evenly over onions and peppers and then drain a can of Rotel tomatoes and spread these over the top of the meat. Guy Fieri let me tell you about "easy peasy chicken squeezy".   That's it!  Bake for 20 minutes at 425.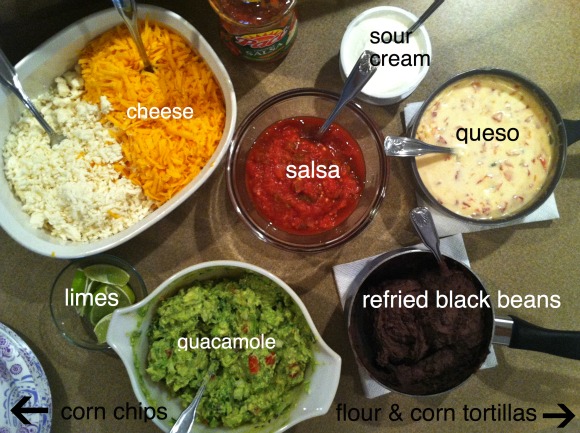 Now we like our extras with Mexican food.  If this looks like too much well then make what you like.  Don't let our excessive condiments freak you out.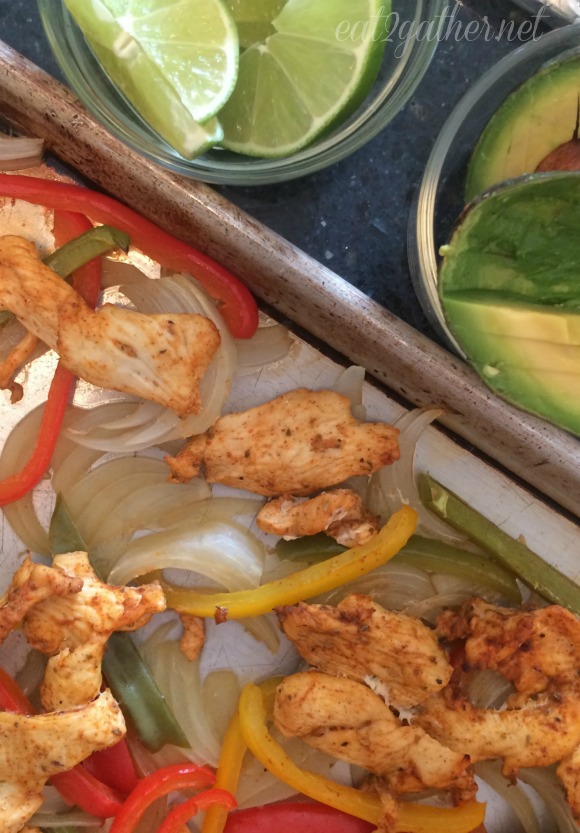 Fajita Party: You make the chicken and ask each of your friends to bring a different side….don't forget the margaritas!  What an easy dinner club idea!!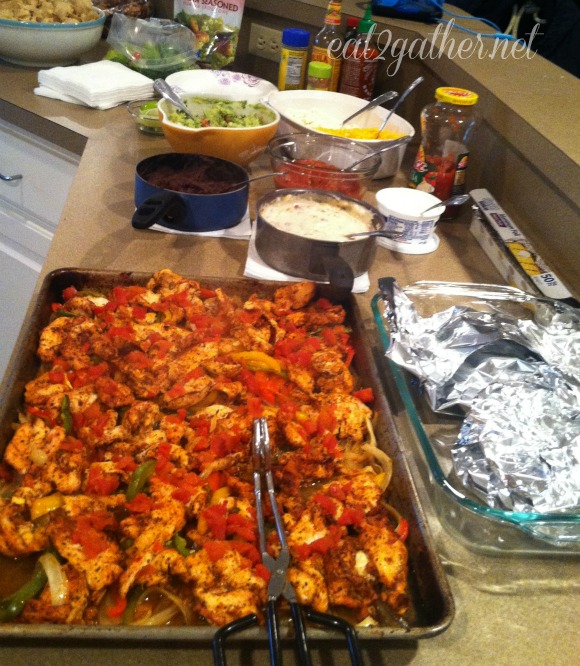 Put it all on the table, or make a buffet line and ring the dinner bell!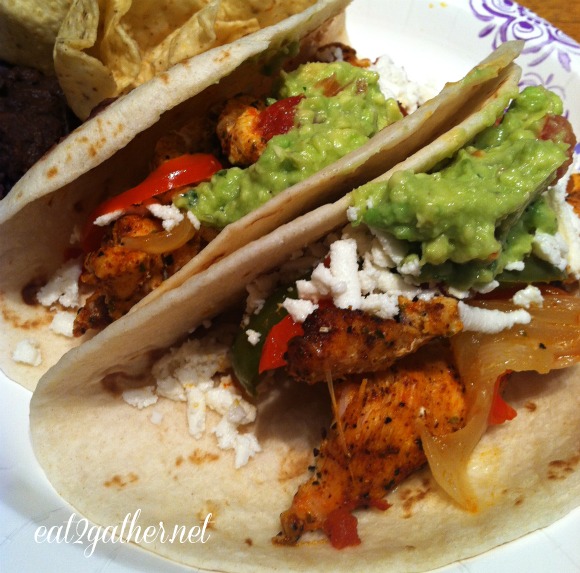 Come to Mamma!!
[print_this]
Chicken Fajitas
serves 8-10
3 pounds of boneless, skinless Chicken Breast
1 Green Pepper, cored and sliced into thin strips
2 Red Bell Peppers, cored and sliced into thin strips
1 Yellow or Orange Pepper, cored and sliced into thin strips
1 large Sweet Onion, peeled and cut into thin slices
1 cans original Rotel Tomatoes
3 tablespoons Vegetable Oil
2 teaspoons Cumin
2 teaspoons Chili Powder
2 teaspoons dried Oregano
1 teaspoon Smoked Paprika
1 teaspoon Salt
1 teaspoon Lawry's Seasoned Pepper
1/2 teaspoon Coriander
1/2 teaspoon Garlic Powder
1/8 teaspoon Cayenne Pepper (more if you like spice)
Preheat oven to 425 degrees.
1. Cut chicken breasts into long thin strips, place in a large glass bowl. Drizzle oil over chicken.
2. Mix spices together in a separate bowl. Sprinkle over chicken and combine. Let sit while you prep the onions and peppers.
3. Cut Onions and peppers into thin strips place on 11×15 inch baking sheet or in a large roasting pan.
4. Spread spiced chicken evenly over vegetables.
5. Drain rotel and evenly distribute tomatoes over chicken. Place in oven and bake for 30 minutes.
Serve with tortillas and your favorite Mexican sides. Guacamole, sour cream, chips and salsa, spanish rice, refried beans.
Note for grilling: prepare two large pieces of heavy duty foil, place onions and pepper evenly between the two pieces of foil, cover with spiced chicken, leaving room to fold foil and enclose fajitas. Fold foil over and seal, by folding fold over in the middle and folding ends up so no juices drip out. Grill over medium heat, not too close to flame for 20 -30 minutes.
[/print_this]
Thats all folks…I'm off to catch some sunshine!
Sheila
PS Here's a pic of our merry band.  We are 6 kids and counting on this trip!  These six are easy, and fun, but I was thinking how DO the Duggers do it?  For the record I'm not cut out to be a dugger.  And yes I just made their proper name into a common noun. I think it's in the dictionary already….er maybe now it will be.  Anyway let me present to you the gang….