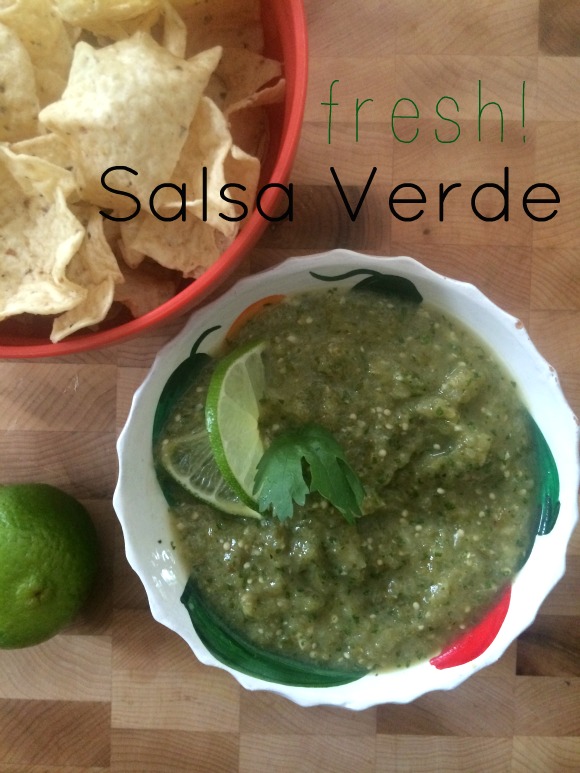 I love Salsa Verde with chips for a snack or to serve it as an appetizer. Salsa Verde is also amazing served along side any meat, or on burgers and hotdogs as a fresh zippy condiment!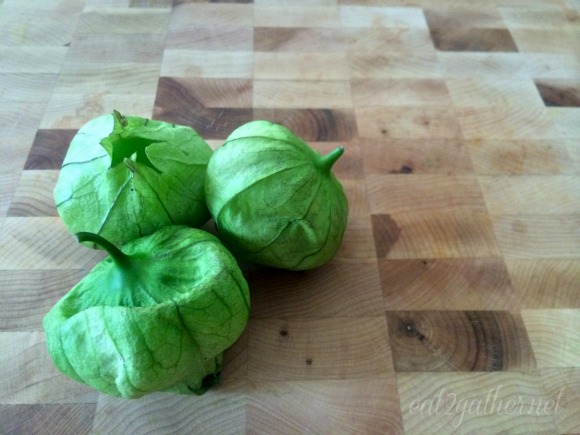 Salsa verde is made with tomatillos, which are a staple in Mexican cooking. The tomatillo is also known as tomato verde or green tomato. The fruit of the tomatillo is about the size of a large cherry tomato but can get as large as an apricot, and is white on the inside and meatier than a tomato. They grow inside of a husk which covers the outside of the fruit, this husk can be anywhere from a  pale green color to a light brown. The husks are inedible and should be removed before use.  Once removed the tomatillo is covered in a sticky substance that needs to be rinsed off before preparing the fruit.
I have to admit I used to be a bit intimidated by this strange fruit, but seriously it so easy to make fresh salsa with.  Now I say fresh salsa because I'm not canning this, but in reality I have roasted the vegetables to make this salsa.  You can also make this completely fresh not cooked, but I like the extra depth of flavor roasting gives this sauce.
So here's how I do it!!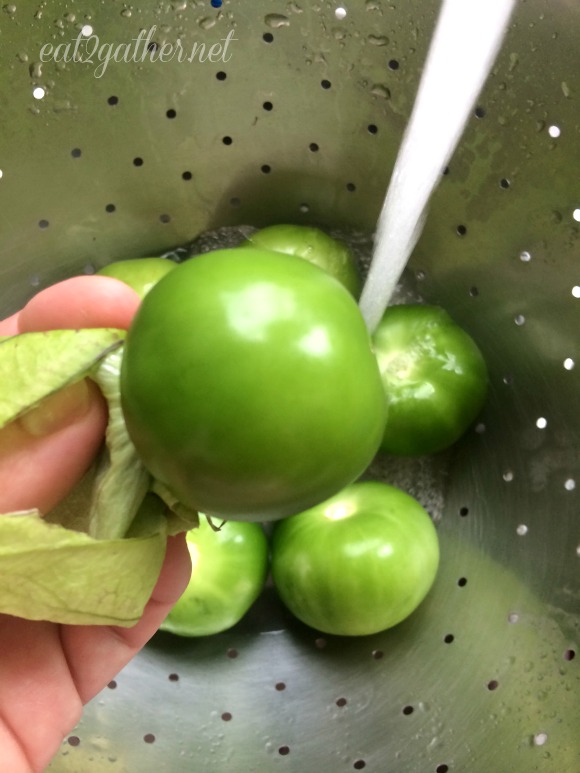 Take the wee little husks off the wee little tomatillos.  Then rinse the little suckers to remove the sticky stuff.  I don't have any evidence that this sticky stuff will harm you, I just rinse it off, cause that's what I've read to do.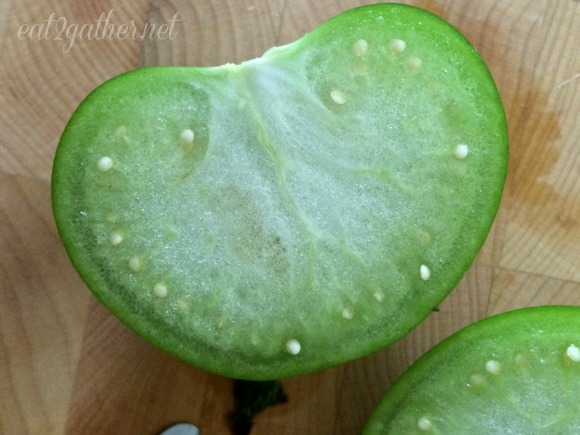 Cut them in half, and place them in a bowl.  Sort of looks like a grape inside doesn't it?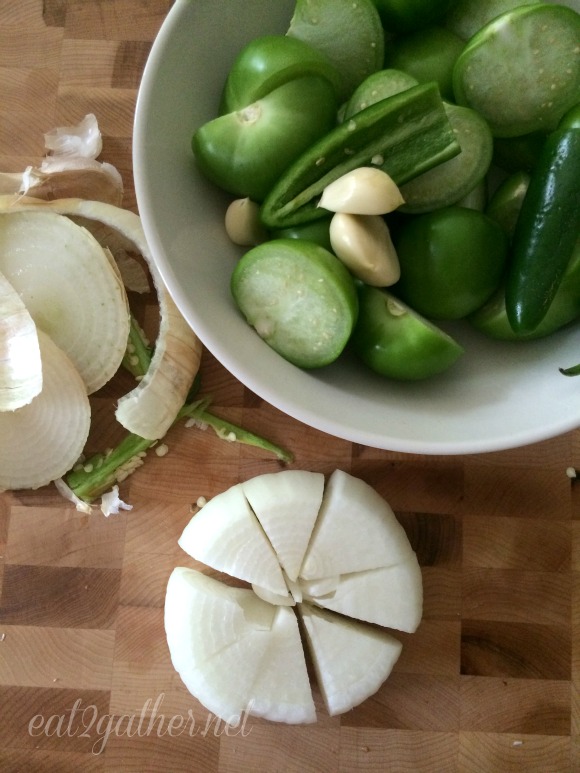 Add one whole jalapeno and one seeded and destemmed jalapeno, along with the garlic, and an onion to at the bowl.  If you prefer zero heat well then you better take the seeds and stem off the second jalapeño too.  If you love heat leave all the seeds and membranes in and add a third jalapeño pepper.  Ole'!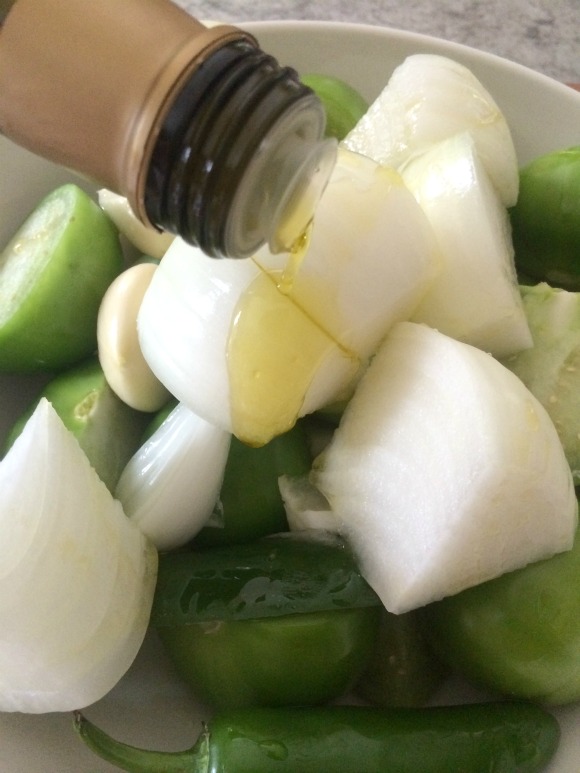 Drizzle all that with a couple of tablespoons of olive oil.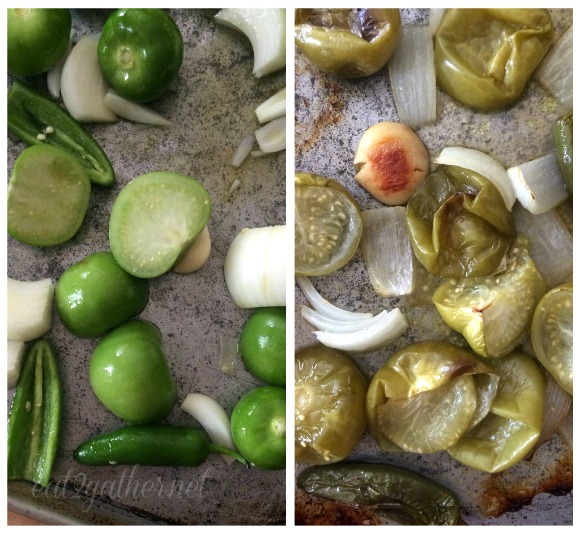 Spread it out on a baking sheet and bake it for 30 minutes.  Let cool and toss it all in your blender or food processor.  Ole'!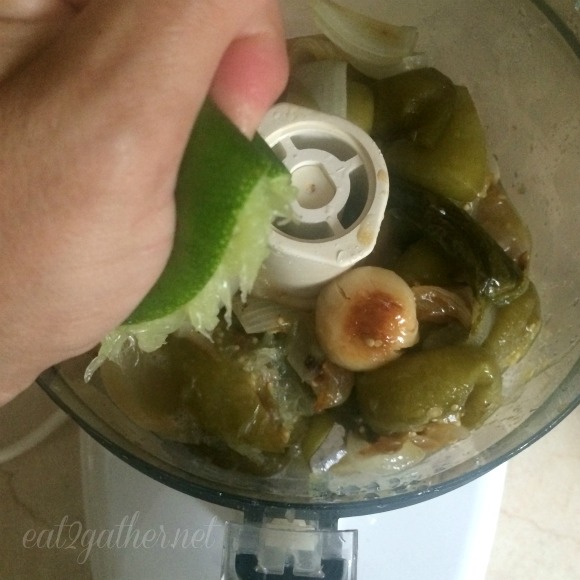 Then squeeze yourself some lime juice on in there.  Did you notice my food processor is broken….it is.  It has been.  It will be.  It still works, it's just missing the little do-dad that goes on the top of the middle part.  He kinda sorta got chopped up in the garbage disposal. MMhmm.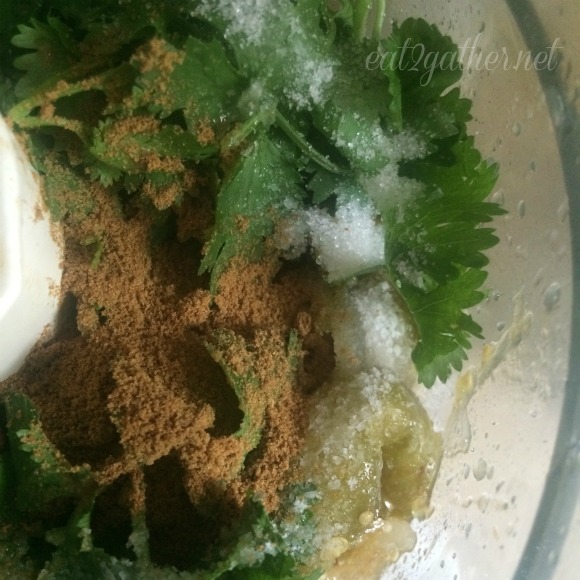 Then add the cumin, sugar, salt, cilantro and all that good stuff.  Take a deep breath through your nose.  Ahhhh wuhnderbar, Ole'!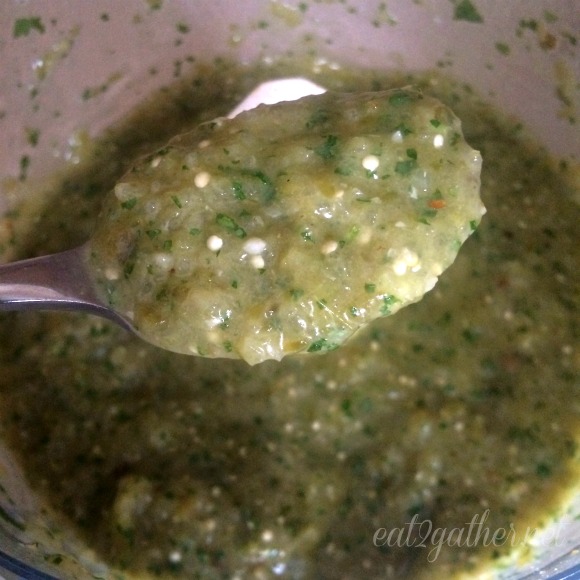 Pulse for about 1 minute, or until salsa is uniformly pureed.  Be careful not to over process.  You don't want your salsa getting all foamy.
Ole'!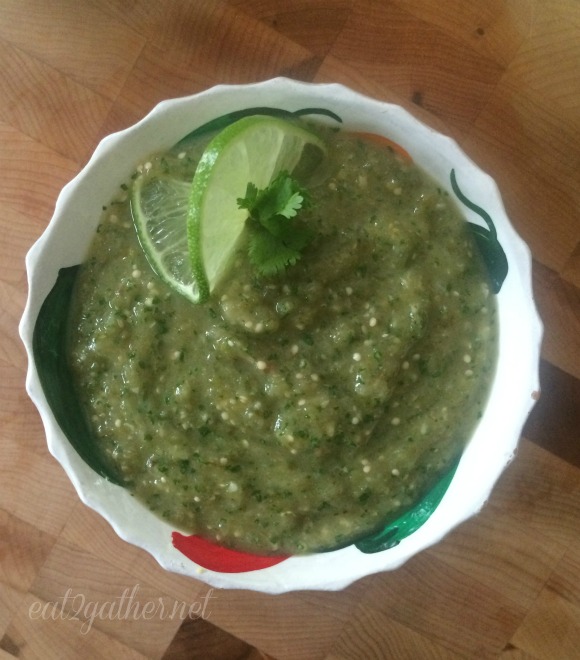 That's how it's done!  Pour it in a dish, or store it in an airtight container in your refrigerator until ready to eat.
[print_this]
Salsa Verde
makes 3 cups
10 medium sized Tomatillos (approximately 2 pounds)
2 jalapeno
1 large Sweet Onion
3 cloves of Garlic, peeled
2 tablespoons Olive Oil
1 cup Cilantro, cleaned and stems trimmed back so using mostly leaves
2 Limes, juiced
1 teaspoon Salt
1 teaspoon ground Cumin
1 teaspoon Sugar
Preheat oven to 425 degrees.
1. Remove outer skin or husk from tomatillos, wash and cut in half, place in a large bowl. Cut one of the jalapeno peppers in half and remove the seeds place in bowl with the other whole pepper. Remove skin from onion, cut off ends, and quarter add to the bowl. Remove skin from garlic cloves add to bowl with other ingredients, drizzle all the vegetables with olive oil, and spread on a baking sheet. Bake at 425 degrees for 30 minutes. Remove from oven and let cool.
2. Remove stem from the one whole jalapeno pepper. Add cooled roasted vegetables to your blender or food processor, making sure to get all the juice from the pan.
3. Add cilantro, juice from 2 limes, cumin, salt, and sugar to food processor. Process on pulse for about 1 minute or until everything is completely chopped, being careful not to over process.
Store in a glass quart jar in refrigerator or eat immediately!
Enjoy
[/print_this]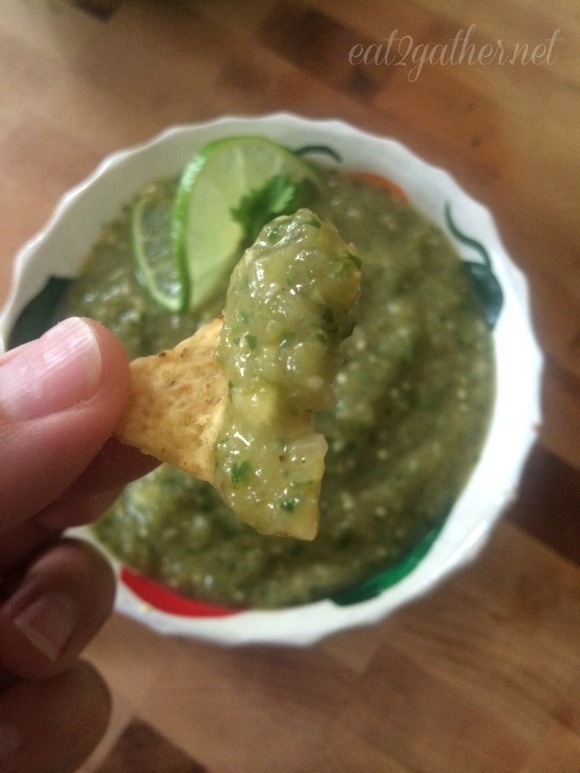 Grab a bag of chips and dig in!!  I can't stop eating this salsa.  I'm obsessed with it!
There are seriously so many versions of this recipe.  Here are a few I'd love to try!
 Eat Drink Love's! Salsa Verde no cooking involved.
She Wears Many Hats Tomatillo Salsa Verde lots of peppers!
Wallflower Wonderland canned Salsa Verde
A Spicy Perspective Creamy Avocado Salsa Verde
So much salsa not enough time!
Ole'
Sheila
P.S. Sorry about the excessive Ole'ing. I just couldn't stop. Ole'.  If you don't mind stuff like me ole'ing all over the place and such be sure and follow me on PINTEREST, FACEBOOK, INSTAGRAM, and never miss a single Ole' by subscribing to my newsletter!