Meals 4 Sharing Fridays: chewy Chocolate Chip Cookies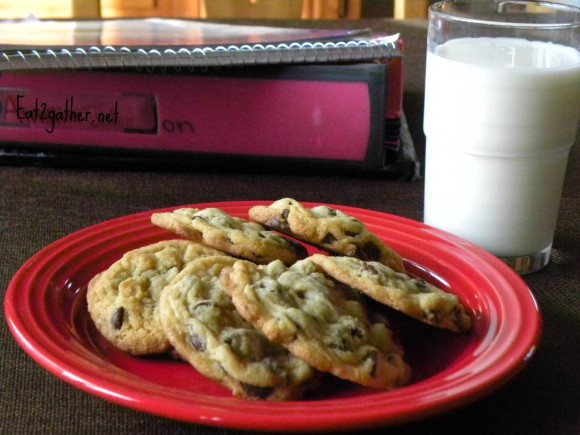 I have never met a chocolate chip cookie I didn't love.  Who can resist a chocolate chip cookie?  Big, small, crisp, chewy, thick, thin I love them all.  Chewy Chocolate Chip Cookies are my kids favorite, and their friends favorite cookies.  Which brings me to my sharing point.
The way to a teenagers heart is through their tummy.
It's a scientifically proven fact.  It has been proven throughout the ages by moms everywhere.  Bake cookies and they will come.  My oldest son has a friend, who is the sweetest kid ever, he loves cookies.  I don't think this kid gets too many cookies at home, if you know what I mean.  So, if I think there is even a slight possibility that this cookie lover might show up at my house I bake chocolate chip cookies.  Sometimes I even send extra cookies to school with my son for "the cookie boy".
Look at that chewy ooey goodness. These cookies keep well and if you pop them in the microwave for 10 seconds they taste like they are fresh out of the oven!
A dear friend of mine, who has four boys…bless her heart, once warned me that the teenage years were going to be hard. "They are not going to like to be around you,  BUT if you feed them and their friends, they will want to hang out at your house, and that's where you want them." At the time I thought that could get expensive, but now that I'm in the middle of it, I really don't care.  I would take out a loan for groceries to have my kiddos and their friends around all the time.  These years are going by so fast, I'm savoring them the best way I know how.   (This feeding trick, I'm finding out, does not work as well with the girls…they just want to be at the mall 24/7 shopping.)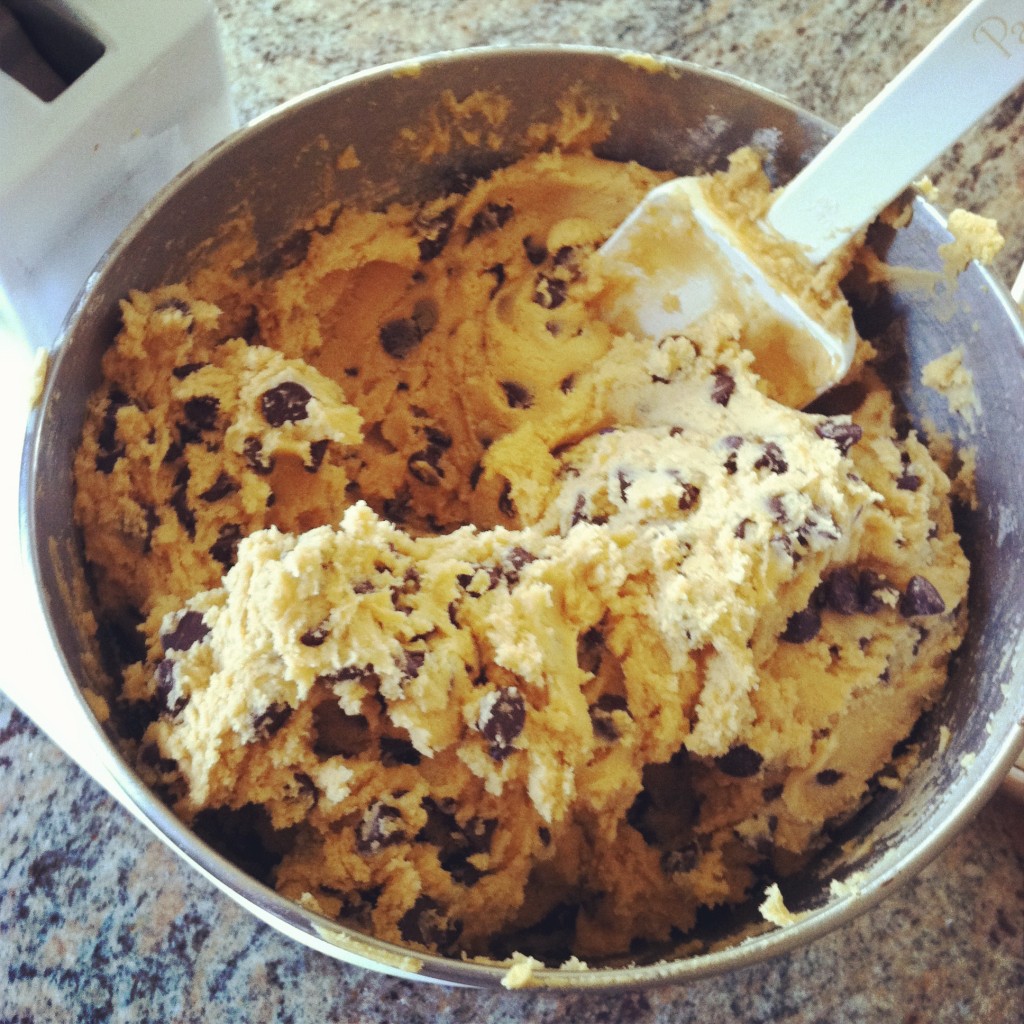 Last week it was my turn to bring dessert for Noah's team meal.  These boys don't want Creme Brulee they want cookies!  Piles of cookies.  So I made a double batch of  Chewy Chocolate Chip Cookies.  These cookies have a secret weapon, that makes them rich, and caramely with a wonderful chewy texture.  What's the secret?  Read on I'm not giving in that easy.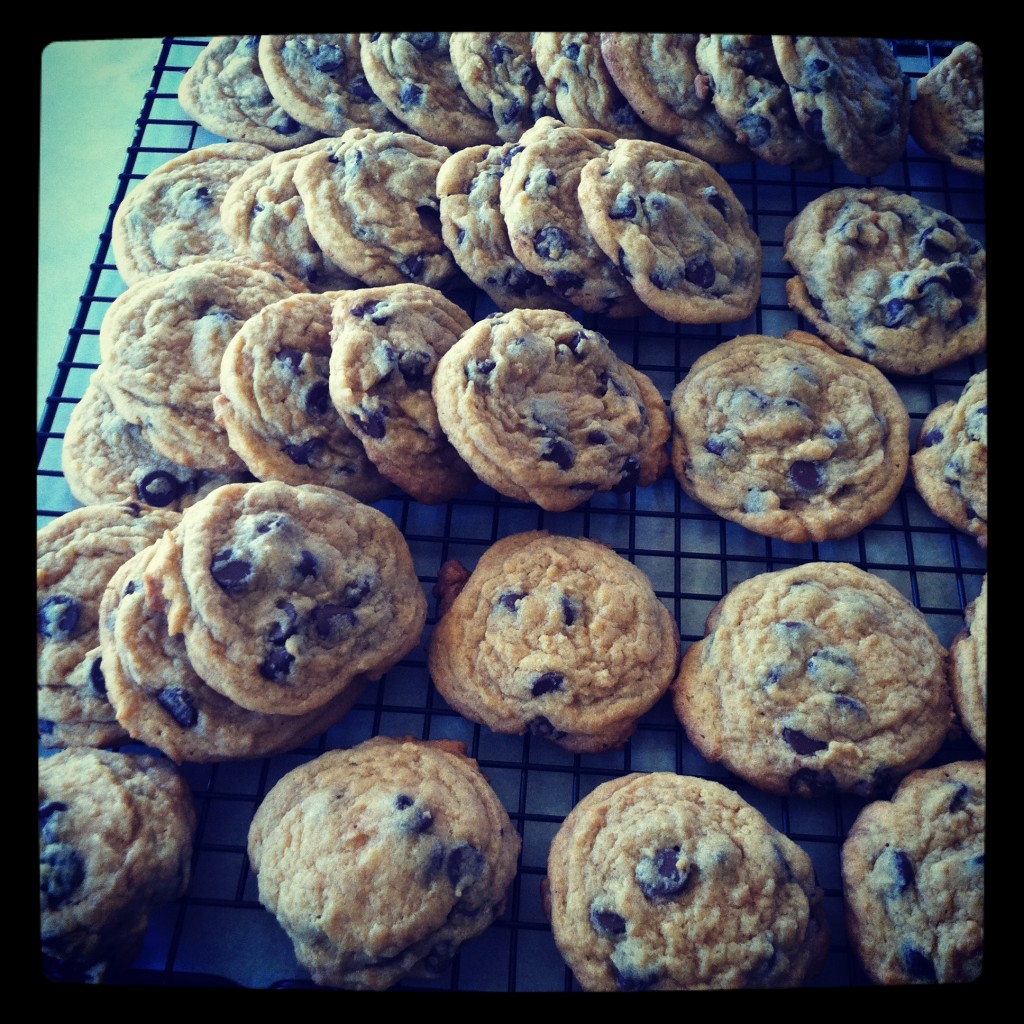 [print_this]
Chewy Chocolate Chip Cookies
makes 3 dozen cookies
2 sticks Butter, softened
1/2 cup Sugar
3/4 cup Brown Sugar
1 teaspoon Vanilla
2 Eggs
1 small package (3.4 ounce) Instant Vanilla Pudding
2 1/4 cup Flour
1 teaspoon Baking Soda
1 teaspoon Salt
2 cups Semi Sweet Chocolate Chips
Preheat oven to 350 degrees.
Blend butter, and sugars in mixing bowl until light and fluffy 3-5 minutes. Add vanilla and eggs blend well, give the bowl a scrape and add instant pudding blend until just combined. Combine flour, baking soda, and salt in measuring cup add gradually to mixing bowl. Mix until just combine, do not over mix. Fold in chocolate chips with large spatula. (This batter is thick and gooey.)  Drop onto parchment lined baking sheets, bake for 10 minutes.
Note: If you are short on time spread the dough out in a 12×15 baking sheet sprayed with PAM, bake for 15-20 minutes, let cool, and cut into squares.
***Butterscotch Instant Pudding is amazing in these cookies.  When I made the double batch I used 1 package vanilla, 1 package butterscotch.
Happy Sharing!
[/print_this]
This recipe came to me via a cookbook project I am doing for Portage Lake Covenant Bible Camp in Onekema Michigan…….it's a little piece of heaven on earth, as are the cookies they bake there.
What do you like to bake/cook for your kids and their friends?
It's your turn to share!  Leave your link below, or a comment is always nice.  Your comments mean so much to me!
It's nice to share!
1. Click on the Add link below then Add the permalink from your post.  Please do not link your websites homepage.
2. Select the photo you wish to link to your site and include the title of what you are sharing!
3. Create a link to Eat2gather.net within your post, to share all the great recipes with your readers.  I also included a blog button below if you share this on your sidebar or in your post I will hug you and kiss you!!  Well not literally, but maybe if I happen to run into you. (wink)
Eat 2gather is family friendly so make sure what you are sharing is also.  I reserve the right to delete any link if I feel it necessary.
OK LET THE SHARING BEGIN!!!
Have a great weekend!
Sheila