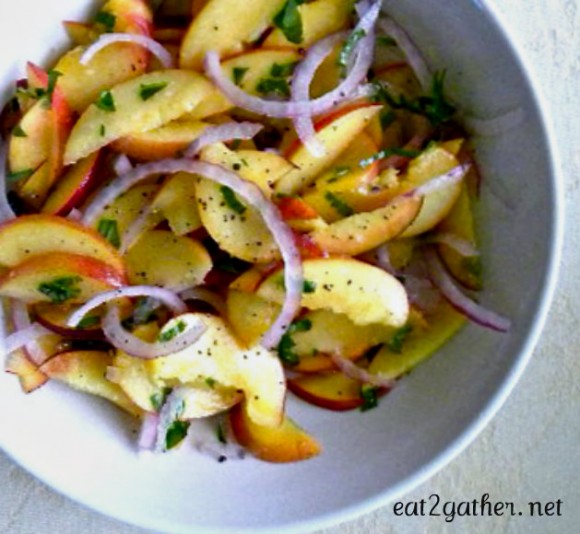 Hope you don't mind another re-post.  I just had to share this recipe again while peaches and basil are still in season.  My sister made this salad a few years back for dinner at her house.  I fell in love.  My family had to actually pry the bowl from my clutches.  I wanted  it all to myself.  Peach Basil Salad is so simple, and so unexpectedly amazing.  Usually when I share it I get a scrunched up nose look, but one bite and the scrunched up pestimistic look dissolves and they are smitten!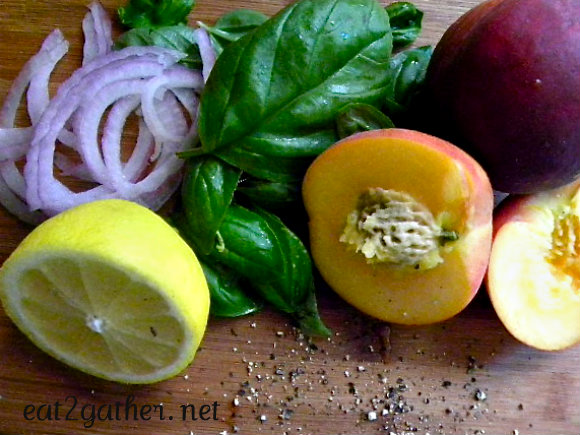 Sliced peaches, sliced red onion, juice of one lemon, olive oil,  basil, salt, and fresh ground pepper. There you have it. That's it! How simple is that?! No more no less….I'm warning you, you might want to double this recipe.
I realize I'm always sayin' "it's nice to share" and all….but really you're gonna want your own bowl of this salad.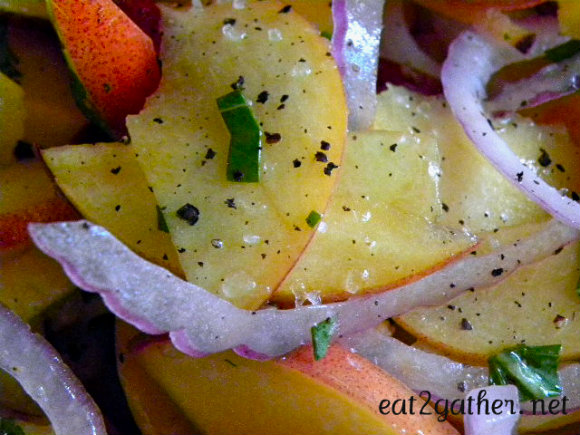 It's so purdy too! Peach Basil Salad brightens up any table!
[print_this]
Peach Basil Salad
4-6 servings
4 Peaches, sliced thin, you can leave the skins on
1/2 cup thinly sliced Red Onion
1/4 cup chopped Basil
1 lemon, juiced
2 tablespoons Olive Oil
1 teaspoon Sea Salt
fresh cracked Pepper, to taste
Toss peaches, onion, and basil together in a medium sized bowl, drizzle lemon juice  and olive oil over top, add salt and pepper toss and refrigerate for 30 minutes before serving. Enjoy!
[/print_this]
I hope you get your hands on some peaches and basil so you can try this salad!  Your life will never be the same….swoon.
Signed, Peach Salad Hog